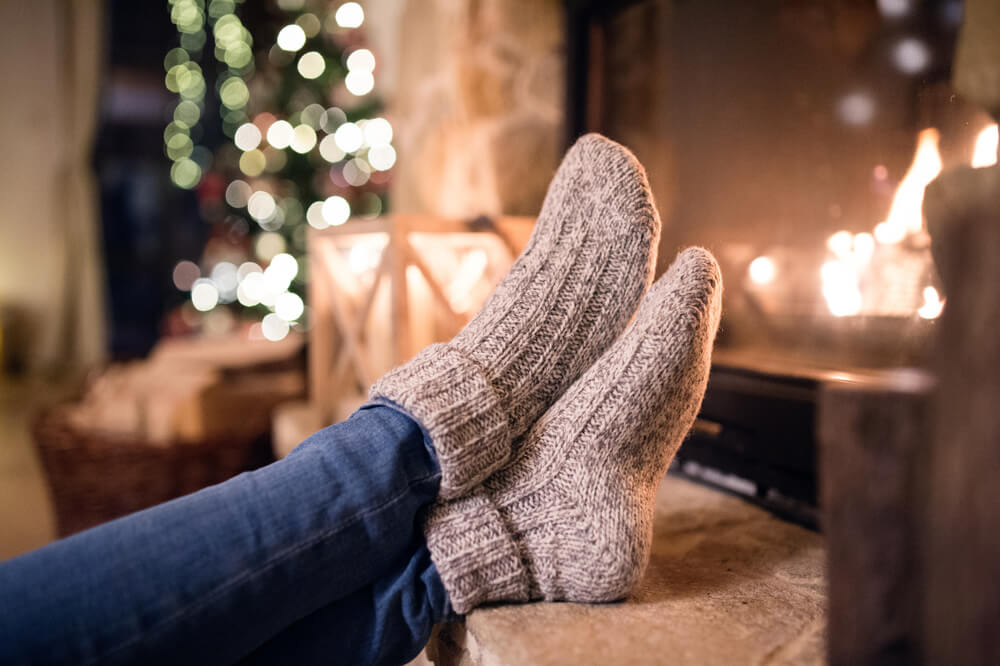 Curling up in warm blankets during the chilly winter weather feels absolutely heavenly. Add the warm light and smell of a scented candle and your days can't get any cozier. Whether you are entertaining or just taking a warm bath, the therapeutic smell of a candle can gradually turn your winter home environment from plainly gloomy to excitingly cheerful.
The market is, however, awash with luxury candles that range from established brands to up-and-coming home-based specialists. Each product comes with its unique fragrance, potency, and additional qualities. So, here is a hotlist of 22 scented candles to light up your home.   
Winter by Bath and Body Works
https://www.instagram.com/p/B4Awx9SpsWW/
Aptly named Winter, this is one season-friendly candle for keeping your house lit and cozy. With 3 wicks to keep you warm during winter, this luxury candle will fit perfectly with the holiday mood. The wax is made from natural wax based on soy. It burns with fir, orange essential oils, clove, and citrus undernotes. 
At approximately 400g, the product is mid-sized with a burning time of 25-45 hours. For the full winter experience, this scented candle is housed in a jar decorated with snowflakes, reindeer and snow, with a blue city skyline in the background.    
Real Luxury by Neom
https://www.instagram.com/p/Bq0HkTKHVb1/
For those chilly nights and some post-festivity relaxation, try out the de-stressing fragrance provided by the Real Luxury scented candle. The calming scent is a proud creation of Neom Organics, a London-based manufacturer. 
Made from a blend of 24 essential oils, this candle gives a rich and versatile aroma. Its top notes include Brazillian rosewood, lavender, and jasmine. This mini candle is 420g with a 50 hour burn time. 
 Varanasi Candle By L' Or De Seraphine
https://www.instagram.com/p/B29AoiAFkmR/
For a spiritual journey to the East this winter, go for this L' Or De Seraphine Varanasi candle. This mid-sized candle is infused with floral, musk, and incense fragrances from the Asian continent. The energizing and grounding scents include smoked oud, sandalwood, and leather dusted florals. 
This unique fragrance is housed in a ceramic container with striking patterns and colors. At 180g, the Varanasi candle will not only decorate but also transform the mood and ambiance of your home for approximately 45 hours. As an added bonus, you can get the product in small and large sizes with burn times of approximately 25 hours and 80 hours respectively.    
Twelve Days of Christmas by Juliska
https://www.instagram.com/p/B3YGWyKh_fh/
This is a modern classic scented candle from a collection targeting holiday shoppers. Made in Portugal, this exquisitely scented candle comes wrapped in a beautiful gift box. The wax is made from a blend of vegetable and paraffin. It is poured into a ceramic stoneware container inspired by European tableware.
The design was introduced by the line's founding couple, Dave and Capucine Gooding. The historic design gives a rich woodland vanilla scent. Juliska is also behind other decorative wares perfect for winter holidays; together with this scented candle, you can get Twelve Days of Christmas dinnerware, stemware, tabletop accessories, and flatware.   
Spiced Orange & Clove by Nest Fragrances
https://www.instagram.com/p/B2cSBKEHAs_/
Orange pomander, spiced brandy, star anise, cinnamon, and gingered honey- this combo of scents comes in the 57g Spiced Orange & Clove Votive Candle. This is the newest addition from New York-based Nest Fragrances. 
With a gold foil pattern, this candle will add shimmer to your holiday decorations. The product comes in 3 different sizes with burning times of up to 60hrs.     
Winter Candle by Cowshed
https://www.instagram.com/p/BwC7sfGhUui/
Set your winter festivities with the subtle and nostalgic fragrance of the Winter Lodge candle. The product from Cowshed is suitable for vegetarians and vegans with wax made entirely from soy. This England-made candle has notes of essential oils such as neroli, rose, ylang-ylang, cinnamon, and clove. 
This floral scented candle burns clearly with a welcoming atmosphere. At 220g, this is a mid-sized candle with a burn time of up to 45 hours. It also burns with little to no soot, making it ideal for your bathtime. 
Santal 26 by Le Labo
https://www.instagram.com/p/BnxjxCOHXLf/
From the famous Le Labo fragrances comes this aristocratic scented candle. Designated Santal 26, this is a hand-poured product made in Mississippi, USA. It's designed to give a gentle, smoky, and leathery scent. The aroma will fill your space with a true and unmistakable personality.
The wax is 100% soy-based with pure cotton wicks. The candle burns with orange blossom, fig currant, aromatic pine, geranium, and amber undernotes. The divine smell comes from concentrated oils that are infused into the wax blend. This mid-sized scented candle weighs 245g with a 50 hour-burning time. 
Starry Starry Night by Bella Freud
https://www.instagram.com/p/BuROg0dgGuN/
From Bella Freud comes this festively-named scented winter candle. It is hand-poured from natural wax with frankincense, cedarwood, agarwood, and tobacco flower undernotes. 
It also gives notes of nutmeg, ginger musk, and tonka bean. Presented in a black glass vessel, this captivating candle is 190g with a burn time of approximately 40 hours. 
Twinkle Twinkle by Katie Loxton
https://www.instagram.com/p/BrnGJDDAMat/
Infuse warmth, light, and fragrance into your home by burning the Twinkle Twinkle scented candle this winter. This product comes with top notes of spicy fragrance. It gives scents of apple and clementine. Made from 100% soy wax, this twinkly candle is 160g with a 25 hour- burn time.
The botanical wax burns without any toxins, making this candle a favorite for whole family use. It also has an excellent scent throw for your well-being and mood. The wax is held in brightly-colored glass with star prints for that holiday feel. 
Sapin De Lumière by Diptyque
https://www.instagram.com/p/Bq5NdokF7eN/
Are you into folktales? Here is the candle to light your home this winter. Sapin De Lumière is a France-made scented candle with minty undernotes. Inspired by a deer spirit folklore, the candle is housed in a green vessel decorated with a striking deer image and festive colors. 
The unique jar's design is part of Diptyque's collaboration with Pierre Marie, the renowned French illustrator. To complete the holiday mood, it evokes fresh pine, cedar, and fir trees. It's 190g with a burn time of 60hrs.   
Pomegranate Cassis by Illuminations
https://www.instagram.com/p/B3uOlz7JzOX/
With a luxurious and harmonious blend of floral fragrances, this candle will bring holiday cheer to your nights. The signature scented candle comes from the Illumination long line of luxury collections. Its wax is made from a blend of natural coconut and apricot. The 100% natural product is housed in a striking frosted glass vessel.
Its undernotes include piquant pomegranate, wild strawberry, herbaceous eucalyptus, citrusy bergamot, and sweet cassis. The fruity botanical fragrance is provided thanks to a slow-burning 100% cotton wick. The wax is approximately 280g, making this a mid-sized candle. It burns for about 60-70 hours. 
Glittering Star by Yankee Candle
https://www.instagram.com/p/B3HmlVdpOXZ/
This candle comes in a homely and easy to use a large jar and weighs 623g. It promises 3 notes of long-lasting fragrances; top notes of sparkling ginger and cassis, mid-notes of sugarplum, and nutmeg, and base notes of patchouli, amber, guaiac wood, and sandalwood.
Glittering Star is made of premium-grade paraffin wax made with natural extracts. It creates a 'warm and relaxed' aura which lasts for up to 150 hours.
Fireside Embers by Plum & Ashby
https://www.instagram.com/p/B4DSXQJlijK/
Made with 100% plant wax in the South of England, this candle burns clean and long. Fireside Embers is encased in a brown glass vessel and burns to release scent notes of guaiac wood, birch tar, and cider wood.
With up to 60 hours of burn time, this scented candle helps to create a comfortable environment that helps you to relax or sleep better, depending on whether you use it in the cold mornings or the crisp evenings.
Bibliothèque Bougie Parfumée by Byredo
https://www.instagram.com/p/B4GnWoAHgct/
The smell of the Bibliothèque Bougie Parfumée candle has been described as a leathery scent, like that of an old library. It also gives undernotes of vanilla, plum, and peach. 
This luxurious candle is a popular choice during winter, and all year long as well. At 250g, this is one big candle with a burning time of up to 60 hours. You can also get it in a 70g pack with the same leather hardback and dusty floor scent. 
Figuier by Diptyque
https://www.instagram.com/p/BxiKf6HH3W_/
Diptyque's Figuier scented candle brings the atmosphere of the Mediterranean into your home. The peaceful and calm warmth is brought by the fragrance of a fig's leaves, bark, and milky sap. 
This therapeutic candle comes in packs of 190g and 70g with both fruity and woody aromas. Perfect for year-long enjoyment, this candle will do well on its own, or in a combo with other scents.        
Crane Flower by Voluspa
https://www.instagram.com/p/BZlp1ELD-mF/
Inspired by Japanese papermaking, this is a mesmerizing candle to look at. The glass container is beautifully embroidered with a golden glimmer as it glows. It burns with notes of grapefruit, lavender, geranium, and nectar. Hand-poured in the USA, this candle is 453g in weight and can burn for approximately 100hrs. 
The wax is made of a coconut blend with 100% natural wicks. The candle comes in a scalloped-edge jar, which adds to the product's elegance. You can also get the product in a chawan bowl or a petite jar.    
Spiced Noir by Taylor Benfield
https://www.instagram.com/p/BeoVtvIDxyT/
Whether you want to bring back memories of places you have traveled to or just experience a captivating world of scents, Spiced Noir blends exotic Malaysian and Indonesian scents to create a feel of Paris, London, and New York neighborhoods.
With top notes of pink pepper, thyme, cardamon, and frankincense, heart notes of Clove, Patchouli, Lily, Plum, and Raspberry, and base notes of tobacco, Cedarwood, and Guaiac wood, this candle is sure to not only stimulate your senses but also completely transform your home environment. It weighs 75g and burns for up to 15 hours 
White Moss And Snowdrop by Jo Malone
https://www.instagram.com/p/BopIT_NHk_i/
With a wide range of luxury candles and other therapeutic products, Jo Malone is one of the leading brands in the industry. From this UK-based brand comes the forest-fresh scented White Moss and Snowdrop candle. 
It comes with under notes of moss, golden amber, cardamom, and moss. The wax is poured in an iridescent and sparkling glass jar. With an army of celebrity endorsers, this 600g candle is a popular winter warmer with approximately 90 hours of burn time.    
Chai Candle by Byredo
https://www.instagram.com/p/Bv-HbE4g4-7/
Designed by Byredo founder Ben Gorham, the Chai Candle is a favorite for most homes during winter. Chai is Indian for tea, the very aroma that this candle fills your home with. It evokes warm milk and tea leaves for a sophisticated spicy scent. 
Among its top notes include clove buds, cardamom, incense, and ginger zest. Warm latte, birch wood, and guaiac wood make up its base notes. It is 240g and burns for up to 60 hours.       
Champagne by Jonathan Adler
https://www.instagram.com/p/2PRQtNm4FG/
This candle comes in rosy gold color. It burns to fill the environment with pink grapefruit, raspberry, French cassis, violet leaves, rose petals and grape leaf scents. Champagne has also been said to create a New Year's Eve feel. 
The candle, made in the USA, is made of a blend of soy and paraffin weighs 226g and gives 40 hours of burn time. Other candles by the same brand include Vodka, bourbon, sea salt, lavender, and grapefruit. The candles come with an extra perk too; a metallic vessel that can be reused as a vase. 
Strawberry Buttercream by Yankee Candle 
https://www.instagram.com/p/BKGw4YhDf44/
This is a large scented candle weighing 623g, with a burn time of about 150 hours. For its size, it is considerably cheap, making it the perfect choice when operating on a tight budget. 
This shimmering fragrance gives top notes of sugarplum, ginger, and nutmeg. Made from natural extracts, the product also comes with mid notes of amber and sandalwood. 
Cabernet & Oak by Chateau Agnes
https://www.instagram.com/p/3fGZ7QCL77/
Designed to fill your home with a woodsy fragrance, Cabernet and Oak scented candle is a perfect choice for winter. With 3 wicks to warm and light your house, this elegant jar candle evokes traditional decor. The wax is poured into a clear glass jar, which adds to the product's sophistication. 
The wax is blended into a deep red wine color that produces a soft glow when the wicks are burning. At 755g, this is a large candle with approximately 75 hours of burn time. The product comes in a wooden box decorated with the aristocratic Chateau Agnes estate emblem. 
Conclusion   
There you go! You now have no reason to shiver away the winter season. These scented winter candles will both keep you warm and give you an opportunity to experience amazing scents that will totally transform your home. Which is your favorite cocktail of scents? With the above list, you are definitely spoilt for choice.