Whether it may be a birthday, an anniversary, or anything else, gift baskets are always a crowd-pleaser.
If you have been looking for some ideas when it comes to putting one together, here are the best scented soaps and candles to include.
The Best Scented Soaps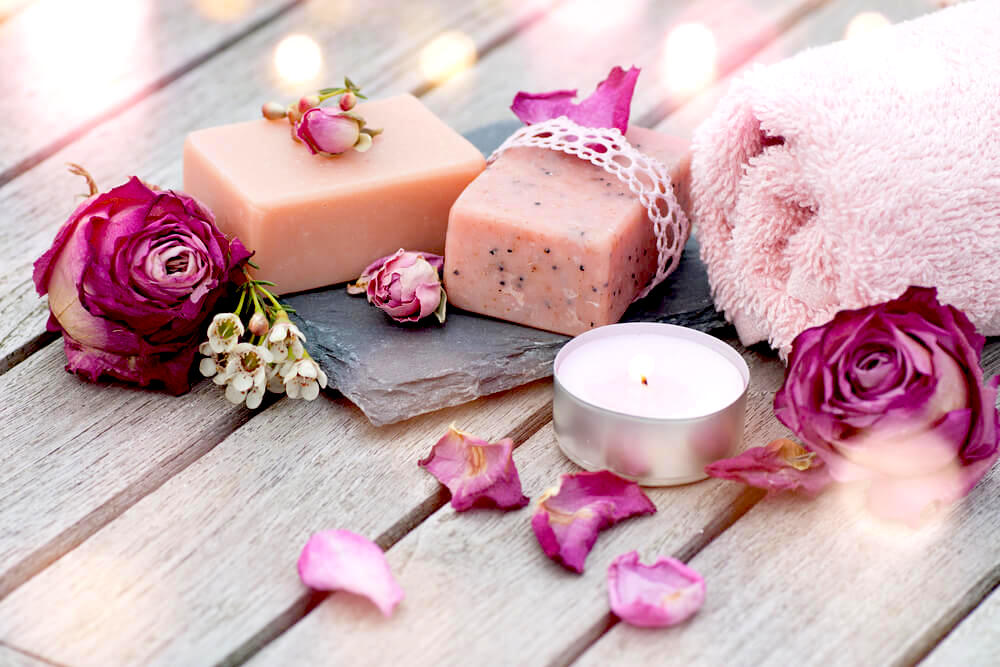 Mistral Exquisite Florals 3 Soap Gift Set 
This gift set features three individual soaps, each one with a strong natural fragrance.
The three scents are:
Sparkling Peony

Apricot Fleuri

Camelia Iris
Since these soaps have been formulated with organic shea butter, they are nourishing and gentle enough to be used y all skin types, and their beautiful packaging makes them ideal for a gift basket.
Meow Meow Tweet Coconut Cacao Body Soap
This incredibly nourishing soap has such a comforting smell, thanks to its cocoa butter, sunflower seed oil and coconut milk.
One of the main benefits of this soap is that it is 100% natural, making it perfect for those with sensitive skin.
Of course, its cute cat-inspired packaging is also a bonus, making it a fun addition to a gift basket.
Pangea Organics Bar Soap
The Pangea Organics brand comes from the Pangea Institute, which is a non-profit organization dedicated to sustainability and other environmental causes. As you can imagine, this means that all of their products contain sustainable and eco-friendly ingredients, and are formulated with plenty of organic herbs and pure essential oils.
The Pangea Organics Bar Soap is quite a unique product, for a couple of different reasons…
To begin with, it features a truly unique scent, with Canadian Pine and white sage.
However, what really helps the product to stand out is the packaging that it comes in.
The fiber boxes that contain the soaps also contain tree seeds within them. Once you have removed the soap from the box, you can then soak the box for 24 hours, before planting it in the soil. After you have done so, it will not be long before tree seedlings begin to emerge.
Chanel No. 5 The Bath Soap
For recipients who enjoy iconic scents, you will not go wrong with the Chanel No. 5 bath soap.
As you would imagine, this soap bears the classic scent of the Chanel No. 5 fragrance. It also looks so elegant, and would instantly uplift whichever bathroom it is placed in.
Beauty Frizz Sweetly Clean Handmade Donut Soaps 
This pretty package features four soaps that have been hand crafted to look just like indulgent donuts.
Each miniature soap features a natural scent, and these are:
Chamomile –

this will soothe your skin, calming any redness

Lavender –

relaxes the mind

Green Tea –

packed with potent anti-aging antioxidants

Rose –

a gentle cleanser with anti-inflammatory properties
Aesop Body Cleansing Slab
This soap would definitely look quite dramatic in a gift basket, as this is quite a large slab of soap.
While its size is impressive, it is the scent of this soap that really stands out. The soap's formula contains quite a few natural infusions, including ylang ylang, line and bergamot.
This is a great soap for those who have sensitive or dry skin.
Why?
Because it is pH-balanced. When you mix it with water, it forms an extremely light lather that is able to cleanse the skin without stripping it of its natural oils.
Beauty Frizz Sweetly Clean Handmade Macaron Soaps 
Does the recipient of your gift basket love macarons?
If so, the Sweetly Clean Handmade Macaron Soaps will go down a treat.
This gift bag contains a trio of soaps, each one handcrafted to look just like a tasty macaron.
The soaps make use of natural aromatherapy, with their distinct scents being lavender, rose and orange.
Bamford Pebble Soap Set
This trio of heart-shaped soaps are the perfect gift for someone you love, and will look stunning in any bathroom.
What makes them even better is that these soaps are 95% organic, and are formulated with essential oils.
Although these soaps may be small, their scent is a rich one, with each scent complementing the next. With rose, geranium and lavender, this is a soap set that will definitely be appreciated.
Tocca Montauk Hand Wash
This hand wash is such a pleasure to use, leaving your skin feeling so soft and smooth afterwards.
The scent is a light but refreshing one, with the notes of cucumber and salt encapsulating the essence of summer.
When it comes to its actual cleansing power, this soap definitely does the job well, but is still quite mild, making it great for those with sensitive skin.
Burly Stone The Dude Soap
The majority of gift soaps out there feature scents that are quite floral and feminine, but what if you are purchasing one to gift to a male?
If that is the case, The Dude Soap from Burly Stone is one to look at.
Not only does it look incredibly masculine, but it also has quite a male-oriented appeal when it comes to how the soap is made.
Wondering what this is?
Well, rather than using water in the soap's formula, this product contains stout beer, and features the scent of oatmeal stout and leather, with notes of a smoky fire too.
To ensure quality, each soap is hand poured in small batches, but the product itself is quite large, and will last the recipient for weeks.
Wondering if this soap is actually any good for the skin?
Definitely. The stout beer is extremely nourishing, while the colloidal oatmeal exfoliates and soothes the skin.
The Best Scented Candles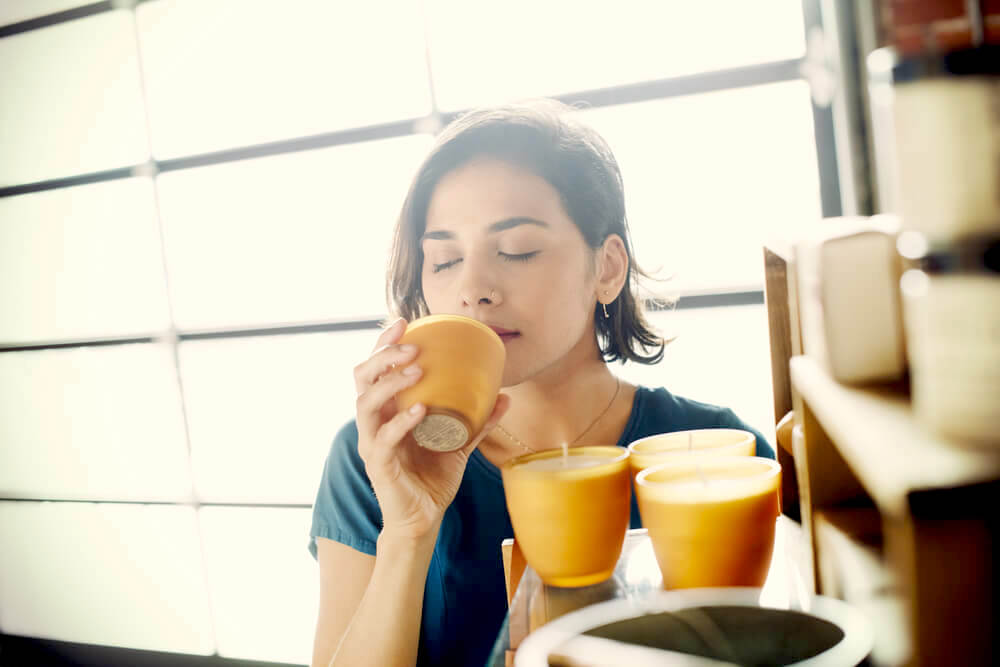 Jo Malone English Oak and Redcurrant Candle
The candles from Jo Malone make an appearance on gift wish lists all over the world.
Why?
Because they have the ability to really transform the scent of a room in just minutes, and are also known for their long burn time.
The brand's English Oak and Redcurrant Candle is one of their latest scents, and was inspired by the woodlands of the Nottingham Forest in the UK. This fruit notes in this candle are quite strong, but the oak balances this out so well, making this a fantastic addition to any home.
Jonathan Adler Muse Noir Candle
If the recipient of your gift basket enjoys items that are unique, then the Muse Noir Candle from Jonathan Adler is the one to buy.
Why?
Well, for starters, it is made with black wax, which instantly makes it appear quite dramatic.
The artistically sculpted bowl that the candle is in is made from porcelain, and is also translucent, meaning that you can just about see the black wax within. Of course, once the candle has been used up, this beautiful bowl can be used as a vase or some other type of container.
You are probably thinking…
But what does this candle actually smell like?
The strongest notes here are of bergamot, black plum and yetiver, giving it quite a deep but fruity aroma.
Honest Company Gardenia Jasmine Candle
While just about everybody likes candles, there are many who are concerned about the ingredients often used within them.
This has led to a surge in natural candles, and the Gardenia Jasmine Candle from Honest Company is one of these.
This candle is completely free of GMOs, artificial fragrances and lead.
Instead of all of these things, the brand uses a soy wax that is home grown to ensure the absence of chemicals, as well as an unbleached cotton wick.  
As you may have guessed from the name of the candle, the main scents here are jasmine and gardenia, both of which come from pure essential oils.
Voluspa Classic Textured Glass Candle 
The Classic Textured Glass Candles from Voluspa are another product that are sustainable and eco-friendly, being free of parabens, sulfates and phthalates.
The wicks used are 100% natural, and the fragrances that are used are the same.
Each candle is hand poured into its geometric glass container, making this the perfect gift.
When it comes to the scents, there are a few different ones to choose from, including:
Milk Rose –

featuring Bulgarian Rose, Marshmallow Milk and White Copali Amber

Rose Petal Ice Cream –

featuring Vanilla Bean Ice Cream, Marshmallow Vanilla Creme, Sugared Rose Petals and Tart Raspberry Ribbon

Rose Colored Glasses –

featuring Pink Rose Petals, Neroli Bloom, Sweet Vanilla and Warm Amber Musk

Bergamot Rose –

featuring Tart Green Bergamot, Yellow Garden Roses and Orange Flowers
In addition to being available in glass jars, you can also purchase small, macaron-sized candles with these scents, as well as larger, double wick candles in tin containers.
Elemis Life Elixirs Fortitude Candle
Does the recipient of your gift basket like aromatherapy?
If so, the Fortitude Candle will definitely be appreciated.
Why?
Because this is a candle that makes use of the principles of aromatherapy to help induce a restful sleep and a calm mind, while infusing you with an uplifting energy.
How does it do this?
Thanks to its carefully curated concoction of 19 essential oils, including ylang ylang and geranium.
Each oil has been chosen for its soothing and calming properties, making this quite the effective candle.
To top it all off, the candle comes in a stylish purple glass jar that would be a chic addition to any room.
Le Labo Calone 17
Le Labo is a New York based brand, and their Calone 17 candle is one that has been extremely popular with numerous celebrities lately, including Meghan Markle.
The packaging of the candle is quite trendy, and will add a special touch to any gift basket.
What about its scent?
Salty sea notes are balanced out with amber and geranium, resulting in a crisp yet comforting aroma.
What makes this candle even more unique is the fact that not only are they hand-poured, but each candle features a label that tells you who poured it, as well as where and when this took place.
This candle also features quite a long burn time at 60 hours.
SevenSeventeen Lime, Basil and Mandarin
This candle from SevenSeventeen features quite a unique blend of fragrances, with basil, lime and mandarin taking center stage.
This is quite a simple candle, but this means that it will work with so many different types of home décor, making it suitable for a wide range of recipients.
It also contains a lid that can be screwed on after each use of the candle, and this helps to prevent dust from collecting on the candle's surface.
The candle comes in three different sizes:
120 ml, with a burn time of 30 to 40 hours

180 ml, with a burn time of 50 hours

500 ml, with a burn time of 70 hours
To make it even better, a small portion of profit from each candle sold is donated to charity.
Tom Dixon Oil Pillar Candle Set
This is a candle that looks so sophisticated, thanks to the mouth-blown glass dish that it sits in. The dish is painted black, with a sleek and pearly iridescent finish that will not only complement any home, but will also act as quite the center piece.
Each candle is handmade in the UK, making this quite a special gift.
Wondering what the candle smells like?
Its fragrance is a smoky blend featuring Cedarwood, Styrax and Pine Tar, as well as Cypress Oil, and has a burn time of around 40 hours.
Thanks to its gender-neutral scent and visual appeal, this is a candle that will work well as a gift for both men and women.
Both scented soaps and scented candles make such fantastic gifts, because not only do they have such a wide appeal, their scent can still be tailored to the recipient. Whether you opt for macaron-inspired soaps or one-of-a-kind hand-poured candles, each of these products will make a beautiful addition to any gift basket.