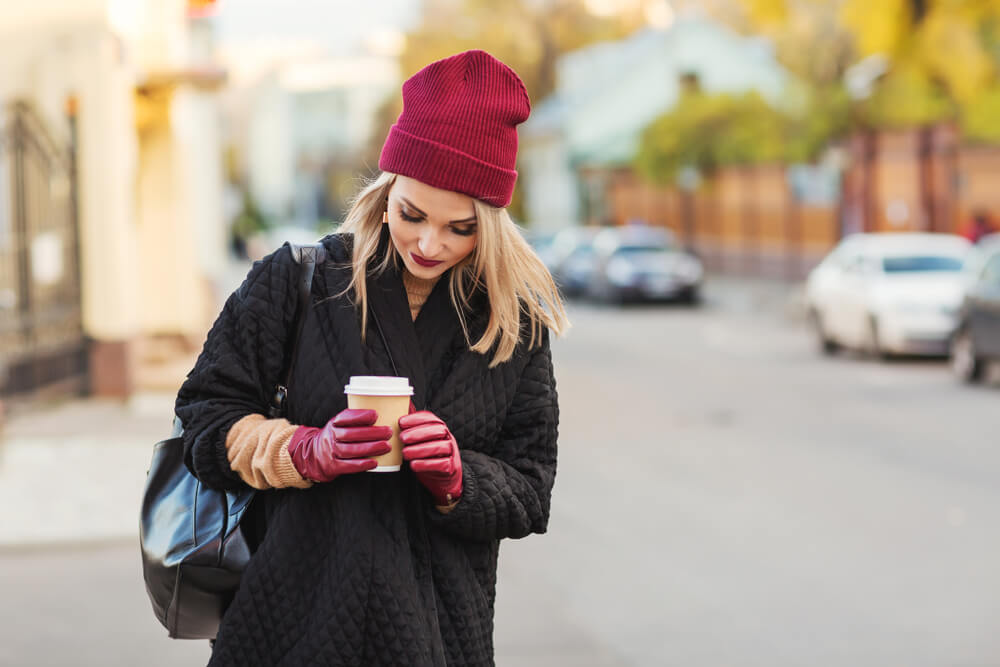 Preparing for winter requires you to take stock of your wardrobe to ensure that you have everything you need to keep yourself warm through the season. More often than not, your efforts to keep the cold at bay may end up compromising on fashion; it is unlikely that you will want to freeze and shine by baring those knees and shoulders in your favorite short and sleeveless dress. 
Fortunately, it is possible to keep yourself cozy and warm and still pull off a fashionable look by combining a few carefully selected pieces. To help you with this, here are11best fashion picks for cold winter weather.
Wear A Sleeveless Dress Over A Long-Sleeved Turtleneck
Turtlenecks are classic and stylish by themselves. Besides this, they serve the purpose of keeping you warm perfectly. Whether you are thinking of creating a professional or casual look, a turtleneck can serve as a foundational piece for your outfits. 
A turtleneck can serve as the under layer of other layers and can comfortably go under your sleeveless dress. To finish the look, pair it with accessories such as boots and a chic bag. Keep a few basic colors handy to last you through the season.
Play with Your Beanies for a Variety of Looks
Apart from keeping you warm and cozy, a beanie protects your hair. Wearing one when it is cold is cool but it may also look common especially if you always wear it the same way. 
https://www.instagram.com/p/Bok7ZEDAz13/
Here are ways to pull off different beanie looks;
Match your beanie with your coat to create a glamorous look
Roll-up the cuff of the beanie once to change up the look and make your ears warmer especially if the weather is too chilly
Wear it higher on your head when the weather is not too chilly since this keeps it off your neck and only covers your ears slightly
Tie your hair into a low ponytail below your beanie
Wear a baggier beanie if you have curly hair to prevent a lumpy or misshapen look
Stock up on several neutral colors to go with your outfits and keep off prints, adornments and bright colors as they tend to look juvenile
Keep Your Wool Coat Handy
If there is a piece of clothing that you might find yourself reaching out for many times, it is probably your wool coat. It is also what you and others will see most of the times because it is usually worn as the top most layer of your clothing. A 100% wool or wool-cashmere blend lasts longer.
You can go for a neutral color like navy, camel, black or grey which goes with many outfits. Having a bold color at hand is great for when you want to stand out from the crowd. Here are a few tricks to create different looks;
Wear a coat that fits at the waist and then flares out at the hips to create the illusion of a tinier waist
A coat with large shawl or faux fur collar helps to balance out wide hips
Choose a long coat with a thick belt to make a thin flame appear curvier
If you are petite avoid full length coats and wear them around the knee-length or just past your knee to avoid being 'lost in the coat'.
A looser fit can help you pile a few layers below without looking uncomfortable
Wear Your Slip Dress Under a Sweater
Just because it is winter, you don't have to keep all your beautiful dresses away; with a sweater on top, you are good to go.
You can pair up your look with chunky boots that hit just below where your dress reaches.
Keep a Hooded Rain Coat Handy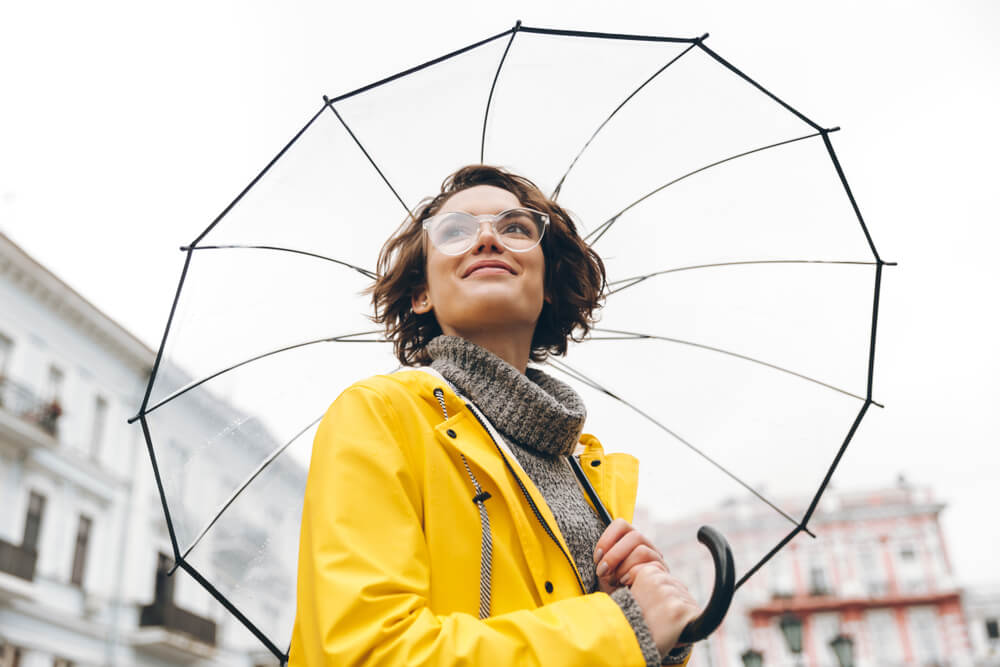 Nothing beats a handy rain coat when unexpected showers strike! A water resistant shell and a hood are a must. You can choose to wear it over a dress, jeans and a T-shirt or a jump suit. 
A raincoat with a hood that zips along the collar when you don't need it is a great choice but an even better one would be one that can easily fit into your tote.
Consider an Assortment of Sweaters
Just like sweater dresses, sweaters can come in handy all-year-round. The best part is that you can pair them with practically any item of clothing. These include dresses, belts, jeans, boots, shirts, leather jackets, coats etc. The question is; how would you like to wear your sweaters? Mix your ideas with some of ours below:
Wear your oversized sweater with leggings and a pair of boots. For a curvier look, tie a belt over the sweater at the waist
Wear the sweater over a dress for a top-skirt appearance
Pair your sweater with jeans; an oversized sweater can go well with rugged jeans for a lazy look while a V-necked sweater over a collared shirt with nice jeans can give you a neat look.
Go for a classic look with the trendy 'duster' length sweater. Longer sweaters pair well with booties
For some extra warmth, have your turtleneck sweater undera leather jacket or a coat
Pair a turtleneck sweater with a pantsuit for a formal look
Wear a sweater vest over a white blouse to work
Wear it as part of layers that you can 'peel off' as the weather changes. Think tank top, then sweater, then coat.
Pro Tip: Keep off holiday sweaters; they do nothing to flatter your look.
Stock up on Scarves
The versatility of a scarf can help you come up with different looks in addition to keeping you warm.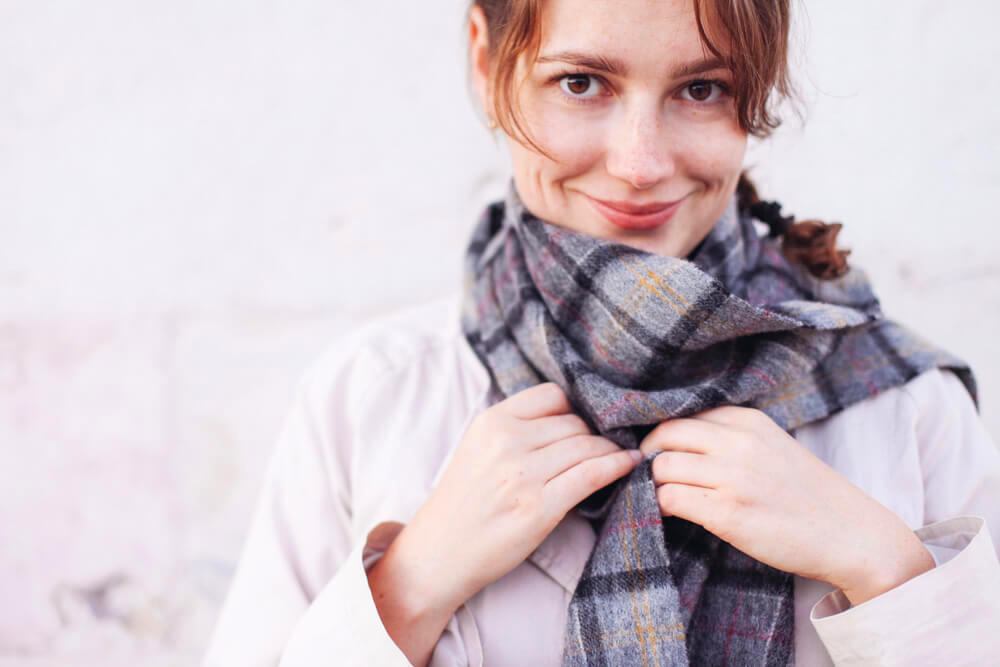 Whether you want to wear it in a circle, knotted or draped, here are different ways to wear your scarf:
Fold a long scarf in half, drape it around your neck and tuck the loose ends through the folded loop to give a very warm feel
Drape your scarf around the front of your neck, crisscross the ends behind your neck and pull them to the front.

 

You can leave them to hang freely or

 

knot them for a different look
Tie your scarf in front, flatten out the knot and the edges and then crunch from the top to create a turtleneck
Pair your scarf with a matching beanie for a casual look or a beret for a more sophisticated look
Go with patterns and colors for the casual look and lean on textured and solid-colored ones for formal looks
Have Fun with Fur (or Faux Fur)
When else do you get to show off your fur? Fur or faux fur can give your outfit an instant transformation and also create a wintry look. You can opt for a fur jacket, vest, or you can have fur accent pieces like mittens and collars. Here are a few tips to rock that fur look:
Pair a faux fur vest with an all-black outfit
Top off a layer of t-shirt and V-neck sweater with a fur vest
Stock on colors such as black, beige and maroon; they tend to go with everything
Stay away from high collar pullovers when wearing fur to avoid creating a shabby look
Pair up your LBD with a fur coat and booties
Take Advantage of Sweater Dresses
Sweater dresses can be worn all-year round depending on the material, how you wear them and what you pair them with. If you are into dresses, you don't have to compromise during winter; sweater dresses can be a good way to keep warm, remain stylish and feel good wearing what you like.
On the other hand, there is no one-style-suits-all kind of rule when choosing a sweater dress; the key to achieving that great look lies in wearing it in a way that highlights your best assets and conceals the not-so-desirable bits. The following tricks can help you bring off the look:
https://www.instagram.com/p/Br-icQYhVAU/
If you are a plus size, go for soft materials and solid colors. Keep off chunky yarns and horizontal stripes.
Is your body petite? You are likely to be swallowed up in an oversized sweater dress. Instead, go with vertical stripes that will help create an elongated look
Midi or above the knee lengths tend to work for all heights, figure and sizes if you want to play safe
Accessorize you dress with a belt to cinch your waist for a curvier look
Pair your mini sweater dress with thigh-high boots; it works for different body shapes
If the weather is not too chilly, combine your sweater dress with gladiator sandals
Pair you dress with a scarf to add warmth and to stand out
Leaving your legs bare works great but if you would like to add some warmth, pair it up with black tights or lace stockings and boots
Invest in Handy Boots
Depending on where you are located or your plans for the winter season, being ready with what to wear on your feet is of the essence. The freezing cold weather calls for some warm footwear, not to mention handy ones when making your way through the snow and possible water puddles. 
https://www.instagram.com/p/BrsBFP6l4Bv/
Whether you are going to work, attending parties or going for a hiking adventure, carefully selected boots will be your help in time of need during winter. So, how do you pick these without compromising on either fashion or your needs? Here's some help:
When the weather is not too chilly, show off your killer thigh–high boots with a short dress and bare just a little skin
When you are going to spend some time outside, chose lined boots for extra warmth. Ensure that the insole is insulated as well
Your comfort is paramount especially if you will walk or run for long distances. Boots with full racing are known to offer great support to your foot and the arch for a better walking posture
Choose boots with a water proof top to avoid ending up with frozen toes. Some boots also come fitted with cuffs that form a kind of collar and gaiters that extend from the top of the boot and tighten around the calf to keep snow from getting through the top of the boot.
Wear your block heeled booties with flowy skirts, wide leg pants or denim overalls
For riding boots, do fitted dresses, skinny jeans or leggings
Over-the-knee (OTK) boots go well with faux leather leggings, skinny jeans, miniskirts and above-the-knee dresses
Pro Tips: Boots cost more compared to most other winter items. Invest in a few pairs of neutral colors that are sure to go with most outfits. 
Also, you can never go wrong with skinny jeans and any boot.
Become a Layering Pro
Sometimes, the weather becomes so cold that your favorite winter choices no longer seem to cut it. This is where the art of layering comes in handy. You will need clothes for the first, middle and outer layers. The layering should be done in such a way that you don't end up creating discomfort or unsightly bulges.
https://www.instagram.com/p/Brms5lXnCNC/
For the first layer, choose lightweight items that fit snuggly on your body. Parts of these clothes will probably peek at the neck, sleeves or at the hemline. Examples of these include tights, stockings, tight T-shirts, slim leg dungarees and turtlenecks. You can go with thermal pieces for extremely cold weather.
The medium layer is more visible and should therefore comprise more color and texture. This is where cardigans, crop tops, blazers and sweaters come in. They need to fit over the bottom layer seamlessly.
The outer layer provides cover for the other layers. It can be in form of jackets, trench coats, ponchos, shawls or vests. You can go longer than the others or do a cropped look.
The Bottom Line
The most basic requirements for winter are warmth and comfort. However, you can also incorporate fashion by making a few adjustments to your wardrobe and having a closer look at the combinations in your outfit. While you can pick one or two of the above options and go with it, adopting several of them and incorporating most of the clothes in your current wardrobe will ensure that you not only have a variety of looks to go with but will also keep you from breaking the bank just to get through winter.