Wondering how to decorate your hair this fall?
From the girly to the pearly, these hair accessories are sure to bring the party to the table.
Decorated Bobby Pins
No longer are bobby pins getting lost in vanity drawers, shoved into messy buns never to be seen again, or used to pick a lock during desperate times. The new bobby pin is bejeweled, covered in pearls, crystals, rhinestones, and beads. This year's rule of thumb is to wear as many bobbies as you can pull off, clustered together free form. Alternatively, wear pearl bobby pins along your hairline. 
1) Lelet Blush Crystal Bobby Pin Set
If your having a hard time picking a favorite, don't bother. With the Lelet Crystal Bobby Pin Set, you get not one, but three stunning bobbies, each lovelier than the next.  Trimmed with glittery crystals and pearls, these bobbies can be double or triple stacked for a modern look, or worn alone to make a classic statement. 
2) Ivory Pearl Bridal Hair Pin Set
You only get to be a bride once, but with this Ivory Pearl Bridal Hair Pin Set, you can look aisle walk-ready with just a few well-placed bobbies. This handmade Swarovski pearl hairpin set on Etsy are your best tools. The rules are as follows: 
 Prep your hair with a textured hairspray.

Use a 1-inch curling iron to wrap large sections around the wand for an ethereal looking wave.

In one pass, run a flat iron over your curls so they relax.

Create a center part, tuck your hair behind your ears, smooth the top layer and stack three pearl bobby pins on top of one another in line with your temples.
3) Kitsch Rhinestone Bobby Pins with  Statement Words and Phrases. 
If you're looking for the best DAMN bobby pin around, look no further than the "DAMN" Kitsch Rhinestone Bobby Pin. In collaboration with celebrity hairstylist Justine Marjan, Kitsch has released a series of oversize rhinestone-encrusted bobby pins with statement words and phrases that will make you the talk of every party.
https://www.instagram.com/p/B0thAedp81-/
DIY Bobby Pins
Speaking of the word getting out, we suppose you've already seen the news on Instagram about the crystal Gucci $400 hair clip. Ok, so maybe you won't get anything "Gucci" quality making bobbies on your own, but you'll surely save a lot of dough. If it's ever occurred to you that paying upwards of $50 for a glorified bobby pin is somewhat ridiculous, why not glorify your own bobby pin? Here are some tips for tricking out a bobby.
4) Chain Crown Bobby
To chain back your mane, try this easy-to-make hair accessory.
Materials: 
Bobby pins

Needle nose pliers

Chain 

O rings
Directions:
Attach a chain to 2 bobby pins and wrap it around the back of your head.

If your chain links aren't big enough to fit around the bobby pin, use O rings to attach using pliers. 
5) Scrapbook Bobbies
Now scrapbookers aren't the only ones who can put those adorable scrapbook accessories to good use. 
Materials:
Scrapbook embellishments of your choice, preferably with a flat back

Hot glue

Bobby pins
Directions: 
Apply a small drop of hot glue or any hard glue to the back of your embellishment.

Attach glued embellishment to the bobby pin.

Apply pressure until you feel as if the embellishment is securely attached to the bobby pin.
(If you're using an embellishment that does not have a flat back, such as a button, use needle-nose pliers to remove plastic loops, etc.)
6) Chanel Pearl Hairpins
These Chanel inspired hairpins will make Karl Lagerfield green with envy.
Materials:
8 mm – 12 mm half-drilled crystal faux pearls

20-22 gauge wire

Booby pins

Wirecutter

Flat nose pliers

Superglue
Directions:
Cut off a piece of 5" wire. Fold it in half. Flatten the fold with flat nose pliers.

Apply a few drops of superglue to the tip of the fold and insert it into the pearl.

Insert the wire into the head of the bobby pin.

Separate the two parts of the wire. With the pearl on top of the bobby pin, begin wrapping one side of the wire around the top of the pin.

Continue to wrap tightly 5-6 times.

Secure the pearl by wrapping the other side around the bottom half of the bobby pin.

Snip the wire and reinforce it with a few drops of superglue.
Padded Headbands
https://www.instagram.com/p/Bvon-4lnWi1/?utm_source=ig_embed
Miuccia Prada has seen Blair Waldorf's game and she's raising the stakes. Say good-bye to the school girl aesthetics. The new headband is regal, polished, lofty and padded – make that very well padded. And thanks, in part to Ms. Prada, the padded headband is so "huge" that you can't scroll down your Instagram feed without seeing some version of it or another (see Kate Middleton for inspo). 
The appeal isn't hard to see. Padded headbands are a low effort way of looking like you really tried. They keep the hair out of your face, give you an extended grace period on your hair wash, and keep you looking fab without the hot styling tools. 
Looking to pad out your hair accessory collection? Here are some hairbands that come "highly' recommended:
7) Design by Hummingbird Padded Black Flock Velvet Headband
Forget about the shoe, Cinderella, its all about this hairband.  One size fits all (divas, princesses, and queens, that is), and straight from the UK (by way of etsy.com), this padded flock headband features rose gold embellishments, faux pearls, and sparkling diamante. Check it out on Etsy and may all your Thanksgiving pumpkins turn into carriages.
9) Lele Sadoughi Velvet Headband
Way before "orange was the new black," leopard print was the new black, and if you ask us, it's a lot more flattering than orange. Whether the old black is the new black or there's an even newer black that we haven't heard of yet, we're loving this leopard print headband. Made of pure velvet and knotted at the top, we think this headband is the cat's meow. Try it with curls for some extra charm. 
Ribbons and Bows 
From Minnie Mouse to Lucille Ball to Louis the XVI, the bow has been used to adorn the hair in any way it seems aesthetically pleasing. Dorothy Gayle wore them innocently in her pigtails, Madonna wore them atop her head rebelliously, and Bridget Bardot wore them naughtily. To this day, bows have gone nowhere and have been everywhere, and still, we find new ways to wear them. If you're looking to "tie one on", here are a few that might grab you. 
10) Urban Outfitters Darling Draped Bow Scrunchie
No matter what you've got going on upfront, it's all party in the back with the Urban Outfitters Darling Draped Bow Scrunchie. Go low with your tail, go high with your tail, or go crazy with your tail with these UO exclusive hair ties.  
11) Sophie Buhai Classic Silk Bow
The next time you find yourself asking, "What has she got that I don't?" The answer is unequivocally this Sophie Buhai Classic hair bow tie. This classic bow screams "put together."
12) Free People Velvet Scarf Pony
Ready for a little bow-ho? Tie back your tresses with this velvet scrunchie featuring femme velvet bohemian detail.  
Ways to Wear A Bow In Your Hair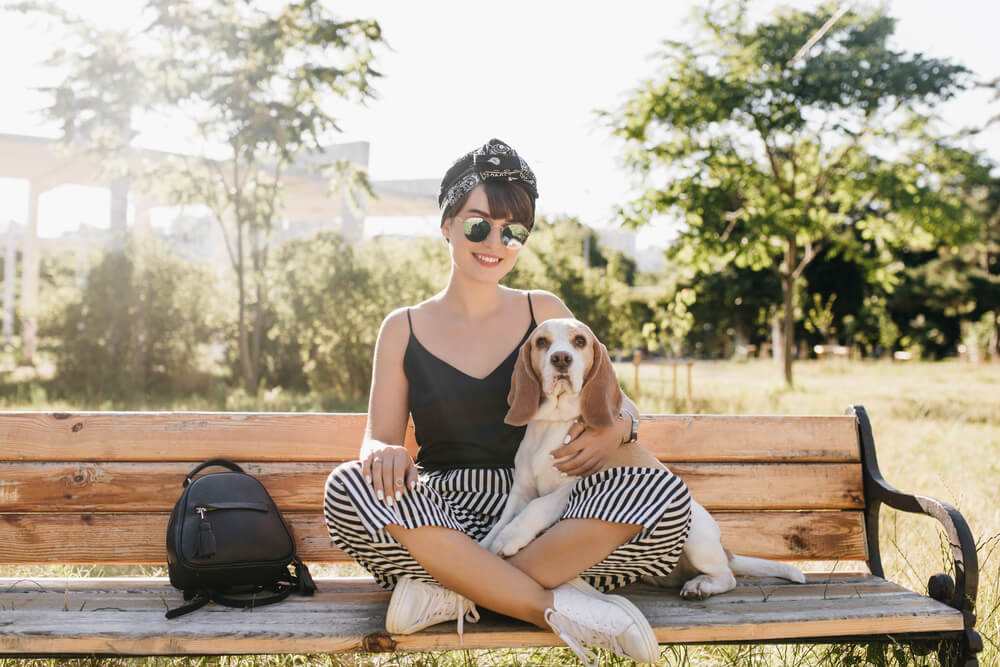 If you're happy and you know it, put a bow in your hair! If you're not happy, or not sure if you're happy, put a bow in your hair and you instantly will be. We guarantee it! In fact, we're all sitting here with bows in our hair and we're as happy as can be.  If you want some ideas on how to wear that bow, here are a few:
Around Your Ponytail
Even if your ponytail is hiding a multitude of sins, such as three-day grime or simply bad hair, take a minute before you go out to tie a bow around it. You'll be out of the door looking flawless in a flash.
Wrapped Around A Top Knot In a Half Up Half Down Style
Knot sure whether you want to wear your hair up or down? The top knot half up half down is a sassy solution, and its got even more 'tude when you tie a bow around it. Just keep the tails of the bow short, so it doesn't look too juvenile.
Tied at the Bottom of Your Braid
After you've made that perfect braid, reward yourself by tying a bow at the end. So much more interesting than a simple elastic.
Around Your Bun
Even a bun can look effortless with a ribbon tied around it. Simply wrap the bow around the perimeter of the bun and tie it – off to the side or in the front, depending on how cheeky you're feeling. 
Barrettes and Hair Clips
https://www.instagram.com/p/BsQ1fKyH1mj/?utm_source=ig_embed
We like to think of the barrette as the bobby pin's older sister. Not only is it bigger, but it also shoulders more responsibility.  When you put a barrette in your hair, you have that extra satisfaction of locking it in place. You have faith that it's going to stay there and do its job, unlike its less trustworthy little sister.  
Of course, the barrette has a bit more surface area than the bobby, which also means it has more room for decoration, and the hair clip designers this year have certainly taken advantage. To get an idea of the barrettes out there this season, read on. 
13) Lelet NY Loren 14K Gold Plated Faux Pearl Barette
With this ring, I thee wed. Ok, so maybe this round barrette isn't exactly wedding ring material, but at $170, it is a bit of a commitment. Go to modaoperandi.com to say, "I do."
14) Brinker and Eliza Personalized "Say My Name" Barrette
If you can't get enough of barrettes, this hair accessory has your name written all over it. Crafted friendship bracelet style, the Brinker and Eliza Personalized "Say My Name Barrette" spells the name of its wearer out in Mother of Pearl characters, bordered by gold plated cowrie shell charms.