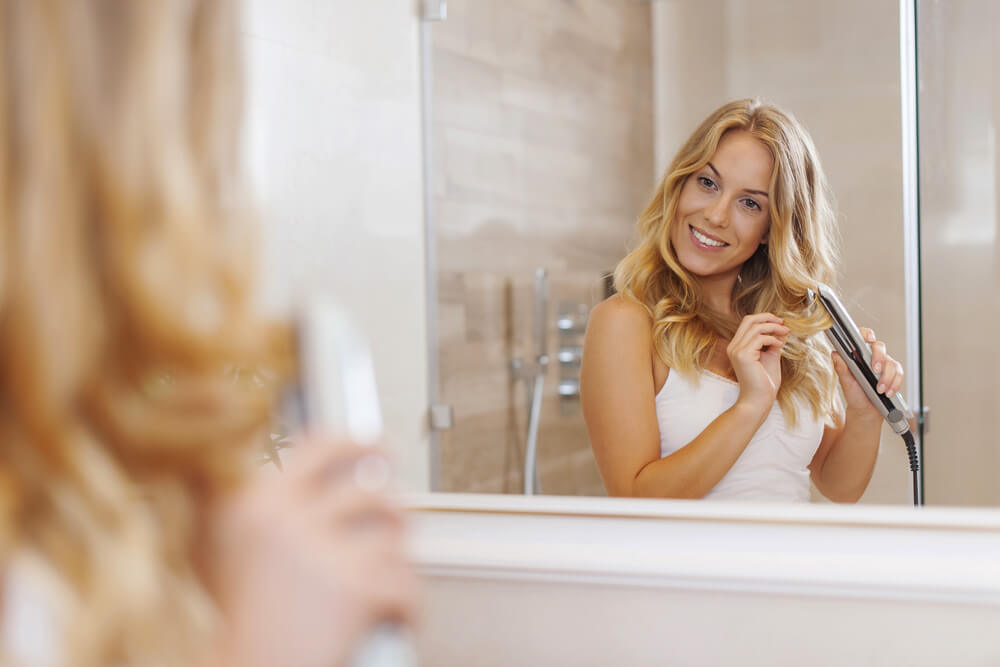 Flat irons are such multifunctional tools – not only do they straighten your hair, but they can curl it too! Of course, some models do this better than others, so here is a round-up of the 8 best flat irons for curling super long hair.
1) GHD PLATINUM+ STYLER
Ever heard of a smart straightener? 
That's exactly what the GHD Platinum+ Styler claims to be…
Everybody who straightens or curls their hair has heard of GHD – after all, this is one of the best flat iron brands around! Well, their Platinum+ Styler is one of the brand's latest offerings, and boasts a unique feature called predictive technology. 
What does the predictive technology do? 
It can sense how thick your hair is, and then adjusts the temperature to best suit that.
Thanks to this innovative technology, this straightener claims to: 
Reduce breakages by up to 70%

Double up on color protection 
So, what's the downside? 
There are a couple…
Firstly, the GHD Platinum+ Styler only reaches a maximum temperature of 365 degrees F. According to GHD, this is not a problem at all, thanks to the way in which the straightener's predictive technology will still find the perfect temperature for your hair type. 
However, for those who have super thick or frizzy hair, you will likely find that 365 degrees F is simply not hot enough. 
The other downside? 
The price – this flat iron is quite the investment, and may only be worthwhile for those who are going to be using it on a daily basis. 
2) HERSTYLER LED PRO LUXE 1.25" DEEP PURPLE STRAIGHTENER
https://www.instagram.com/p/B1Ks8K9IucN/
Herstyler is a hair care brand that produces a wide range of flat irons and curlers. While many of their flat irons will only really be effective at straightening hair, they do have a couple that stand out big time when it comes to curling too. 
Their LED Pro Luxe 1.25" Deep Purple Straightener is one that you should definitely know about…  
Its 1.25" ceramic plates make it easy to target larger sections of hair at a time, with this giving you more versatility when it comes to the size of curls you can create. The fact that the flat iron features floating plates gives you even more flexibility, allowing you to flip and curl your hair with ease. 
Now, those of you who are frequent curlers will have probably experienced the frizz that can often accompany curled hair. 
Thankfully, the Herstyler LED Pro Luxe 1.25" Deep Purple Straightener takes care of that problem. 
How? 
It all comes down to its infrared and LED technology…
The infrared technology targets the scalp, encouraging hair growth while drawing out the hair's natural oils. Usually, these oils are stripped away by high temperatures, which is why hair can often end up frizzy after it has been straightened. However, when you use this flat iron, the way in which it draws the natural oils out will keep your hair smooth, shiny (but not too shiny!) and frizz-free. 
When it comes to the LED technology…
The red LED lights emitted by the device are absorbed by the molecules in your hair follicles. This enables the LED lights to penetrate deep into the scalp, where they then stimulate stronger and healthier hair growth. 
Wondering what temperature the Herstyler LED Pro Luxe 1.25" Deep Purple Straightener reaches? 
It heats up to an impressive 450 degree F, making it suitable for all hair types and thicknesses. 
3) REMINGTON WET 2 STRAIGHT TOURMALINE CERAMIC WET/DRY FLAT IRON
Do you always find yourself rushed for time? 
The Remington Wet 2 Straight Tourmaline Ceramic Wet/Dry Flat Iron could be a huge time-saver…
How? 
Because it can be used on wet hair, meaning that you would not need to air dry or blow dry your hair first before curling it. According to Remington, this could speed up your hairstyling routine by up to 86%, which is definitely pretty impressive! 
You have two options when it comes to the plate size for this flat iron: 
1 inch plates –

these are great for getting close to the roots of your hair, enabling you to create tighter and more defined curls. Of course, for those with super long hair, the curling process can often take longer when using smaller plates 

2 inch plates –

these are ideal for larger waves and curls, and are faster to use on long, as well as thick, hair 
The Remington Wet 2 Straight Tourmaline Ceramic Wet/Dry Flat Iron heats up to 400 degrees F, meaning that pretty much everyone would be able to use them, no matter your hair type. 
You won't need to worry about frizz with this flat iron either – the ceramic plates have been infused with micro conditioners that transfer over onto your hair each time you use the flat iron. This will then leave your hair smooth, soft and frizz-free, while also strengthening it and making it healthier overall. 
Worried about damaging your hair by curling it while it is still wet? 
You will still need to towel dry your hair first, but, once you begin curling with the flat iron, the special vents placed strategically throughout the device will enable any water to vaporize, protecting you from damage. 
4) BABYLISS PRO NANO TITANIUM-PLATED ULTRA-THIN STRAIGHTENING IRON
Another market leader when it comes to hairstyling tools, Babyliss produce a wide range of flat irons, but their Pro Nano Titanium-Plated Ultra-Thin Straightening Iron tends to be one of the best for curling long hair. 
What makes it so good? 
It boasts a few different standout features, such as: 
It is extremely

lightweight,

making it easy to hold and maneuver around long hair 

It heats up extremely quickly, and maintains this temperature well 

Its one inch plates enable you to curl your hair right at the roots
Ok, so while the one-inch plates may be beneficial in terms of curling your hair right from the root, it does also have its drawbacks…
It can take absolutely ages to curl super long hair with one inch plates, but, if you are looking for precise curls, then this straightener can help. 
One other thing about this flat iron that puts many people off…
It doesn't have easy-to-use, precise temperature settings. 
Although the product does really offer 50 heat settings, just like it claims, each of these 50 numbers represents a specific range. In order to properly make use of these settings, you will likely need to always have the instruction manual close to hand, at least for the first few times you use the flat iron.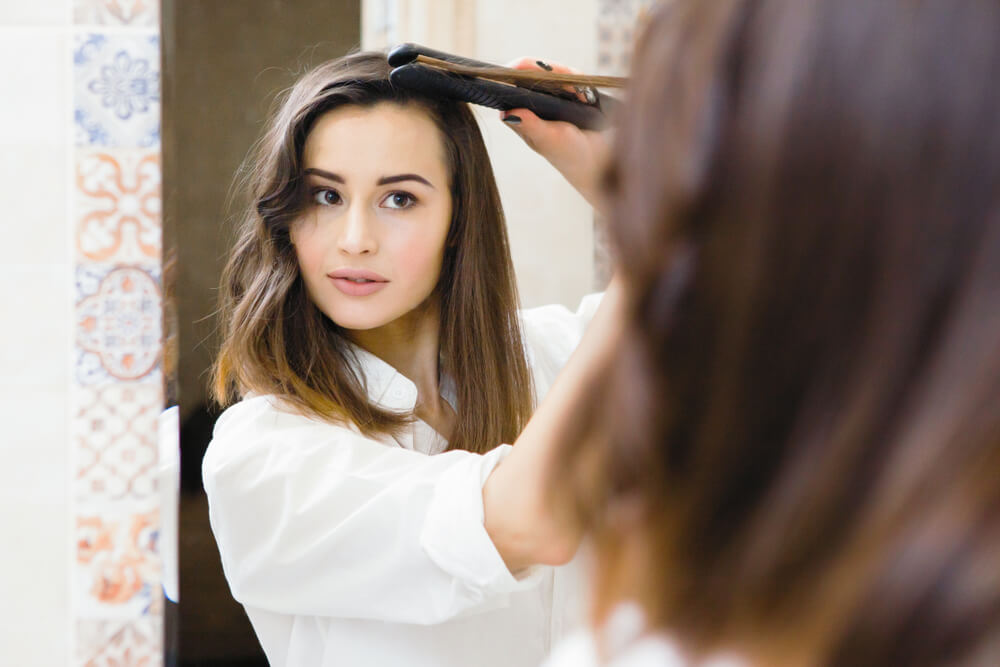 5) HARRY JOSH PRO TOOLS CERAMIC FLAT STYLING IRON
Have you heard of Harry Josh before? 
Those of you who are in-the-know when it comes to celebrity hairstylists likely have…
Having worked with everyone from Cindy Crawford and Karlie Kloss to Ellen Pompeo and Olivia Wilde, Harry Josh definitely knows his stuff when it comes to hair. 
These days, he spends his time creating editorial styles for some of the finest publications out there, including British Vogue, Allure and Harper's Bazaar. He also dedicates a large portion of his time to developing his hair tool collection – Harry Josh Pro Tools. 
The collection consists of several products, but the one that you need to know about is the Harry Josh Pro Tools Ceramic Flat Styling Iron. 
What makes this flat iron worthy of a place on this list? 
At 1.25", the plates of this flat iron are large enough to make curling super long hair a breeze. The fact that the flat iron has curved edges is an added bonus, as this makes it so much easier to shape each section of hair into a beautifully round curl. 
It features an easy-to-use temperature dial, with 11 heat settings, that makes it so convenient to increase or decrease the temperature in small increments for styling different details, while its auto shut-off feature promises a higher level of safety. 
Worried about frizz? 
You won't need to worry with this flat iron, as its plates emit negative ions each time they come into contact with your hair. This not only hydrates the hair, but also keeps it smooth and shiny. 
6) HERSTYLER PINK LACE FUSION
https://www.instagram.com/p/Br6WsRlDbZk/
Yes, Herstyler gets another mention on this list, but their Pink Lace Fusion flat iron was just too pretty to pass up! 
It features a gorgeous pink lace print that would look absolutely stunning when out on display in your bedroom, and is definitely unique when compared to the majority of other flat irons out there. Its satin coating is another highlight, not only in terms of aesthetics but also when it comes to how comfortable the flat iron feels in your hand. 
Of course, you should never judge a product on looks alone, but you don't need to worry about much when it comes to the Pink Lace Fusion's features…
It boasts 1.25" solid ceramic plates, which allow you to create a variety of different curl sizes, and heats up to an impressive 450 degrees F. Of course, just like all of the other quality flat irons out there, this one has temperature control settings, enabling you to adjust the temperature to suit your hair type. 
Another feature that is especially beneficial to those with long hair is its 360 degree swivel-cord, which is also long enough to prevent tangles. This nifty little feature makes it so much easier to curl even super long hair in just one easy movement. 
7) CHI SMART GEMZ VOLUMIZING ZIRCONIUM TITANIUM HAIRSTYLING IRON
In-keeping with the theme of flat irons that both work well and look gorgeous is the CHI Smart Gemz Volumizing Zirconium Titanium Hairstyling Iron. 
That's right, this flat iron is referred to as a hairstyling iron, because it has been designed to effectively straighten as well as curl. This is all down to its curved edges, which give you so many opportunities when it comes to flipping and curling your hair.
The temperature settings on this flat iron range between 370 degrees F and 410 degrees F, making it better suited for medium to thick hair. 
Do you ever struggle with finding somewhere safe to leave your flat iron while it is cooling down?
That will be a problem of the past with the CHI Smart Gemz Volumizing Zirconium Titanium Hairstyling Iron, because it comes with a two-pocket thermal bag. It is safe to place even a hot flat iron in this bag, as the fabric can withstand the heat. 
Now, back to this flat iron's aesthetics…
The CHI Smart Gemz Volumizing Zirconium Titanium Hairstyling Iron is available in pink, blue and black, with all three colors featuring a chic metallic print. 
It is sleek, shiny and compact, making it easy to add to even the most cluttered of hairstyling tool boxes. 
8) SULTRA THE WICKED WAVE AND STRAIGHT IRON
As you can tell from its name, the Sultra the Wicked Wave and Straight Iron is another flat iron that has also been designed to curl hair too. 
Its curved edges make this so easy, although its 1" plates may be a little too small for those who have thick hair. While you can create a variety of curls with this flat iron, the consensus seems to be that looser and bouncier curls are what this flat iron really excels at. 
However, what really helps this model to stand out is the way in which it prevents heat damage. 
How does it do this? 
By being designed with ThermaTru and Advanced Care Ceramic Technology, along with Fat Infrared Ray Technology. Together, all of these features protect the hair from heat damage, while repairing any existing damage that you may already be dealing with. 
All of that makes this flat iron ideal for those who have dry or damaged hair, or even for those with colored hair who want to extend the life of their hair color for as long as possible. 
There are so many different flat irons out there, and, with everyone's hair being slightly different, it can take some time to find the perfect flat iron for you. If possible, try to test your shortlist out before making a purchase, as there is nothing quite like first-hand experience when it comes to using a new hairstyling tool.