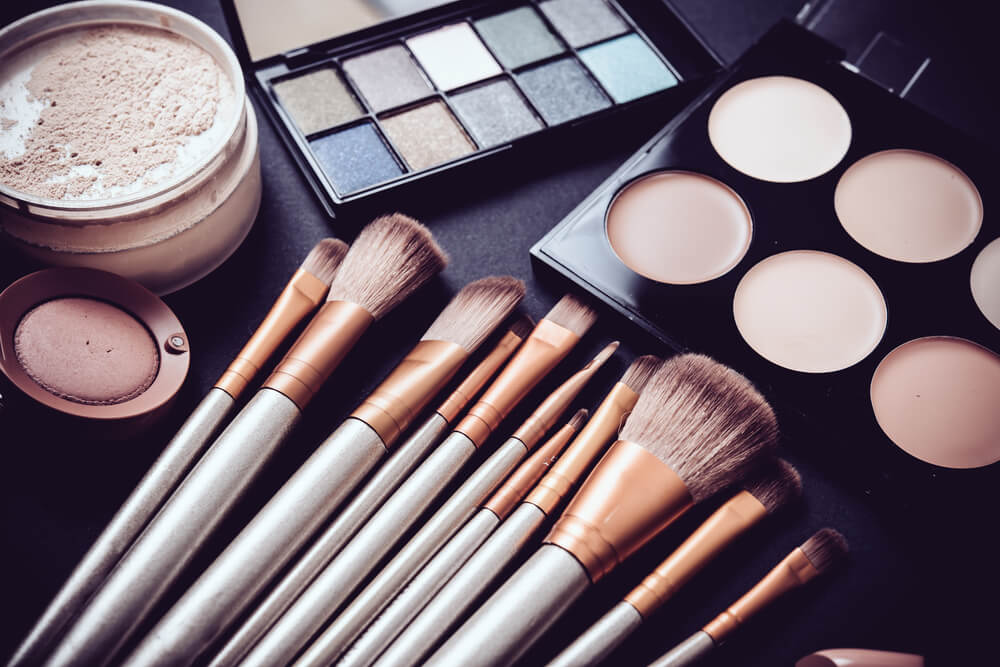 People with sensitive skin know how difficult it is to find products that won't irritate your skin. And that applies to all types of items, from skincare to makeup. It's difficult enough to find a foundation that won't cause acne, but you also have to look at the tools you use.
With so many things on everyone's plate, who has the time to research all that?
There's no need for you to stress out. We're here to show you makeup brushes suitable for sensitive skin.
SHANY Artisan's Easel Elite Cosmetics Brush Collections
Maybe you're the type of person who's on-the-go and wants to get everything you need in one place.
Well, look no further.
SHANY has a collection with eighteen (18) different brushes. That covers all your basic needs from your face, eyebrows, eyes, and cheeks.
You'll get the following brushes in this set:
Flat stippling

Tapered foundation

Angled Kabuki

Round powder

Angled blush and bronzer

Large tapered foundation

Angled crease eye shadow

Flat blending eye shadow

Domed blending eye shadow

Angled blending eye shadow

Tapered blending eye shadow

Tapered crease eye shadow

Angled eyeliner

Pointed eyeliner

Pointed smudger eye shadow

Flat smudger eye shadow

Wide eye shadow

Angled crease eye shadow
SHANY makes its products with a mix of synthetic and natural fibers. Each brush has curved micro-fined tips to ensure that they don't irritate your skin.
The company itself is a PETA member, so you can rest assured that your purchase is cruelty-free. They also boast having anti-bacterial and gluten-free products. These specifications make their line suitable for those with sensitive skin.
Besides being gentle, you'll be happy to find other perks to this collection! All 18 brushes come in a pouch.
But here's what we love about the bag it comes with: it doubles as a stand. You have your very own makeup easel for quick use. It also makes cleaning your brushes much more convenient.
Isn't that neat?
And they don't lose when it comes to style either. The brushes are sleek, with simple but stylish black handles. Some of the bristles are ombre, and the pouch is black with a splash of purple. It's sure to be an excellent addition to your makeup table.
If you're looking for a more eco-friendly version, this brush set also comes in a bamboo variation. They source the material for the handles sustainably. Matching the wooden brushes is a gray pouch for a more natural look.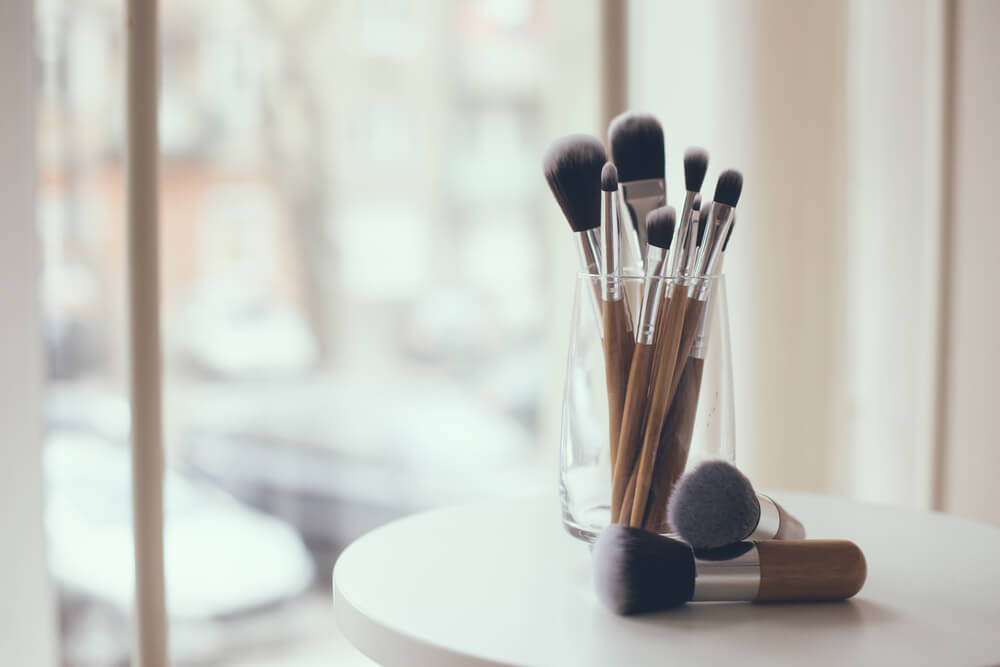 EcoTools Start the Day Beautifully Kit
This excellent choice of brushes suitable for sensitive skin comes from the brand EcoTools. Here, we have a basic set that's versatile, good quality, affordable, and eco-conscious.
This set includes the following types of brushes:
Angled foundation

Full blush

Defined crease

Angled liner

Blurring blush
It may not be enough for a detailed glam look, but it'll get you through everyday makeup. EcoTools has designed these essential tools to simplify your routine. It's also a great starter set for beginners. The kit even comes with a guide for three "how-to" looks to keep you inspired.
The brushes have synthetic fibers. They're an excellent choice for people with sensitive skin as natural bristles may trigger some people's allergies.
We're a fan of the brand, and their products never disappoint. Also admirable is their commitment to decreasing their impact on the environment. This kit uses recycled materials, including the aluminum on the brushes and the plastic packaging, along with their other collections.
As if that wasn't enough, EcoTools is also a PETA-certified company. All their products are vegan and cruelty-free.
Lastly, we also recommend it for everyone who's looking for something affordable. Retailing at $12.99, you get five high-quality brushes with a lower environmental impact.
EcoTools Retractable Kabuki Brush
While we're on the topic, we have another recommendation from the brand.
Kabuki brushes are a must-have for many makeup lovers and users. EcoTools has several in their collection, but now they have a retractable version. It's perfect for those who are on the go and want to travel with their brushes.
The synthetic bristles are incredibly soft and are best for powders and bronzers. It's travel-friendly and versatile!
The brush comes in a ferrule of recycled aluminum. It's rust-resistant, so you'll be able to keep it for a long time before having to switch it out. The case also helps keep the sturdy bristles in place, preventing too much fall out that we know many brushes are prone to.
In addition to the brush, you get a PVC- and phthalate-free pouch. Another excellent bargain—it's only under $8.00.
Organic Family Products Retractable Kabuki Brush
If you prefer to stick to natural fibers, we recommend the Organic Family Products brand.
Their retractable kabuki brush uses goat hair that's soft, fluffy, and gentle on your complexion. The brand's philosophy is that synthetic fibers don't pick up on makeup compared to natural ones. You won't need to keep re-applying, potentially irritating your skin.
The brush comes with two "settings." You can extend it entirely for a fluffy brush. Doing so gives you a more diffused, lighter look. On the other hand, slightly retracted bristles packs them close together, making the application more intense.
The brush works perfectly with powder products such as mineral foundation, blush, and bronzer.
Similar to EcoTools, they are committed to helping the environment. The brand uses bamboo for the case, which they source sustainably. In fact, they source organic materials whenever they can. Each purchase is like a pledge for greener living.
Despite its features, it's a brush that won't break your bank. Retailing under $20, it's worth the money you put in it.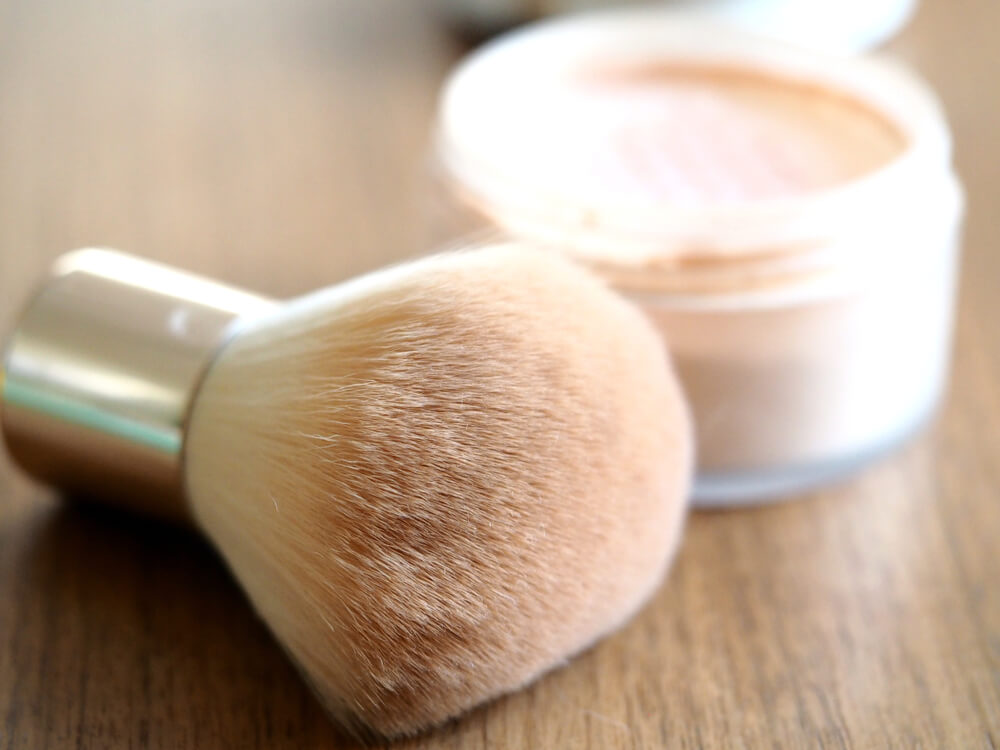 Hakuhodo USA Basic 10-Piece Brush Set
Hakuhodo is another brand that offers gentle brushes for your sensitive skin. The brand makes brushes from Kumano, Japan. Using the finest materials, their team of expert craftsmen has designed brushes of top quality.
This set, in particular, contains the following:
Round powder

Round blush

Highlighter

Tapered highlighter

Flat eye shadow

Round eye shadow

Blending eye shadow

Pointed eyeliner

Angled eyeliner

Concealer
Hakuhodo uses a mix of natural and synthetic bristles for its brushes. For this set, most brushes make use of goat hair. This material is durable but still soft enough not to irritate your skin. It's perfect for every skill level, so even beginners will find it comfortable and convenient to use.
The natural fibers also help pick up more product. Synthetic fibers may sometimes be too "slippery." While natural bristles may work best with powders, synthetic ones are excellent with liquids. However, the blend of the two allows for much versatility.
Each brush comes in a sleek black design. The handles are made with wood with nickel brass/silver ferrules. Aside from the ten brushes, you also get a black soft-case that rolls up.
Is the simple design not enough for you?
Not a problem! You can easily paint over the handles and the holder for a more personalized look.
Real Techniques Everyday Essentials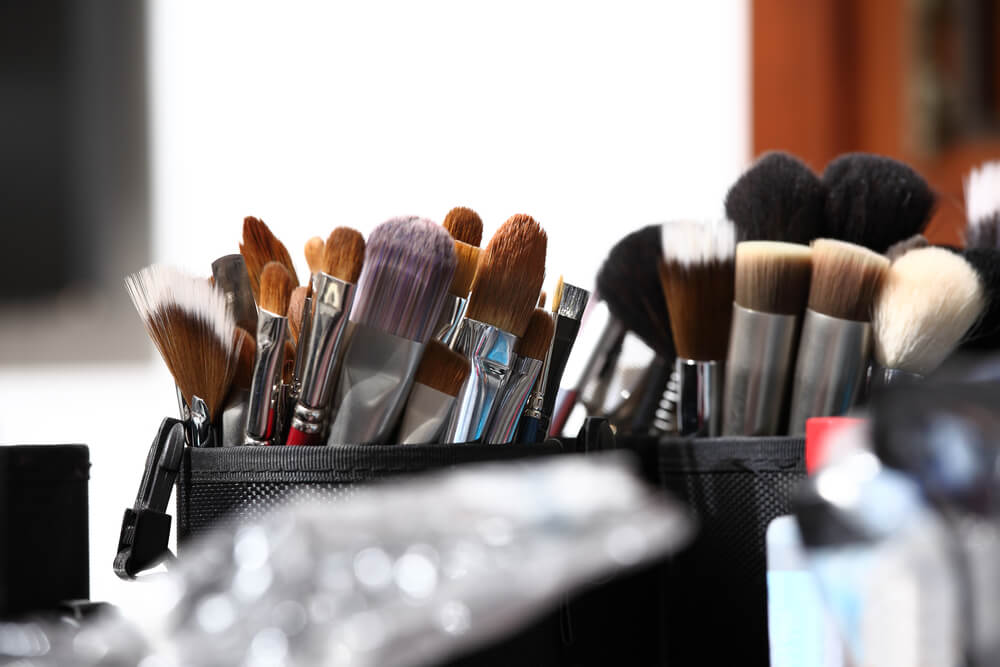 Another brand that's a favorite in the beauty community is Real Techniques. They offer good quality brushes for an affordable price.
Their Everyday Essentials kit includes the following brushes:
Blush

Setting

Deluxe crease

Expert Face

Miracle Complexion Sponge
Yes, the set comes with four brushes and their cult-favorite orange makeup sponge. Beauty gurus swear it's a dupe of the even-more-famous Beauty Blender.
It may only sport four brushes, but each one of them is a versatile tool you'll surely want in your makeup pouch. With this kit, you can expertly use foundation, concealer, blush, eye shadow, highlighter, and setting powder.
With just four brushes! We told you all, it's a versatile set that covers the essentials and more.
The brushes have synthetic fibers that are sure to be gentle on your skin. The material is lightweight enough to give you thin coverage for a daily look. It also allows you to pack on the product for a more glamorous style. They're also very easy to use and durable, giving you years of use and value for money.
The set comes in a beautiful pink and purple design. It's an excellent choice for makeup fans who like stylish brushes that aren't your typical sleek black color.
Real Techniques also boasts having cruelty-free products. You can get the set for $22.99.
Real Techniques Enhanced Eye Set
Are you the type to put in a lot of effort for your eye makeup?
If you are and you have sensitive skin, Real Techniques' Enhanced Eye Makeup Brush Set may be for you!
This kit includes the following brushes:
Medium eye shadow

Essential crease

Fine eyeliner

Shading

Lash separator
Aside from these five brushes, you also get a small cup to hold your new tools.
You can use this set with cream and powder eye shadow, gel eyeliner, and mascara. It's all the essentials you need for an enhanced eye look using your favorite palettes. You'd be able to create a smoky eye, cut crease, or a simple everyday design. Whatever it is you want to make, you can start with the Real Techniques Enhanced Eye set.
The whole set comes in a beautiful purple color. Yet again, the brand stands out against a sea of black brushes.
The full set is a steal at $19.99. But hey, do watch out when it goes on sale because then you can get it for less than $11.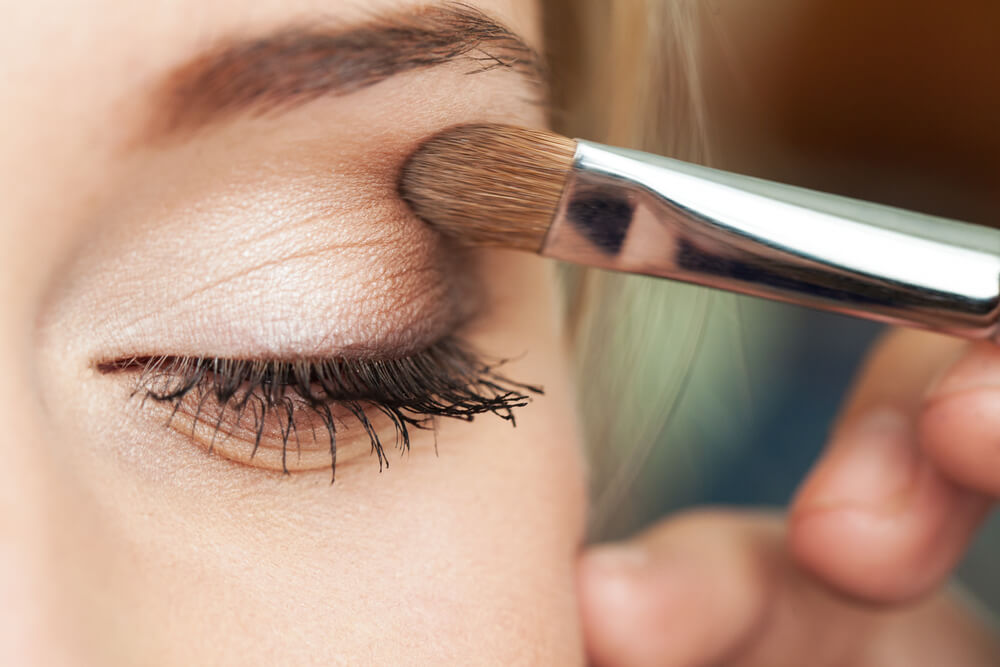 More Makeup Brush Tips
Now that you have a list of brushes you can look for and purchase, we also bring you tips on using your makeup brushes!
First: remember to clean your brushes regularly.
How often should you be doing so?
Makeup gurus recommend that you do a thorough cleaning at least once a week. However, you should adjust the frequency depending on how often you use your brushes. Heavy makeup users should aim to clean their brushes after every use. Those who use light makeup can get away with once every week or every 10 days.
And a disclaimer: when we say "clean" your brushes, we mean deep cleansing. Running them through makeup wipes is a quick way to remove products. However, it doesn't get rid of all the makeup, dirt, and germs trapped in the bristles.
All of the grime in your brushes might be what's irritating your sensitive skin. So don't give up on your tools just yet.
Additionally, sponges are an alternative to brushes.
Aside from makeup brushes, you can also look into using sponges to apply your makeup. Disposable types guarantee that you're using something clean each time you put on your makeup.
Lastly, toss out old makeup and don't share palettes with others.
You could have the best-quality and top-dollar makeup brushes, but your makeup could be your breakouts' real culprit.
Regularly disinfecting or changing your makeup is a must for those with more sensitive skin. Several makeup companies have formulated sprays designed to disinfect makeup and the tools you use. You can also use a bottle with isopropyl alcohol (not ethyl!) and spray a light or thin layer over your makeup. Doing so should be able to get rid of any pesky germs.
Yes, we know it's fun to swap palettes with friends, similar to what you do with clothes.
But think about it, are you sure you're okay with using something that has been on someone else's face?
We can't be sure what might be on other people's faces. Bacteria can transfer from your skin onto your palette, waiting to irritate your skin. It's best to keep your own set to yourself for now.
Blend Away!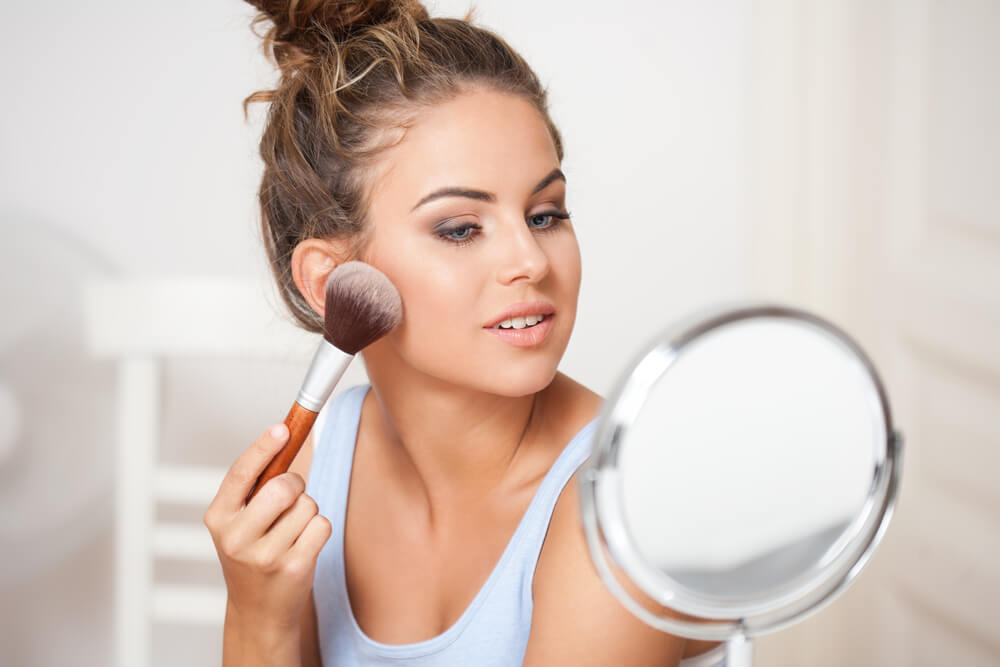 It's not easy for a girl with sensitive skin. You have to search for gentle cleansers, non-irritating makeup products, and now you have to look for soft brushes.
Thankfully, many brands have come up with an array of choices. EcoTools, SHANY, Hakuhodo USA, Real Techniques, and Organic Family Products come to your rescue. They have designed a range of brushes perfect for sensitive skin.
The key is to look for soft, gentle bristles. These brushes are typically light-feathered and can be of either natural or synthetic fibers. Stick to the latter if you find that the natural bristles triggers your skin allergies.
It may take some trial and error, but don't fret. You'll soon have a full arsenal of brushes you can use with beautiful makeup palettes that won't sacrifice your comfort. We hope our recommendations will allow you to continue having fun and creating art with makeup!