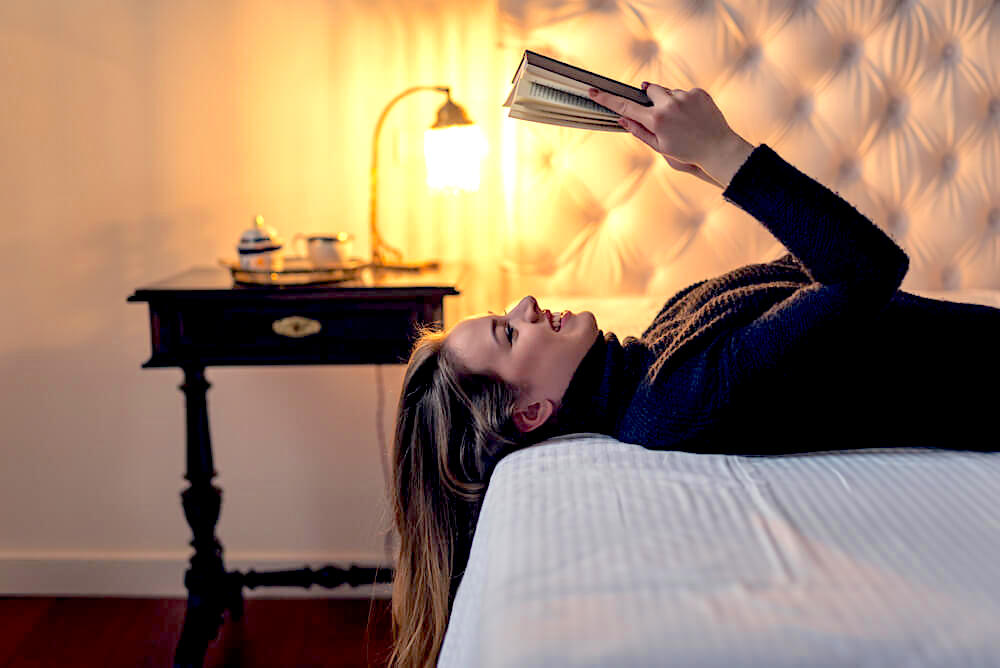 With mysteries, it's the kill as well as the chase. It's not just finding out who the murderer was, it's about untangling the web of lies that surround it. If you want to cuddle up with a good mystery anytime soon, these are some of our recommendations. 
Gone Girl, Gillian Flynn
Oh, what a tangled web we weave. The web in Gone Girl is so tangled, it's probably best left the way.
Most of you have probably seen the movie now, with Ben Affleck as Nick and Rosamund Pike as Amy, but "Gone Girl" began as a book by Gillian Flynn. 
"Gone Girl" begins when Nick comes home on his fifth anniversary to find Amy missing. The police conclude she was murdered, and Nick is the main suspect.
Flashbacks emerge showing the marriage to be less than perfect. Nick cheated, finances were bad; there is evidence that Amy tried to buy a gun, and here's the shocker- Amy was pregnant.
Settings change and we see Amy; apparently, the reports of her death were exaggerated. She is in fact very much alive and well in the Ozarks and chuckling about her plan to frame Nick for murder and she's gone to great lengths to do so. She plants clues that she and Nick play in a "treasure hunt" game on their anniversary to make sure Nick is at the right places at the right times to corroborate the evidence of his guilt. 
Who's zooming who now? Apparently, that's the big question in "Gone Girl," because it turns out Amy is not so innocent either. Now Nick plays the good guy while Amy goes down in flames. Who's the culprit, who's the innocent? Turns out, it doesn't matter. All fair's in love and war. Check "Gone Girl" out. It's mind-blowing. 
The Girl on the Train, Paula Hawkins
Rachel Watson is the girl on the train. It is how she defines herself and how people define her. 
Now divorced, Rachel spends her days in an alcoholic haze riding the same train every day fixating on the lives of her former husband and new wife Anna, and their perfect neighbors, Scott and Megan Hipwell, whom she idealizes. 
When one day, from the train, Rachel spots Megan kissing a stranger, she becomes infuriated, her image of perfection is shattered. She leaves the train to confront Megan but wakes up hours later in her bed covered in blood. When Megan turns up dead, Rachel finds herself in the center of a murder mystery where she's got a few of the clues, and she's all too happy to provide them. Now the girl on the train is back on the train, and it seems she has found a connection.
And Then There Were None, Agatha Christie
When a book has a title taken from a creepy children's nursery rhyme, we are immediately drawn to it. When we find out it is written by Agatha Christie, we take it home and read it. 
"And Then There Were None" is a classic whodunnit. Eight people arrive on an island in response to an invitation from the owner. Upon their arrival, they are met by the cook and butler, who tell them their hosts, Mr. Ulick Norman Owen and Una Nancy Owen are not there but have left "instructions," striking the guests as odd. 
Things get odder when they find framed copies of the nursery rhyme "Ten Little Indians" hanging in each of their rooms, and ten figurines sitting on the dining room table. However, when the gramophone starts talking, it's pretty clear this is no ordinary house gathering. 
After dinner, the gramophone plays a recording addressing each guest in turn and accusing him or her of murder and escaping justice. Some guests deny the charges; others refuse to discuss the matter. Either way, it's time for the guests to do some detective work of their own.
Closer examinations reveal that U.N. Owen is shorthand for "unknown" which raises questions about who their real host is and why they have been summoned to this island. When one of the guests chokes on his cyanide poisoned drink and one Indian figurine breaks they begin to realize that the nursery rhyme may not be such a fairy tale. Will they find out who the killer is before the last Indian falls or will there be none?
The Talented Mr. Ripley, Patricia Highsmith
Will the real Mr. Ripley please stand up? When "The Talented Mr. Ripley" begins we see Mr. Tom Ripley, side hustling around New York, impersonating people, forging signatures, and telling lies, when one night working at a party, he meets the wealthy Herbert Greenleaf. Greenleaf believes that Tom attended Princeton with Greenleaf's son, Dickie, and Ripley is not going to disabuse him of that notion.
Greenleaf offers Ripley $1000 to go to Italy to persuade Dickie to return to America. Dickie is just the man for the job. He boards a plane to Italy with the mission of returning with Dickie.
When Ripley shows up in the Italian island Mongibello, Dickie is less than enamored with him. Dickie makes it clear that he and his friend, Freddie Miles are the cool kids, and want no part of Ripley. Then Ripley gets some dirt on Dickie, and when things come to blows between them, Ripley ends up beating Dickie to death with an oar.
No problem for the talented Mr. Ripley; he'll just assume Dickie's identity and no one will be the wiser until Freddie Miles shows up. Will the con artist add murderer to his resume? Read "The Talented Mr. Ripley" to find out.
The Hound of the Baskervilles, Sir Arthur Conan Doyle
Before there was a Stephen King, there was "The Hounds of Baskervilles." This book, written by Sir Arthur Conan Doyle, is notable because it was the first book to combine a whodunnit with the supernatural, arguably inspiring some of King's greatest works.
"The Hound of the Baskervilles begins with Dr. James Mortimer asking Sherlock Holmes for advice about his recently departed friend, Sir Charles Baskerville. Although the death was attributed to a heart attack, Mortimer is suspicious. What caused the look of horror on Baskerville's face when he died? Why were there footprints of a gigantic hound lying just 50 feet from Baskerville's body?
Did it have anything to do with the Baskerville curse? Word had it, the Baskerville family had been under a curse since the English Civil War era. Apparently, ancestor Hugo Baskerville offered his soul to the devil in exchange for abducting a woman and was allegedly killed by a giant spectral hound. Was Charles fleeing in fright when he died? Sounds like a case for Sherlock Holmes.
Holmes meets with the Canadian Sir Henry Baskerville, who has received an anonymous note warning him away from the Baskervilles Moors. Sir Henry leaves with Sherlock and Watson tailing him. While on the tail, they notice someone else is tailing Henry. They give chase to the bearded stranger, but he gets away. Mortimer says the description fits the butler, Mr. Barrymore, at Baskerville Hall. Did the butler do it? 
Bluebird Bluebird, Attica Locke
Texas is the lone star state, no one messes with Texas. It's got its own rules to follow and its own set of unwritten laws.  That's something Darren Matthews, the new black East Texas ranger knows all too well. 
After a childhood spent growing up in racist East Texas, Matthews was only too happy to get as far away from it as possible, but when his loyalty to his roots puts his job on the line, he is forced to travel back to the small town of Lark, where he finds the rules have already been laid down, and they're not all that fair. 
Once at Lark, Matthews finds himself investigating two murders, one of a local white woman, and one of a black lawyer and resentment runs deep on both ends. "Bluebird, Bluebird" is not only the story of a man trying to solve a murder but trying to solve the age-old problems that lie at its center. 
The Girl with the Dragon Tattoo, Steig Larsson
If you've seen the movie version of the book, you know that Lisbeth Sanders is not someone you want to mess with. She's got facial piercings in every part of her face that it is possible to pierce, and it may be fair to say she hasn't been to the beach in a while. Oh, yeah, plus she's got that huge dragon tattoo on her back.
Meet Lisbeth Sanders, it's pretty clear she's damaged goods. As a computer hacker who has suffered years of mental and sexual abuse, she shows all the emotion of Spock in her "get things done" attitude.
Enter Mikael Blomkvist. Lisbeth has been assigned to compile a profile on him for business magnate Henrik Vagner, who has a special case with Blomkvist's name on it. Vanger commissions Blomkvist to move to the Havistad and investigate the murder of Vanger's 40-year old niece Harriet. After moving to the estate, Blomkvist unearths a notebook containing a list no one can decipher.
Change perspective, and the reader gets to see the pathos of Lisbeth Sanders in action. It turns out that Lisbeth is under state legal guardianship and has just been assigned a new guardian with sadistic tendencies. He uses his authority to extort sexual favors from her and brutally rapes her. When Lisbeth seeks her revenge, it much sicker than even the most abusive, sadist could have imagined.
The mystery goes on in the novel with enough twists and action to keep the reader on his toes, but the real mystery here is the depravity of Lisbeth Sanders. Not for the squirmish.
Rebecca, Daphne Du Maurier
If your partner is having a hard time getting over his ex, you should meet Mr. Danvers. 
When an unnamed female narrator in her early twenties weds 42- year -old widower, Maxim de Winter she arrives at his home to receive a less than warm welcome. Housekeeper Mrs. Danvers is profoundly devoted to the first Ms. De Winter (Rebecca) and is not about to let the second one fill her shoes too easily. 
Ms. Danvers engages the new arrival in a psychological mind game, turning the first Ms. DeWinter into an unreachable ideal that the newcomer will never be able to achieve. The frustrated young woman begins to believe she will never hold a candle to Rebecca's beauty, style and grace. Mrs. Danvers' is just about to convince the young lady to throw herself to her own death when…
…the body of Rebecca turns on the hull of a wrecked ship and secrets are revealed. What are Mrs. Danvers' real motives and what will that mean for the new Ms. DeWinter? 
No matter "whodunnit" in the book you read, it's always clear who really "dunnit," and that's the author. The author committed the murder, uncovered the clues and solved the crime, the characters were simply pawns in the game. Good thing these criminal masterminds found their calling writing books. Let us know what mysteries you're reading this year, we love to hear it.