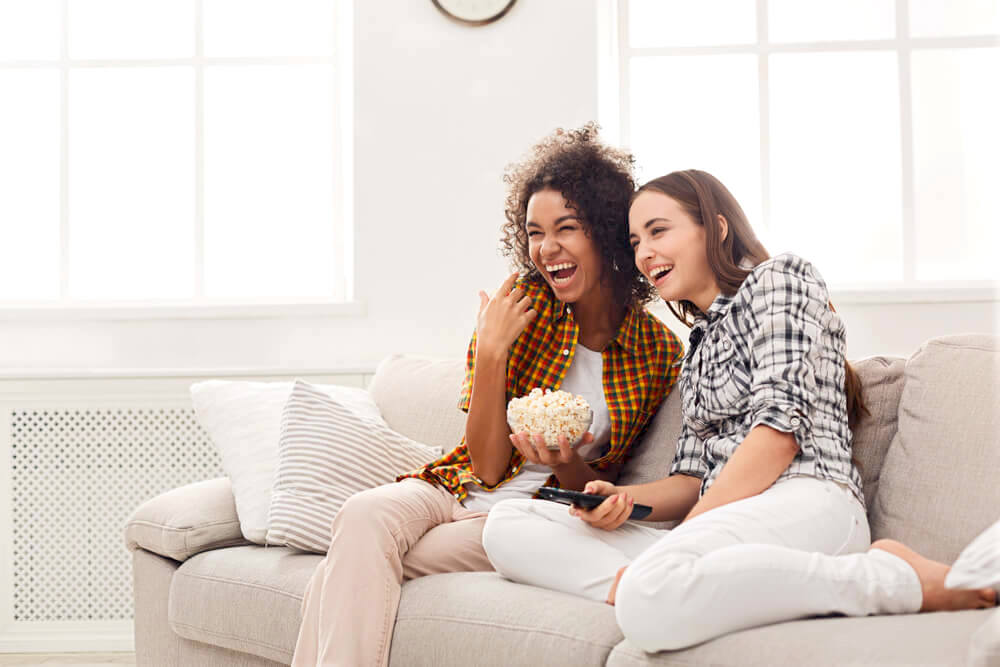 If you want romance without the tears, and comedy with a bit of heart, these are the top eight most addictive  (and rewarding) films you should check out. Get ready for your girls' night in!
Sex in the City
Why do women love Sarah Jessica Parker so much? Is it because she's so down to earth, because she never got plastic surgery, because she dresses so darn well, or is it because of how much we loved her as Carrie Bradshaw on "Sex in the City?'
Those of us who know "Sex in the City," know it in three forms: the book, the TV show, and the movie. For girls-night-in, you want to choose the movie. After all, this isn't a book club, and if you binge watch the show, your friends might never leave.
In the movie, "Sex in the City," our four favorite girls are at it again. Carrie (SJP), Samantha Jones (Kim Cattrall), Charlotte York Goldenblatt (Kristen Davis), and Miranda Hobbes (Cynthia Nixon are all dealing with their lives as single women in New York City.
When the film begins, the main characters have pretty much settled into their own comfortable, if non-conventional existences. When Mr. Big pops the question to Carrie, the ladies hightail it back to their old stomping grounds to help celebrate and stir up their unique brand of mischief that made them so loveable to us in the first place.
With frank honesty about sexuality and a few cocktails, the foursome entertains and delight the viewers with their unique and unbridled enthusiasm. Definitely a list topper for girls night in.
Bridesmaids
If you think Carrie Bradshaw and Co. threw a pretty untraditional wedding, you should see how the girls in "Bridesmaids" pulled it off.
Where "Sex in the City" is frank in its sexuality, "Bridesmaids" is downright raunchy. Melissa McCarthy is nowhere near as sweet in this movie as she is in "Molly and Mike." Anyone who has seen her in the airplane scene can attest to that, and for her performance alone, the movie is well worth watching.
"Bridesmaids" is the story of Annie Walker, played by Kristen Wiig. As the movie opens we see her in a disappointing  job in a less than satisfying romance, her only source of true happiness is her bestie, Lillian, When Annie receives an invitation from Lillian to serve as a maid of honor in her upcoming wedding, she accepts graciously, but when she attends the engagement party, her gratitude is overshadowed by her instant disapproval of some of Lillian's choices for bridesmaids. There is the cynical Rita, the naïve Becca, the elite Helen, and the somewhat unfiltered Megan (McCarthy), all of whom compete with each other for Lillian's friendship.
While McCarthy is the real showstopper in this movie, it is the character of Annie that makes this movie so impactful. Annie is the movie's tragic heroine. She may make us laugh, but her life is closer to a disaster. She's anything but grown up. She throws tantrums, takes pills, is impulsive and impatient, quick to judge and almost ends up living with her mother. 'Bridesmaids" is not only a cinematic triumph, but it's also a triumph for all women who "never want to grow up."
Thelma and Louise
What two friends haven't pulled a "Thelma and Louise" at one point in their lives? 
When two red-blooded females get together on a spirited adventure, there's bound to be a little bit of Thelma and Louise in the mix.
What do you get when a disempowered housewife and a bored waitress walk into a bar? You get the beginning of the story of "Thelma and Louise." The adventure begins when Thelma (Susan Sarandon) and Louise (Geena Davis) decide to go on a road trip. On the way, they stop into a bar where a flirtatious stranger puts the moves on Louise. When he takes her behind the bar and attempts to rape her, Thelma comes to the rescue, bearing a gun, and is apparently not afraid to use it. She shoots the stranger dead. Now the road trip is more than a trip, it's a chase.
The appeal of "Thelma and Louise is that it has a bucket list feel. The viewer has the feeling that everything Thelma and Louise are doing, they are doing it as their lives depended on it, and they just might 
Crazy Rich Asians
Put the fact that Crazy Rich Asians is the first movie to have an all Asian cast, and what have you got, a really great movie. 
Sure, it's a wonderful breakthrough for the Asian community, but let's focus on the movie here, because it's a riot.
The first thing great about "Crazy Rich Asians" is that it totally takes the word ancient out of China. There is no ancient wisdom here and no Confucianism. In fact, there is a lot of materialism. 
"Crazy Rich Asians" is the story of an American professor, Rachel, who travels to meet her fiance's family only to discover that they are the richest family in Singapore. When she hooks up with her old friend Peik Lin, Rachel is dismissive of Piek Lin's warnings. She tells Rachel that the snobby Young family will look down upon her and be overly critical of her American ways.
When Rachel attends a bachelorette party hosted by the family only to be called a "gold digging bitch," Rachel begins to take Piek Lin's warnings to heart. 
"Crazy Rich Asians" is a rollicking ride into Asian culture. It is refreshing because even though s it breaks many of the traditional stereotypes about Asian culture, it in no way presents an idealized picture of it. "Crazy Rich Asians" gives a depiction of Asians that makes them seem more relatable and less flawed than stereotypes would have us believe.
He's Just Not That Into You
It was the phrase that would have been the most popular hashtag of 2009 if hashtags were "a thing" in 2009. "He's Just Not the into You" is based on the self-help book of the same name, which was in turn inspired by a line from "Sex in the City," so if your not a fan of books that are turned into movies, that might be some sort of justification.
"He's Just Not Into You" is a collection of interwoven stories. At the center is the story of Gigi (Ginnifer Goodwin), a thirty-something Baltimore resident who has the un talent of repeated misreading the intentions of her romantic interests. Even when Alex, Justin Long, the bartender she befriends tries to educate her in the strategies men use to give women the brush off, she misinterprets his interest as a sign he is attracted to her, and the relationship ends up like many of the others Gigi has been involved in.
Also, on the road to romantic nirvana are Gigi's friends, played by an ensemble cast including Jennifer Anniston, Scarlett Johansson, Ben Affleck, Bradley Cooper, and Jennifer and Kevin Connolly, no relation as far as we know. All are in separate but similar situations, all begging the question of how you know when he's giving you the go-ahead, or when you need to come to terms with the fact that "He's Just Not Into You."
Twilight
If you pick the movie Twilight for your "Girls Night In," don't tell your Mom. Chances are she'll show up at your door with the wine and vampire-themed cupcakes.
Those who recall Twilight's release in 2008 may also recall the Twi-Mom phenomenon. As the name would suggest, Twi-Moms were predominantly middle-aged mothers who were just as obsessed with the vampire/ werewolf love triangle as their teenage daughters.   
What was the reason for this generation-spanning obsession?  Was it because Taylor Lautner looked so darn good when he took his shirt off or was there another, deeper meaning?
Twilight is a romantic fantasy film based on the Stephanie Meyers novel by the same name. It focuses on Bella Swan, who moves to a new town and becomes intrigued by the Cullen family. FYI, Robert Patterson is Edward Cullen family, so the intrigue is understandable After Edward rescues Bella from a near-fatal car accident, she begins to believe he has supernatural powers. 
Her suspicions are confirmed by Jacob Black, who tells her the Cullens are vampires, but the damage is done. Bella is too smitten by Edward to let anything as petty as neck biting get in the way, and she continues to lust after him. Even better, she finds out that the Cullens are a vampire family that abstains from blood drinking and enters into a dangerous romance with her newly found soulmate. 
Friends with Benefits
The Urban dictionary defines the term "friends with benefits" as two friends who have a sexual relationship without becoming emotionally involved." Sounds good in theory, but the movie "Friends with Benefits" shows us a little bit about how that actually plays out in real life.
The first problem with the 'friends with benefits' relationship between Dylan (Justin Timberlake) and Jamie (Mila Kunis) is that they're just so darn gorgeous. How can you help falling head over heels in love with either of them? Even they couldn't do it.
It all begins when Jamie is sent to New York to recruit Dylan for a job at GQ and to begin work at a New York agency. At first, Dylan is skeptical, but after a fun night with Jamie, his doubts fall to the wayside.
After a platonic friendship develops, the two make a mutual agreement. They can have sex with each other, but there can be no emotions or commitments attached. Yeah, right,
Eventually, all the emotions that lead to commitments develop, and the rest is cinematic history.
Mamma Mia!
If you want a girl's night in that will raise the roof, put Mama Mia on the set. If Meryl Streep doesn't do it, the music of ABBA surely will. 
Mama Mia not only has a great soundtrack, but it also has a great storyline. It is the story of bride to be Sophie Sheridan who reveals to her two besties that she has, unbeknownst to her mother, (Donna, played by Streep) that she has invited three men from her mother's past to the wedding. She dreams of being given away by her father at the wedding and is determined that one of these three men will be the one to do so.
Meanwhile, Donna sees the wedding as an opportunity to reunite with her bandmates, the Dynamos. When all involved converge on the scene, the result is Pierce Brosnan, Colin Firth, Stellan Skarsgard, Amanda Seyfried, Christine Baranski, and Meryl herself, all ready to go down in an ABBA filled ho down. Watch this one with all your Dancing Queens!