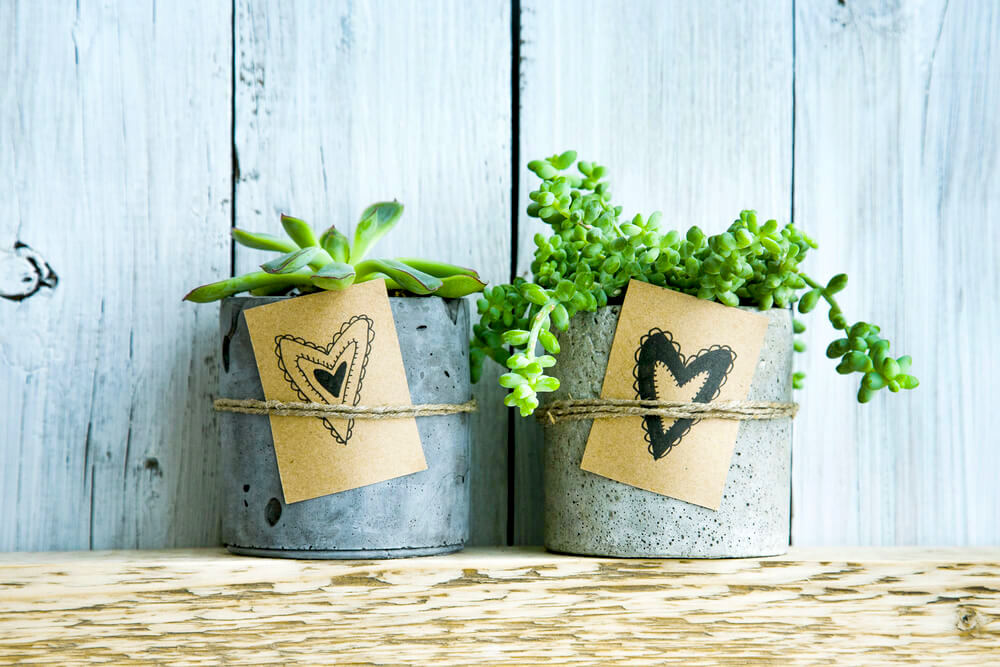 Searching for a gift that is thoughtful, personal and one-of-a-kind, all at the same time?
This is where a homemade gift is perfect.
Whether the recipient loves food, beauty, fashion, nature, or anything else, a DIY gift will definitely beat a store-bought one, and will mean so much more to the recipient too.
Need some ideas?
Here are 12 unique DIY gifts that just about anyone will be able to make.
A Recipe Mix in a Jar
If your gift recipient loves to experiment in the kitchen, then putting together a recipe mix in a jar is a gift that will definitely be appreciated.
Never heard of this before?
It basically consists of you measuring out all the right quantities of ingredients for a particular dish, whether this may be a cake, cookies or anything else. You then layer them into a jar, so that all the recipient has to do is empty out the jar, mix the contents with any other ingredients necessary, and then bake. Of course, you would need to include a tag to advise the recipient of other ingredients that they would need to purchase, along with a detailed recipe.
Can't decide which recipe mix to go for?
Some definitely work better than others. Here are a few ideas that are always successful:
Fudge brownies

Hot chocolate (pictured above)

Pancakes

Chai tea mix

Cookies

Pasta soup mix

Taco chili mix
DIY Bath Bombs
Bath bombs are a popular store-bought gift, but the homemade version is even better.
You will likely need to purchase a few special items to make bath bombs, such as oils for fragrance and water-free colorings, but the great thing about this gift is that it is easy to make in bulk.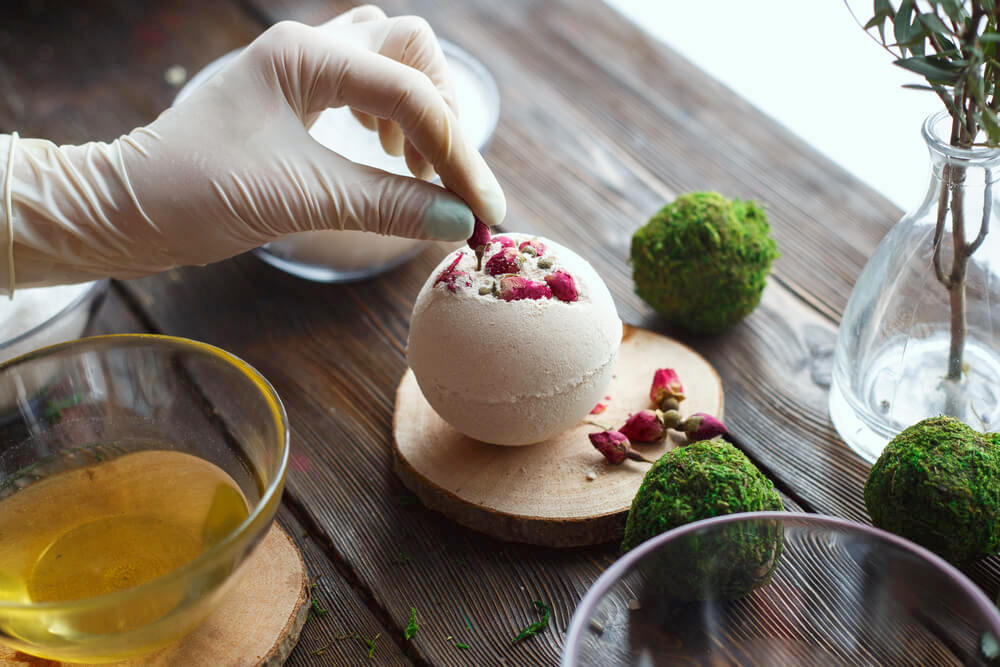 There are plenty of different instructions to be found online for this, and these can all be personalized when it comes to scent, shape and color, giving you full control over the final outcome. 
The Gift of Relaxation
If the person you are wanting to make a gift for is constantly stressed, giving them the opportunity to sit back and relax can really make a huge difference to their life.
You are probably thinking…
How in the world can I give someone the gift of relaxation, in DIY form?
By putting together a relaxation pack.
At the bare minimum, include some bath bubbles, a bottle of wine, and an accompanying wine glass.
If you want to take it a little further, you could also add in a good book, some scented candles, some rose petals, and even a CD or USB stick with a relaxing playlist for your recipient to listen to. 
A fluffy towel, robe and slippers would be an added bonus if you really wanted to go all out.
Color Coordinated Kitchen Utensils
Stylish kitchen utensils are usually quite pricey, but DIY versions are so easy to do, and enable you to fully customize the exact design.
Unless you are extremely skilled with crafting items out of wood, you are best off purchasing bamboo kitchen utensils to use as a base.
You will also need white paint, a colored paint, some tape, and a sealer.
All you need to do is apply the tape to the handles of the kitchen utensils in a stripe formation, or any other design of your choosing.
Mix your colored paint with the white, to create a lighter version, and then paint with this in between two of your strips of tape.
Mix a new shade together, either using more or less white, and paint another section with this.
Keep going until the whole handle of each kitchen utensil has been painted.
Once you are done, you will need to coat the handles with two coats of a sealer, making sure to wait for an hour in between each coat.
What does this do?
It enables the utensils to safely be used for cooking. 
Monogrammed Towels
There is always something extra special about a monogrammed towel, and this is an item that is actually quite easy to make yourself at home. 
The first thing you need to decide on is…
The size of towel you want to use. Hand towels will be the easiest to work with, but bath towels tend to be the most useful.
Either way, you will also need to create a stencil. This can easily be done by trying out different fonts on your computer, before printing out and cutting around your favorrite one.
Place your towel over a sheet of paper, before centering your stencil over the towel. Hold it down firmly with one hand and draw around it, before filling it in. Make sure that you are using a washable fabric paint.
Once you are done, leave the towel to dry for about three hours.
Scrabble Tile Coasters
If your gift recipient is a board game fan, and also loves having unique pieces in their home, then this gift is perfect.
You have likely already seen many items around that have been made from Scrabble tiles, but these coasters are not only so easy to make, they are minimal enough to be stylish too. Not only that, but you can also use the letters to create your own little message within each coaster. 
Personalized Wooden Hangers
Hangers aren't a gift that many would expect to receive, but this is what makes them so much fun to give, especially since they are always so useful. 
You will need to begin by purchasing some inexpensive wooden hangers.
Not sure where to find these?
Try Ikea, or even eBay.
Then, head on over to a craft store to purchase some rub-on letters, just be sure to choose a style that matches the personality of your recipient. Also make sure that the letters are the right size for the hangers you have purchased.
Once you are back at home, think of some ideas for what you want each hanger to say, and then cut out the letters that you will need.
Not sure what message to personalize the hangers with?
You could go for something simple, like the recipient's name. Or you could go for something deeper, such as unique quotes, with different ones on each hanger.
There should be a small stick included in your pack of rub-on letters, so use this to transfer each letter, one at a time, onto the hangers. Make sure that you rub these in well before pulling off their backing.
Want to make the hangers even more special?
Tie a small bow, with some ribbon, at the top of each hanger.
Flavored Salts
This is another gift for the kitchen, and is one that your recipient may end up using each and every day.
Flavored salts are made by blending salt with different herbs, spices and flavorings, resulting in a seasoning unlike any other.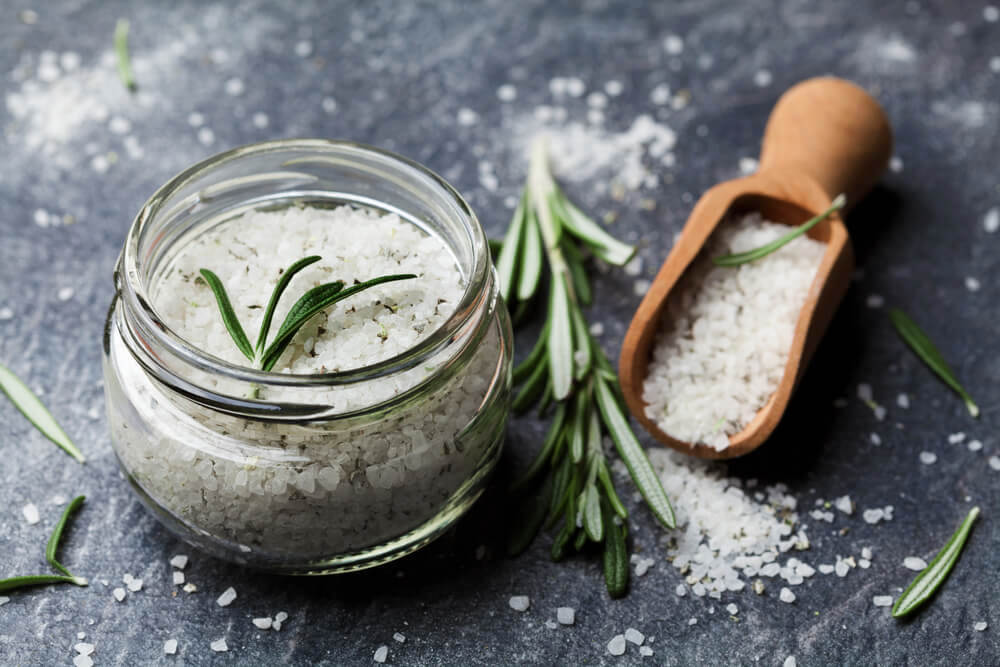 While they may tend to come with quite a high price tag when purchased from a store, they are also incredibly easy to make at home.
Here are a few different flavor combinations you could try:
Smoked paprika and ancho

Porcini

Lime zest and ginger

Rosemary and lemon zest (pictured above)

Curry
Don't forget, when it comes to gifts such as these, presentation is everything.
Why not try making a few different flavored salts and filling multiple small jars with these before presenting them beautifully in a gift box, nestled within tissue paper?
Pretty Polka Dot Pencils
Pencils are one of those items that will always come in handy, but spending some time personalizing them helps to elevate them to gift-worthy status.
Want to make some pretty pencils?
All you need are some plain No.2 pencils, some spray paint, Sharpie pens, and painter's tape.
Use the tape to mask the metal ring and eraser at the top of each pencil.
Then, spray the pencils, making sure to use multiple coats so that any markings or stamps have been fully covered.
Then, use your Sharpie pens to place dots up and down the ridges of each pencil. When you begin, it might seem as though this job will take forever, but once you get into the swing of it, it does not take long at all.
Once you have done a few pencils, simply bundle them together and use a ribbon to tie a bow around them. 
Body Butter
Body butter is always so beneficial for the skin, giving it moisture, nutrients and protection from the environment.
Rather than purchasing a jar of body butter as a gift, why not try making some instead?
This gives you the opportunity to really personalize the product, not only in terms of the ingredients used but also when it comes to presentation.
Want to give this a go?
It is actually quite simple…
All you need to do is heat coconut oil and shea butter together before hardening it, and then whipping it with your chosen oils. Make sure to thoroughly read up on ingredient amounts and the method before attempting to make this though.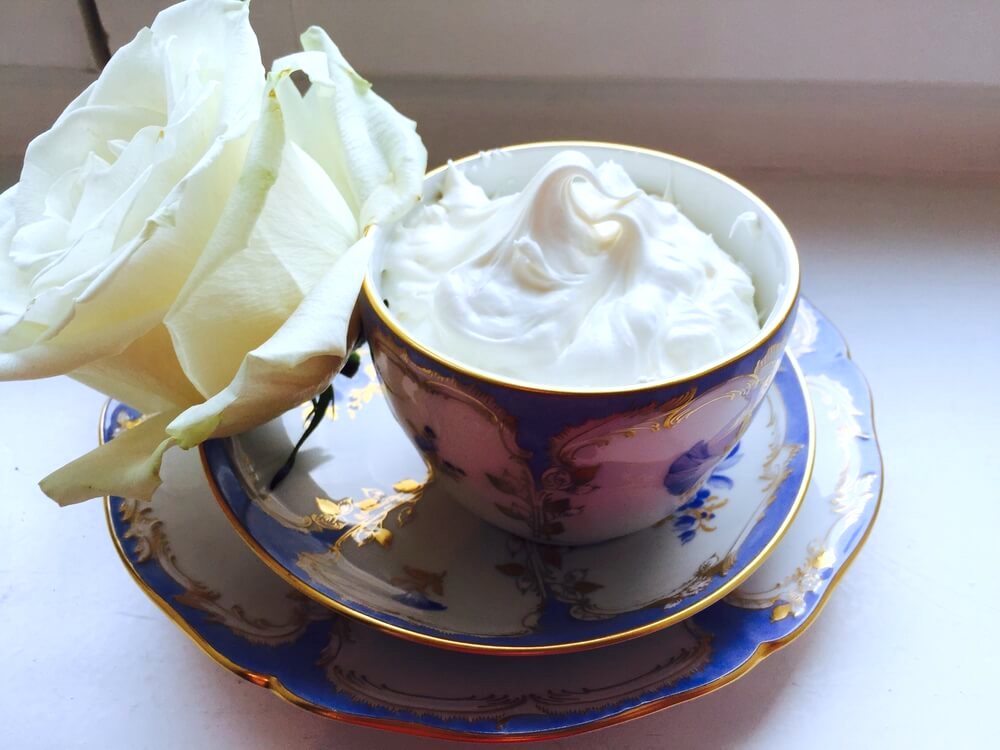 If you have the time, try making body butters featuring different oils. A citrus oil is great for perking you up, while a calming lavender or vanilla will help to promote relaxation.
Chalkboard Herb and Flower Pots
If the recipient of your gift has a green thumb and loves to grow herbs and flowers, then this really will be the perfect give.
For anyone who loves gardening, plant pots will always be well-received, but ones that come complete with their very own labels are even better.
This is an easy gift to make, and will not take longer than a few minutes.
All you need to do is purchase a few plastic plant pots in the colors of your choosing, along with some chalkboard paint.
Then, at the top of each pot, paint a rectangular shape with the chalkboard paint. Of course, the shape that you paint is completely up to you. You could even paint all the way around the top of your pot if you know that the extra writing space will be used.
Don't forget to include some different colored chalks along with your gift!
If you want to make your gift even more special, then go ahead and include the plants within them too. Herbs are always great for this, as they not only make for pretty plants, both indoors and outdoors, but they are useful and tasty too.
Not sure which herbs to include?
Try rosemary, lavender, thyme and mint, all of which are easy to grow and so fragrant too. 
Glamorous Gold Alphabet Magnets
Did you use to love playing with magnetic letters on your fridge as a child?
Well, adults tend to love doing this too, but the colorful magnetic letters that you usually get do look quite out of place in a chic, grown-up kitchen.
Fortunately, there is an easy DIY way around this, making these letters the perfect one-of-a-kind gift.
Simply purchase a set of plastic magnetic letters and then coat both sides of these with two layers of a primer.
Follow this up with a few layers of gold spray paint, until the paint beneath has been fully covered. Just make sure to leave enough time between each coat for them to fully dry. 
Of course, you can opt for any color that you want.
If you know that the recipient of the gift has a favorite color, then that would clearly be the one to go for.
There is no denying that a DIY gift does take longer to put together than simply going to a store and purchasing a gift. However, research has shown that a handmade gift is usually so much more appreciated than a store-bought version, especially if they are practical too. Since each gift on this list is extremely practical, there is no doubt that your recipient will love whatever you choose to make.