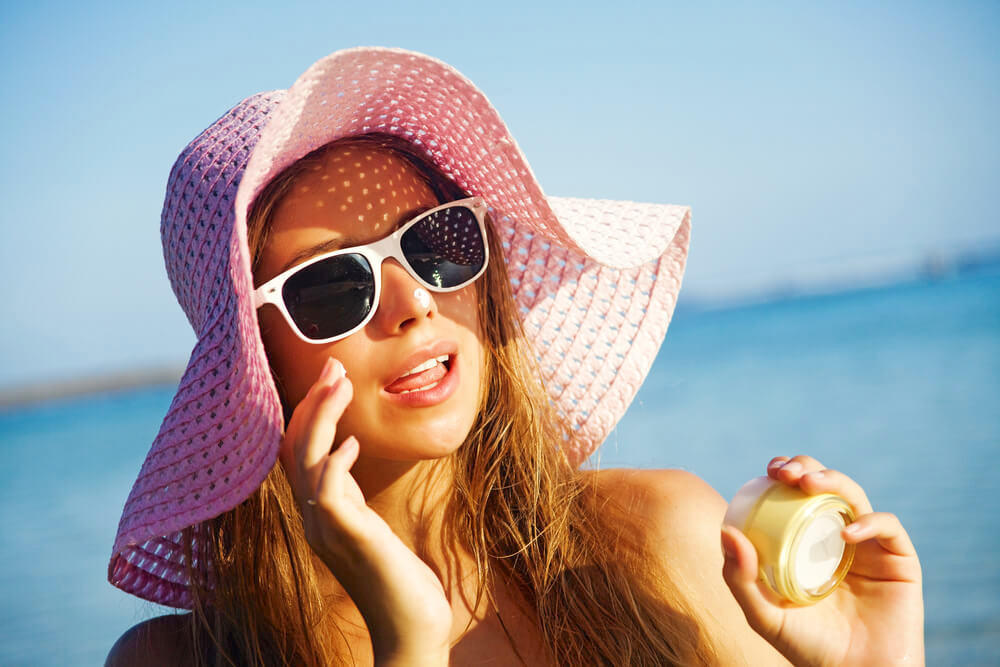 You likely already know how important a sunscreen is when it comes to keeping your skin, as well as the rest of your body, healthy and happy.
However, while this may be the case, many people still end up forgetting to apply their sunscreen at the start of each day, and therefore also neglect to reapply it throughout the day.
Want to make your life slightly easier?
Use a moisturizer that contains SPF instead.
This will ensure that your skin receives this initial layer of protection at the start of each day when you apply your moisturizer, and you are also then much more likely to remember to reapply it every few hours.
Not sure which moisturizer to go for?
Here are some of 2018's best moisturizers with sunscreen:
Kiehl's: Ultra Facial Cream SPF 30
When it comes to skin care, Kiehl's tends to be a solid and reliable brand, and the fact that their products are quite easily available is a big bonus.
Their Ultra Facial Cream contains SPF 30, which is the minimum that you need for giving your skin adequate protection.
In addition to providing broad-spectrum sun protection, this cream also contains a couple of unique ingredients:
Antarcticine –

this is a glycoprotein that comes from the Antarctic Sea, and works by enabling the water to withstand the cold, while also ensuring that beneficial bacteria is able to adhere to the surface of the water. It applies these same principles to the skin too, helping it to retain moisture and nutrients while protecting it from the environment 

Fountain Plant –

improves the way in which the skin is able to absorb and retain moisture
Thanks to these ingredients, this is a cream that is intensely hydrating, and will work with all skin types.
Lionesse: Opal Sheer Shield
The Opal Sheer Shield from Lionesse is the height of luxury.
Not only is this nourishing cream infused with crushed opal powder, but it also features an SPF of 30, giving your skin all the protection it needs from the sun's UV rays.
In addition to being a fantastic sunscreen and moisturizer, this cream is also a great product to use as part of your anti-aging regimen.
Why?
Because it is packed with antioxidants, such as:
Green Tea Extract – slows down cellular aging while destroying free radicals that would have otherwise led to premature aging 
Vitamin E – protects against sun damage while stimulating the production and growth of new skin cells
Retinyl Palmitate – an easily absorbed form of vitamin A, which is one of the only skin care ingredients out there that has been clinically proven to visibly reduce the signs of aging
Aloe Vera – a soothing and healing botanical
Love the sound of this cream?
There are a couple of other products in the Opal Collection that are also worth having in your skin care arsenal, including the Opal Sheer Melting Mask and the Opal Sheer Collagen Serum, both of which can help with aging skin concerns.
Twinluxe: Anti-Aging SPF Moisturizer
The Anti-Aging SPF Moisturizer from Twinluxe has a couple of awards behind it to back it up, showing just how effective this unique combination of ingredients can be.
In addition to containing SPF 40, this moisturizer is also packed with stem cells and antioxidants.
Both of these can have some serious anti-aging benefits, from neutralizing the free radicals that would have otherwise accelerated the aging process to stimulating the body to amp up its production of collagen and elastin, the structural proteins that give your skin its firmness and tightness.
The actual texture of this cream is quite light, and it doesn't leave a greasy residue behind on the skin.
Thanks to its non-comedogenic, non-irritating and hypoallergenic properties, as well as the fact that it is fragrance and paraben-free, this is another cream that can be used by all skin types, even those who have sensitive skin.
Eve Lom: Daily Protection + SPF 50
This moisturizer is quite the multi-tasker, because not only does it contain SPF 50, giving your skin plenty of sun protection, but it is also filled with a number of vitamins and powerful botanicals.
These include:
Vitamins C and E –

work together to regenerate the skin

Niacinamide –

also known as vitamin B3, it brightens and firms the skin

Paracress Flower Extract –

increases firmness by strengthening skin structure
This is a cream that even those with sensitive skin can use, as it does not contain any parabens, fragrances or PABAs.
Elemis: Pro-Collagen Marine Cream SPF 30
One of the brand's best selling products, the Pro-Collagen Marine Cream SPF 30 from Elemis has been clinically proven to minimize the appearance of fine lines and wrinkles in just 14 days.
How?
Thanks to its potent botanicals, which include:
Ginkgo Biloba –

potent antioxidant properties while also being anti-inflammatory

Padina Pavonica –

a type of brown algae that soothes, plumps and hydrates the skin

Carrot Root Extract –

high in beta-carotene, along with vitamins A and E, making this a powerful antioxidant

Bitter Orange Peel Oil –

antiseptic, antifungal and antibacterial properties
Although this is a mineral sunscreen, it has been formulated in a way that ensures that the cream doesn't leave any white streaks on the skin, and is easy to evenly distribute.
What is a mineral sunscreen?
Well, when it comes to sunscreen, you have two main types:
Chemical sunscreen –

contains specific ingredients that absorb UV rays and trigger a chemical reaction, turning those UV rays into heat before emitting them from the body

Physical/mineral sunscreen –

makes use of minerals to deflect the sun's rays away from the skin
Both have their pros and cons, making it important to give both types a try so that you can determine which one works better for your skin.
Sarah Chapman: Skin Insurance SPF 30
Are you looking for a moisturizer that will brighten your complexion?
If so, this is the one to go for.
In addition to containing SPF 30 to protect your skin from the sun, this moisturizer has also been formulated with adaptive tints and light-scattering powders.
What do these do?
Well, when light hits your face, these powders reflect them more than your skin naturally would have, giving your skin a brighter and more even appearance.
This is also a great cream to use if your skin could do with some extra nourishment…
It is packed with antioxidants and stem cell technology, helping to keep your skin as healthy as it can be.
Elizabeth Arden: Eight Hour Cream
It can often be hard for those with oily skin to find a cream that not only moisturizes their skin and protects it from the sun, but doesn't clog up pores and lead to increased oiliness or breakouts.
Fortunately, the Eight Hour Cream from Elizabeth Arden is able to do just that…
This is an oil-free moisturizer, with an SPF of 50, giving your skin more than enough protection from the sun.
Thanks to the fact that it is incredibly hydrating, it will keep your skin moisturized for up to eight hours.
While this may be convenient, you will likely still need to re-apply a sunscreen every two hours in between.
Wondering if this cream works for other skin types too?
Most definitely!
This is a product that all skin types can use, and it has won several awards because of this.
First Aid Beauty: Ultra Repair Tinted Moisturizer SPF 30
While there may be plenty of SPF moisturizers out there, finding one that is also tinted can be more of a challenge.
If this is what you are searching for…
The Ultra Repair Tinted Moisturizer SPF 30 from First Aid Beauty could be worth a try.
Not only does it contain SPF 30, but it is also packed with a number of other skin-boosting ingredients, such as:
Colloidal Oatmeal –

soothes and moisturizes the skin, calming redness and inflammation

Allantoin –

reduces redness and calms the skin

Hyaluronic Acid –

draws moisture from the air into the skin, hydrating it and plumping it up

Vitamin E –

encourages skin cell production while protecting the skin from sun damage
When it comes to the tint…
The product makes use of natural mineral pigments, along with micro-pearls, resulting in a subtle amount of coverage that you can easily build up to your liking. It is fantastic at evening out the skin tone and giving the skin a natural-looking radiance.
Just like with any other quality tinted skin care product, there are a few different shades available – ivory, fair, light, medium, tan and rich.
Jan Marini: Antioxidant Daily Face Protectant
Chemical sunscreen formulas are known for the way in which they are absorbed quickly into the skin, and this is a product that does just that.
Its SPF 30 protects your skin, while its other antioxidants and advanced ingredients bring a number of extra benefits with them too:
Beta Glucan 1, 3 –

soothes the skin, reducing redness while aiding in the production of collagen

Hyaluronic Acid –

intensely hydrating

Phytomelanin –

mimics human melanin when it comes to the way in which it can protect the skin from UV damage
This is a cream that feels so weightless when you apply it to your skin, and while it may seem invisible as soon as it has been applied, this is a cream that is water-resistant too.
Garnier: Moisture Bomb The Antioxidant Super Moisturizer SPF 30
With moisture bomb in its name, you really do expect this product to give your skin an intense dose of moisture.
Does it?
Absolutely!
This moisturizer is packed with a number of powerful ingredients, including:
Vitamins C and E –

work together to resurface the skin and even out skin tone

Goji Berry –

a superfood for the skin, with a number of antioxidants, vitamins and minerals

Pomegranate Extract –

stimulates skin cell production and regeneration

Hyaluronic Acid –

hydrates and plumps up the skin
One more thing that makes this moisturizer unique is its texture…
Rather than being a thicker cream, this moisturizer features an extremely light, gel-like creamy texture, meaning that it can be quickly and easily absorbed by the skin, without leaving any sort of residue behind.
Of course, let's not forget about sun protection!
This moisturizer contains an SPF of 30, which is the perfect amount for your skin on a daily basis. Just be sure to remember to re-apply it every couple of hours!
Wondering if this product would suit your skin type?
If you have sensitive skin…
This is a moisturizer best avoided, due to the fact that it contains added fragrances.
Applying Moisturizer the Right Way
If you do decide to go for a moisturizer that contains a sunscreen, rather than using two separate products, you need to ensure that you are applying enough of the cream for it to make a difference.
Research shows that the majority of people out there don't apply enough sunscreen, going for a layer that is too thin to provide the SPF rating printed on the label. This can be a huge problem, as it means many people don't actually realize how much sun damage is occurring in their bodies.
So, how much do you need to actually apply?
For just your face, about a quarter of a teaspoon.
If you are applying it all over your body, you would need about seven teaspoons worth of cream.
There is no denying that a moisturizer containing sunscreen is so much more convenient, especially on those days when you simply don't have time to layer product after product onto your skin. However, while these may all be exceptional products in the way that they work, you do still need to reapply your moisturizer or a dedicated sunscreen every two hours, in order to keep your skin adequately protected throughout the day.