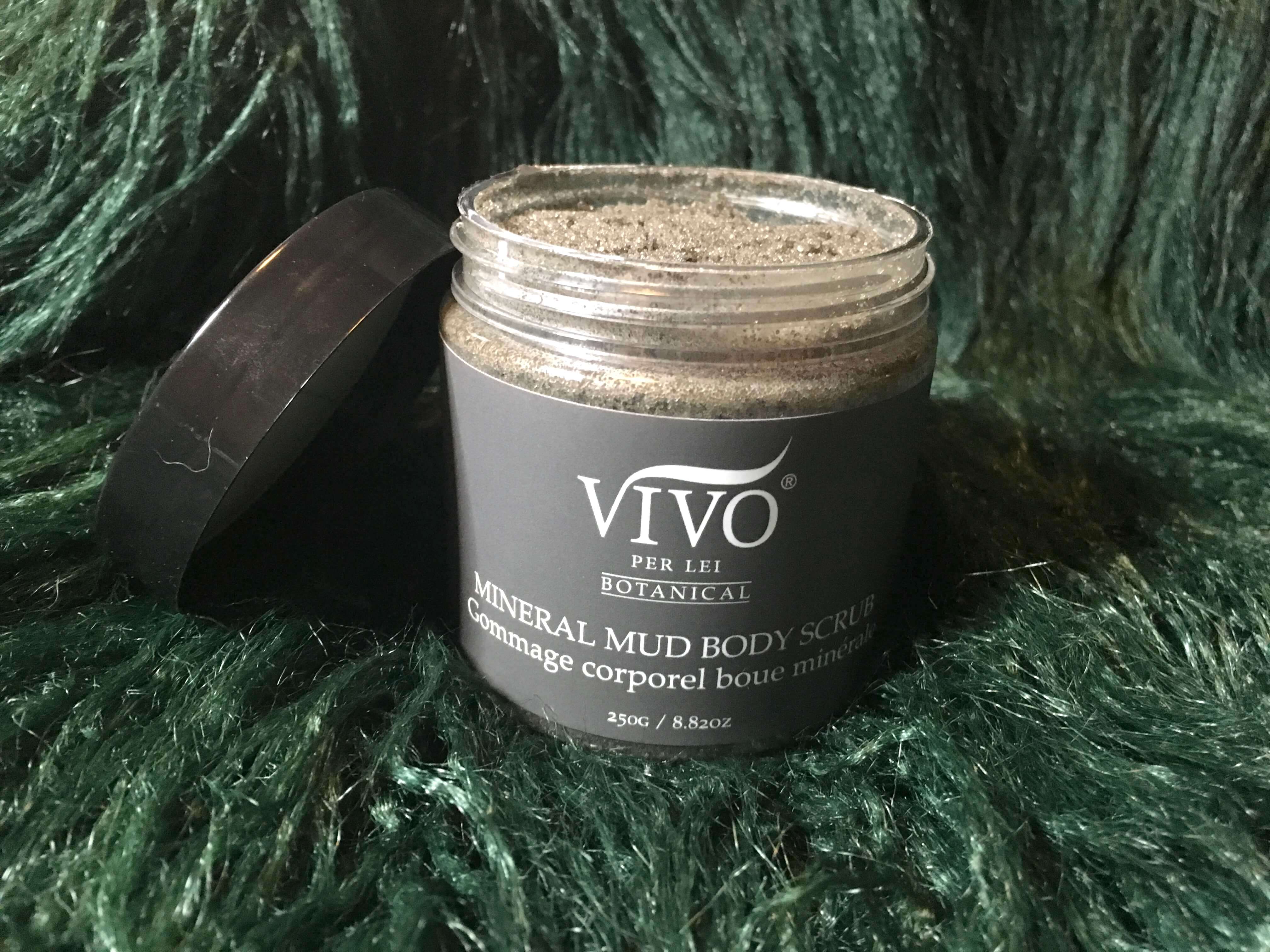 Over the past few weeks I was given the fantastic opportunity to test two new products from botanical skincare company, Vivo Per Lei – the Collagen & Avocado Mask and the Mineral Mud Body Scrub.  Although I was unfamiliar with this brand before testing these products, I was eager to give them a try.
Below are my first impressions and overall thoughts about the Mineral Mud Body Scrub after using it continually as directed for two weeks.
About the Product
The Vivo Per Lei Mineral Mud Body Scrub is a botanical exfoliating product designed to scrub away dirt and imperfections in the skin while detoxing and purifying it.  This product comes housed in a clear acrylic jar that is sealed to ensure freshness and cleanliness before you open it.  Each jar contains 250g or 8.82oz of product for continual use.
Product Usage
This product was designed to be used 2-3 times per week for optimal results.  It should be applied onto clean, wet skin while bathing with a liberal amount each time and avoiding the face and neck areas.  This scrub should be gently massaged into the skin in circular motions until the granules begin to dissolve.  Afterwards, you rinse clean and reveal your smooth, purified skin.
Features and Benefits
The Mineral Mud Body Scrub contains a plethora of botanical, natural ingredients that have been shown to help improve the skin's texture with continual use.  Purifying Kaolin clay and luxurious ingredients such as Dead Sea Salt and Mud, Sweet Almond Oil, and Sugar work together to detoxify and scrub away dead or damaged skin.
With a mixture of natural and essential oils, this product promises to reveal soft, supple skin after use with a clean feel and a glowing effect.
First Impressions
Upon opening my package and finding this product from Vivo Per Lei, I was intrigued.  I had not heard of this brand before, but upon doing research, liked what I saw.  This brand is known for their mid-range affordable skin care that actually works.  I was very excited to give this scrub a try with my dry, dull skin.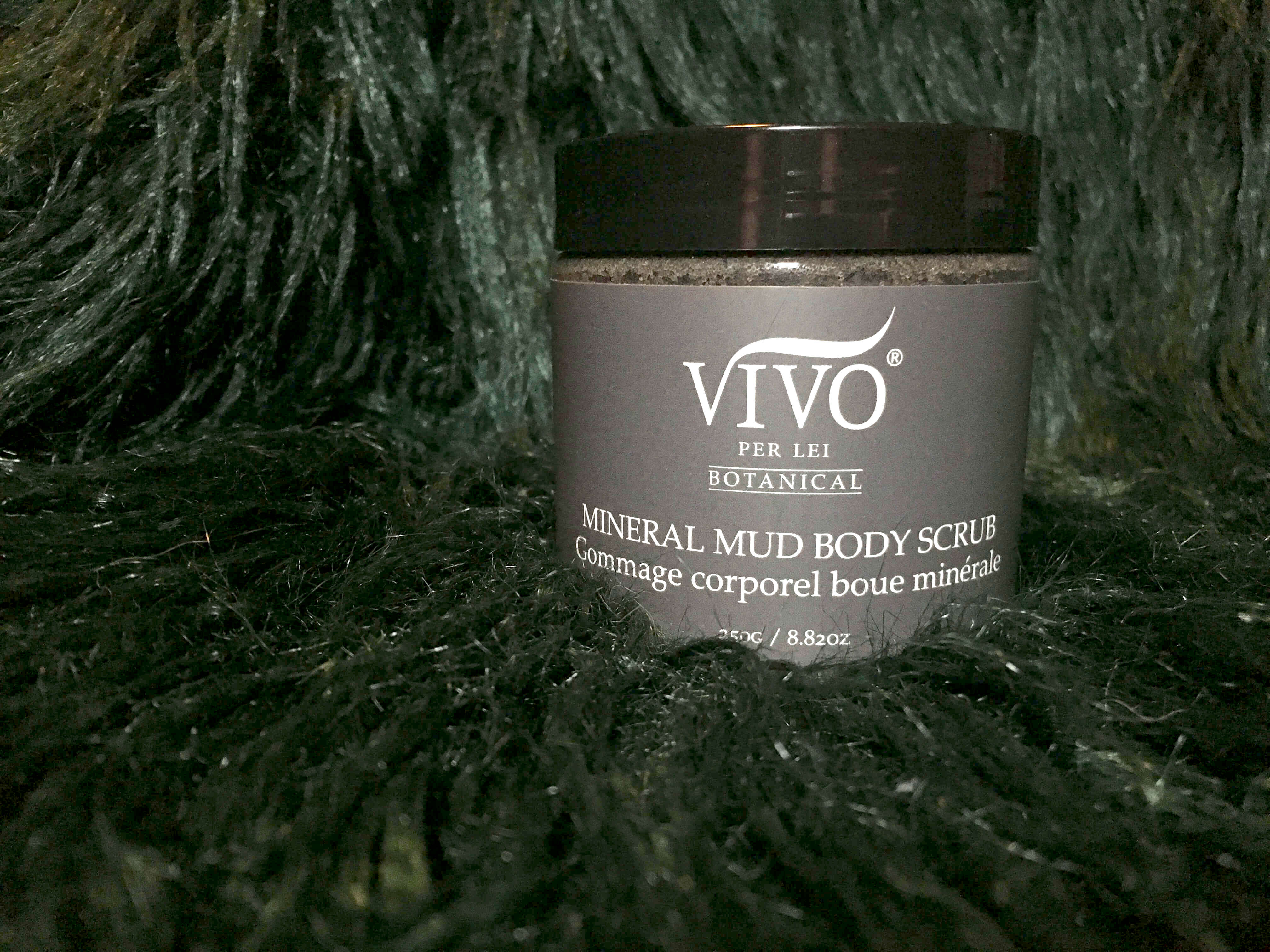 The Packaging
The Mineral Mud Body Scrub comes in a very understated package – a simple acrylic jar.  A deep gray label with the pertinent information about the brand, usage, and ingredients is wrapped around the body of the jar.  The black lid was easy to take on and off once the sealed wrap was removed.
All in all, I wasn't too awed by the product packaging.  But upon reading that this is to be used while bathing, I can definitely understand the choice of an acrylic jar rather than something more decorative.  With all of the water around it and the chance of dropping it while you shower or bathe, plastic is a smart choice for this product.
The Texture
Upon first touch, the texture of this product is very rough, almost like a thick wet sand.  It's very easy to mold and scoop out the necessary amount, but not too abrasive as you do so.  I actually felt like I could make out the texture of the Dead Sea Salt and sugar in the scrub – I really liked that!  It definitely made me feel like the ingredient claims that they were making were actually accurate.
The Aroma
The smell of this product was a little unusual – I'm not entirely sure how to describe it.  It did have a noticeable clay aroma but with a sweet twist from the sugar.  I could also detect a savory smell in there too, much like a sweetened almond milk latte.  All in all, I didn't mind the smell.
The Application
The application of this product is where it gets a little bit tricky.  The directions state to take a liberal amount and massage it into the skin until the granules start to disappear.  Upon doing this under the kitchen faucet, I found that most of the product seemed to wash out of my hand while I was trying to scrub it into my skin.  Maybe a full shower/bath will fare better in testing how this applies.
The Effects
Even with my error in application, I have to say that I was pretty impressed with the first use of this product.  After scrubbing it into the rather dry skin on my arms, I found that it really did the job and helped smooth away the problem areas.  I'm curious to see how well this will play out when using it on larger areas of my body, like the rest of my arms and my legs.
Overall Takeaways
All in all, I wasn't sure what to expect from this product and went in with rather low expectations for my initial test.  However, I found that it seems to do exactly what it is supposed to – slough away dry and rough skin!  I'm excited to test this out a few more times over the next few weeks to see how well it actually performs overall, especially if I get the application process done correctly!
Later impressions
Especially after figuring out that I was applying this product all wrong on my initial test, I was eager to keep testing it out to see how good this Mineral Mud Body Scrub really is and if it fits with my needs and lifestyle.  Here are my findings for the following two weeks of continual use as directed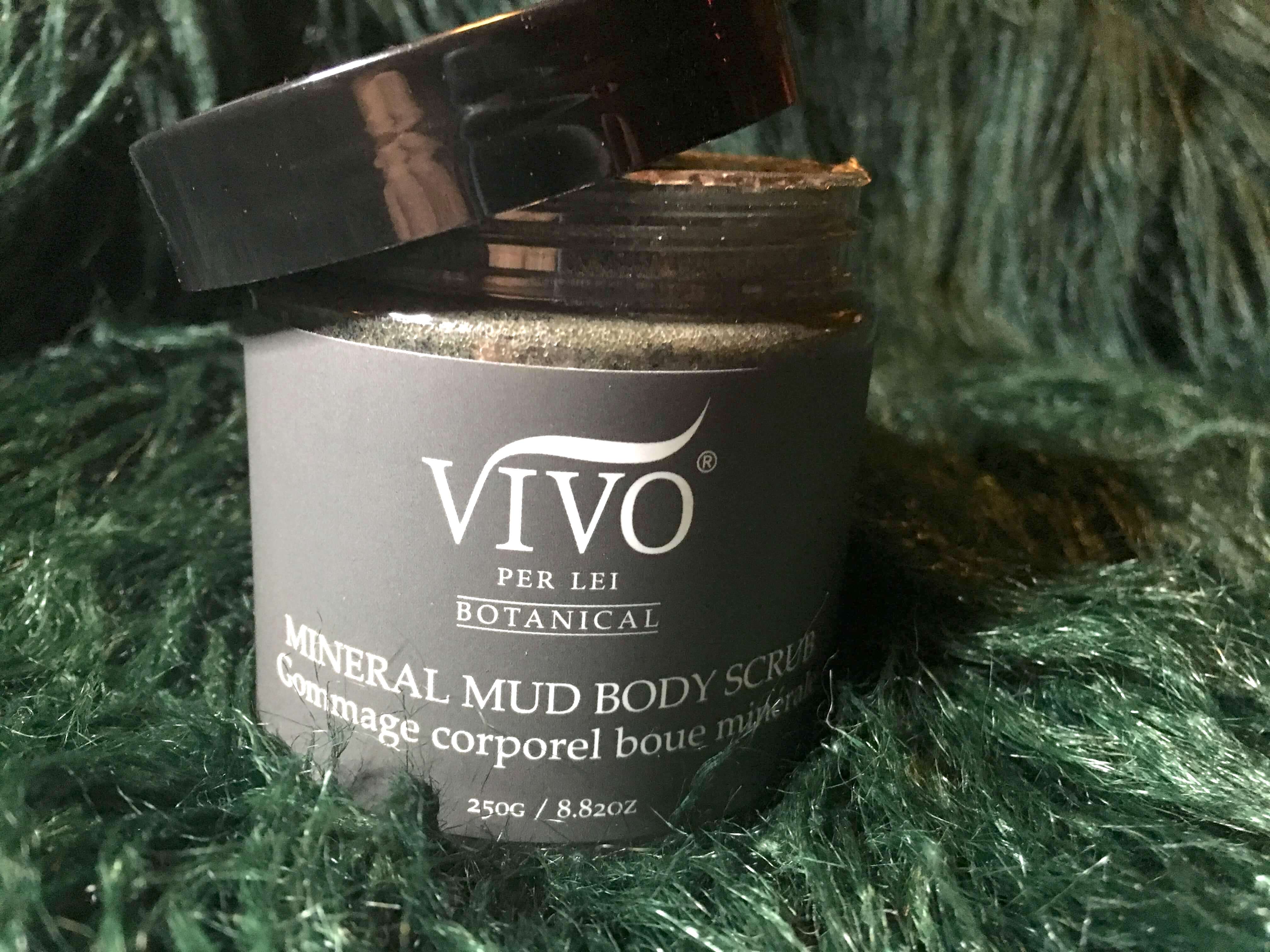 One Week Later
After a week of using the Mineral Mud Body Scrub as directed (both times I took a shower), I am delighted to report that I did see some improvements in my skin, particularly in my dry upper arms.
The Effects
After using this for another week and employing it in my routine both times I took a full shower (rather than just a rinse), I actually started to notice some positive changes.  I have a lot of dry skin concentrated in my shoulders, back, and upper arms – this scrub has worked miracles in helping smooth it away.  I wasn't expecting much after just a few uses, but it seems to be working well, especially considering that I have really never implemented a scrub in my cleansing routine.  I have to say, this scrub may have changed my mind in that area.
Other Notes
Don't worry –  I actually figured out how to use this in the shower without washing all of the product off of my hands!  Rather than scooping out about half a handful of the scrub, I opted for smaller amounts and focused on using it in more concentrated areas.  The result was much better than before and I feel like I didn't actually end up wasting product while I was using it.
Two Weeks Later
After another week of using the Mineral Mud Body Scrub as directed, I am still happy to report an overall positive change in my skin.
The Effects
For the second week of testing this product, I decided to up my usage to 3 times rather than 2 to see if there was any effect on my skin.  
For the first two uses, I saw no change from the positive results I was seeing the week before – my skin looked radiant and a whole lot smoother.  I actually feel like the dry and patchy skin on my shoulders is starting to fade away completely, just in time for summer!
For the third use, I made the mistake of trying this scrub after a full day out in the sun.  I really don't recommend this – the scrub actually stung slightly in the more sun-exposed areas of my body, like my shoulders and legs.  It wasn't painful, just uncomfortable, and went away as soon as I washed the scrub off of my body.
Other Notes
I would not recommend using this product after being out in the sun, especially if you have sensitive skin or you may have a sunburn.  Anything being applied to the skin at that point has the potential to become very irritating very quickly.  I would just avoid it if at all possible.
Had I skipped the third application of this product, I think that this full review would have been only raving about how great it is, which makes me hopeful for how well it will perform as I keep using it in my routine.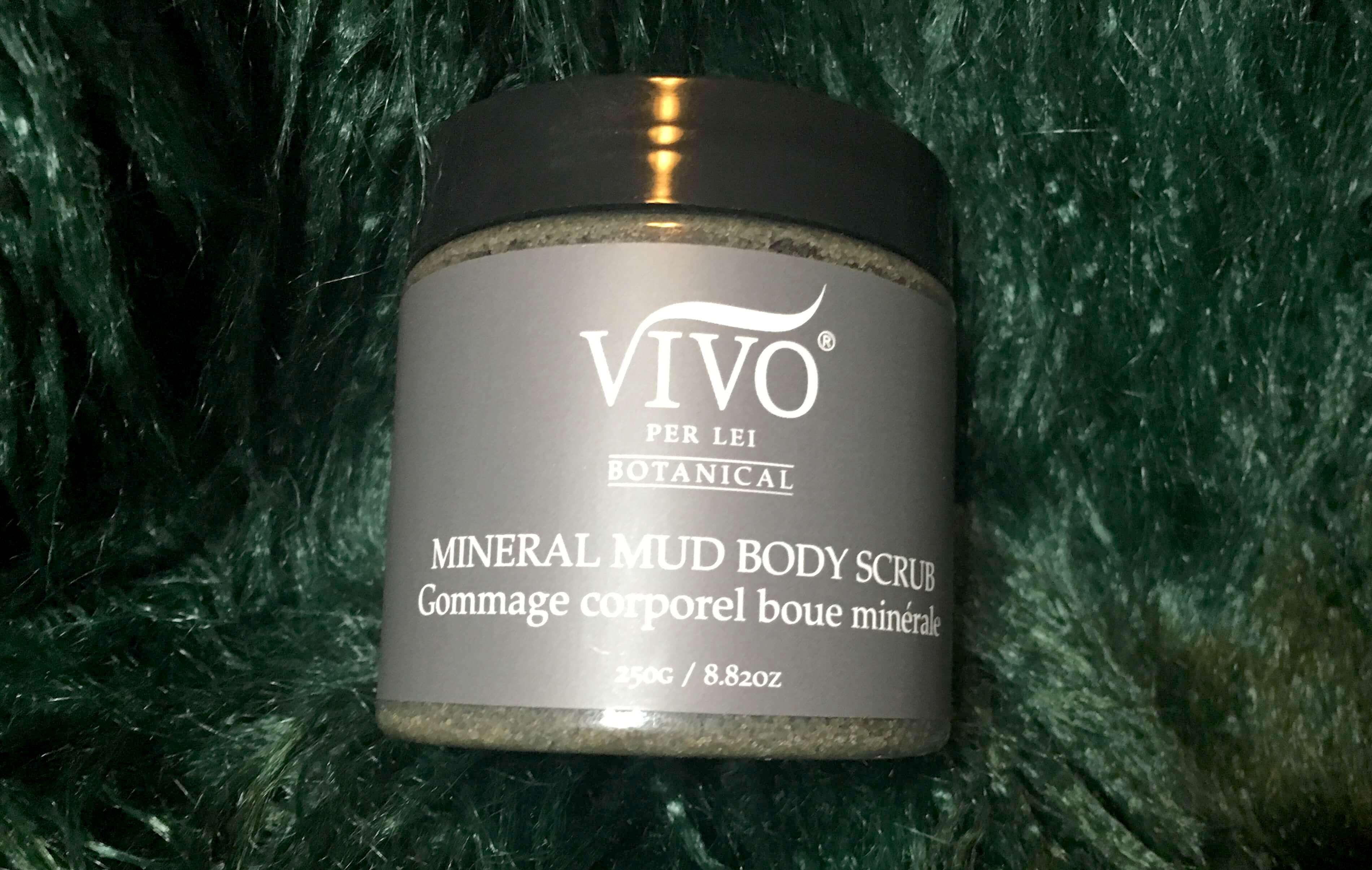 Overall Takeaways
What I Liked About the Product
There are a few distinct things that I particularly enjoyed about this product and using it over the past few weeks.  
First off, I loved the texture of it when scooping it out of the jar – it immediately took me to the beach!  I felt like I was playing in rich, wet sand that smelled absolutely amazing, too!  
Secondly, I absolutely loved the feeling of my skin after I applied the product.  My previously uneven and textured skin was definitely physically and visibly smoother after using this product continually.  It felt super soft and smelled great, too!
What I Didn't Like About the Product
With my two weeks of testing, I didn't really find too much that I outright didn't like about the product.  My main concern would be how my skin reacted once I had a mild sunburn, but this could be simply an issue of usage.  I would add a communication, if possible, that states that this scrub should not be used with sensitive or sun damaged skin.  That way uncoordinated people like me don't make a painful mistake.
What Can Be Improved?
Only a few things stood out to me after testing this scrub for two weeks in terms of improvement.
Firstly, I would suggest elevating it with a different type of component.  The acrylic jar with a plastic sealed outer wrap is a great concept for a product in terms of keeping it safe and secure, but could definitely ruin the appeal for those who appreciate aesthetics and performance.  Perhaps putting it in a sturdy glass jar or textured acrylic jar would be more appropriate.
Additionally, I would suggest making this product in a larger size than the one that is offered.  Although one of these jars has lasted me well over two weeks at this point with more than half of it left, as a customer I would definitely appreciate having more product at my disposal before I need to reorder.  However, from a business perspective, keeping the jar smaller does make sense in order to keep the customer coming back to purchase more and having the potential of cross-selling other products.
Who Would This Product Work For?
After testing this Mineral Mud Body Scrub for two full weeks as directed, I have to say that I really can't nail down whom this product would work for.  Or rather, whom it wouldn't work for!
I would highly suggest this product to anyone dealing with dry or damaged skin, especially those with concerns about aging and hydration.  This may also work for individuals who are athletes or work out regularly – it's a great way to scrub away the aches and pains of the day and reveal renewed and refreshed skin!  With the spa-like usage, this scrub would be perfect for men and women of all ages who are seeking a little self-pampering.
However, those with hypersensitive skin should definitely avoid it.  The particles in the scrub that are intended for exfoliation could quickly turn uncomfortable for this type of person very easily.
Finally…
I have to say – this Mineral Mud Body Scrub has definitely turned me into a believer in the power of the perfect scrub.  What once wasn't a part of my routine has now become a necessity – I definitely anticipate purchasing more scrubs moving forwards!