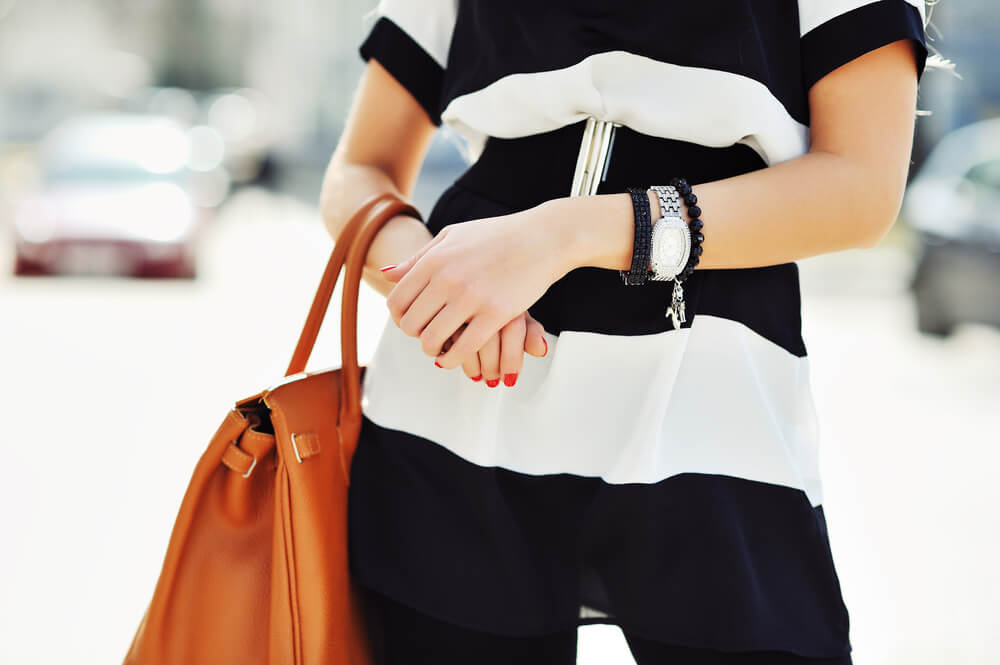 In the past, vegan fashion tended to be quite drab and boring, but this has really been undergoing a huge transformation in recent years.
Wondering what vegan fashion actually is?
It is fashion that is made without the use of animal products, such as leather, fur, wool, and exotic skins. With so many alternatives now available, vegan fashion is more popular than ever, and there are an increasing number of brands now creating vegan clothing and accessories.
If you have been looking for a new handbag, why not give one of these vegan handbags a try instead?
Falabella Shoulder Bag – Stella McCartney 
Let's begin with one of the most mainstream of high end, vegan fashion brands…
Ever since Stella McCartney launched in 2001, the brand has been on a mission to prove to the world that it is possible to create luxury fashion goods without the use of animal products.
Have they succeeded?
Most definitely!
The brand makes sure to only use cruelty-free materials, with one of their signature fabrics being their vegan leather. Rather than using calf leather, the brand makes use of recycled polyester.
This not just looks and feels so similar to the real thing, but is also so much more environmentally friendly. In fact, research has shown that this leather alternative has 24 times less of an environmental impact than the real deal.
The whole Stella McCartney range is cruelty-free, but if you are looking for a truly iconic handbag, it would be the Falabella.
This actually comes in a few different versions:
A shoulder bag
A tote bag
A cross-body bag
A clutch bag
All of them feature the chain trim, which is what helps this bag to really make a statement.
Madeline Mini Bucket – Angela Roi 
Having been founded in 2013, Angela Roi is a relatively new brand, and is based in New York. With a focus on sustainability, this is a brand that specializes in vegan handbags of the most impeccable craftsmanship.
All of their bags have been created using EPUL, or Exquisite Polyurethane Leather, also known as vegan leather, while the design process is definitely a complex one. It takes about four months for the brand to design a new handbag, and then another four or five months for this to be sampled and tested, so you know for sure that each design they sell has really been meticulously thought out.
The brand offers a variety of different styles to choose from, but there is something especially charming about the Madeline Mini Bucket. With its subtle pebble texture, antique gold hardware, and drawstring top closure, this bag is cute yet sophisticated at the same time.
Like the sound of this, but looking for a different style of handbag?
As mentioned above, Angela Roi sells quite the variety, including:
Satchel bags
Shoulder bags
Tote bags
Cross-body bags
Mini backpacks
Travel pouches
Need another reason to give this brand's collection a browse?
Not only are their products cruelty-free, but they also make regular donations to local humane shelters, as they really believe in the importance of being compassionate to animals.
Valerie Perforated Hobo – Jeane and Jax 
Jeanne and Jax is a vegan handbag brand based in Montreal, and while they focus on luxury fashion, they sell their bags at affordable prices.
This is a brand that is PETA-approved, meaning that they have to follow extremely strict production guidelines.
The Valerie Perforated Hobo is a hobo-style bag from the brand's Spring 2018 collection. With its perforations, zip details and light gold hardware, this is a bag that is perfect for the spring season.
It has been crafted from vegan leather, and comes in three colors:
Cher Bow Tote – Gunas
Gunas is an independent high fashion brand based in New York, but with ethical manufacturers located all over the world.
The brand is proud to call themselves 100% vegan, so you can be sure that none of their bags contain any animal products or by-products whatsoever. Instead, Gunas makes use of fabrics such as:
Coated canvas
Ultra-leather and ultra-suede
Nylons
Up-cycled polyester for linings
Not only is this an animal-friendly brand, but it is also environmentally-friendly.
How?
To begin with…
They do not ever use PVC in their designs.
They also incorporate up-cycled fabrics, as well as vintage material, into their collection as much as possible. Experimenting with new and exciting fabrics is also important to the brand, with everything such as cork and rubber being used.
When it comes to the Cher Bow Tote, this tote bag embodies the pop artist it was named after, being classic yet bold.
The bag is made from Vegan Textured Eco Polyurethane, and comes with gold-plated hardware and a rich red lining.
Art Deco Clutch – Jill Milan 
Jill Milan is a luxury handbag brand that was founded in 2010. Based in Italy, each bag is designed by top fashion designers before being handmade by local ateliers.
You may have even seen their bags before…
Quite a few celebrities have worn their designs, from Kerry Washington to Anne Hathaway to Eva Longoria.
When it comes to the Art Deco Clutch…
This bag was actually voted as Most Wanted by W Magazine, as it really is so exquisite. Made entirely in Florence, Italy, this bag features Italian stainless steel, with a fully lined interior.
There are three color options to choose from:
Silver
Brushed silver
Gold
Don't need a clutch bag?
The brand has plenty of other varieties available, so give their website a browse.
Brave – Matt & Nat 
Based in Montreal, Matt & Nat only make use of vegan materials and production techniques when it comes to their luxury handbags, and also design and produce all of their own custom hardware.
This is another brand that you have likely already seen on the arms of celebrities, from Olivia Wilde to Charlize Theron to Fearne Cotton.
Have you been looking for a stylish handbag?
If so, Brave could be the one to go for. Sophisticated and classy, this is a bag that would work with so many different outfits, and the fact that it is adjustable is a huge bonus.
Even better?
This bag comes in so many different colors, including:
Black
Ink
Ruby
Mauve
Sky
Grass
Sand
One more thing that may surprise you…
Being dedicated to sustainability, the luxurious-feeling linings within all Matt & Nat bags have actually been created out of 100% recycled plastic bottles.
Alessia Shoulder Bag – Melie Bianco 
Melie Bianco is another PETA-Approved brand, so all of their products adhere to strict standards.
However, there is one thing you should be aware of…
This is a brand that has recently come under scrutiny.
Why?
Because their products are made in China.
While this may have negative connotations for many, Melie Bianco is a brand that is completely sweatshop-free, working closely with small vendors and enforcing everything from fair pay to minimum age requirements to gender equal opportunities.
This is a brand that really puts so much into the design of their bags, which is why they have been featured in so many different magazines, including Marie Claire, Glamour, Instyle and Cosmopolitan, as well as television shows such as Desperate Housewives and The Carrie Diaries.
Melie Bianco has even been featured in Vogue UK for winning a PETA UK Vegan Fashion Award, for Best Animal-Friendly Accessories. 
So, let's move on to these highly coveted accessories…
The designs are eclectic, and the classic yet quirky touches mean that they will appeal to such a wide audience.
The Alessia Shoulder Bag in particular is one that adds a unique twist to a classic design, and not only comes in different colors, but also a variety of sizes. Made from premium vegan leather, with an eco-luxe lining, this is a shoulder bag that will work with just about every outfit.
To make it even better…
Their prices are extremely affordable, making it well worth having a quick browse through their online shop.
Cyndi Beige Across Body Bag – LaBante London 
LaBante London was established in 2009, and not only specializes in vegan handbags, but also vegan jewellery. While their products feature the finest of craftsmanship, along with luxurious materials, their price points are affordable, making vegan accessories attainable to such a wide market.
Being PETA-approved, this brand conforms to strict codes, and also takes steps to ensure that all of their practices are environmentally-friendly.
There are so many gorgeous bags to look at, but the Cyndi Beige Across Body Bag stands out for all of its charming details. It is also extremely practical, with a magnetic closure, along with a zip fastening, and a detachable shoulder strap.
Wondering what sort of jewellery the brand produces?
Everything from bangles and bracelets to earrings and rings, featuring colorful gems, stones, and, again, the finest of craftsmanship.
Simma Tote Natural Cork – Svala 
Svala is a sustainability-driven brand based in Los Angeles. Originally focussed on sleepwear, lingerie and loungewear, it was not long before Svala expanded their product range to include luxury vegan handbags.
All of the brand's bags are produced in Los Angeles itself, and are made from some of the following materials:
Italian PU – a vegan leather
Pinatex – a fabric made from the fibers of pineapple leaves
Cork 
Recycled polyester – made from recycled plastic bottles
A PETA-approved brand, Svala has also been nominated twice for the Sustainable Luxury Rewards by Eluxe Magazine.
One of the highlights of the brand's handbag collection is the Simma Tote in Natural Cork. Being made from a biodegradable, vegan cork fabric, the bag's pattern and texture is truly unique, and will really make it an interesting talking point.
The bag itself is spacious and roomy, and, just like any good tote should be, is large enough to hold all of your daily essentials, including a 13" Macbook.
Wondering why Svala bags come with a detachable silver swallow bird charm?
Because, in Icelandic, Svala means swallow.
Bucket Bag – Doshi 
Doshi is a vegan brand based in southern California, and have quite a wide product range, including:
Handbags
Briefcases
Belts
Backpacks
Accessories
When it comes to their handbags…
Their bucket bag is really a stand-out, with a luxuriously glossy Microfiber PU vegan leather shell giving it quite the dramatic edge. Not only is this an extremely durable material, but it also looks so clean and smart, and will suit so many different fashion styles.
The design of the bag itself is fantastic, with the bag being so practical and functional, while the fine construction ensures that this is an accessory that will last for years to come.
The bag comes in a few different luscious colors, such as a deep navy blue and an earthy brown, but the Eco Black shade is the most eco-friendly of them all.
Why?
Because this shade makes use of almost no solvents at all in the production process of the actual material.
And, as a huge bonus…
It is also scratch-resistant.
Just like many of the other brands on this list, Doshi is one who is dedicated to helping out animals, as well as people and the environment, all around the world, donating 5% of their revenue to a variety of different charities.
Love the brand?
They plan to launch vegan shoes this year, so be sure to follow them on social media!
If you have never thought about vegan fashion before, this is definitely something worth considering. An increasing number of people all around the world are recognizing how cruelty-free products are so much better, not only in terms of ethics but also sustainability and the environment, which is why you will now find more vegan brands out there than ever.