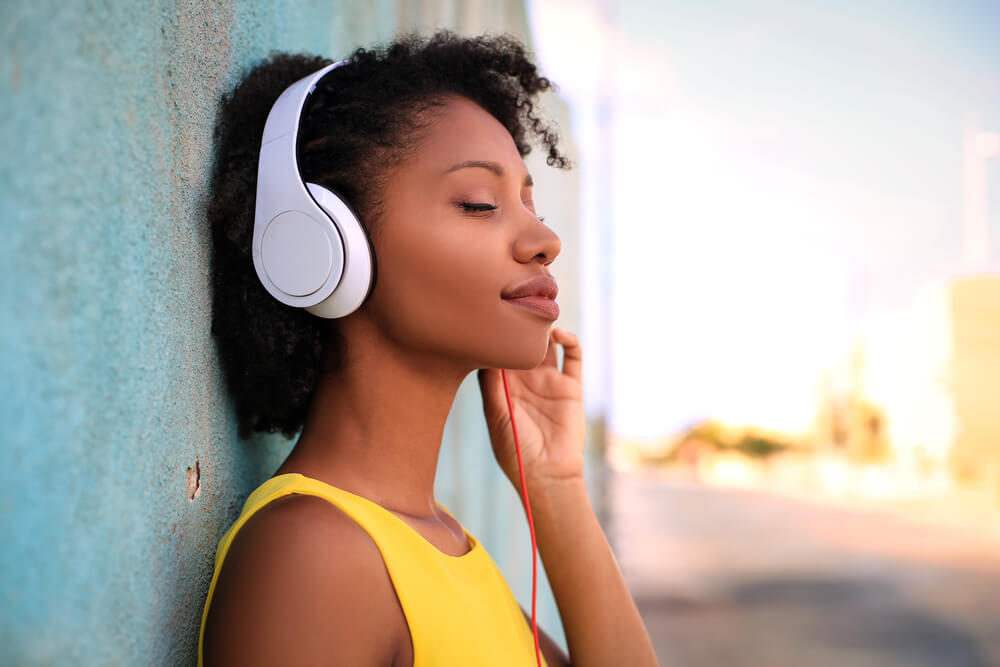 Noise-cancelling headphones have been all the rage among audiophiles lately.
These powerful audio accessories can shut out all the noise from your environment and let you fully immerse yourself in the richness of the media currently playing.
It's not hard to see why this feature would be so appealing to the modern listener — after all, who hasn't wanted, on one occasion or another, to block out all outside sounds and focus on a great piece of music, or a fantastic audiobook, or an inspiring podcast? 
Check out our list of the best noise-cancelling headphones on the market todya.
Bose QuietComfort 25
The fact that Bose's signature model is the first to be mentioned on this list should be of surprise to no one.
The company's QuietComfort series has been virtually unrivaled when it comes to noise-cancelling properties, as well as comfort.
And the QC 25 represent the finest example of these impressive capabilities.
The ergonomic build features two soft over-the-ear cups with a headband.
The fit manages to be simultaneously cozy and firmly sealed – which is of crucial importance for ensuring superior noise-cancelling performance.
For this reason, you can rest assured that Bose QuietComfort 25 will effectively block out any and all ambient noise.
Moreover, the sound quality is exquisite, with just about the ideal amount of bass.
You should note that Bose QuietComfort 25 model is wired and is accompanied with a 56-inch cable that has a three-button in-line mic.
When it comes to color, this model comes in three different designs:
The headphones also come in two different variations, one intended for Android and one for Apple devices. Its battery life can reportedly last up to 35 hours, while the headphones can continue to reproduce sound even after they've run out of juice.
Linner NC50 Active Noise Cancelling Wireless Headphones
For something a little more inconspicuous, you might want to go for this ultra-subtle model from Linner.
There wireless Bluetooth headphones manage to blend amazing sound-reproducing performance and noise-cancelling properties with lightweight design.
Linner NC50 Active Noise Cancelling Wireless Headphones feature active noise cancelling technology – the ANC – which can be activated by pressing the button nestled on the headphones.
Other than the noise-cancelling mode, the headphones also provide two additional settings – normal and monitor.
Another thing that should be mentioned about this model is its durability. The design features sturdy, yet comfortable earbuds and a rubberized cable.
This model is also sweat-proof, which means you can crank up your music while wearing these earbuds even during exercise.
The biggest appeal of this model is its affordable pricing, which is refreshing if you take into consideration the dizzying price tags that usually accompany noise-cancelling headphones.
Bowers & Wilkins P9 Signature
This model comes from the UK-based audio company Bowers & Wilkins, which has been producing top-notch speakers and headphones for over half a century.
To mark their fiftieth anniversary, Bowers & Wilkins have released a lush new model that is the full embodiment of their ethos – dedicated to timeless design and long-lasting quality.
The first thing you'll notice about the P9 Signature model is its unusual aesthetic, evocative of the '70s retro designs.
Materials like leather and metal were favored over plastic and rubber when it came to producing these headphones, marking a stark difference from rubbers and plastic which are often associated with modern headphone models.
The headphones also come with three cables:
One 4-foot cable
One 4-foot cable with an integrated three-button remote
One extra-long cable for enjoying music in the comfort of your home
The snug fit ensures excellent isolation and notable comfort on your head and ears.
When it comes to sound, P9 Signature headphones demonstrate incredible playback capabilities, with a special emphasis on clear, delightful bass.
If you tend to value aesthetics and craftsmanship as much as you enjoy rich audio output, then Bowers & Wilkins P9 Signature will be an ideal match for you.
Bose QuietComfort 35 II
The upgrade of Bose's beloved QuietComfort 35 comes with all the wonderful features of its predecessor, plus some convenient new tweaks.
The Bose QC 35 feature a simple, yet versatile design that can fit anyone's style and aesthetics.
The band is engineered using matte plastic, while the ear cups lined with soft padding are protected with metal caps.
Your Bose QC35 can be stored in a hard case that is also included when you purchase this product.
However, due to its sturdy design, you shouldn't worry too much about throwing it in your rucksack or gym bag when in a rush.
This model comes in two shades: black and silvery grey.
The biggest difference between QC 25 and QC 35 is that the latter are wireless, with an optional wired connection.
The noise cancelling technology can be regulated through an iOS or Android app. It can be low, full or switched off.
Battery life can last up to 40 hours when wired and around to 20 hours in wireless mode.
The biggest novelty of the QC 35 II headphones is the introduction of Google Assistant, making this Bose model the first one in the audio industry to include a smart assistant.
It can select music, read notifications or provide you with directions while you're on the go.
Sony MDR-1000X
Sony represents another important player in the noise-cancelling headphones market, while its MDR-1000MX model shows that Japanese company does not play around.
This powerful, noise-eradicating set of headphones is characterized by lightweight and easily portable build. It features a stainless steel headband and leather-covered cups that sit comfortably on the ears.
The right ear cup is sensitive to touch and can be used for various commands, like skipping between tracks or turning the volume up and down. Cupping it switches on ambient sound in case you need to listen to something or someone in your immediate environment.
Ear cups can also be folded, which makes the Sony MDR-1000X even more compact and travel-friendly.
The most important characteristic of these wireless headphones is their outstanding noise-cancelling capability, which can quickly block the sounds of busy traffic, crowded streets and roaring plane engines.
The Sony MDR-1000X come in black and grey beige, while active battery life amounts to 20 hours.
Sennheiser PXC 550 Wireless
As one of the leaders in the audio industry, it's no wonder that Sennheiser decided to throw its hat in the ring and produce its own high-end pair of noise-cancellers.
The PXC 550 are wireless headphones whose design features decently sized teardrop-shaped ear cups padded with a thick layer of leather.
The headphones automatically switch on when you place them over the ears and turn off once you fold them.
The right ear cup houses touch controls, which can be used to answer your calls, play music or adjust the volume.
A small button allows you to toggle between different sound modes, which include:
Club
Movie
Speech
No effect
The noise-cancelation performance is excellent, and the PXC 550 Wireless headphones do a great job reproducing your favorite media free of distractions.
The price of this model is somewhat steep compared to its competitors, but one might argue that it's fully justified due to the Sennheiser's comfy design, innovative features and supreme sound quality.
Plantronics BackBeat Pro 2
A great option for a pair of mid-range noise-cancelling headphones are BackBeat Pro 2 from Plantronics.
The second generation of this wireless, over-ear model is slimmer and lighter than its predecessor, making it more comfortable and compact for carrying around (the headphones can be stored in an olive green pouch with a zipper which comes with the product).
The ear cups feature faux wood details and synthetic leather padding, which allows the headphones to sit comfortably on your ears.
The left side features control buttons, which include play and pause, as well as two buttons for skipping tracks.
Volume is regulated with a textured control ring, which can be rotated to turn the music up or down.
The sound quality of the Plantronics BackBeat Pro 2 is decent; however, it still falls behind the industry standards like Bose's QC 35 or Sony's MDR-1000X.
The noise-cancelling power is also slightly weaker compared to the aforementioned models, but it still performs well in most scenarios.
This is why Plantronics model might be an ideal fit for people who work in busy offices, as it will effectively cancel the distracting ambient noise.
When it comes to battery life, Plantronics states that you should be able to get 24 hours of active use with these headphones.
Philips Fidelio NC1
Philips is yet another company known for actively delivering high-quality headphones.
And their effort to overtake the noise-cancelling niche was demonstrated with the Fidelio NC1 model.
The most attractive feature of these upmarket headphones is their light, compact design, which makes this model incredibly practical and easily portable.
It features aluminum cups lined with leather and padded with memory foam. There is also a soft padding on the inside of the headband for extra comfort.
The product also comes with two cables, one plain and one with integrated controls.
In practical terms, Philips Fidelio NC1 are super easy to carry around and wear even for prolonged periods of time.
When it comes to audio performance, the sound is rich and crisp, while the noise-cancellation qualities are potent in reducing environmental noise.
The battery life of the Philips Fidelio NC1 can last up to 30 hours of active use, which is another impressive property of these headphones.
Samsung Level On Wireless Pro
South Korean tech giant Samsung is another big-league player who decided to enter the market of noise-cancelling headphones, this time with Level On Wireless Pro, a top-end wireless model.
The ideal audio accessory for a Samsung smartphone, these headphones feature a decidedly unpretentious design – the chassis is largely made of plastic, while the ear cups are made of foam and covered in faux leather.
Moreover, the design is collapsible and the headband can be folded.
This is why it's super easy to slip Samsung's headphones into any bag and take out whenever you need them.
The build also features a switch for activating the noise-cancelling mode, which tends to be pretty powerful when it comes to this particular model.
The right ear cup houses touch-sensitive controls, which include:
Playing and pausing the music
Turning the volume up or down
Changing between songs
The battery life is supposed to last up to twenty hours when the noise-cancelling mode is switched off, and about ten hours when it's activated.
The Level On Wireless Pro come in two colors, black and bronzish gold.
Samsung's latest take on wireless headphones might not be the absolute finest on the market, but it is certainly a well-preforming, compact model that will be able to satisfy even the pickiest audiophiles.
And with this, we complete our list of the best noise-cancelling headphones you can currently find on the market. Between the sleek designs, supreme comfort and excellent distraction-blocking capabilities, we are positive you are going to find yourself a perfect match and finally be able to shut out the outside world and completely surrender yourself to the power of sound.