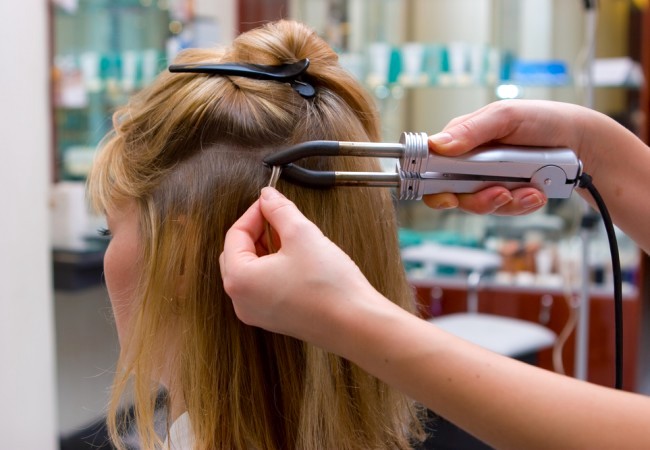 Hair extensions are a great way to add some extra length and volume to your hair.
However, with so many different hair extensions out there, how do you know which ones to go for?
Well, ideally, you want something that is high in quality but still good value for money, which is exactly what these eight hair extension brands provide.
Klix
Klix is a brand that offers up a variety of single, duo and trio colored hair extensions, giving you plenty of options when it comes to getting creative with shades.
What makes Klix stand out?
The way in which their hair extensions are applied to the hair. Unlike many of the other hair extension brands out there, the Klix extensions requires you to guide your hair through silicone-lined micro-links, which helps to prevent your hair from snapping. You then use a special tool to close these links, therefore clamping the wefts down over your hair.
After about a month, you can open the micro-links and move them up, and you are able to do this a couple of times.
This enables the extensions to lie naturally flat against your head.
Wondering what Klix extensions are made from?
They're made solely from Indian Remy hair, meaning that you can use heated styling tools when styling the extensions.
Sounds pretty good, right?
You're probably wondering what the downside is…
Well, the main downside that people find with Klix hair extensions is that there tends to be a bit of a learning curve when it comes to understanding exactly how to use them. Their unique application method can take some time to get familiar with, even if you frequently use hair extensions from other brands. For beginners, it could take even longer.
Donna Bella 
Donna Bella has been one of the most highly-rated hair extension brands for quite a few years now, earning them a solid reputation.
Why is Donna Bella such a favorite?
To begin with, they offer such a wide variety of hair extension types, including:
i-tip

Flat tip

Tape-in

Keratin

Clip-in
This gives you so much choice when deciding on the best hair extensions for your look.
Are you a beginner in the world of hair extensions?
Then Donna Bella is a brand well worth considering.
Why?
Because, in addition to selling their many different hair extensions on their website, they also sell practice hair extensions. 
Unlike their real Remy hair extensions, the practice extensions are made from synthetic hair, making them very affordable. They are designed to be used on a mannequin or model, giving you the chance to improve your technique before you work on your own hair.
Lionesse
Lionesse is a beauty brand with a focus on hair care and skin care, with one of their product collections consisting entirely of clip-in hair extensions.
The fact that they concentrate on one type means that they offer up a fantastic variety of shades, with these being so easy to match to just about everybody's hair color.
What are Lionesse hair extensions made from?
Just like the other brands on this list, they are made from Remy hair, making them so much easier to style. Remy hair will also blend into your natural hair much more seamlessly, and has a much longer shelf life than most of the other materials used.
The Lionesse hair extensions are so easy to use, making them great for both beginners as well as pros. Plus, if you need any help, the Lionesse team is always on-hand to answer any questions you may have.
If you decide to purchase your hair extensions from Lionesse…
Don't forget to also check out the brand's other hair care products. Their curling irons and flat irons are great quality, while their shampoo, conditioner and hair mask is also worth a look.
If you want to really treat your hair, give the Lionesse Hair Serum a try. The serum is packed with aloe vera and vitamin E, and, since it is so lightweight, will nourish your hair and help to control frizz, without leaving it feeling greasy.
Hair Lingerie
Favored by numerous celebrity stylists, Hair Lingerie hair extensions have been seen on everyone from Madonna to Hailey Baldwin.
The extensions from this brand are tape-in, making them great for adding both length and volume.
They are also fantastic in quality, with these silky strands able to be reused after more glue has been added to the wefts. Since the pieces themselves are quite large, it doesn't take long for these extensions to be applied, with the process usually lasting around 20 minutes to an hour. As an added bonus, the even weight distribution across these large hair extension pieces means that your hair won't be damaged.
How are they removed?
Well, as you probably already know, it's the hair extension removal process that tends to damage hair the most, resulting in quite a bit of breakage.
This is exactly why Hair Lingerie was launched…
The brand wanted to create hair extensions that don't damage the hair, and it would seem as though they have managed to do so.
Are you ready to hear the downside? (Although, it could also be looked at as a plus.)
You can't just order yourself some extensions from the Hair Lingerie website. The only way you can rock those locks is by booking yourself in for an appointment with a Hair Lingerie Specialist.
Don't worry, there are salons all over the country that offer this service, and the website does provide an easy-to-use tool to help you locate your nearest one.
The fact that these extensions are put in professionally also means that you can have the color customized to match your natural hair color. This is something else that Hair Lingerie specializes in, giving you results that are truly seamless.
Great Lengths
A brand that began in London in 1991, Great Lengths can now be found in 50 countries all over the world, making it quite the pioneer when it comes to hair extension brands.
One of the great things about Great Lengths is the way in which there really is so much choice when it comes tot heir different hair extensions.
You have so much control over your extensions, including:
Choosing a thickness

Choosing a texture

Choosing a color, including two-toned and ombre shades

Adding sparkles and jewels, or even Swarovski crystals

Choosing a length up to 80cm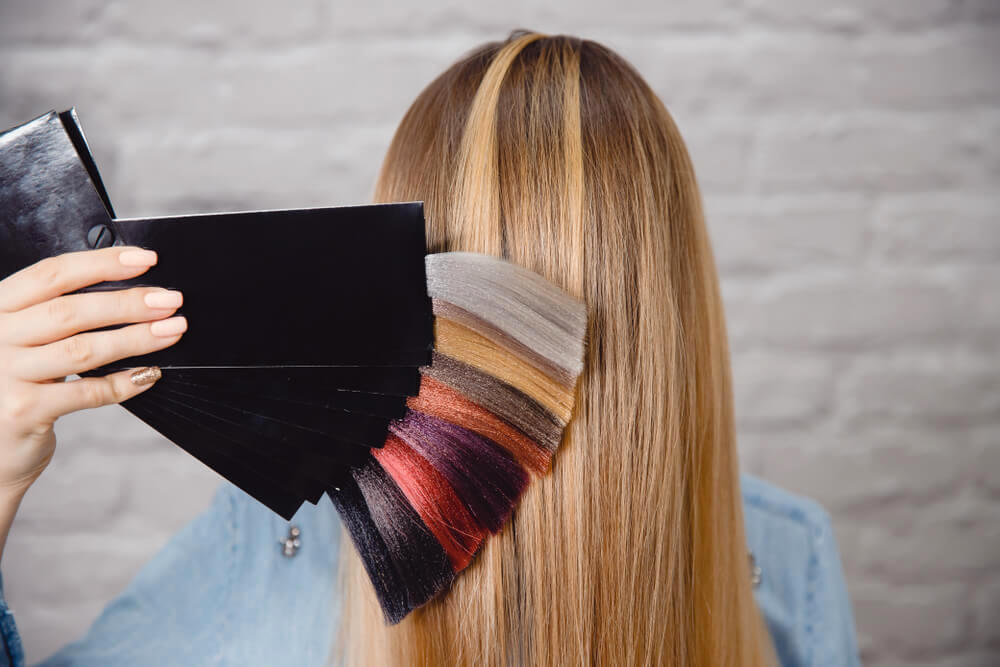 Wondering how these extensions are applied?
Great Lengths offers up a few different application methods. Some of them can be done yourself at home, while others require a professional touch.
However, for a truly seamless effect, go for the brand's unique bonding process. This makes use of either heat or ultrasound, combining this with the brand's patented protein polymer bond. The bonds are absolutely tiny and very lightweiht, meaning that not only are they pretty much impossible to detect, but they also do not place only a very small amount of stress on your hair.
Babe 
Specializing in all-natural human hair, Babe produces a spectacular array of different hair extensions.
Their application methods vary between:
Tape-in

Fusion

Beads

Flat-tips

i-tips
All of these extensions can be applied yourself at home, with Babe supplying full kits containing everything you would need to do so.
Many of their hair extensions are extremely long-lasting, with their tape-ins lasting for up to six months. The fact that they only take around 30 minutes to apply is an added bonus! Their fusion extensions are great too, lasting for about four months and taking two hours to put in.
Are you a beginner with hair extensions?
This brand is great for those just starting out, because they provide some great advice on the different tools you may require. From the full kits mentioned above to replacement tapes and after-care products, Babe really will take care of you and your hair.
Want more value for your money?
Give the i-tip and flat-tip extensions a try. They can both be re-used up to three times, meaning that you won't have to keep purchasing new ones. They also do not require any heat, glue or chemicals to apply, saving your hair from so much damage.
True Indian Hair
True Indian Hair has been around for just under 15 years now, and is a brand that is favored by many celebrities. Everyone from Rihanna and Serena Williams to Mona Scott and Zoe Kravitz have rocked these locks, and the brand has been featured in high fashion editorial spreads several times.
Wondering why True Indian Hair has become so popular?
It's all thanks to their 100% virgin cuticle hair. Not only does this mean that the hair has been taken from the root, but it also means that the hair hasn't been chemically processed in any way, including being treated with bleaches, dyes or any harsh ingredients. It also usually comes from a single human donor, and is never mixed with synthetic fibers or animal hair.
These extensions are highly reusable, but will still last for up to a year if you don't want to reuse them.
Want to know if you can purchase these extensions online?
You can. However, if you feel more comfortable purchasing your extensions from an actual store, True Indian Hair has a few brick and mortar locations in New York City and New Jersey, with stores also being planned in Los Angeles and Atlanta. 
Curious about what else True Indian Hair sells?
You'll find quite a few other products in their store, both physical and online. From wigs to hair care products, you will likely find an excuse to treat yourself to more than just the hair extensions when purchasing from True Indian Hair.
Cinderella
Cinderella Hair Extensions is a brand that has been operating since 1994, and they specialize in a unique bonding method.
What's so unique about it?
They use their own bonding formula, which they make with an organic protein. This means that damage is minimal, both when the extensions are applied as well as removed. Since natural hair damage is usually quite a common problem with bonded hair extensions, this is how the brand has managed to really stand out.
Wondering how long it takes for these bonded extensions to be applied?
It depends on how much hair you are using, but it can take anywhere between two hours to six hours. They can then last for up to four months, although most people will have them removed or replaced after three.
As you can imagine, these extensions cannot be applied yourself, meaning that you will need to find a professional stylist who has been certified by Cinderella before you can give them a try.
Your stylist will offer an initial consultation to help you decide on the following:
How long you want your hair extensions to be (you can choose a length between 16 and 22 inches)

The texture you are after (Cinderella offers a variety of textures, making this a great brand for those who have curly hair or hair that is usually quite hard to match up with extensions)

How many packs you will need

The color of your extensions (your stylist will have samples for you to match up with your natural hair)
Another bonus to going with Cinderella's hair extensions is that the brand sells quite a few other high quality hair care products. From cream shampoo and conditioners to natural bristle hair brushes, you will likely end up making several purchases when ordering your hair extensions from Cinderella. 
Hair extensions are a great way to really transform your look, but many of the hair extensions out there are either low quality or extremely damaging to the hair. One way to avoid both of these is by going for a reputable hair extension brand, such as one of the eight brands mentioned on this list!