Over the past few weeks, I was given the unique opportunity to test several state-of-the-art Nubi products, including the highly rated Nubi Hair Boosting Hair Serum with Marula Oil and the Nubi Hair Sleek Curl Teal curling iron. As an avid Nubi fan and new to the world of luxe hair care, I was ecstatic to give these products a try for myself and see if they fit with my hair type, lifestyle, and routine.
Here are my first impressions and subsequent thoughts about the Nubi Boosting Hair Serum with Marula Oil after two weeks of continuous use.
About the Product
The Nubi HAIR Boosting Hair Serum with Marula Oil is a unique hair treatment designed to transform dull, damaged, and frizzy hair into super soft and healthy locks. Housed in a beautiful matte black bottle, this serum features 60ml or 2 fl. oz. of product for continual use.
Product Usage
This product was designed to be implemented into your everyday hair care routine with no particular recommendation on how often you should use it. According to Nubi, for best results you should apply 1-2 pumps of this serum to your palms before massaging into damp or dry hair. This should be done before you style your tresses for best results.
Features and Benefits
The most impressive feature about this product is the inclusion of luxurious Marula Oil, an ingredient that is known to provide a vibrant sheen in hair while leaving it healthy and residue-free. Additionally, it contains a small amount of Vitamin E and Aloe Vera extract for extra moisture and protection. These natural ingredients work together beautifully for a stunning finish that doesn't leave your hair greasy or weighed down.
First Impressions
Upon opening my package of items to test, I was drawn to this product immediately. As a fan of the Nubi Hair brand and recently obsessed with healthy hair care, I decided to test this product immediately by adding it to my everyday routine.
The Packaging
When it comes to packaging, Nubi definitely knows how to do it. This piece came wrapped up in a beautiful soft-touch matte black box with shimmering silver lettering for a luxe contrasting effect. I really appreciated that the callout that it contained Marula Oil was on the front of the box – it made me even more eager to try it after reading about the benefits of this ingredient online.
The component itself is very beautiful, with a light metallic matte black finish that feels heavy and luxurious in the hand. A plastic pump top allows for easy distribution of product while the rounded base keeps it easy to carry. With its modern and edgy appearance, I could definitely see this bottle sitting on my vanity with my other hair and skincare products.
The Texture
I wasn't sure what to expect with the texture of this product – hair serums tend to run all over the spectrum of light and thick! Much to my delight, this product had a super light texture and airy feel that easily blended across the back of my hand, almost like an expensive skin serum.
The Aroma
When it comes to hair care products, I do prefer a lighter aroma to one that seems to hang around all day. This serum absolutely delivers on this, with a light almost natural scent that lingers for a few minutes after application before fading entirely. I did get a few compliments on how nice my hair smelled throughout the day after applying it, so it could simply be that I got used to it.
The Application
When applying it to my hair, it was very easy to massage into it without remaining greasy or sticky. Rather, the product simply disappeared into my tresses without a trace! It still retained its soft and airy feel as I applied it and didn't weigh my hair down afterwards.
The Effects
Typically, I try to only wash my hair 2-3 times per week, opting for dry shampoo on the days when I need it in order to prevent it from being damaged more by harsh shampoos. I made sure to time using this product with when I actually desperately needed to wash my hair in order to see if there was a real effect.  
After using it, I did notice that my hair felt softer, albeit a little heavier than normal. My normally wavy digital permed tresses fell straight and clung to the sides of my head slightly. In all honesty, I believe that I used a little too much this first time around – I'll have to adjust in the future to get a real impression of this product.
Overall Takeaways
All in all, I am very excited about giving this product a long-term test. Based on my initial reactions to the texture and application, I believe that this product could do wonders for my dry and dull hair, as long as I learn to apply the right amount and do it correctly!
Later Impressions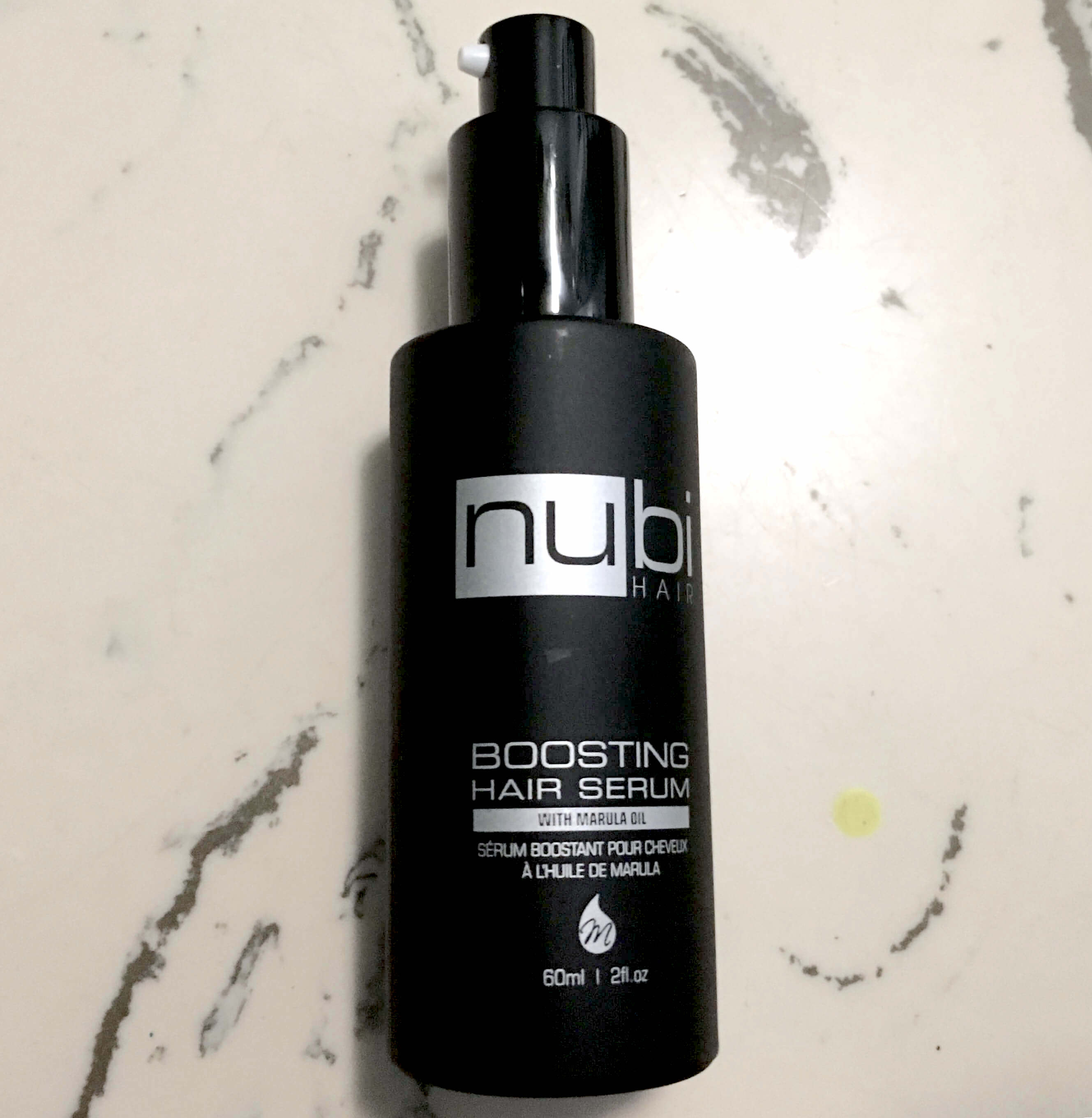 As with any product, you can't really tell how it performs with just one test or swatch on the back of your hand. I decided to give this hair serum a whirl for 2 weeks in order to figure out if it was right for me and gather true impressions of its performance. Because it made my hair sticky and heavy the first time around, I lowered the number of pumps used (still following the directions on the product) to 1 to see if it would perform any better this way.
One Week Later
After changing my usage of the product and using it for one week after I washed my hair (twice, not including the first test), I am delighted to report that I found the perfect way to use this product.
The Effects
What initially left my hair heavy and weighted has now become an absolute dream product. This serum has absolutely changed the texture of my hair, taming my frizzy waves and leaving them super soft and sleek. My hair definitely feels softer, if not stronger, and it's not looking quite as damaged after I use my curling iron or straightener.
After seeing these results with just one week of use, I can't wait to see how amazing my hair looks after two full weeks.
Other Notes
I'm curious to see how well this serum will perform if I up my hair washing to three times over this week. I'm planning on keeping the number of pumps used the same (1 rather than 2), but want to see how this would play out. During the summer I'm typically outdoors and at the pool more often and thus would be washing my hair more often. This is a great opportunity to test if this product would work with my summertime lifestyle!
Two Weeks Later
After using this product for another week as directed and upping my hair washing to three times per week, I am very happy to report that I am still seeing amazing results. My hair looks softer and smoother and actually feels healthier when I run my fingers through it!
The Effects
I was totally hooked after just a week of trying this product – after two, I am obsessed. The effects of using this product only seemed to build over the past week, ending in me having totally shiny and healthy hair. Well – not 100% healthy. It's a work in progress but definitely looks much better with this serum involved. All in all, this product is an absolute must have and I will definitely be using this in the future and purchasing more when I eventually run out.
Other Notes
I didn't really see a noticeable change in upping the number of times I washed my hair while using this product. My hair was just as shiny and healthy as it was when I used it twice per week – this could be due to the fact that the mere presence of the serum in my tresses was making a huge difference. Washing it out and reapplying didn't really negate its effects in the slightest. 
Overall Takeaways
What I Liked
All in all, I can't even begin to describe how much I liked this product. It totally has fantastic benefits and perfectly suited my lifestyle.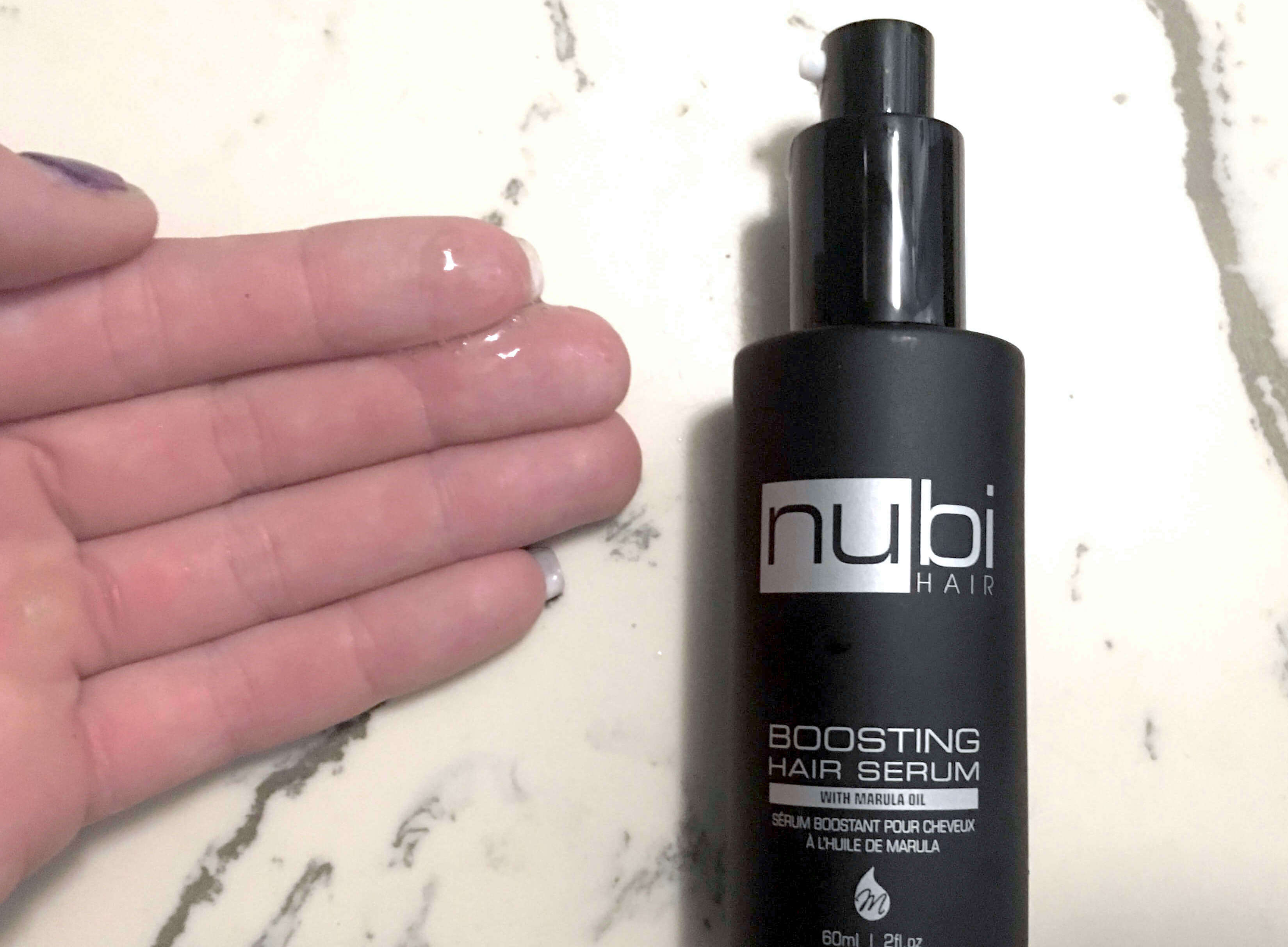 The Boosting Hair Serum had a light, non-sticky feel and didn't weigh my hair down or leave it looking greasy (a great feat, as my hair is very blonde). The smell was very mellow as well, something that I greatly appreciate in all of my hair care products. The results were fantastic as well – my hair was totally rejuvenated. All in all, I can't complain!
What I Didn't Like
Thinking back on this product, there isn't really anything glaringly obvious that I didn't like. There are definitely places for improvement, but nothing that I outright disliked.
For the Boosting Hair Serum the only thing I was not a fan of was the soft-touch of the bottle. Although it does have a luxe appearance and feel, it shows all fingerprints and dirt that come in contact with it, especially after using the serum.
What Could Be Improved?
After two weeks of use, I couldn't really nail down any areas that desperately need improvement in this product. My only complaints for both would be that the pump on the serum sometimes doesn't work and that the design could definitely be improved. Additionally, it would be useful to include a suggested usage guide for different hair types in terms of how much product should be used. I went through a testing phase to figure out how to best treat my hair, but this could have been avoided if I knew from the get go how much to use. But all in all, this product was fantastic!
Who Would This Product Work For?
After using this product, I definitely have to say that it would work for different types of people very differently.
The Boosting Hair Serum with Marula Oil is definitely a new holy grail product for me that I believe would be best suited for women with frizzy or dry hair. After using it on my permed hair, I can see how effective it would also be for women with curly hair. I don't see this product really working for those with straight, oily, or fine hair, as it could increase the oil production and weigh it down if not used properly. 
Additionally, I think it would be super beneficial for those with sun or chlorine damage to use. Its healing properties were amazing on my damaged hair and, as a former competitive swimmer, I could definitely see myself using this to combat that brittle chlorine hair that still haunts my dreams.
This serum would also be useful for women or men who want a single product that does it all – de-frizzing, smoothing, and shining. For the guy or girl on the go, this serum is an absolute godsend.
Final Thoughts
All in all, being able to test this fabulous new hair care serum was a dream come true.  After using it for two full weeks and testing out its abilities, I am happy to report that I have found a new must-have in my hair care arsenal. I will definitely be using this product from here on out and re-purchasing it once I run out, especially with the summer months ahead.