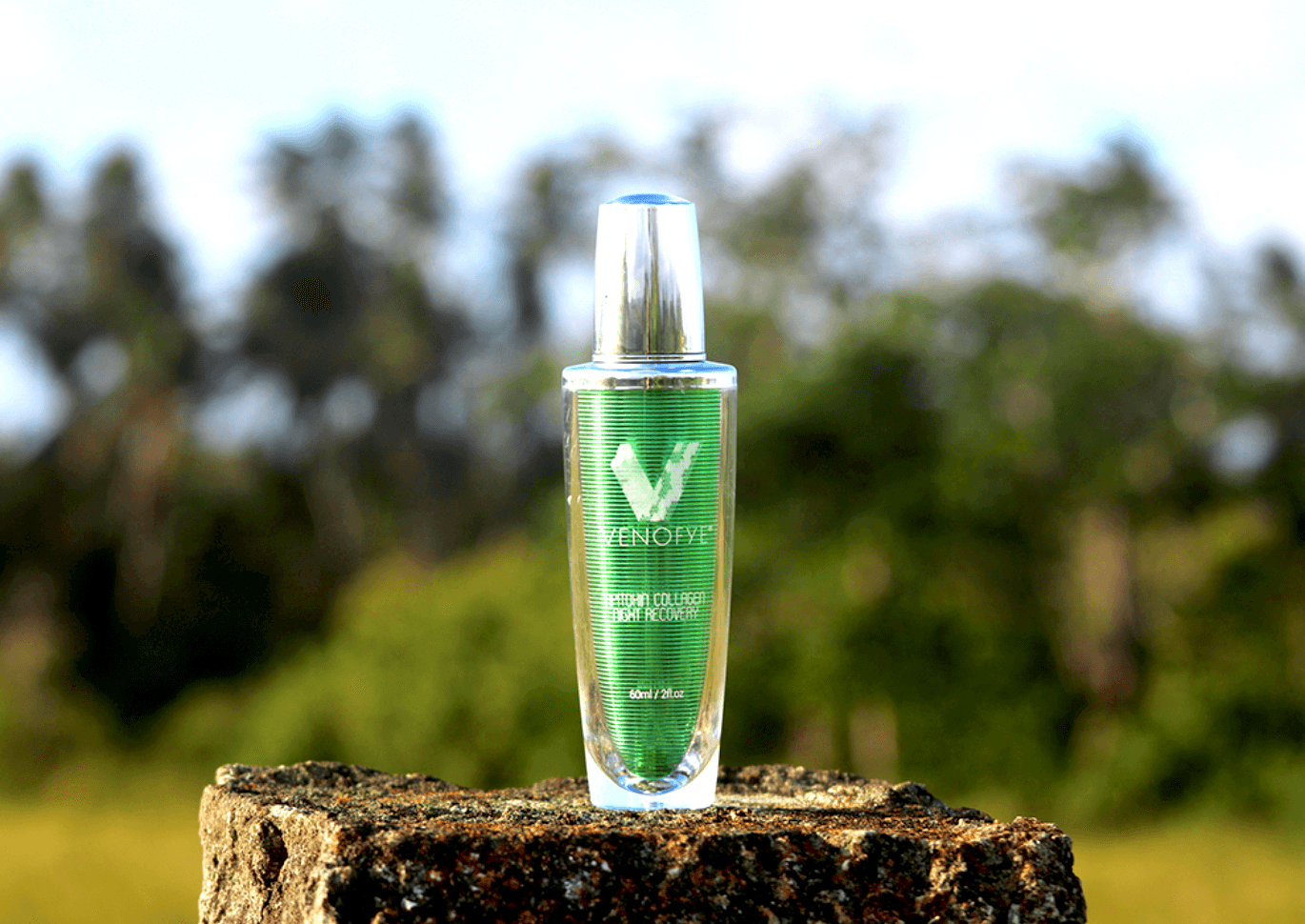 If you're on a quest to achieve better and healthier-looking skin, Venofye's Apitoxin Collagen and Royal Jelly Bee Collections could help you get there. Researchers have found that ever since the time of our ancestors, beginning with aboriginal tribes and other primitive cultures, humans have used honey to heal their wounds and treat other ailments. Studies have also concluded that honey is one of the most efficient antibiotics out there and that it could be used for a wide array of medicinal purposes. Honey is rich in antioxidant properties and it contains various nutrients and minerals that can help protect cells from free radicals and molecules that accelerate the process of aging.
But honey isn't the only thing that bees could provide for us (of course our own human existence depends on their pollination, but besides that), the venom produced by Honey Bees has a lot of potential benefits. Honey Bee Venom is scientifically called Apitoxin, and it has an intricate combination of proteins that can produce local inflammation and act as an anticoagulant. The main component found in Apitoxin is Melittin, which is a strong anti-inflammatory agent that stimulates the production of cortisol in the body and neutralizes cell destruction. So Apitoxin does not only provide vitality and strength to our skin, it could also decelerate and counteract the signs of aging! In our present future, reversed-aging is possible with Venofye products. Apitoxin is produced inside the worker bee's abdomen and it's harvested by stimulating bees to sting on a glass slate with thin wires that produce low voltage currents, the bees are then left free after recollecting their venom without causing any harm on them. Once the venom dries out it turns into small crystals that appear to look like white powder, when the venom reaches this consistency the toxins are ready to be collected. To obtain Apitoxin it is best to use strong mature hives instead of young bees, and the best period of time to get it is from spring to fall, when there are larger quantities of pollen. It takes a total of three hives in order to obtain one gram of Apitoxin.
The Apitoxin Collection from Venofye is also infused with Collagen, which is the most abundant protein in the human body. Collagen it's mainly found in the skin, bones and connective tissues and it provides strength and elasticity to the skin while replacing and restoring dead skin cells. The amount of Collagen that our body produces decreases mainly with age but there are also other factors like exposure to UV Rays and/or smoking habits among other. When the body stops producing enough Collagen the skin weakens and it's more susceptible to form wrinkles and black-spots. Collagen is known to be the glue that holds the body together and research have proven that it could impact the appearance of skin by maximizing the skin's hydration, reducing the visibility of wrinkles and providing better blood flow.
The Royal Jelly Bee Eye Firming Cream main ingredients are caffeine, shea butter, vitamin E and green tea. These ingredients stimulate blood flow, hydrate, moisturize and contain anti-inflammatory and anti-aging components that help reduce signs of aging while giving the skin an extra plump and firmness.
I'm 40 years old and I want to look good for my age, once I new the benefits that Apitoxin and Collagen can produce, and being in need of a product or ingredient that could help me get rid of my dark circles around the eyes, I decided that I wanted to try a routine utilizing a combination of products from Venofye's Apitoxin and Royal Jelly Bee Collection. The products I combined were the Apitoxin Collagen Mask, Apitoxin Collagen Night Recovery and Royal Jelly Bee Eye Firming Cream. The routine consists of primarily decontaminating the skin with a deep cleanse and boosting it with essential nutrients by applying the Apitoxin Collagen Mask. After applying the Apitoxin Collagen Mask and removing it, the next step would be to continue applying the Apitoxin Collagen Night Recovery to assist in removing the appearance of fine lines, dark spots and wrinkles around the forehead, cheeks and other areas but leaving out the sections around the eyes. The third step would be to apply the Royal Jelly Bee Eye Firming Cream around the eyes area to tackle and attend the dark circles with a product that's been specifically designed to address this issue.
Like everything that Venofye creates, the packagings and product bottles look pretty sleek, smooth and innovative. The packaging of the Apitoxin Collection and Royal Jelly Bee products made me adequately think of everything related to the world of bees. The theme color of the Apitoxin Collection products is a metallic green that is reminiscent of the color of young leaves, trees and magical forests landscapes where Venofye's products are the magic potions of youth. The theme color of the Royal Jelly Bee Eye Firming Cream is a yellowish golden hue similar to the color of honey.
Step I • Apitoxin Collagen Mask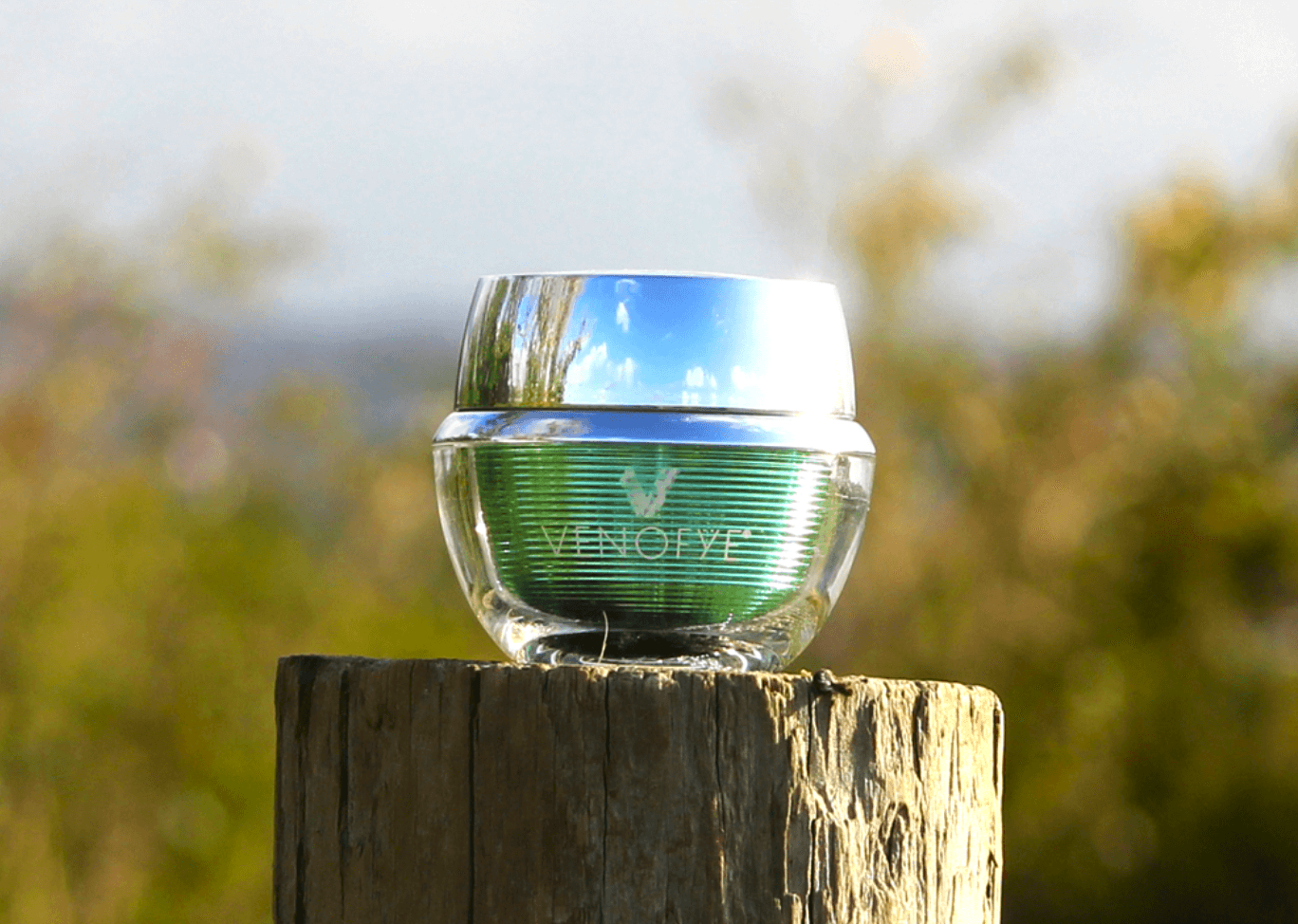 Use the Apitoxin Collagen Mask once a week to deeply cleanse and purify the pores of your skin. Pamper yourself while nourishing, detoxifying and restoring it's look. The Apitoxin Collagen Mask bottle comes inside a charming green metallic box featuring Venofye's metallic chromed logo and product name with glossy octagonal hive designs at the bottom part of the box's cover. The product bottle is a stylish small jar shaped bottle with green metallic patterned lines combined with mirror like metallic features and glass like materials. The mask is sealed with a plastic cover once you open the cap, therefore giving the cream an extra protection and conservation. The smell of the Apitoxin Collagen Mask is similar to the one found on professional dermatologic products and the color of the cream has a green-mint tone that has thick consistency. You could easily mistake it for a pistachio yogurt and might want to taste it with the application spoon hoping it would magically transform your skin after eating it but, we could actually achieve those same results by just applying the Apitoxin Collagen Mask into our skin.
Once the Apitoxin Collagen Mask has been applied, you can feel a cool, fresh, tingly sensation similar to the one caused when applying mint to the skin. The Apitoxin Collagen Mask slowly dries out and produces a fine layer, the minty sensation lasts throughout the duration of the treatment. After the ten minutes duration of the Apitoxin Collagen Mask treatment you can gently wash away the product with cold water and your skin will feel completely refreshed and renewed!
Step II • Apitoxin Collagen Night Recovery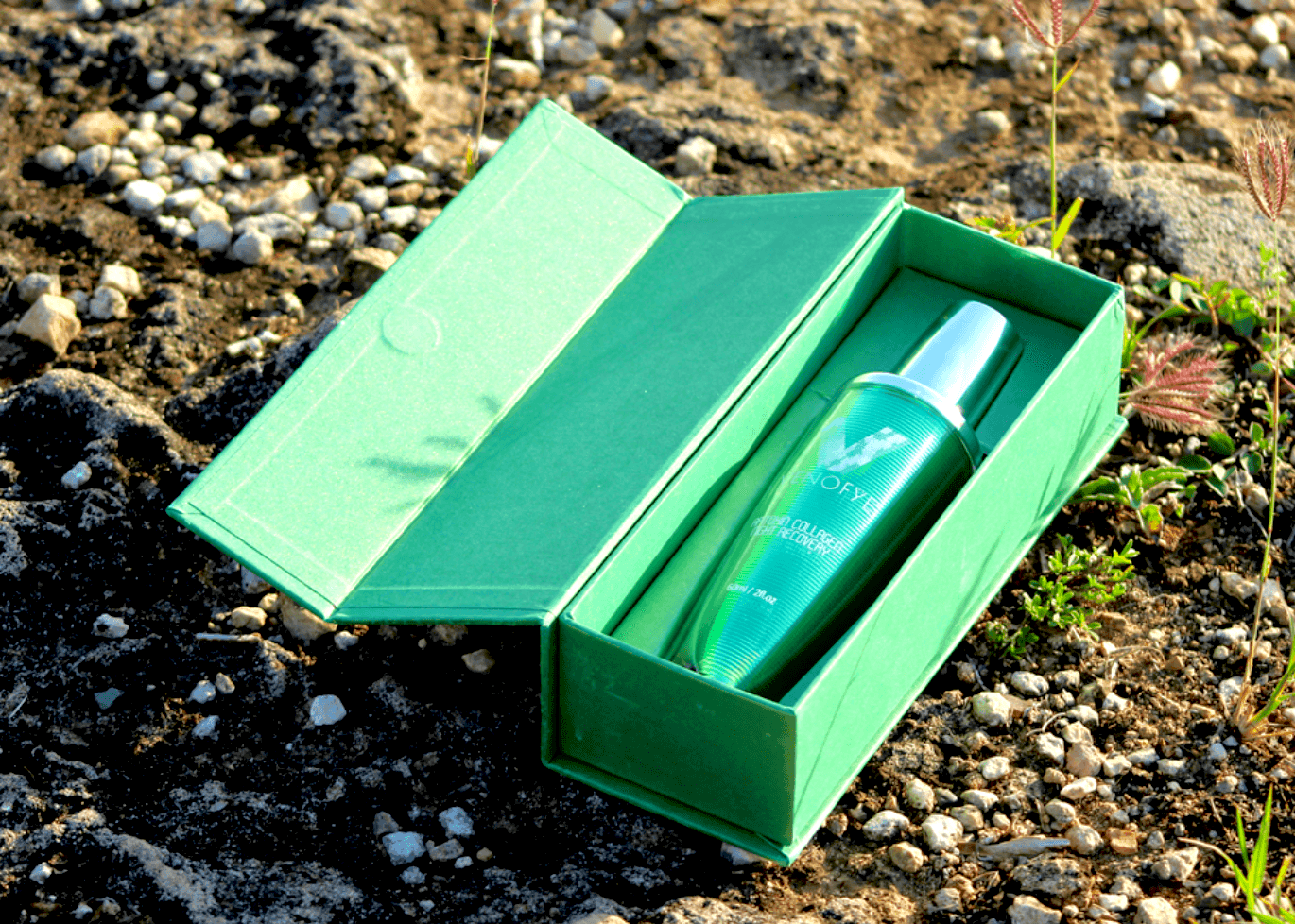 We can continue our repairing process with the Apitoxin Collagen Night Recovery. The bottle for Venofye's Apitoxin Collagen Night Recovery is shaped as a long elegant perfume flask with green patterned lines, glass like materials and smooth metal finishes at the top part of the bottle and it's cap. Also, the product's name and Venofye's logo are embossed in the bottle which gives it kind of a neat texture when grabbing the bottle and applying the serum. Once you apply the Apitoxin Collagen Night Recovery you can feel a soothing mint like sensation with a sort of coldness combined with a modest tingly feel. The aroma of the Apitoxin Collagen Night Recovery is a pleasant, refreshing and clean scent. The serum like cream has a transparent appearance that efficaciously contrasts with the appearance of Apitoxin itself, which is a transparent liquid. The skin immediately refreshes while massaging it, the Apitoxin Collagen Night Recovery will assist you in reducing the appearance of fine lines and wrinkles by hydrating, bringing strength and restoring dead skin cells. It will make you wake up every morning with a fresh and cool sensation and a radiant glow to show off during the day, and night.
You can combine the effects of the Apitoxin Collagen Night Recovery and give it a boost with the Apitoxin Collagen Mask, just make sure to apply the Apitoxin Collagen Mask before the Apitoxin Collagen Night Recovery when deciding to combine. The combination of these two Apitoxin products will provide nutrients, give strength and add firmness to your skin while exfoliating, purifying and cleansing it, leaving a smoother and brighter complexion.
Apitoxin Main Skin Benefits
Exfoliates skin

Gives skin a luminous complexion

Moisturizes skin

Prevents fine lines and wrinkles

Improves blood circulation
Collagen Main Skin Benefits
Provides strength and structure

Increases elasticity

Rebuilds and restores skin-cells

Revitalizes skin

Hydrates
Step III • Royal Jelly Bee Eye Firming Cream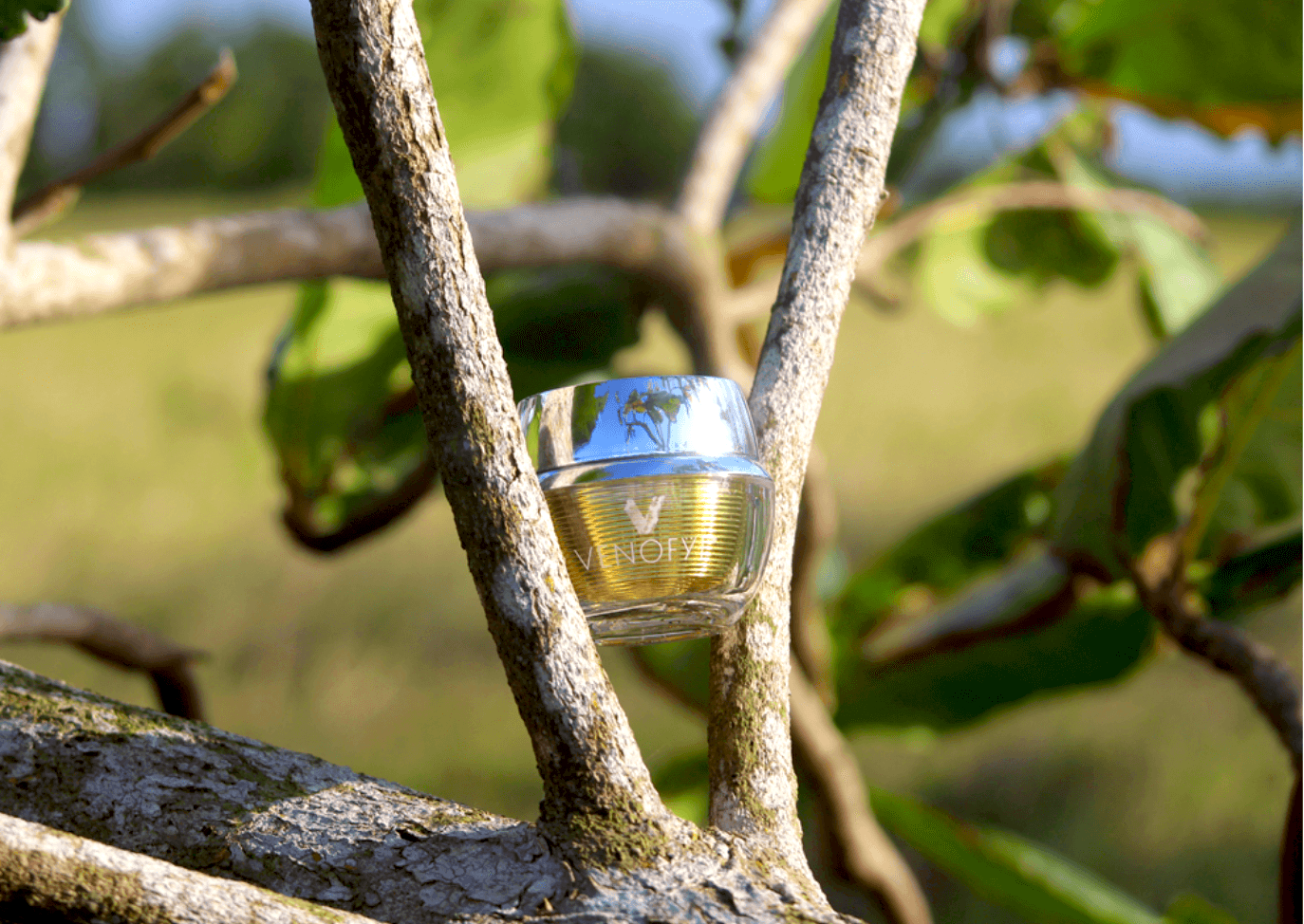 We must finish our routine with the Royal Jelly Bee Eye Firming Cream so that we could truly achieve a younger and brighter overall complexion. We all want to exhibit a radiant gaze with luminous expressive eyes and the least of imperfections. Our eyes contour form part of our expressive gestures whether we smile or frown, so in order to achieve a radiant glance it is recommended to dedicate extra care to this delicate zone. The eyes area have a very thin skin, a lot thinner than the rest of our skin because it doesn't possess sebaceous or sweat glands, making it more susceptible to the environment and other conditions, such as insufficient rest, lack of sleep and/or stress. These facts act directly in the zone thus making the signs of aging more pronounced.
Coffee is one of the main ingredients used on the Royal Jelly Bee Eye Firming Cream
My everyday morning ritual is drinking coffee, I don't actually drink my coffee at home. First I brew the coffee at nighttime with the perfect amount of ground coffee and water and leave it in stovetop espresso maker. Once I awake, I pour the coffee from the espresso maker to my thermos. I wait until I get to work, fix everything at my desk, pour the coffee from the thermos to a cup and heat it. After everything is fixed I put my headphones on, find the perfect tune and slowly drink down that glorious liquid sip by sip, enjoying and tasting every drop of it while the aroma fills the office and awakens all my senses. I take the act of drinking coffee as a spiritual experience. And now I'm also certain that applying the Royal Jelly Bee Eye Firming Cream will become my nighttime ritual, I think that my skin enjoys drinking coffee as much as I do. All of the energy that coffee generates for me in order to create a good performance at my work is also being transferred to the skin when applying the Royal Jelly Bee Eye Firming Cream. Coffee intensifies blood circulation, cell regeneration and collagen due to its richness in antioxidants which helps reduce eye puffiness, intensifying the skin's radiance. The Royal Jelly Bee Eye Firming Cream will also improve the skin's elasticity and reduce dark circles below the eyes and premature wrinkles.
Main Ingredients and Benefits
Caffeine:

Protects skin cells from free radicals while reducing the appearance of dark circles and wrinkles.

Shea Butter:

Moisturizes and nourishes skin due to its concentration of natural vitamins and fatty acids.

Vitamin E:

Nourishes skin from the inside out by regenerating new skin cells and restoring moisture on dry skin.

Green Tea:

Its rich antioxidants and essential nutrients reduce blood vessels and reactivate dying skin cells.