Your Secret to Fresh Eyes: Venofye Royal Jelly Bee Eye Products
|
Sometimes the best way to wake yourself up in the morning is with a nice refreshing splash of water in your face during your morning skin routine. Although coffee or an invigorating breakfast might to wonders for waking you up mentally, I find there's no better way to energize your appearance than a solid skin care regimen. And for me, that means I have to find that perfect product to wake up my tired eyes every morning so I don't look like a zombie for the first few hours of the day. That's where Venofye's Royal Jelly Bee Eye products come in!
A combination of natural bags (how lucky it is to be me!), years of slight insomnia and a mostly meat-free diet has led me to be the not-so-proud owner of some puffy, tired looking eyes. Even if I feel well-rested and got a good night's sleep, I still look like I haven't slept in weeks because of these beauties. I'm always looking for a good anti-aging or eye firming cream, so I was really excited to learn about the Royal Jelly Bee Luminescent Eye Serum, and even more so about the Royal Jelly Bee Eye Firming Cream!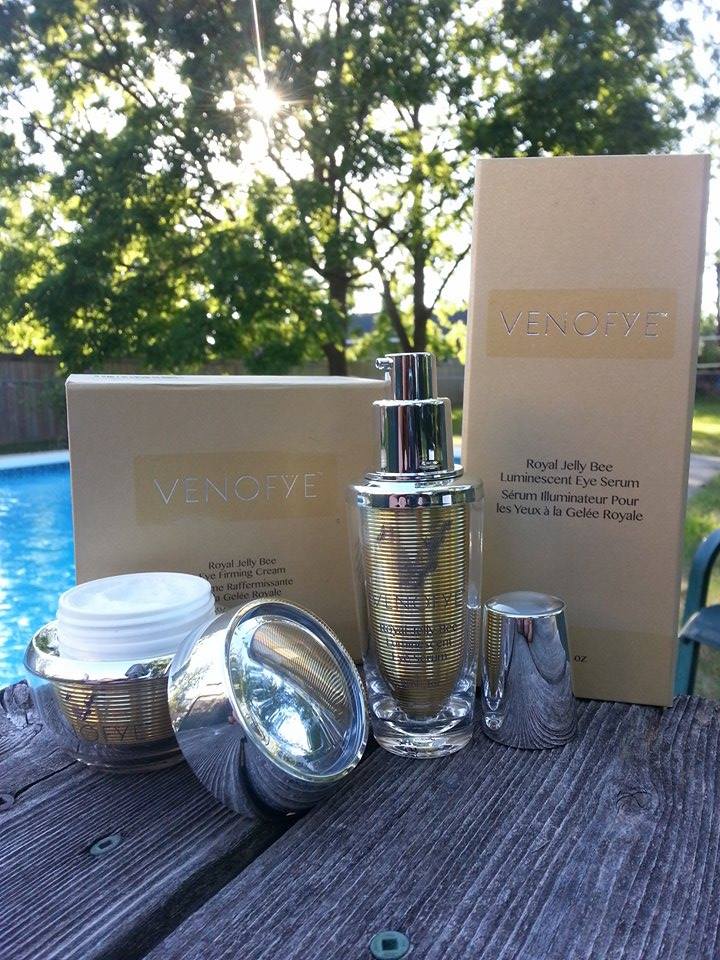 While the serum advertises itself more as an anti-wrinkle solution to reduce the signs of aging, the firming cream promises reduce signs of puffiness as well as fine lines to give you an overall invigorated look. Both products have an impressive amount of natural products, with Bee Venom being a key ingredient in both, hence the name of the line. They also both contain Green Tea (Camellia Sinensis) Leaf Extract and Aloe Vera (Aloe Barbadensis) Leaf Extract, and the cream packs an even bigger punch with the inclusion of Shea butter, vitamins E and A and caffeine, all to achieve that wakeful look. With such an impressive ingredients list, I was super excited to give these products a go.
The serum and cream are supposed to be used together, with a small amount of the serum being gently massaged into the eye area after cleansing your skin, and then the cream being massage under the eye until absorbed. The serum is super lightweight, clear, odorless, and as the package advertises, very quickly absorbed into the skin. The cream is quite a bit thicker, which I was slightly hesitant about at first, but was pleasantly surprised by. In my experience, the thicker the cream, the greasier my skin is after application. The number one dealbreaker for me when it comes to creams is residual grease or oil—I just washed my face, I don't want my skin to feel greasy within 2 minutes of that! So I was very happy to see how quickly and thoroughly the cream is absorbed with just a bit of massaging.
After about only a week of use I'm really impressed with the results. Even right after application I felt like my whole eye area was instantly more awake, and my lids didn't feel as heavy as they usually do in the morning (I am very much not a morning person). It gave me more of a kick and made me more bright-eyed than even coffee! I can also see a slight reduction in the fine lines that were starting to cover more eyelids (mostly my lower lids), and I can tell that a lot of the puffiness is gone. I can't really tell how much of an effect these products have had on the bags under my eyes, mostly because it's such a big undertaking to correct those, but I can actually really see a difference between the bags under my left eye compared to my right eye. The only reason I can see that this would ever happen is that I've been doing a better job of applying my creams to the left area over the right, and it makes really optimistic about the long term results of using these creams!
If you have a problems with tired eyes too, I'd really recommend the Eye Firming Cream. While I liked both these products, I think that one worked best for me and was very impressed with the results. It also targeted my problem areas better than the Luminescent Eye Serum, but depending on what you want to target the results may vary for you. Or, of course, for the best results the two together are pretty much all you need to have the bright, luminous eyes of your youth!