11 Useful Travel Gadgets for 2018
|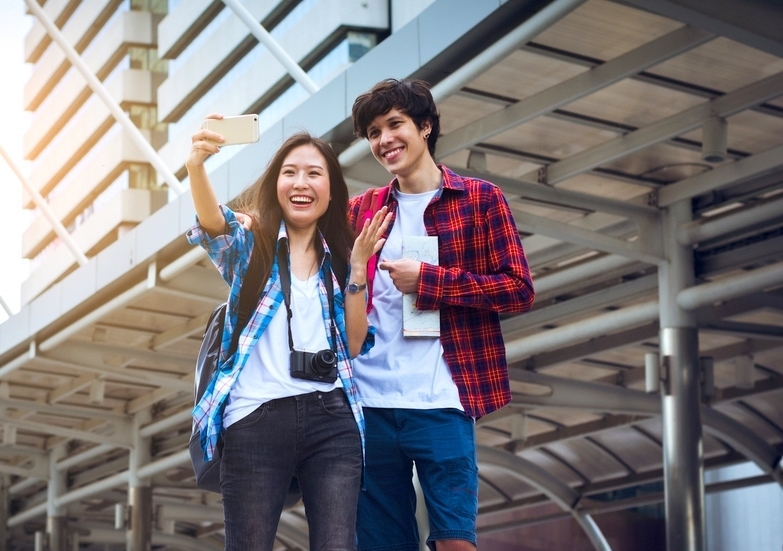 For all their splendor, holidays can be a time of great stress.
Between planning out your itinerary, tedious packing and train or plane journeys that can turn into legit odysseys, it starts to become more obvious why many people become nervous travelers over time.
Moreover, finding yourself in novel or unusual surroundings might make you feel like you have been deprived of the everyday habits and home comforts that keep you grounded.
And yet, you shouldn't let these neuroses take away from all the fun, which is ultimately the reason why we travel in the first place, right?
Fortunately, technological advances of the modern era have birthed a number of time-saving, comfort-boosting, boredom-eradicating travel gadgets.
Thanks to them, we are able to remove or at least minimize all those tiny discomforts that make travelling less enjoyable than it needs to be.
Keep reading to find out all about the travel essentials that will help make your trip a breeze.
E-book Reader
Holidays are an ideal opportunity to catch up with all those books that have been collecting dust all year due to your busy lifestyle.
However, if you want to travel light, lugging an entire library in your suitcase might not be the best idea.
This is where e-book readers, godsend for globe-trotting bibliophiles, step onto the stage.
Not only will you be able to stash more titles on your device than you will ever be able to read during your holidays, e-readers also tend to be light and compact, making them easy to slip into any bag and whip up whenever you're ready to dive back into your favorite novel.
If you are planning a holiday by the sea or pool, you might hesitate to bring your e-reader lest it comes into direct contact with water. In this case, you might want to opt for Amazon's Kindle Oasis, a new version of the company's mega-popular reader, which is designed to be waterproof – making it ideal for pool or seaside reading.
On the other hand, if you're going camping or predict you might have to read in dim lighting, try getting your hands on the more recent version of Kindle Paperwhite, which now comes with built-in backlight, making it easy to read your fiction of choice even in nighttime.
Noise-Canceling Headphones
If you tend to lead a very busy lifestyle, perhaps holidays are your only chance to truly switch off.
And that can sometimes be hard, especially if your travels involve being surrounded by ambient noise caused by city traffic, boisterous beach goers or other sightseeing tourists.
If you're looking to mute all the unnecessary buzz, then a pair of solid noise-canceling headphones are going to be your most precious travel accessory.
For those who like to go big and bold, a pair of over-the-ear headphones will come in handy due to their supreme comfort and notable noise-canceling capabilities. Moreover, with a pair of these on your head, you will never have to deal with overly chatty bus or airplane neighbors.
A good model of headphones that combines sturdiness, quality audio and cushy design is Bose's QuietComfort 25, which will effectively switch off all the noise around you and let you fully focus on your favorite music or podcasts.
On the other hand, if you prefer your earphones to remain inconspicuous, you might want a pair of compact, yet powerful earbuds.
One of audiophiles' favorite models of noise-canceling in-ear headphones are Huawei AM185, which combine travel-friendly size and minimal design.
The Oomph Portable Coffee Machine
Are you one of those people who tends to get antsy when away from home because you don't get to enjoy a cup of joe just the way you like it?
Well, worry no more – because there is one travel gadget out there that has your name all over it.
The Oomph Coffee Maker is a dream come true for coffee lovers-cum-frequent travelers, as it allows you to brew a perfect cup wherever you are.
All you have to do is put in a spoonful or two of your favorite ground coffee, top it up with water (or milk) and let the whole thing brew for a couple of minutes.
You will be greeted with a delicious fresh brew that you can pour into a mug or drink it straight from the coffee maker.
Now you'll never have to fret about starting the day without caffeine during your travels!
iPad Mini
Some people go on holidays to completely switch off from the outside world, which includes news, social networks and even – gasp! – entertainment.
Others simply can't imagine spending even a day without consuming their favorite media or pop-culture.
And as convenient as they are, smartphones don't always cut it, especially when it comes to playing games or watching movies and TV shows.
On the other hand, dragging a laptop with you while travelling might just seem counter-intuitive, especially if you're looking to relax or be social.
This is why a device like iPad Mini is ideal for people who like to keep their finger on the pulse even when on holidays.
Due to its compact, lightweight design, iPad Mini is a great travel companion that can alleviate boring flights or lonely evenings in the hotel room.
Mini Steam Iron
Not everyone's idea of a "travel look" is hiking boots, disheveled hair and a backpack twice your size.
On the contrary, some people like to keep their appearance sharp regardless of whether they are in a buzzing metropolis, an exotic tropical getaway or a cozy mountain resort.
And the main obstacle between you and an impeccable outfit is packing, which will inevitably make your favorite clothing items wrinkled and rumpled, no matter how masterful you are at folding.
Well, we have some good news for all you rambling sartorialists – you can now iron your precious garments to perfection thanks to SteamFast's travel steam iron.
This miniature travel iron takes only 15 second to heat up, after which it can be used to remove wrinkles from your favorite ensembles when you are on the go.
Moreover, due to its small size, this iron will be able to remove creases and smooth out every nook and cranny in your clothes.
SteamFast's compact iron is especially convenient for business travelers who want to stay dressed to the nines for every meeting, lunch or convention.
Portable Speakers
Are you the kind of traveler who likes to take the party with them wherever they go?
Then holidays without music must seem unimaginable to you.
Once upon a time, bringing speakers with you on holiday seemed like a fool's errand.
However, portable and wireless speakers have been a complete game changer when it comes to blasting your favorite tunes while on the go.
Thanks to them, you can stream music on from your laptop, smartphone or tablet without messing around with cables and plugs.
Don't be fooled by their size, either – the newest models of these super-charged audio accessories successfully blend compact, understated style with powerful sound-reproducing capabilities.
Moreover, they can also be waterproof and notably durable, making them ideal for extreme outdoor adventures.
The model that's been getting the most love on the audio market is Bose SoundLink Color Bluetooth speaker, mostly due to its easy-to-use features and long-lasting built.
Snatch your own and you can rest easy knowing your favorite music will follow you every step of the way.
Portable Battery Chargers
When you travel, it's not unusual to go for entire days without ever seeing a plug.
Whether you are vacationing at an exotic destination where plugs are a luxury, camping in some wilderness far away from any signs of electricity, or have a long layover at one of those airports that seem to have one plug per one hundred travelers, power banks are the ultimate travel accessory that is here to save your (and your battery's) life.
This invaluable tech essential, which has the power to boost the battery on your phone, laptop or tablet when you are on the go, has become such a travel staple, it is hard to imagine what our lives looked before it.
Portable charges come in all shapes and sizes, from bulkier ones with multiple ports that can simultaneously charge several devices, to ultra-slim, elegant ones for travelers who like to keep their carry-on light.
Therefore, if you're still not on the portable charger bandwagon and are traveling in near future, make sure to get one ASAP – we promise you will never look back.
Selfie Stick
Love 'em or hate 'em – selfies have become an integral part of modern travel.
And chances are you will come across an amazing sight that will urge you to whip up your camera and take a selfie at least once during your travels.
And while smartphones have greatly facilitated the need document special moments featuring yourself and your loved ones, sometimes your arm just isn't long enough to capture all the people or surroundings you'd like in your pic.
That is why selfie sticks have become an absolute travel must-have for photo enthusiasts.
This nifty travel gadget is compact, extendable and, most important of all, will allow you to take memorable holiday photos from angles that were previously impossible to achieve with your own two hands.
Say "cheese" and snap away!
Cordless Hair Straightener
You've selected your makeup holy grails and packed all the cute outfits you plan on rocking during the holidays.
One thing left to complete your flawless look is the hair – but how are you supposed to style your locks without all the products and tools that aren't all that travel-friendly?
What's more, maybe you don't feel like "messy bun" is an acceptable look for the entirety of your trip.
Luckily, styling your hair when you're on the move is totally possible these days.
All you have to do is invest in a cordless flat iron that you can slip into your carry-on and whip out whenever your locks are in need of perking up.
This convenient hair tool, which was specifically designed for travelling purposes, can be especially useful for taming your mane when vacationing in hot and sticky climates.
This doesn't mean just flattening your fair to pin-straight perfection – you can use your travel-friendly beauty tool to style your hair into a myriad of different, chic coifs.
Instant Camera
Some may argue that the age of Instagram and digital cameras has killed the value of physical photos.
And while that may very well be true, this doesn't mean that snapping old-school pics is completely dead.
This is evidenced by the growing popularity of instant cameras, which can give everyone an opportunity to produce a physical photo in a mater of seconds.
And if you want your holiday pictures to have that retro feel, you might want to invest in one yourself.
When it comes to design and aesthetics, the new crop of instant cameras offer a diverse choice – from Fujifilm's Instax cameras that come in all colors of the rainbow to Polaroid's more traditional-looking devices.
Sphynx Portable Razor
Ladies who are frequent travelers might know what a hassle keeping your legs smooth during vacation can be.
Moreover, if your holidays happen to involve remote destinations, camping or subpar bathroom conditions, you can forget about having an elaborate, time-dedicating shaving routine.
Luckily, a new generation of razor, designed by California-based company called Sphynx, is here to save you from the painstaking task of shaving en route.
https://www.instagram.com/p/Bdq35KvhXE9/?taken-by=shopsphynx
This travel-friendly, 3-in-1 razor is composed of a water spray bottle, hydrating shaving moisturizer and two razor blades.
These razors and the moisturizing bar can also be replaced after they run out or become dull.
Plus, the moisturizer doesn't require a rinse, so you can touch up your legs away from baths and sinks.
The overall design of this revolutionary product makes it super-easy to remove unwanted hair even in the most inconvenient surroundings.
Now that you know all about the hottest travel gadgets, we are positive your next trip will be even smoother and more comfortable than ever before. Bon voyage!