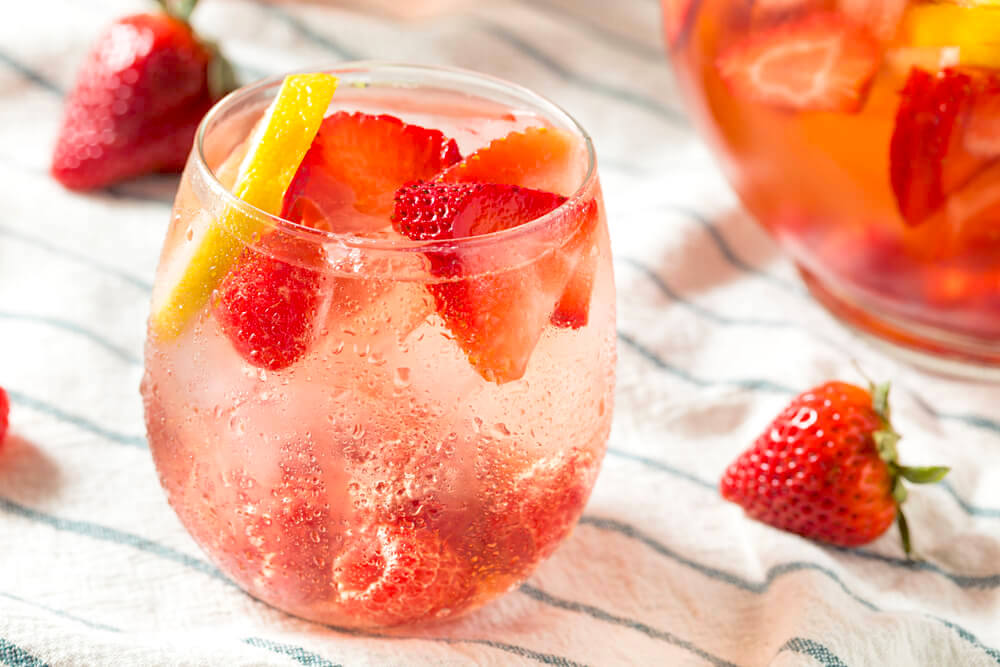 He's the therapist behind the bar, the man of Steel Reserve, able to pour twenty shots in a single bound, faster than a speeding bullet to hit its mark. He's the man with the plan, the bartender, and this holiday season, your him. You've been assigned bartender duty at your friend's party and you don't want to blow your big chance.
So how are you going to play it? Will you be the tough guy bartender? The listening ear? The voice of reason? Are you going to call the shots or are you just going to pour them? No matter which way you choose to go, you're going to have to have a few holiday drink recipes up your sleeve.
Here are a few to start you off. These are some of the drinks that will help you make everyone's holidays a little brighter. 
Cranberry Mule
Mules may not be as light on their feet as reindeer, but with a hint of cranberry and ginger this mule cocktail is sure to get your guests flying.
BTW: The secret ingredient in the Moscow Mule the copper mug. It is just as important to the taste as any of the other constituents. Any mule not served in a copper mug is a lesser mule.
Ingredients
Lime Wedges
Solid Copper Mug
2 oz gin and vodka
4-6 ounces ginger beer
2 oz cranberry juice.
Frozen cranberries
Rosemary sprig
Ice
Directions:
Squeeze the lime gradually but firmly into the solid copper mug. Fill with ice and pour gin or vodka, ginger beer, and cranberry juice. Garnish with cranberries and rosemary sprig. Add lime to taste.
Jack Frost Cocktail
When you were little, you would play in the snow until your lips turned blue. Now that you're an adult you can drink until your lips turn blue. The Jack Frost cocktail has been described as the winter version of the pina colada, but with Blue Curacao, it will have your lips turning blue without leaving the party. Here is the coconutty recipe that's sure to give you anything but the blues this holiday season.
Ingredients:
1 tbsp. syrup
3 cups ice
1/3 cup shredded coconut
½ cup vodka or rum
1 cup pineapple juice
½ cup Blue Curacao
½ cup cream of coconut
Directions:
Place shredded coconut on a small plate. Wet the rim of the glass with syrup and dip in shredded coconut.
Combine ice, pineapple juice, vodka or rum, blue curacao and cream of coconut in a food processor. Pulse until smooth.
Pour into prepared glasses.
Serve immediately.
Hot Scarlet Wine Punch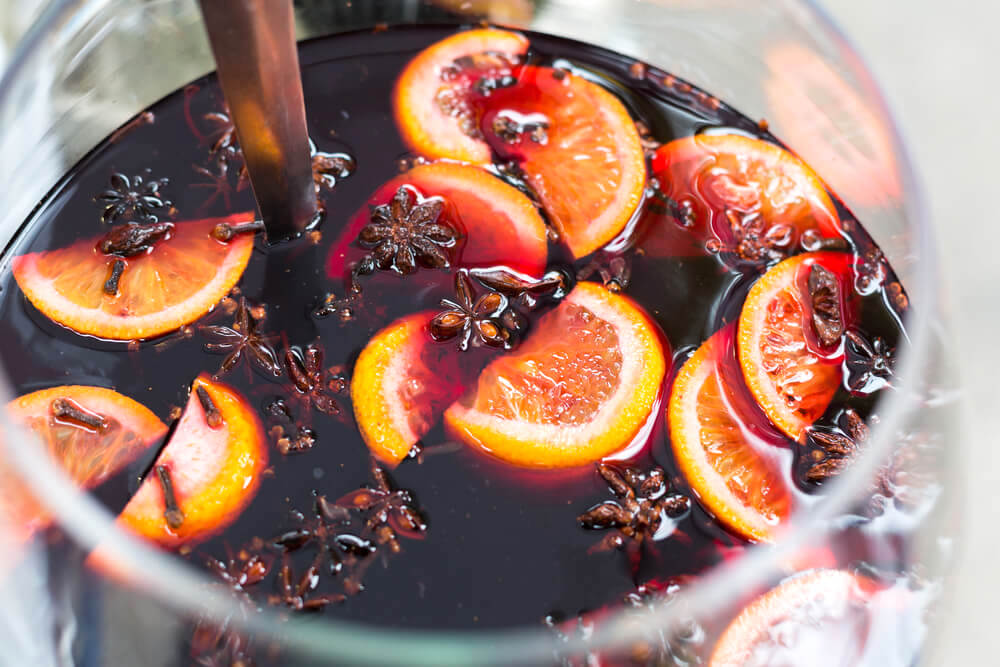 If red, red wine makes your guests feel so fine, imagine how great scarlet wine will make them feel!  The Hot Scarlet Wine Punch is an old spirit, with a little holiday spirit thrown in (in the form of cinnamon and cranberry) Start this one a few hours early by simmering the wine in your slow cooker. That way, you have a hot spicy drink waiting for you when your guests come in from the cold. 
Ingredients:
2 inches stick cinnamon, broken in half
1 32 ounce bottle cranberry juice
4 whole cloves
! cup packed brown sugar
I 750 mils. Bottle white Zinfandel or dry white wine
Directions: 
Make a spice bag by cutting a double think cotton cheesecloth into 6″ squares. Place cinnamon cloves in the middle and tie closed with a kitchen string'
Combine spice bag, cranberry juice, and spice bag in a 4-quart slow cooker.
Cover and heat on high heat setting for 1 to 1 ½ hour.

 

Stir wine into mixture and cover and cook for 30 more minutes, stirring occasionally.
Garnish with Cranberry and Cinnamon Swizzle sticks. (optional)
Tell your guests to come early to get it while it's hot!
Bourbon Stout Cocktail
For those who prefer to make their Happy Holidays into 'Hoppy" holidays, beer is a necessity. But when it comes to alcoholic bevies on the holidays, beer may not be the first comes to mind. The Bourbon Stout is a dangerously delicious frosty beer cocktail made with chocolate stout, bourbon and chocolate syrup. Many hoppy returns!
Ingredients: 
½ cup chocolate stout
¼ cup bourbon
1 teaspoon vanilla
1-2 tablespoons chocolate syrup
Half and half or light cream
Ice cubes
Directions:
Stir together stout, vanilla, syrup, and bourbon. Serve over ice and drizzle with cream.
Gingerbread People Jello Shots
Want to take a shot at Jello shots? These gingerbread men may look innocent, but they are really Jello shots in disguise. No cookie cutter drinks here. If you make these shots, tell your guest to "catch 'em if they can," these gingerbread people are going to go fast.
Ingredients:
1 ¼ cup cream
1 ½ cup vodka
2-3 tablespoons of crème de cacao
Pinch of pumpkin pie spice
2-3 tablespoons of gingerbread syrup
3 packets of gelatin (unflavoured)
Directions:
Heat vodka over medium heat. Gently stir in the 3 packets of gelatin. Whisk until dissolved.
Pour into a big bowl.
Stir in the gingerbread syrup, dark colored liquor, pumpkin pie spice, and cream.
Pour mixture in a pan and let sit overnight.
Once it sets, use a cookie cutter to cut into as many gingerbread shapes as you can.
Decorate with icing and sprinkles, or better yet, set some out so guests can DIY. It might just be a great drinking game!
Cranberry-Lime Champagne Cocktail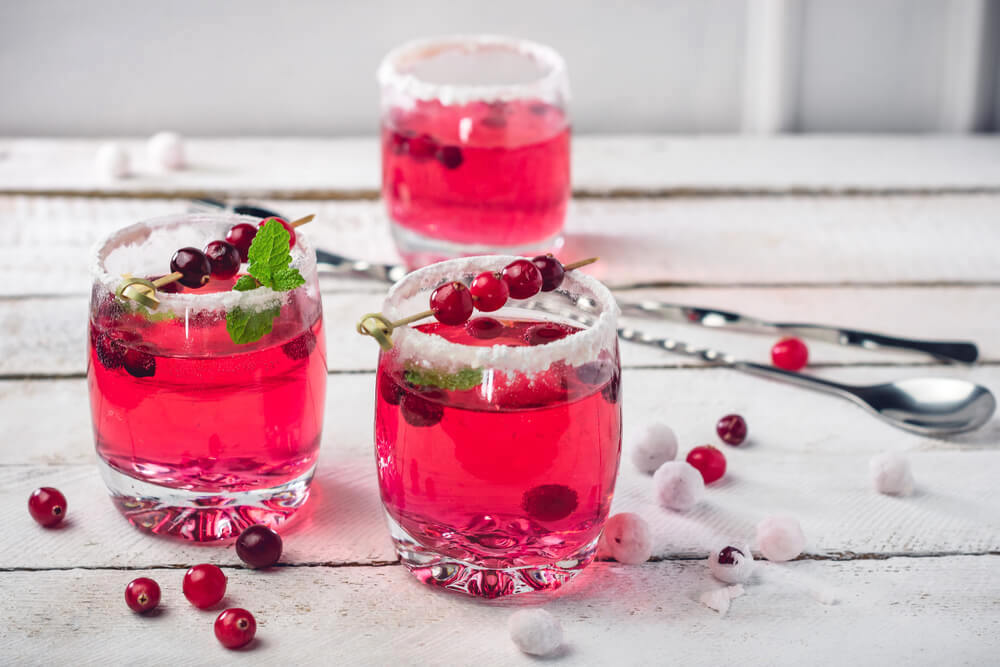 The holiday is in full swing and your guests propose a toast. All eyes on you. Of course, you've got this one, in fact, you're going to do it one better. You've got three ingredients behind the bar that are going to help you craft a champagne cocktail guaranteed to make this holiday sparkle.
Ingredients: 
1 ½ cup sweetened cranberry juice
2 tablespoons lime juice
2 cups champagne or sparkling wine
Frozen cranberries and slices of lime
Directions:
Divide cranberry juice and lime between champagne flutes. Fill with champagne
Float cranberries with lime slice on top.
Clink glasses and down the hatch.
Peppermint Hot Rod
Move over Rudolph. Even Santa would trade his sleigh in an instant for this peppermint hot rod. No matter how you roll, this grown-up version of the candy cane is guaranteed to keep your guests merry and bright. With vodka, peppermint schnapps, and whipped cream, this hot rod will get your party in full gear in no time.
Ingredients:
Bartender spoon
Vodka
Grenadine Syrup
Peppermint Schnapps
Hot water
Whipped Cream
Peppermint Stick
Directions:
Fill an Irish coffee mug with two parts vodka, two parts grenadine, and two parts Peppermint Schnapps.
Add hot water and top with whipped cream.
Garnish with peppermint rod and drizzle grenadine over whipped cream.
Maple Butter Kiss
There may not be any actual scotch in butterscotch, but there is butterscotch schnapps in this maple butter kiss. Made with real maple syrup, you might even want to pour some on your Christmas morning pancakes!
Ingredients:
1 ½ oz. vodka
¼ oz real maple syrup
½ ounce butterscotch schnapps
1 oz. half and half
Fresh ground nutmeg
Ice
Directions:
Pour liquids into ice-filled martini shaker.
Shake well.
Strain into martini glass, top with nutmeg.
Eggnog with Rum and Bourbon (The Eggnog Fog)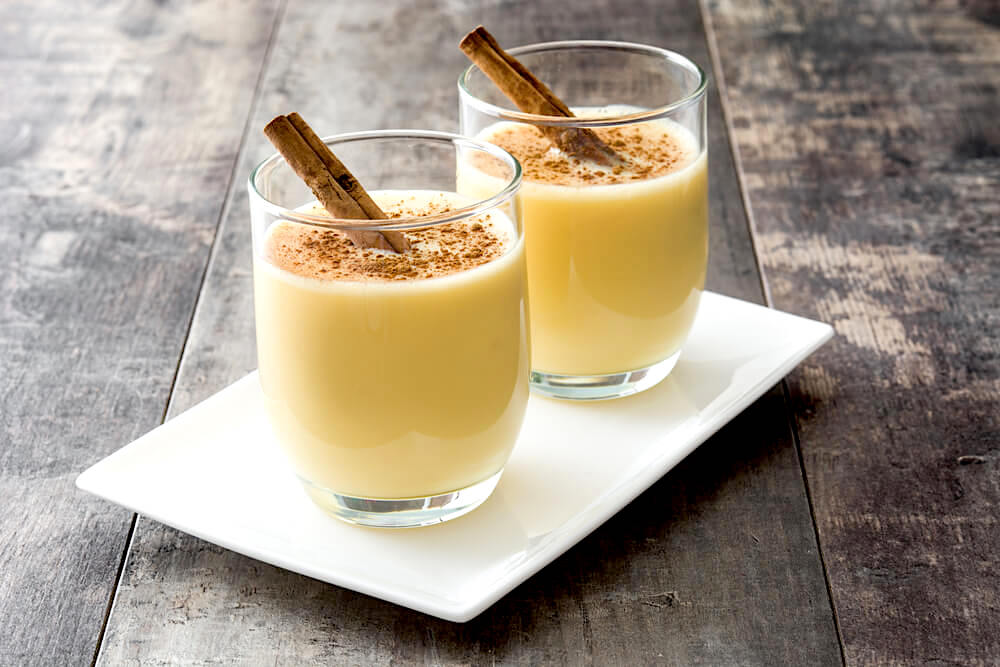 This recipe may look like the traditional holiday drink but drinking this should come with a warning. Too many of these and you'll be in an Eggnog Fog until New Year's. With a custard base and the heavenly scent of vanilla, this twice spiked drink is intoxicating in more ways than one. Proceed with caution.
Ingredients: 
9 eggs, separated
½ vanilla beans
4 ½ cups milk
¼ cup dark rum
Grated nutmeg
1 ¼ cup sugar
1 ¼ cup vanilla
Pinch of salt
½ cup bourbon
1 ½ cups Heavy cream
Directions: 
Place egg yolks, ¾ cups sugar, vanilla beans and salt in a large bowl. Set bowl over a pan of simmering water and whisk until mixture is thick and pale.
Whisk in milk, bourbon, and rum until combined, remove from heat.
Beat remaining sugar and egg whites with an electric mixture until peaks form.
Whisk in milk mixture.
In another bowl, beat cream until peaks form, whisk in milk mixture.

 
Pomegranate Santa Hat Martini
Usually, when you see Santa, it may be because you've had a bit too much to drink, but this drink will have you seeing Old St. Nick before you take the first sip. This one involves a little arts and crafts, but with a few pom -poms and some thin stem martini glasses, you can create a drinkable Santa Hat that will have everyone wondering who the man in the red suit was.
Materials
Thin stem martini glasses
White nonpareils
2' white pom-poms
Removable glue dots
White Chocolate morsels
Ingredients: 
1 oz. vodka
1.5 oz Pama Liqueur
0.5 oz Cointreau

 

1 oz Pomegranate Juice
The Easy Part: 
Combine Ingredients in a martini shaker, add ice and shake,

 

Strain into a martini glass
Drink
The Hard Part: We suggest that you do the hard part before the easy part for best results
Separate the pom-pom until you find the center.
Wrap pom-pom around the glass, placing a little glue at the edges of each pom. Squeeze together without gluing to the glass.
Melt chocolate in a microwave proof dish, stirring until smooth. Transfer into small bowl or plate. Dip the rim of the glass into the chocolate, this will serve as the glue for your nonpareils.
Push nonpareils onto the edge of the rim to create fluffy hat trim.
Drink and watch Santa appear.
Winter Wonderland Cocktail
Chestnuts may be the quintessential nut of the holidays, but if coconuts are more your speed, you'll love this Winter Wonderland Cocktail. With a little crème de cacao, coconut cream, and vanilla vodka, this coconut flavored cocktail might just give the chestnut a run for its money.
Ingredients:
1 oz, cream of coconut
1 ½ ounce vanilla vodka
1 ½ ounce crème de cocoa
Ice
Directions:
Combine vodka, crème de cocoa, and cream of coconut into an ice-filled copper shaker. Shake until chilled and all ingredients are combined. Strain with an ice-filled glass.
Ultimate Holiday Sangria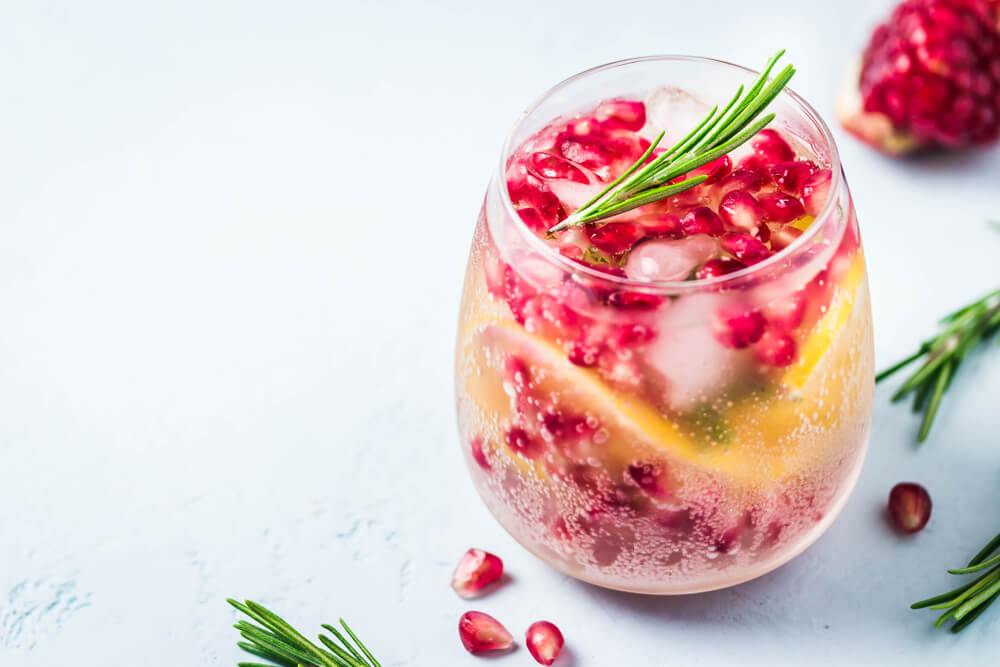 If you want to have a real "Felice Fiesta" some version of a sangria is necessary. Sangria is the kitchen sink drink, it's a party waiting to happen. As long as you have wine and fruit, the rest, tu decides. Arriba, abajo, al centro, adentro. (Up, down, towards the center, and down the hatch.)
Ingredients:
1 ¼ cup agave nectar
¼ cup Grand Marnier
¼ cup brandy
1 orange, sliced
1 lime sliced
2 sticks cinnamon
1 sliced pear
½ cup pomegranate seeds
2 sticks cinnamon.
1 bottle dry red wine
¾ cup ginger ale
Directions: 
Combine agave, brandy, Grand Marnier, orange, pomegranate seeds, cinnamon sticks and pear in a large pitcher. (you may prefer a punch bowl)
Pour in a bottle of red wine
Cover and place in the fridge for 1-2 hours
Add ginger ale right before you are ready to serve.
Pour over ice or serve chilled.
Layered Christmas Shooter
No food coloring here! This drink may look like a children's science project, but it's alcohol that gives this festive the Layered Christmas Shooter its decorative look. With a layer of red grenadine, topped by green apple schnapps and finished with gold flaked cinnamon schnapps, this holiday beverage makes a great accessory for every Christmas party.
Ingredients:
½ oz. sour apple schnapps
½ teaspoon grenadine
¾ ounce cinnamon schnapps with gold flakes (Gold Strike brand recommended)
Directions:
Pour the apple schnapps into a 1 ½ oz. shot glass.
Pour in grenadine gently, let it sink to the bottom to create the red layer.
Shake the bottle of cinnamon schnapps and hold upside down to bring gold flakes to the top of the bottle Measure out ¾ oz.
Hold a small spoon within the glass, keeping the spoon upside down.
Pour cinnamon schnapps gently over the back of the spoon to make the third layer.
Hope you use our tips to make some tips this year. Have a wonderful holiday, and drink responsibly!