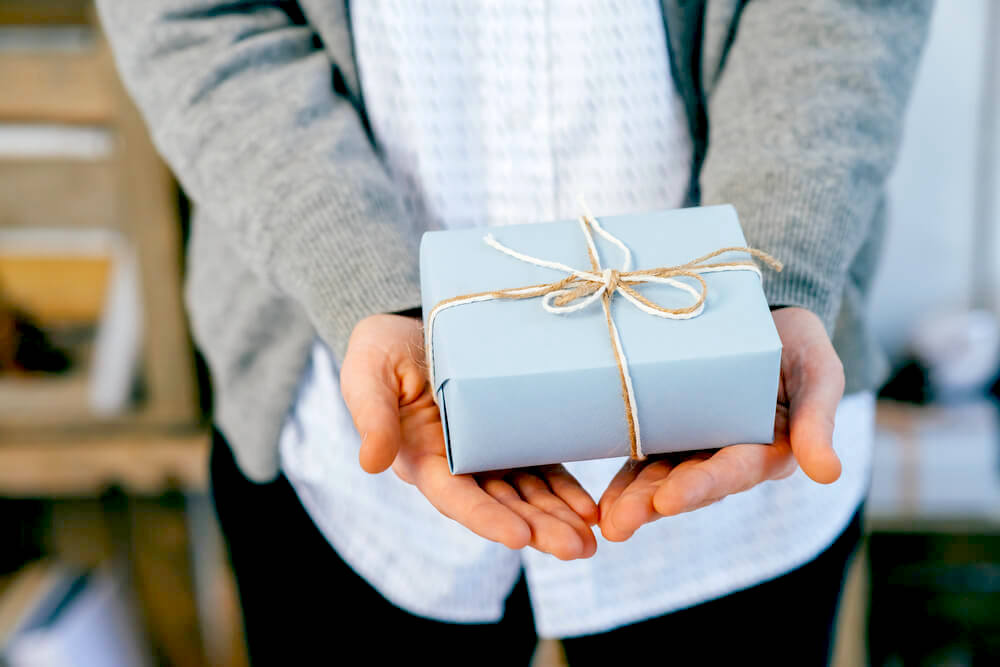 Do you ever think about the life cycle of a bad gift? How many cabinets and closets it may have seen? How many times was it unwrapped and rewrapped? How many different doors it has gone through, and how many hands it has been held in, only to realize that it will never be put to any valuable use until it eventually ends up on the shelf of Goodwill with a 99-cent price tag on it?
Regifting. It's a blameless crime, but a crime nonetheless. None of us wants it done to our gifts, but all of us have probably done it with someone else's. Is there any way to break this senseless cycle?
There is, and the answer is good gifts. If we all gave each other great gifts, there would be no need for regifting. Imagine what a great world it would be! No socks for your birthday, no candleholders for your wedding, no ugly sweaters for Christmas!
The good is that there is hope. Thankfully, there are many wonderful websites determined to put an end to regifting once and for all. Here are some of the greatest shopping websites that can help you find the perfect gifts for any occasion and make regifting a thing of the past.
Prezzybox
This site is much fun, you'll feel like you're the one getting the gift. But if you have anything important to do, beware, Prezzybox is one of those websites where you could lose the whole day clicking and perhaps a good deal of your money as well.
When you first land on the Prezzybox website, you'll be asked you to choose from a menu selection based on the occasion, the type of gift you're looking for (such as fun, accessories, gadgets, home décor, etc.), and the person the gift is for. They'll point you in the right direction, and on this website, there pretty much is no wrong one.
If there's something on Prezzybox that you won't want to buy for your giftee, you'll at least want to send a picture of it to someone. With choices like the "Gigantic Frosted Donut Beach Blanket" or the "Stay Cool Ice Towel," almost everything on the website fits into the "you've got to see this" or "I've got to have this" category."Plus, with same day delivery, affordable prices and award-winning customer service, you'll start making up holidays just to have an excuse to shop this website.
MoMA Design Store
https://www.instagram.com/p/Bj5P_MUlz7i/?hl=en&taken-by=momadesignstore
Looking for a little more depth to your gifting? Here's something for the culturally inclined on your list. For those who aren't familiar, MoMa is the acronym for New York's prestigious Museum of Modern Art, and what would a museum that specializes in the art of design be if all its products weren't designed artfully?
When shopping on the MoMA Design store, the last thing you need to worry about is poor quality. Their products are to the gift industry what luxury cars are to the car industry. Take for example their best-selling Molekule Air Filter. This doesn't just filter your air, it "uses nanotechnology to break down pollutants of any size," and their ergonomically designed G-RO Smart Carry on Suitcase has so many bells, whistles and hidden compartments it would have James Bond bristling with envy.
Serrv
The mission of Serrv is to "promote the social and economic progress in people of developing regions of the world by marketing their products in a just and direct matter." Yes, that, and then some.
Otherwise known as the Sales Exchange for Refugee Rehabilitation and Vocation, Serrv is a website focused on fair trade products and while they might be long on words, they're equally long on heart.
One of the first things you notice about Serrv, is a big emphasis on the word "handmade." You'll find more ponchos than shirts and more tunics than tops, and what better place to get your fruit chutney than from the female farmers of the Eswatini Swazi Kitchen?
And when it comes to prices, Serrv gives fair trade new meaning. You will testify to having seen similar items on home shopping shows and websites for twice, maybe three times the price, and none look as authentic or appear so finely crafted. With pieces made from abalone, lapis, turquoise, filigree and recycled glass almost all coming in under $30, that's more than a fair trade in anyone's book.
Etsy
Heavens to Etsy! The days of the big corporations are over. The indie industry is here and from the way it looks it's here to stay, and Etsy is all about indie.
Etsy is sort of like a rummage sale on acid. If there's any proof that one man's trash is another man's treasure it's here. Take for example, the set of 4 Red Glass Ball Ornaments sold by MadMamaVintage for $8 – it's got stocking stuffer written all over it. Or what about the bestselling Vintage Relaxed Mom Jeans, there's no better way to tell mom you love her than with these denim one of a kinds?
Then there's the sort of stuff that makes you wonder, like the vintage metal medial stand: statement-making piece for the décor, or just plain creepy?
However, probably the best thing about Etsy is the fact that it honors creativity. Anyone with 20 cents and a dream can open a shop on Etsy, and the listings stay active for months with no additional fees. Plus, Etsy provides marketing tools to grow your following, boost your visibility, create your own website, and attract new customers, and where else can you find an "It's Kindergarten Y'all Girl's Back to School Leopard Applique Shirt and XL Matching Hairbow Set with Puff?" Move over Markle, this little girl's fascinator will make for a royal entrance on the first day of school that may make Buckingham Palace look shabby.
IWOOT
https://www.instagram.com/p/BjSlTD0AXzK/?hl=en&taken-by=iwootofficial
"I want one of those." The next time you hear someone say those five words, head over to IWOOT, it probably has it.
If you want to make the cast of the "Big Bang Theory" drool, you might send them to IWOOT. While not limited to by any means, there does seem to be a high geek appeal on this site. See the Star Wars Corkboard and floating bath gem with mood display for evidence.
And if there's someone in your life with a slight unicorn obsession, they're probably never going to regift their Unicorn Poo Bath Bombs.
Cratejoy
Cratejoy is a subscription box website which curates gift boxes sent out on a monthly basis, and if someone you know exists, there's a box for them with their name on it. Whether your giftee is 17 or 71, human or canine, active or passive, Cratejoy's got the box for them in the box to the out of the box and everyone in between.
For example, if your recipient is the type who enjoys settling down with a book and a strong cup of Joe, there's the Coffee and a Book subscription box. If the recipient enjoys crowd surfing and flinging themselves against unsuspecting music fans, there's the MoshBoxx Heavy Rock Music Box. Got a Geek on your list? Try the Creation Crate that teaches coding and problem-solving. There's even a Mystery Pleasure box, but you can use your imagination when it comes to what that includes.
The list is overwhelming, you'll have to check it out yourself. Most of these go for about $30/ per month, but the joy on the faces you'll get when you give these as gifts may just be priceless.
Giftsnideas
The first thing that you may notice about the Giftsnideas shopping website is its efficiency. As soon as you log on, Nicky from the chat room pops up offering to answer any of your questions, and even without Nicky, the site seems pretty easy to navigate.
Giftsnideas is a shopping website that specializes in sending gifts internationally, and they mean it. Want to send your significant other flowers in Azerbaijan? Gifts N Ideas will get them there before they even think about wilting. Want to send a fruit basket to Zimbabwe? Giftsnideas will have them there before the apples even finish ripening. In fact, Giftsnideas guarantees overnight delivery to 12,279 cities. Can you even name that many?
However, while Giftsnideas may be somewhat overwhelming in their selection of locations, they are somewhat underwhelming in their selection. If you're okay with your standard flowers and gift baskets, Giftsnideas is fine, however, if an original gift is what you're after, you won't find it here. Guess there's still room for improvement. FYI: They're out of chocolate cake, hope your significant other likes teddy bears.
One King's Lane
If you ever got an assignment in elementary school to write about your dream house, you probably wrote about something like one of the rooms featured on the One King's Lane website. One King's Lane is a shopping website devoted to all things home décor and if spectacular vintage finds at an affordable price are on your radar, you'll want to hone in here.
One King's Lane lures the shopper by showing a room, and not just a room, but a room curated so perfectly that you want to buy the whole thing as is. The thing is, with King's Lane, they know how to create a look, and you'll want to recreate it to a tee.
If the Starlet style appeals to you, you'll want to put your feet up on the Persimmon Velvet Ivy Cocktail Ottoman, lean back on the Lilac Velvet Babette chair, and use the St Louis Thistle Perfume Bottles as an ashtray. One King's Lane does decadence like the Great Gatsby on acid, and that's not even the best part of the trip.
The days of summering at the Hampton's may have had their heyday, but One King's Lane's has entertainment décor that would make the Vanderbilts bristle with envy. When it comes to gifts, One King Lane's got the handle on it. The 8" gold snake door handle is a steal at $39 and will make for a slitheringly grand entrance that will set the scale for all others.
Popchart
Want a gift that's both off the charts and on them? Popchart is the place to find it. Started in 2010, Popchart is the realization of the goal of a book editor and graphic designer to "render all of human experience into chart form." The website features a collection of infographic charts on an almost infinite number of culturally related categories.
For the alcoholic in your life, there's a wide array of alcohol-themed infographics, including the "Survey of Scotch" and "Diagram of Beer." The athlete on your list may prefer the "Visual Compendium of Basketball Jerseys," or the "Evolution of Bicycles." If it's a nature lover that you're buying for, the Taxonomy of Fruits and Veggies," is sure to hit home, and there's no one who couldn't use a copy of the Periodic Table of Elements in somewhere in their home.
The real reason that Popchart stands out is that of its integrity. These guys love what they do and you can tell they want you to love it just as much. All of their work are products based on meticulous research and made with exacting attention to detail and design. They are affordably priced and there's one for everyone.
Hopefully, between all these websites, there's enough ammunition to take out regifting once and for all. There's something for the geeky, the girly, the artsy, and the crafty and all walks of life in between. Let us know your favorite gift website and may your gift never end up on the giving side of the exchange again.