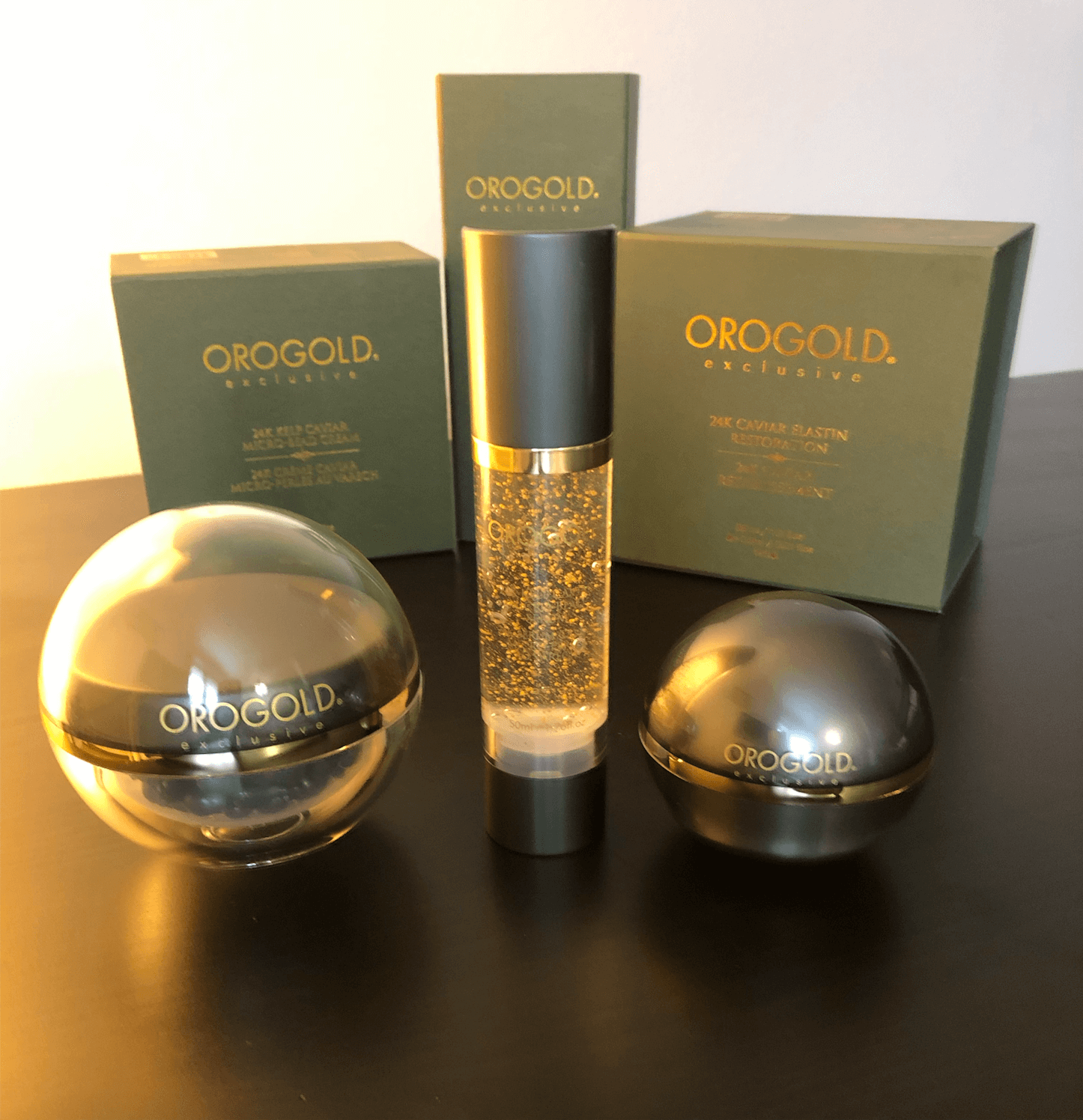 What could possibly be more exciting than looking at your skincare and seeing little specks of glimmering gold, waiting to make your skin glow?
Luckily, I got to experience this unique luxury firsthand by trying the Orogold 24K Caviar Collection.
After just the first week of use, I already have smoother skin. 
Let's take a look at the details of this collection and what makes it one of a kind.
Main Benefits
There are three products I tested for this review: a serum, elastin treatment, and cream. All three items are composed of some pretty jaw-dropping ingredients. As the brand's name indicates, the star ingredient is actual gold! 
You see this immediately upon opening the serum package to find a clear bottle with flakes of gold suspended in the clear liquid.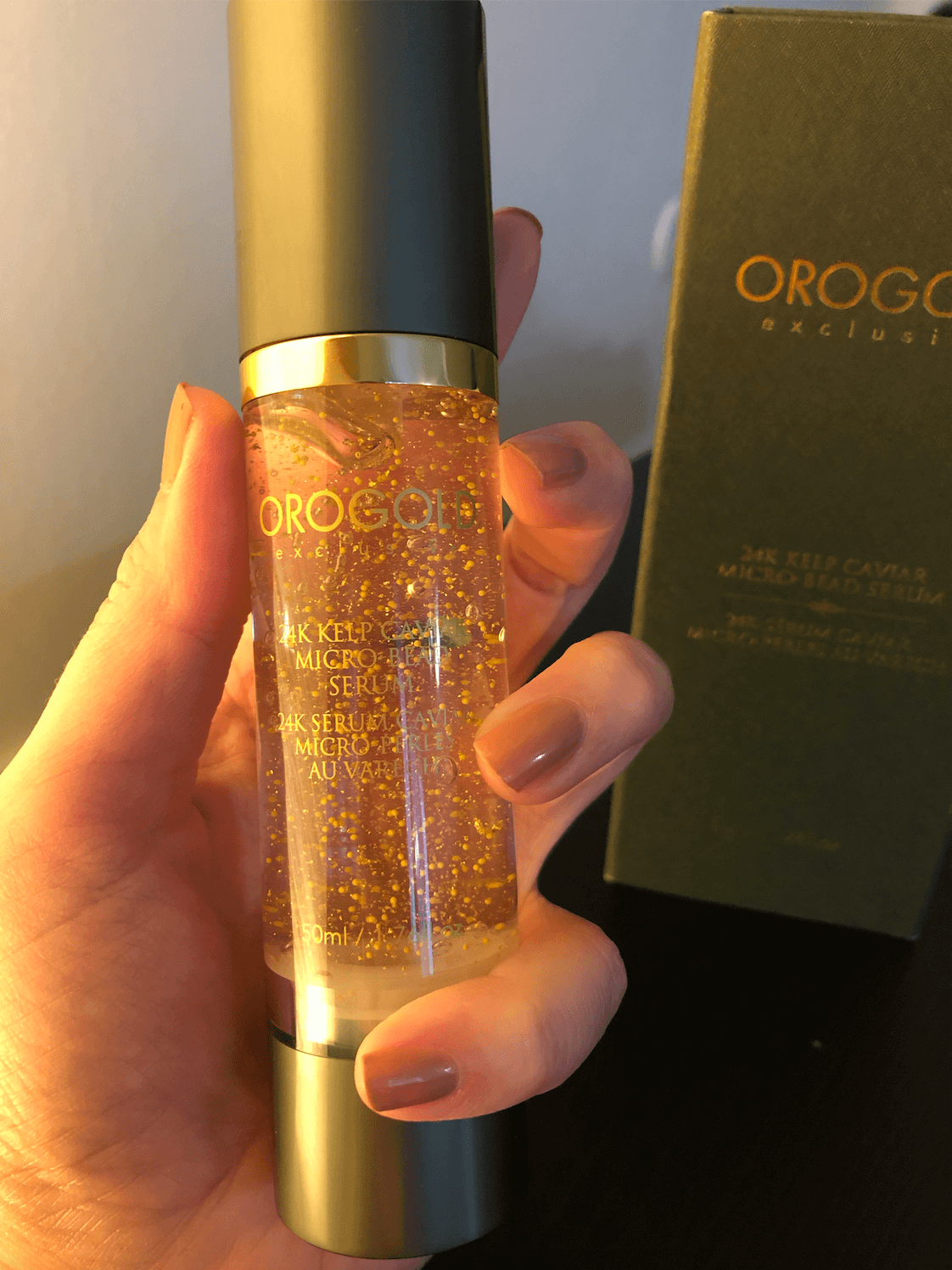 A quick look at the back of each package shows us that gold has been blended with other potent ingredients such as green tea extract and the anti-wrinkle compound Acetyl Hexapeptide-8. If these ingredients weren't intriguing enough, there's still the kelp caviar in the name.
If you're anything like me, you're wondering "Why is kelp caviar something I should be putting on my face?"
Not to worry, there's a very good reason for these premium ingredients to be applied to your skin!
I visited Orogold's website to find that of course, the inspiration for this collection is the sea and its benefits to skin health and beauty.
Unsurprisingly, one of the main aims of this product line is to provide radiantly hydrated skin. However, it is also designed to reduce wrinkles and signs of aging, leaving  you with younger-looking skin.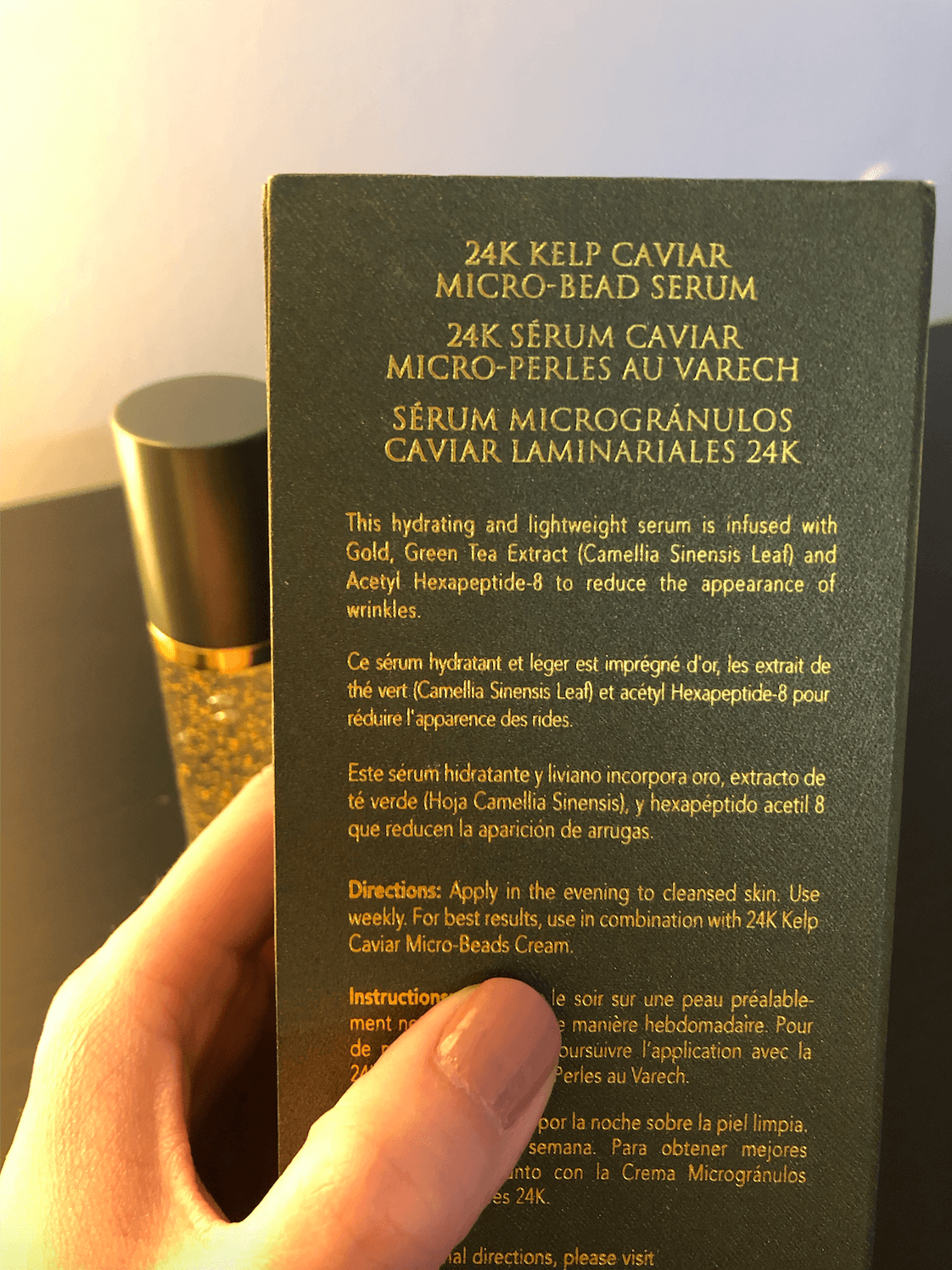 Here's a breakdown of the top ingredients and their specific strengths:
Kelp Caviar, I was very surprised to learn, is not really caviar at all! It is actually made from a type of seaweed, making it vegetarian and environmentally friendly. But more than just a cooking ingredient, the seaweed used in Orogold 24K Kelp Caviar products has incredible antioxidant properties. This means it will fight free radical damage that causes wrinkles and other signs of aging. It also a very moisturizing and calming ingredient for skin.
Green tea extract, in addition to being another powerful antioxidant, is actually an antibacterial substance. This is excellent for anyone suffering from acne, as these combined properties of green tea will gently fight clogged pores and pimples, all while reducing the look of inflammation.
Acetyl Hexapeptide 8 may sound like a confusing chemical ingredient, but its benefits to your skin are worth the complicated name. This ingredient is a type of peptide, designed to reduce the formation of the most stubborn of wrinkles. This includes those pesky smile lines and crows feet, and any facial lines that occur from repeated facial expressions.
Last, but most certainly not least, gold is an ancient skincare secret that can do more for your skin than just make it sparkle in the light. This precious metal is not only an antioxidant but improves the elasticity of your skin.
Now, let's look at each product and to use each:
1) 24K Kelp Caviar Micro-Bead Serum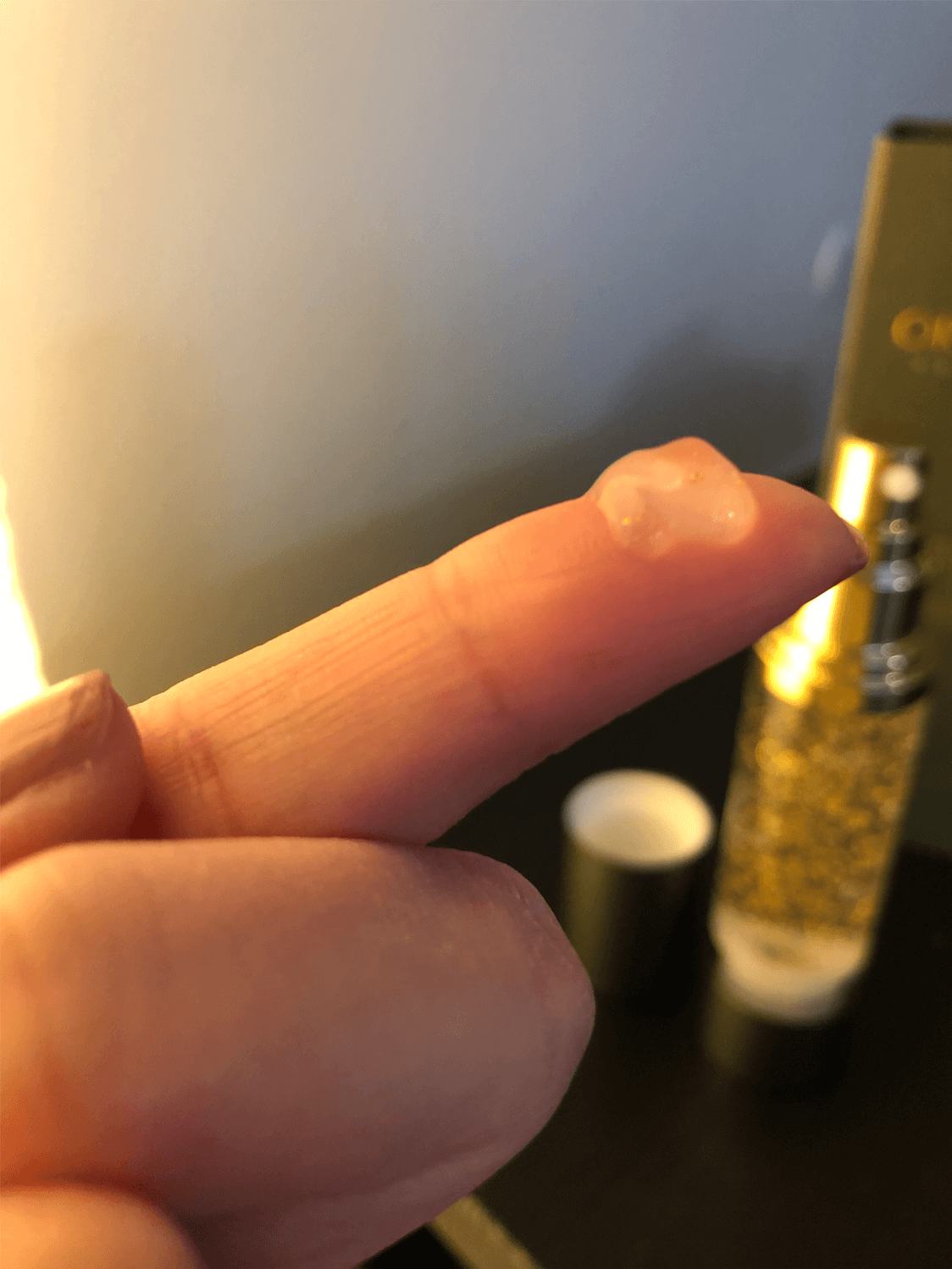 The 24K Kelp Caviar Micro-Bead Serum is a clear, gel-like serum. It is very lightweight, and not at all greasy or heavy. However, it has a very silky texture, unlike some gel formulas you may have tried before. This makes it pretty complimentary to any skin type, from oily to dry.  
After dispensing onto a fingertip, if you look closely you will be able to see the small flecks of gold in the serum. However, once massaged into the skin, you can't really see the gold flakes anymore, as they are blended into your skin.
The serum comes in a convenient pump bottle with a cap. It dispenses a fairly small amount of product when pumped, so I typically used two pumps to cover my face and neck completely. It absorbs quickly and dries almost matte. 
Per the Orogold website and packaging, you should apply 24K Kelp Caviar Micro-Bead Serum after cleansing each evening. I made sure to also dry my skin completely, so as not to dilute the product with traces of water left on my skin.
2) 24K Caviar Micro-Bead Cream
After applying the serum, move on to slather on a small amount of Orogold's 24K Kelp Caviar Micro-Bead Cream immediately after letting the serum absorb. 
A little definitely goes a long way with this buttery-smooth cream. Using the serum and cream in combination will provide optimum results, as you seal in the moisture and active ingredients to work on your skin as you sleep at night.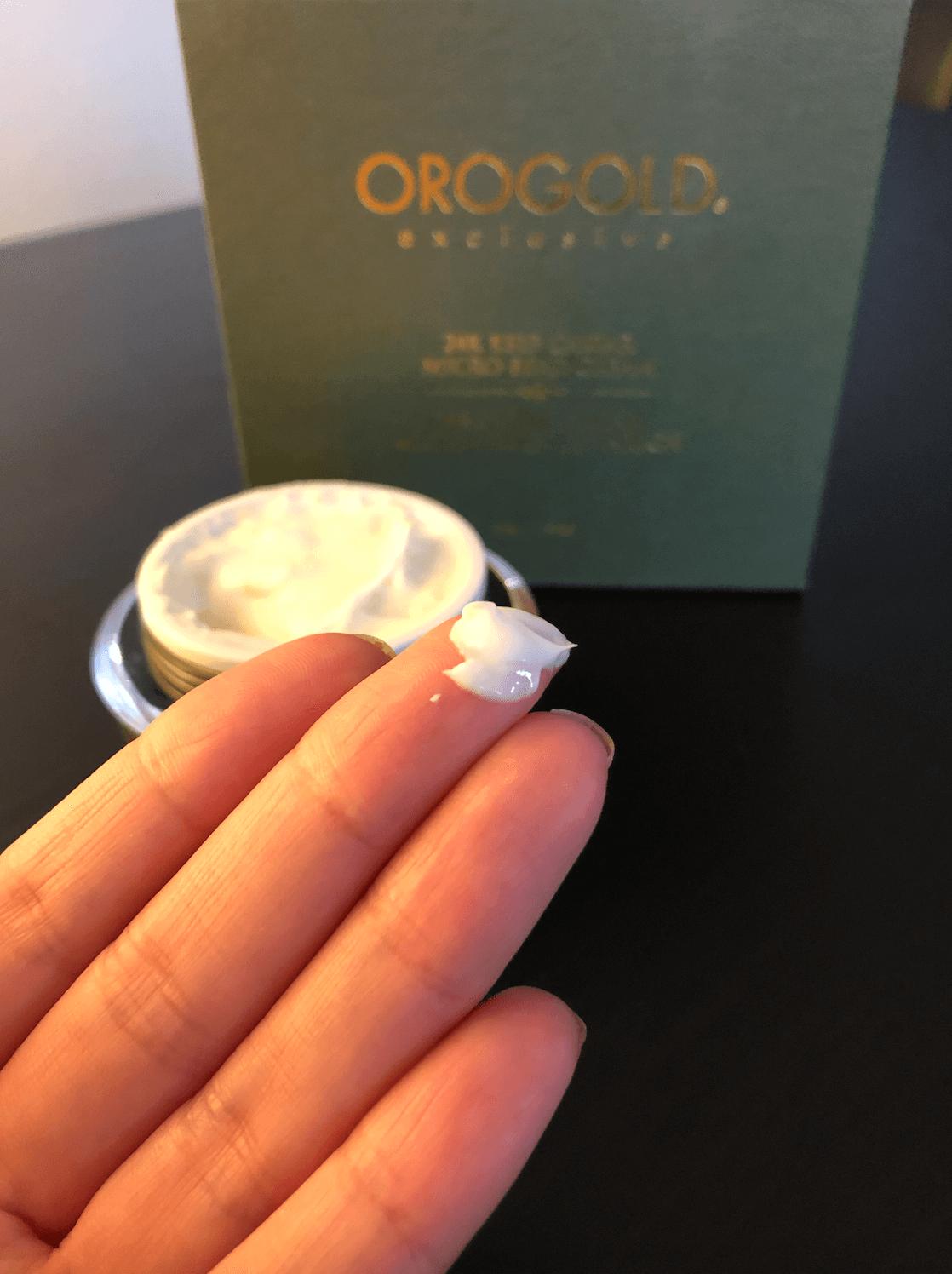 It's also not hard to see the gold suspended in the luscious cream before you apply it. It really melts into your pores, leaving you with incredibly hydrated and plump skin.
3) 24K Caviar Elastin Restoration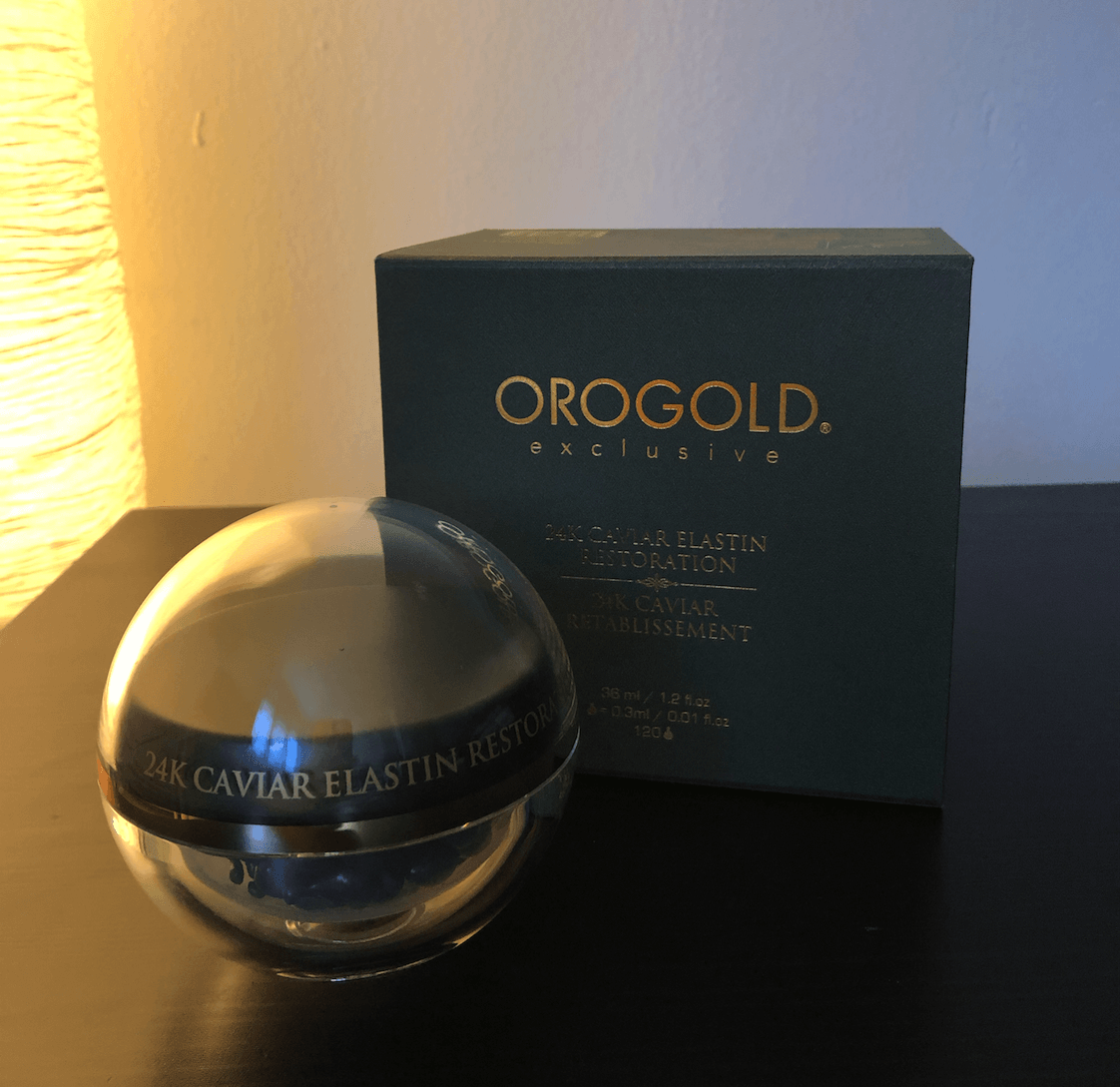 If the gold-flecked serum and cream weren't enough, I haven't even mentioned the 24K Caviar Elastin Restoration capsules! These are like nothing I've ever seen before. 
The rounded jar contains lots of little seed-like capsules that contain a potent blend of ingredients designed to renew your skin's natural elastin. You simply pinch the top of the capsule to release the solution.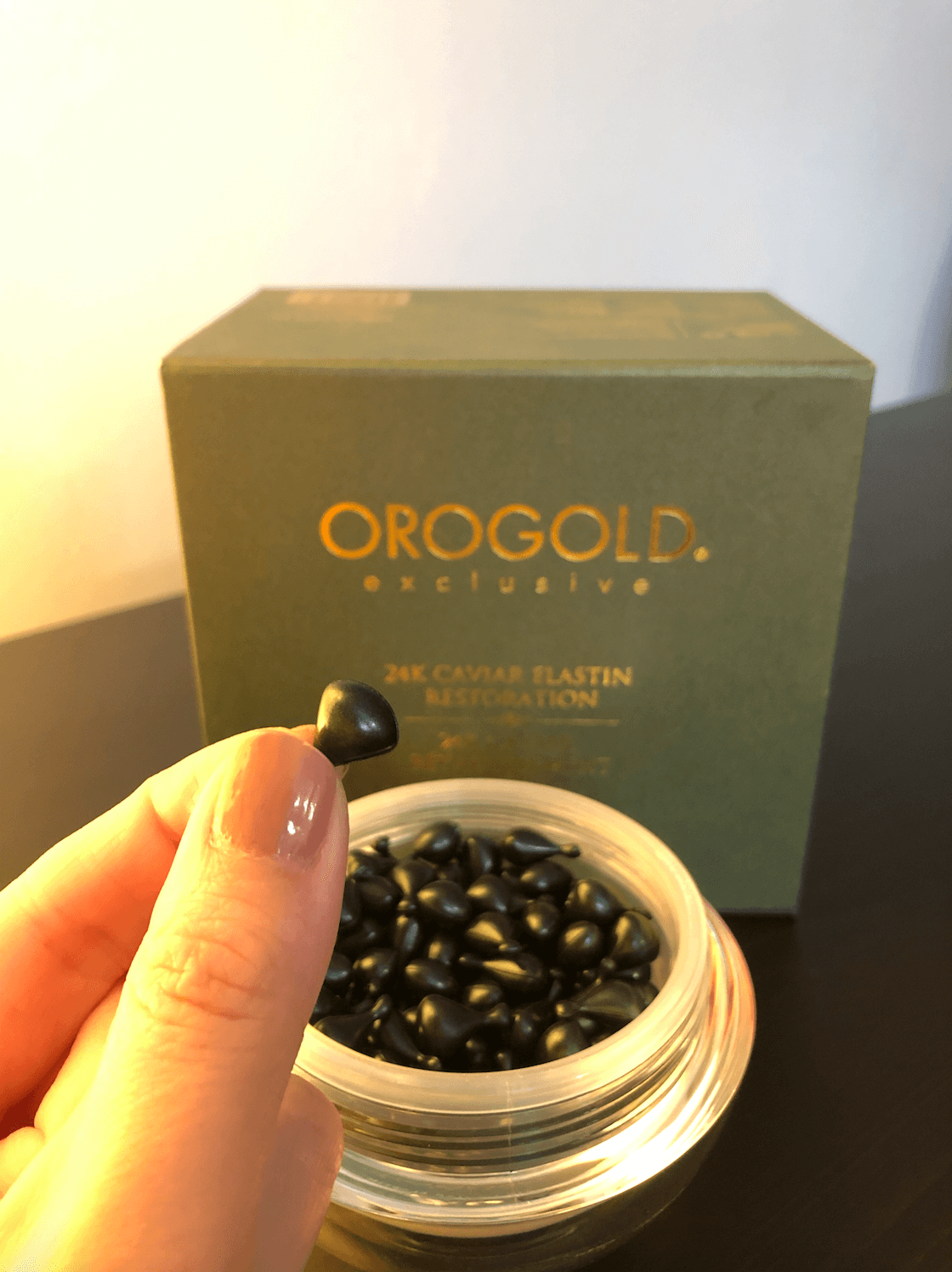 The directions state to use two capsules once per week. The texture of the contents of the capsules is similar to silk. It spreads easily across the skin and also provides the feeling of deep moisturization. It also has an amazing green tea scent.
My Experience After 1 Week
After my first use of the 24K Kelp Caviar Collection, I noticed that my skin felt smooth and taut. The hydrated and poreless feeling of my skin after applying lasted all day.
I really enjoyed the textures of all the products, but I particularly love how the elastin capsules feel on my skin! I can't wait to do my next weekly treatment.
As I continue to use the daily serum and cream, I'm watching my skin carefully and noticing signs of more even texture and tone. I'll be interested to see how my skin changes after another week of use!
My Experience After 2 Weeks
I'm wrapping up my second week of using the products in the Orogold 24K Kelp Caviar Collection and am still enjoying treating my skin with each and every product. The rich textures of these products are something I especially look forward to with each use. 
And although it can be hard to notice changes in your skin once you're into a routine, I'm trying to pay attention to four key areas of skin health to see if I notice any changes to my complexion.
Pores: I don't tend to have a lot of issues with pore size or breakouts, with the exception of an occasional pimple and some stubborn blackheads. So far I haven't noticed any changes in this area. 
The one issue I'm dealing with right now is a small pimple on my forehead, so I am trying to avoid applying much cream and serum to that spot due to the moisturizing nature of the products. Once this pimple dries up, however, I will definitely apply the serum to help heal the area and prevent any scaring or dryness.
Texture: It's the middle of winter where I live, and we are experiencing brutally cold temperatures and constant bouts of snow and wind, so my skin is definitely taking the brunt of that every time I step outside. 
My skin already tends to be on the drier side so I have to be extra careful to protect and moisturize this time of year. If I don't, I will have flakey, patchy skin. Some winters I have resorted to adding a skin oil to my routine, but the 24K Elastin Restoration treatment coupled with the Micro-Bead Cream really does the trick at preventing this parched-desert texture! If I run my fingers across my skin, it is smooth—no bumps or rough patches!
Hydration: Similar to the texture issues I mentioned above, winter weather can leave my skin feeling tight and dry. This is especially true if I don't moisturize immediately after showering or washing my face! If I were to forget that important step, my skin would be screaming at me in a matter of minutes. In fact, it will start to get itchy and uncomfortable if I don't use a quality moisturizer or lotion. 
The 24K Caviar Micro-Bead Serum has done an excellent job of hydrating my skin deep down, but I definitely feel the need for a little extra TLC on the surface, so I always follow up with the Micro-Bead Cream. I need the emollient texture of the cream for my skin to feel truly relaxed and moist.
Tone: I have a lot of freckles and some sunspots on my face from the summer, and these are fading slightly. Besides the freckling, my skin tone is fairly even with the use of the 24K Caviar products and I think the freckles will continue to fade!
I also tend to have some redness on my cheeks and a little in my T-zone.  I do notice that the redness is calmed after applying the products, but I hope to see the redness level improve with further use.