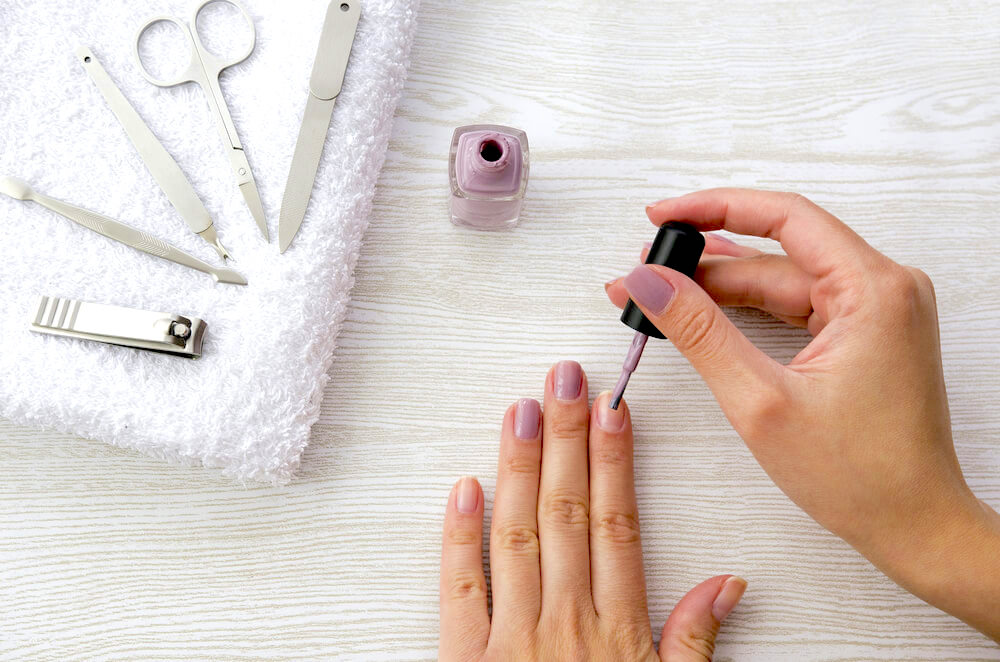 Have you been struggling to achieve the perfect manicure? 
It might be because you don't yet own these eight nail care must-haves! 
Give the following items a try for your best manicure yet: 
A Nail Prep Kit
Preparing your nails is an important first step when it comes to a manicure. This not only helps to maintain the health of your nails, but also keeps your manicure looking fresher for longer. 
This is where the Advanced Manicure Set from Resveralife comes in…
The packaging is perfect for people on-the-go, with each product having its own designated space within the kit. 
Each item within the kit is also numbered, making it quick and easy to see the order in which you need to use each product. 
Wondering which products the kit actually contains? 
There are three products in the kit, and these are: 
The Nail File – made from glass, this nail file is sturdy and durable. It is double-sided and etched, meaning that you will be able to access all of those difficult-to-reach cuticle spots

 

The Nail Buffer – this three-step diamond buffer will give your nails a long-lasting shine, even if you don't want to wear any nail polish. Each side of the buffer is numbered, so that you know which side to begin and end with

 

The Nail Clipper – a traditional stainless steel nail clipper, these clippers will give you a perfect clip each time, saving you from having to go over the same part of your nail more than once

 
https://www.instagram.com/p/BebdVpUgY5g/
The kit will help you to quickly and easily prepare your nails for a manicure, ensuring that the manicure looks its best and lasts for as long as possible. 
A Quality Base Coat
Many people skip the base coat step when they are in a hurry, but this is something that you really should not do. 
Why? 
A base coat is important for a number of reasons…
Many nail polish formulas contain certain chemicals and dyes that react with your nail plates, and this can cause a yellow stain to begin appearing on your nails. 
A base coat prevents this from happening by acting as a protective barrier between your nails and the polish. 
Base coat formulas also contain extra cellulose chemicals, and this helps to make them stickier. This then means that your colored coat will adhere to the base coat much more effectively than it would have done to your nails, enabling your manicure to last for so much longer, without any chipping.
Convinced you need a base coat? 
Just about every nail care brand has their own version, so take a look at what your favorite brands are offering. 
Alternatively, give one of the following brands a try: 
Barry M

 

Essie

 

Sally Hansen

 

Maybelline

 

Orly
Essential Oils
You may not think that essential oils would make any difference whatsoever to a manicure, but they really do. 
To be more specific, essential oils can really improve the overall health of your nails, and healthy nails is exactly what you need for the perfect manicure. 
How would you go about using essential oils on your nails? 
There are a few different ways…
One of the easiest ways to do this is with an essential oil nail soak. All you need to do is add a few drops of essential oils into some warm water and allow your nails to soak in this for five to ten minutes. Don't forget to follow this up with some moisturizer. 
You could also go about creating your very own nail-boosting essential oil blend, which you could then apply directly to your nails. Make sure that your blend contains a nourishing carrier oil, such as Jojoba or Sweet Almond. 
Wondering which essential oils are best for your nails? 
These are the oils to go for:
Lavender – known for strengthening both the nails and cuticles, while also keeping them moisturized. Lavender is also able to destroy any germs around the cuticles, preventing infections from forming

 

Lemongrass – anti-inflammatory properties reduce redness in cuticles, while also preventing fluid retention in fingers

 

Eucalyptus – promotes nail growth while disinfecting the nails to prevent infection

 

Myrrh – moisturizes the nails and prevents dry cuticles, while also protecting the nails from thinning and breakages

 

Geranium – highly moisturizing while also containing antibacterial and antiseptic qualities
An easy way to give multiple oils a try is with the Aromatherapy Essential Oils Set from BeautyFrizz.
https://www.instagram.com/p/Bc2i0Fng7Gc/
The three oils within this set are the top three in the list above, meaning that each one will really benefit your nails.
A Moisturizing Cuticle Cream
Manicures can sometimes be quite tough on your cuticles. 
How?
Due to all of the chemicals and irritants that your cuticles end up exposed to, as well as all of the solutions they need to soak in. This can lead to your cuticles drying and peeling, which is definitely not a good look after you have had a manicure. 
Plus, the antibacterial solutions that your fingers soak in before a manicure, along with the various chemicals that your hands encounter on a daily basis, mean that your cuticles are often exposed to quite a bit of wear and tear. 
What can you do about this? 
A cuticle cream will help to keep your cuticles in good condition. 
It will contain nourishing ingredients that will not only help to heal damaged cuticles, but will also moisturize them and protect them from further damage. 
How often will you need to use a cuticle cream?
Consistency is key, and you should be using it at least three times a day. 
This may seem like a lot, but it will only take a couple of weeks before you really start to notice a big difference in the health and appearance of your cuticles. 
So, which cuticle cream should you go for?
Again, this is something that many brands have, but make sure that you choose one rich with botanical extracts and vitamins. The Nourish Cuticle Formula Creme from Jessica meets these criteria, as does the Fast Absorbing Cuticle Creme from Julep. 
A Hand Cream
Wondering why you need a hand cream if you have already decided to invest in one of the cuticle creams mentioned above? 
Well, a cuticle cream is designed just for your cuticles, and not only keeps your cuticles protected, but also helps to keep your manicure looking fresh. 
A hand cream is designed to moisturize a larger surface area, and has not been created with your nails in mind. 
While this may be the case, dry and chapped hands will definitely detract from a manicure, which is why you need a hand cream in your nail care kit as well. 
A hand cream should be used several times a day, especially after each time your hands come into contact with water.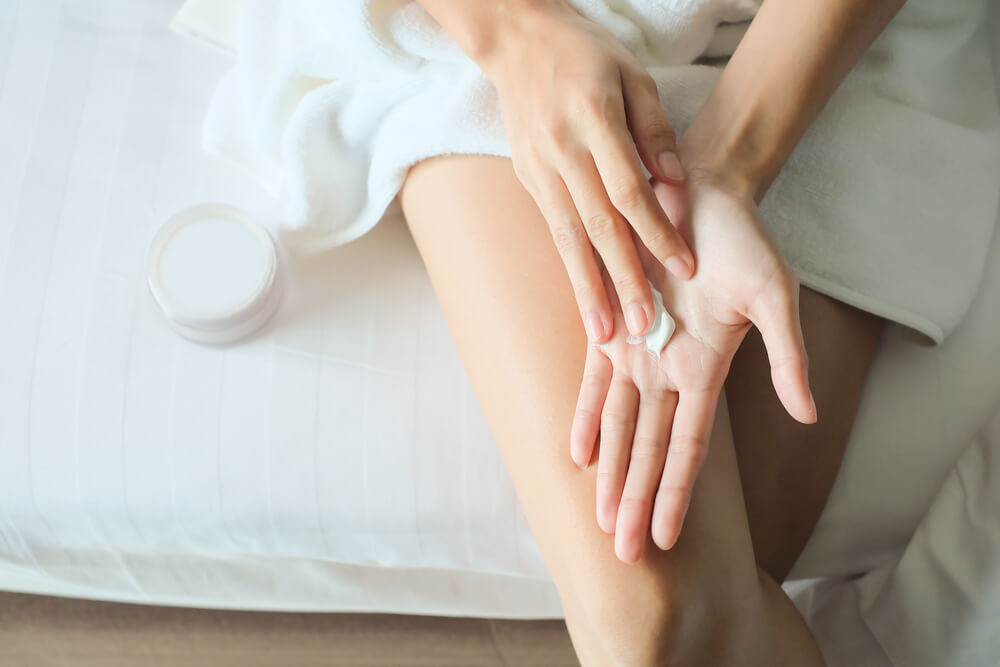 Why? 
Because when the water evaporates off your skin, it ends up drying your skin out. A hand cream prevents this from happening, keeping the skin on your hands moisturized, soft and hydrated. 
Since you need to use a hand cream so often, it is important that you find a hand cream that you really love. 
Try to find one that offers multiple benefits, such as: 
Sun protection

 

Hydration

 

Brightening

 

Plumping

 

Repairing
A Non-Acetone Nail Polish Remover
Have you ever wondered what a nail polish remover is actually made from? 
They contain strong solvents that are able to dissolve away the resins used in nail polish. One of the most popular solvents used in nail polish remover is acetone. 
What's wrong with acetone?
While it's not quite as toxic as some may believe it is, it does still have an extremely drying effect on your nails and cuticles. 
Plus, the drier and more damaged your nails are, the worse they will get each time you use acetone on them, and it will not be long before you notice how brittle they have become. 
Not only that, but the way in which acetone works to dissolve away nail polish can often cause the pigments within the nail polish to leach. This means that your nails can sometimes end up with a yellow tint to them after using a nail polish remover containing acetone. 
Fortunately, there are plenty of non-acetone nail polish removers available, making this an easy ingredient to remove from your nail care routine. Try to find one that also contains moisturizing ingredients, such as vitamin E or lavender, as this will help to counteract the dryness that nail polish removers cause. 
What about if you get gel manicures and need to use acetone? 
You would be best off having them professionally removed, so the acetone is used in the correct way, as well as for the correct amount of time. Many manicurists will also have their own tried-and-tested technique when it comes to minimizing the amount of exposure your nails actually have to the acetone.
A Nail Hydrator
When your nails come into contact with different chemicals, these end up causing damage, leaving nails brittle and dry. 
Plus, some people have genes that mean that their nails are simply more prone to breakages than average. 
There are two main options when it comes to dealing with this; nail hardeners and nail hydrators. 
While nail hardeners may be the most common of the two, these are often formulated with harmful ingredients, such as formaldehyde. Yes, this does harden your nails in the short run, but, over time, they will significantly weaken your nails. They also pose the risk of lifting your nails away from the nail bed. 
Nail hydrators work by keeping your nails moisturized. This means that rather than breaking, they bend, because they are hydrated and more flexible. 
Keep in mind that this is another product that you will need to use on a consistent basis, multiple times a day, in order for results to be visible. 
A Long-Lasting Top Coat
A top coat is so important when it comes to the perfect manicure. 
Why?
Because this is what seals everything in place, meaning that your manicure will not chip in the same way that it otherwise would have. Most top coats also contain an ingredient known as nitrocellulose, and this will give your manicure some added shine.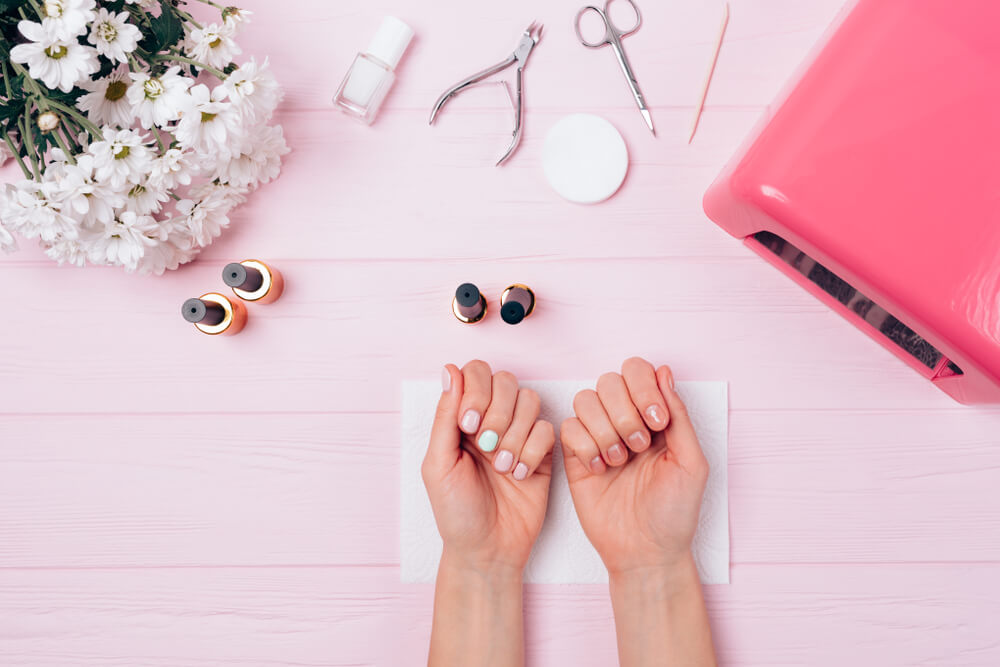 Plus, top coats harden your nails that little bit more, making them less prone to breakages. 
How do you pick a long-lasting top coat?
Most nail artists would agree that thicker formulas, especially those with more of a gel-like consistency, tend to be best. Make sure that you apply this to your entire nail, paying special attention to the sides and the tips as these are the areas that usually end up chipping. 
Wondering which top coats are the best? 
Here are a few to consider: 
Deborah Lippman Addicted to Speed Top Coat – does not contain any harmful chemicals, and is also vegan and cruelty-free

 

Londontown Kur Gel Genius Top Coat – doesn't bubble when applied over a gel manicure, and lasts for about a week

 

Essie No Chips Ahead Top Coat – a glossy top coat that also offers UV protection

 

Sally Hansen Ultimate Shield – an affordable top coat that is not only shiny, but also prevents fading, chipping and peeling. This top coat formula can also double up as a base coat

 

OPI Matte Top Coat – works best when used alongside OPI nail polishes, and has won multiple awards

 

Julep Go the Distance Oxygen Performance Top Coat – a breathable top coat that is formulated with platinum and caviar extract
Nail care is so important when it comes to achieving the perfect manicure. Without healthy nails, your manicure will not look its best, so make sure you add these eight products to your nail care arsenal as soon as possible.