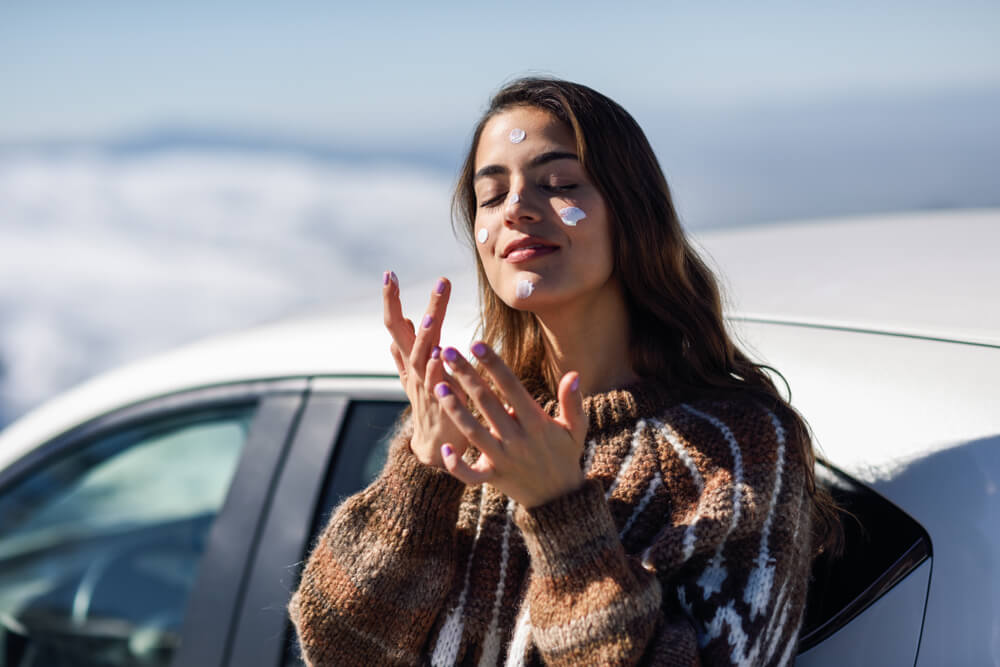 Let's face it, it was fun, but you're done. Your summer fling with the sun was a blast, but now it's fall and you're going to have to start seeing less of one another. The days are getting shorter, the nights are getting longer, and with all the rain and clouds and stuff, it just doesn't seem worth buying sunscreen. So, maybe, see ya next year?
Not so fast…
You may be done with the sun, but that doesn't mean that the sun's done with you. In fact, it may just be getting started. The sun can be pretty intense in the fall and winter, even if he is hiding behind a few clouds. Here are a few facts about the sun during those cooler times of the year that might make you want to keep buying that sunscreen. 
Even On A Cloudy Day
According to dermatologist Jeremy Brauer, "UVA is present all year round, at all times a day, and is unaffected by a cloudy day."  Sound a little like a stalker ex? 
When it comes to the sun, there are two main wavelengths of radiation: the UVB rays and the UVA rays. (Think B for burning and A for aging.) While the burn-causing UVB rays weaken in the fall, the UVA rays responsible for the fine lines and aging remain largely unaffected. And, thanks to our sunscreen, we remain largely unaffected as well. 
Fall and Winter Key Ingredients 
How do you make the perfect winter cocktail (for your face?) The best fall and spring SPF products contain hydrators; glycerin, and hydrogen oils, preferably. The box should read SPF 30, at minimum, broad-spectrum (blocks both UVA and UVB rays) and list antioxidants, such as vitamins E and C, among its ingredients. So, let's look at some products and see which ones check off the boxes.
Anthelios AOX Antioxidant Serum SPF 50
Did they get you at the antioxidant serum part or was it the SPF 50? Whether its come for one, stay for the other or get the most bang for your buck, this lightweight serum absorbs into your skin bringing with it all those lovely antioxidants that keep free radical damage at bay while improving the look of fine lines, dark spots, and skin texture. 
Cortex SPF 50 Aloe Soothing Sun Cream 
Goodbye, sun-damaged skin, "aloe" to soothing sun cream.  Aloe (a.k.a. the wonder plant) is the major player in this sunscreen with SPF 50, (which works wonders against dry skin). In addition to protecting your skin from those harsh UVA and UVB rays, the sunscreen is loaded with botanicals that help your skin create a moisture-retaining barrier that keeps the skin supple and hydrated. 
Elta MD UV Sport Broad Spectrum Sunscreen SPF 50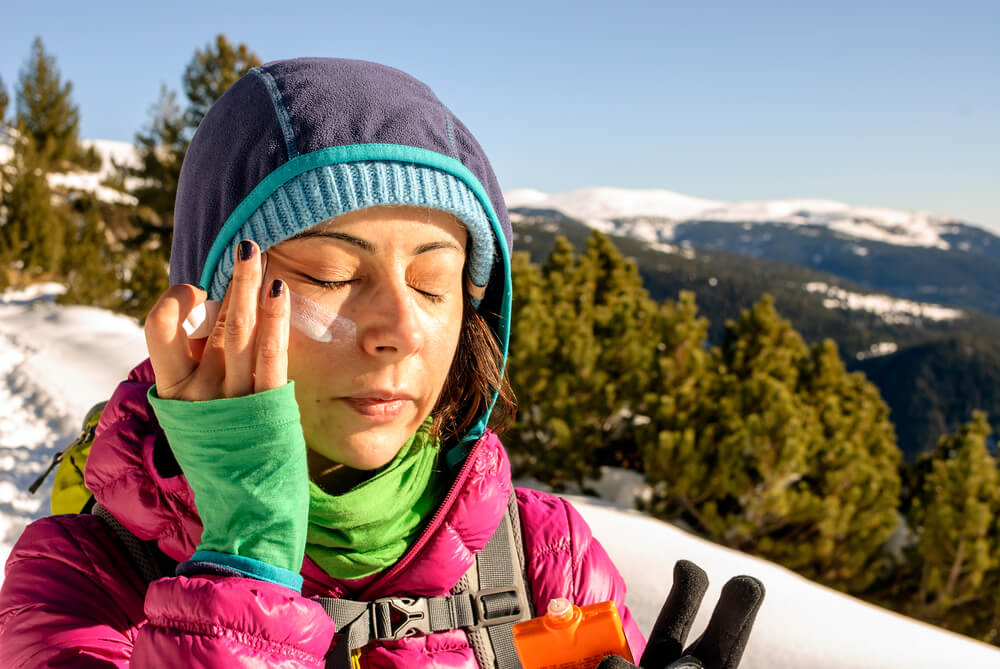 If you're hitting the slopes this year, you're risking a gnarly sunburn. With the proximity to the sun and the reflective properties of the snow and ice, you can be in for some (free) radical damage. Luckily, the Elta MD UV Sport Broad-Spectrum Sunscreen is oil-free and water-resistant for up to 80 minutes. It won't clog pores, cause eyes to tear, or leave a white residue.
Julep No Excuses Invisible Sunscreen Gel SPF 40
When we first heard there was an invisible sunscreen we thought, "Hey, we really gotta see this." Although we never did, we believe just the same. Julep Invisible is an SPF 40 sunscreen in a transparent gel that delivers broad spectrum protection and leaves your skin with a satin finish, perfect for makeup application.  
Supergoop! Skin Soothing Mineral Sunscreen with Olive Polyphenols
Able to defy UV rays in a single bound, it's a cream, it's a lotion, it's Supergoop! This skin-soothing mineral sunscreen is full of polyphenols (the antioxidant bomb), omega-3, and omega-6 fatty acids targeted to address skin concerns for people with sensitive skin. Non-irritating, Supergoop calms inflammation and reduces redness, can even out skin tone, and is hypoallergenic, which means it won't cause breakouts in oilier complexions.
Freeze 24-7 SPF 15 Cleanser
Cleaning your face and getting you halfway to SPF 30 at the same time, the Freeze 24-7 SPF 15 cleanser, clarifies, hydrates, and infuses the skin with anti-aging antioxidants. Perfect for those well-meaning individuals who intend to wear sunscreen, but simply forget.
Kiehl's All Sport Non-Freeze Face Protector SPF 30
Another one for those to whom fun in the sun means gritting your teeth while traversing across snow-covered mountains with wild abandon, the Kiehl's All-Sport Non-Freeze Face Protector provides protection against wind, sun, cold and other unpleasant outdoor conditions. Wax-based and water-resistant, this face protector supports active lifestyles. 
Venofye Orchard Bee Brilliance Cream SPF 30
With this product, the sun bee not a problem. The Venofye Orchard Bee Brilliance Cream SPF 30 is a lightweight spot-correcting day cream, supercharged with an advanced brightening complex to illuminate your skin while protecting it from the sun's harmful rays. 
https://www.instagram.com/p/BovCwFoANZm/
Philosophy Renewed Hope In a Jar SPF 20 Daily High-Performance Moisturizer 
Hope in a jar? Priceless. Besides hope, this formula is infused with clinically proven skin renewal ingredients to retexturize skin and deliver hydration for an all-day whoa-glow. It also refines pores and lifts fine lines away (virtually). Face the day with new hope!
Mission Daily Offense SPF 30
Stick it to liquid and cream sunscreens and use Mission Daily Offense (stick) instead. This stick lets you apply sunscreen hands-free, directly on to your skin (great for those who got snow time to deal with liquid). It also makes getting those hard to reach places, like your neck and ears, so much easier. Plus, it's water-resistant, quick-absorbing, oil-free, and won't sting your eyes.
Barielle Ultra Soft Hand Cream SPF 15
Make no mistakes, your hands age quickly, and people can and will hold your aging hands against you. Stop the judgment and the water cooler conversation by using this heavenly concoction featuring almond oil and vitamin E oil to soothe and nourish rough hands. The UV protection combats sun-damage induced age spots, crepey skin, and fine lines. 
Shiseido Sun Protection Eye Cream SPF 32
I scream, you scream, we all scream for eye cream. Especially the Shiseido Sun Protection Eye Cream, SPF 32 (guess every point counts).  This eye area cream reduces the appearance of wrinkles and brightens skin while protecting against UVA and UVB rays. It also contains rose apple leaf extract, an antioxidant that prevents free radical production. 
Murad City Skin Age Defense Broad Spectrum SPF 50
Ah, living in the city, where standing at a bus stop for ten minutes can cause more oxidative damage than a day sans sunscreen at the beach. Luckily, Murad came up with an ultralight mineral sunscreen that shields skin from five types of damage: UVA, UVB, pollution, blue light devices, and infrared radiation. Take that suffocating subway stations!
Peter Thomas Roth Instant Mineral SPF
Along with instant oatmeal, instant coffee, instant Ramen, and of course,  Instagram, comes Peter Thomas Roth's Instant Mineral SPF. This transparent matte mineral powder sunscreen provides on-the-go protection in a convenient self-dispensing brush. Wear it alone or under makeup for a flawless oil-free finish. 
Aveeno Essentials Moisture Lip Conditioner SPF 15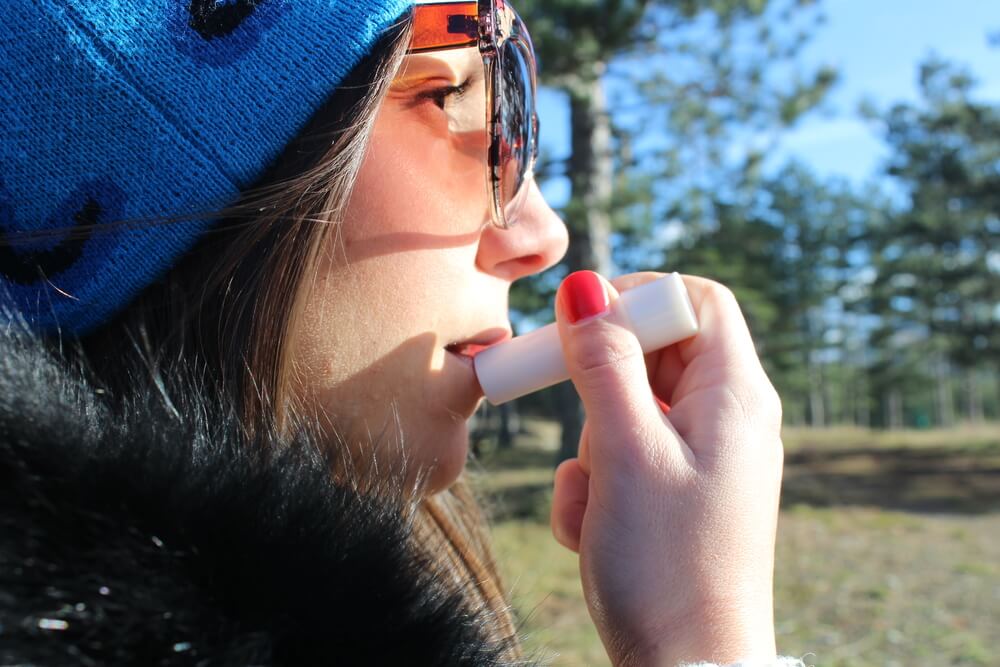 On the holidays, your lips are prime real estate. You've got mistletoe op, ball drop op, too much eggnog op – you get the picture. Why not take the op to get some Aveeno Moisture Lip Conditioner SPF 15? This moisturizing and protecting lip balm has oatmeal, jojoba oil, and shea butter to nourish chapped skin and broad-spectrum sunscreen to keep those harmful rays away.
Layering Sunscreen and Makeup 
Applying sunscreen year-round: essential. Applying make-up year-round: equally essential. Getting them both on your face without looking like Bette Davis in "What Ever Happened To Sweet Baby Jane?" Confusing at the least. 
Luckily there is a method to this madness and that's layering. Quite simply, layering is a way of ordering your SPF applications so that you get maximum protection from the sun and a good canvas for makeup application. Here's a bit of what you should know about the process.
You Need A Sunscreen Under Your Makeup
Now, you may be thinking, if I've got SPF 15 in my cleanser, 32 in my eye cream, 30 in my primer and 50 in my serum, I'm battin' over a hundred. Do I really need to glob on sunscreen too? In a word, yes. According to Dr. Jessie Cheung of DuPage Dermatology, SPF – filled products (that are not actually sunscreen) are not going to cut it. "People don't apply makeup thickly enough to get the printed SPF rating and the SPF ingredients may not be the best for protecting you from the sun. They are often made with chemical blockers that degrade with sun exposure."
Don't Lay (er) it On Too Thick
If it feels like using SPF moisturizer and a regular sunscreen is a bit much, that's because it is. According to Cheung, the two cancel each out. "Sunscreen will trump the moisturizer, which is lighter and thinner, and you may not need a moisturizer with the SPF which already has moisturizing ingredients." For a healthy balance between the two, try Kiehl's Ultra Facial Moisturizing Sunscreen SPF 30.
Antioxidant Before Sunscreen
Hold your sunscreen close, but your antioxidants closer. The rule of thumb for best absorption is to layer your products from lightest to the heaviest. After cleansing your skin, apply your serums and allow them to sink into your skin before applying sunscreen. 
You Don't Need SPF Makeup
When you've got sunscreen on, you've already got game. You don't need any supplemental sources. As long as you have a separate SPF to protect yourself, you don't have to use makeup with SPF added.
How to Keep Your Make Up 
Read the directions on your sunscreen bottle and they will advise you to reapply sunscreen every two hours. Yet, there doesn't seem to be any directions on what to do if you're wearing a face full of makeup. Dr. Cheung says, "The trick is to pack the spray SPF formulations or the powder sunscreens so you don't mess up your makeup." Try  Sunforgettable Total Protection Brush-On Shield SPF 50. It looks like nothing, but protects from everything.