All of us are looking for that face mask that will work like a charm and get our skin glowing in no time.
However, sometimes, we feel as though we're looking for a needle in a haystack. There are so many products that cater to different types of skin from so many brands that you can sometimes truly feel lost.
Well, fret not, because we've picked out some of the best pore-cleansing face masks that will help you get the results you want.
Why Use a Face Mask?
Well, if that isn't something that we all wonder every single day. However, like any good beauty routine, you have to give a little to get a little, as it were.
And, good face masks only cost a sliver of your time, while producing truly amazing results.
A truly good face mask can hydrate your skin, remove excess oils and improve the overall appearance of your pores. If you do not take care of your skin, your pores can get clogged and this can result in blackheads or acne.
This is where face masks come to the rescue. They have numerous benefits, which include:
Deep cleansing.

If you use a good face mask, not only will it remove any impurities from the surface of the skin, it can help draw impurities that

hide

beneath the top layer.

Improving blood circulation.

Many masks help improve the blood circulation in your face, which, in turn, improves your skin tone. You will have smoother skin and even an additional glow after you've used a face mask.

Relaxing.

One of the best benefits of face masks is that they're a symbol of

me time

. You can use them to treat yourself. Light some candles, draw a warm bath and pamper yourself properly. That way, not only will you have glorious skin, you will also provide your mind with some much needed rest.
In general, many face masks claim that they're it for cleansing pores, but not all of them deliver. That is why it is important to stay on top of the face mask game. In the myriad of choice, it's good to narrow it down from time to time.
However, the first thing you should know about masks is – there's all kinds of them. There are clay masks, peel-off masks, sheet masks, charcoal masks, bubble masks and every combination in between.
And, of course, each of these types has their own benefits. Here we will try to present the best masks of every type, so you can choose according to your preference.
Best Clay Masks
We will start with clay masks, because they have literally been around for centuries.
The most common types are clay face masks with bentonite and kaolin clay, both of which are incredibly beneficial. They are mostly used for acne-prone skin.
However, if you generally have dry skin, you may want to choose some that have hydrating properties as well, as clay masks are known to be drying.
Here's the best of what the clay mask world has to offer:
1)
Kiehl's Rare Earth Deep Pore Cleansing Masque
The key not-so-secret ingredient of this incredible face mask is Amazonian White Clay, sourced right from the mouth of the Amazon River. Not only it is great for removing excess oil and dead skin, it can also minimize the appearance of pores. This mask works fairly well with all skin types, but it is particularly useful for acne-prone skin. And, because it has Aloe Barbadensis, it also has hydrating properties, so this face mask can be used by people with dry skin as well.
2)
Fresh Umbrian Clay Pore Purifying Face Mask
This face mask is used to remove impurities and treat imperfections. It is incredibly rich in minerals, but it also has sandalwood oil, which helps calm the skin, as well as chamomile flower and lavender water, which have incredible soothing properties.
3)
L'Oreal Detox and Brighten Pure Clay Mask
You simply cannot go wrong with L'Oreal. Actually, you simply cannot go wrong with many French products. But don't take just our word for it – once you've tried this mix of pure clay and charcoal, you will literally feel your face becoming more radiant. Your complexion will look more even and incredibly fresh!
Best Peel Off Masks
Peel off masks are great for the skin because they stick to dead skin cells and every itty bitty piece of grime on your skin, and then take them away, never to return.
But, frankly, the best part of peel off masks is that they're incredibly satisfying.
The fact that you can see them scraping away dirt is an additional reason to use them. There are even people who like to watch people remove peel off masks.
Here are our choices for the best peel off mask.
1)
Elizabeth Arden Visible Difference Peel and Reveal Mask
The key ingredient of this mask is glycolic acid, which is great for cleaning pores, reducing the appearance of dark spots and even dealing with wrinkles. It successfully exfoliates your skin, but it also has aloe vera which works well to calm it. In the end, your skin will look radiant and glowing.
2)
Vichy's Double Glow Peeling Mask
Fruit acid AHAs (Alpha-Hydroxy Acids) remove dead skin cells, while Volcanic Rock accelerates the mechanical action of exfoliation to the skin's surface. Thus, impurities are eliminated and the skin appears brighter and more luminous. Any issues with dark spots can be helped with this mask.
3)
Lift Off Purifying and Brightening Peel Off Mask
This mask is simply the bomb. Aside from its active ingredients that replenish dull skill, it also comes in a cute berry color. Kaolin will draw out the impurities from the skin, while acai, goji berry, blueberry and green tea extracts hydrate your skin, making it look smoother and more even.
Best Sheet Masks
If you've ever been on Instagram, you have probably seen many celebrities swearing by different sheet masks.
Apparently, they were invented by Japanese Geishas, but have been biding their time until now to blow up all across the world. And it seems that the craze is not ending any time soon.
There are various kinds of sheet masks, with different ingredients, such as aloe vera, charcoal, seaweed, green tea. And, although it's true that they're mainly used to revitalize the skin, there are a few which do an excellent job of clearing the pores. Here are a few of them:
1)
Vivo Per Lei Botanical Charcoal Sheet Mask
https://www.instagram.com/p/BrdctjlAEeD/
This mask can be used weekly, particularly on skin which is prone to breakouts. Due to its charcoal formula, it loosens and extracts impurities from the skin and reduces the appearance of enlarged pores. It also leaves your skin very soft to the touch, which is always a welcome bonus!
2)
Starskin Purifying Liftaway Mud Face Sheet Mask
This is a great mask for skin that is under daily stress from external factors. Aside from some TLC, your face will be clearer than ever with it. Made from kaolin clay and coconut milk extract (and even tremella mushroom), this mask cleanses your pores like there's no tomorrow, while also providing your skin with hydration.
3)
Rael Bamboo Face Sheet Mask
If you're looking to stave off or fight acne, this mask is the one for you. It is rich in tea tree oil, which has many, many benefits for your skin. However, one of its most important advantages is that it actually reduces the amount of (unwanted) oil on the surface of the skin. This mask is also made out of organic ingredients, which makes it a two-thumbs-up choice!
Best Charcoal Masks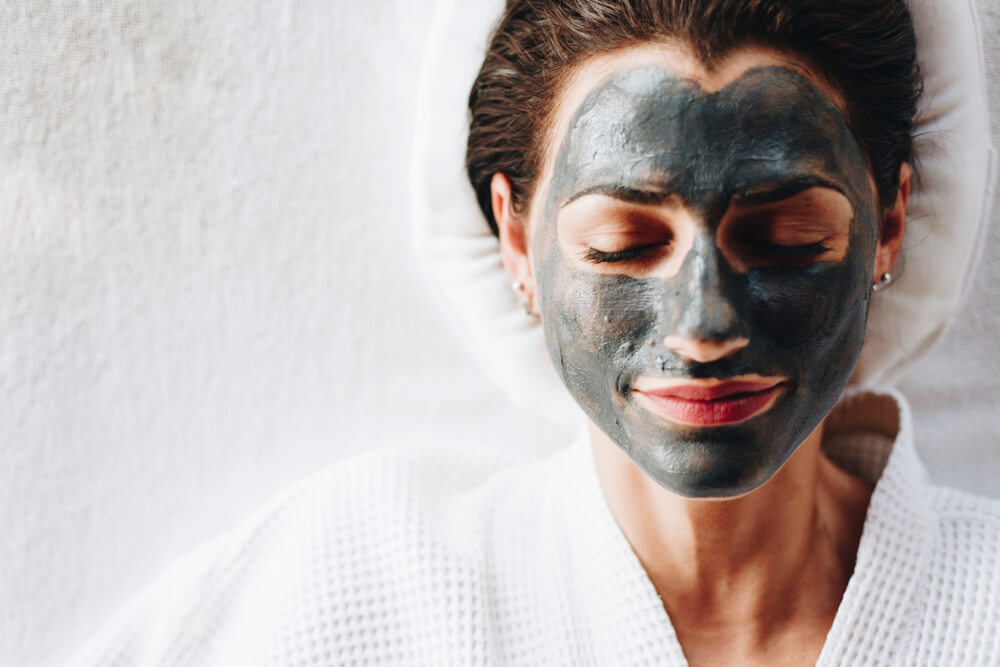 If you've ever used charcoal masks, you know that they act as vacuum cleaners for your skin. They basically dig down to lock onto and remove dirt. This is due to the fact that the main ingredient of these masks is actually activated charcoal, which possesses the ability to bind to toxins, impurities and blackheads, and take them out of your skin.
Because it essentially does the same with the oil from your skin, it's great for people with oily skin. However, if you have dry skin, you might want to have moisturizer at the ready after you take off the mask.
1)
The Body Shop Himalayan Charcoal Purifying Glow Mask
This 100-percent vegan mask is infused with bamboo charcoal, green tea leaves and organic tea tree oil. It is designed to, basically, suck out impurities and give your skin a healthy glow. Another good side of this mask is that it absorbs excess oil, so you don't have to fret that it will strip your skin of all of its oils.
2)
Glamglow Supermud Activated Charcoal Treatment Mask
This is another clay-charcoal combo that is bound to make your cheeks perfect and even. That is, it's not only good for cleansing pores, it also clears your complexion. So, if you have any blemishes, this mask is the right one for you. 
3)
Boscia Luminizing Black Charcoal Mask
Not only does this mask include activated charcoal, it also includes Montromorillonite clay. The two work together to cleanse your skin, removing impurities and toxins all the while exfoliating your skin. In addition, it has vitamin C included, which minimizes fine lines and fights free radical damage.
Best Miscellaneous Masks
When it comes to face masks, new ones are constantly being developed. With each scientific breakthrough comes a new face mask, as it were.
So, we have included some other, "non-traditional" types of masks that work incredibly well and that might actually be better for your skin type.
1)
Origins by All Greens Foaming Deep Cleansing Mask
This perfection in a bottle is quite literally infused with super juice that your skin will definitely be grateful for. It also has kaolin clay to detoxify and exfoliate the skin.
2)
Venofye Iron Bee Magnetic Mask
https://www.instagram.com/p/BqnUGjgDisL/
Let's just say that you won't be imagining things when you look at the best version of your face after applying this mask. This iron powder-infused magnetic mask works to efficiently remove the excess oils and impurities that clog your pores. Then, it replaces them with vitamins, leaving your skin looking incredibly smooth.
3) 
Volition Beauty Detoxifying Silt Gelee Mask
This gel mask is designed to purify your skin, but also to leave it hydrated, radiant and more balanced overall. It does not dry the skin out, since it's rich in nutrients and bioactive minerals.  
Tips for Choosing a Face Mask
Before you start applying any random type of face mask, make sure that it's the right one for your individual skin type. If you're not certain what type of skin you have, talk to a dermatologist beforehand, it will help you immensely.
For example, if you have oily skin, you would mostly benefit from a mattifying face mask. However, if you have dry skin, it would be best to use some type of hydrating mask. Basically, what works for some people might not work for you, so give it some thought before you dive in. After all, it's your skin that's in question.
Also, take note that every type of face mask is applied differently and needs its own preparation for it to be successful. Always read the label to learn how to apply that particular face mask.
In addition, testing the face mask before you use it is incredibly important. In fact, testing before using any skincare products should always be done.
So, when you buy a new face mask, it is always a good idea to apply it to the skin behind the ear to test it. Then, if it causes a reaction, it is not that visible, and you will have learnt whether or not it suits you without too many consequences. It is also possible to test it on the inner elbow at least 48 hours before you want to use the mask in question.