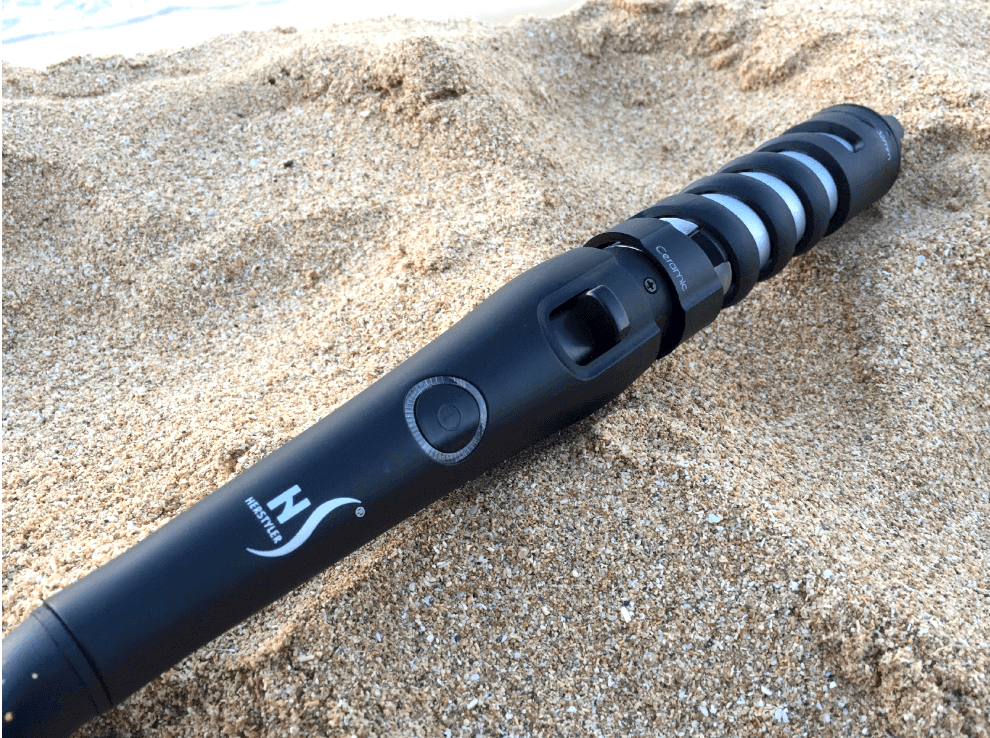 Straight, Wavy or Curly. Everyone has a favorite.
To some, these hairstyles may be an everyday style that they can create before leaving for work, school, etc. But, for some they can be for a special occasion or night out. In this case we'll talk about three different hair products that can create these types of hairstyles. So, here now are the new assistants on hairstyling: HerStyler's Straight Brush Pro, The Grande Curls Black and the Beach Curler.
Let's Start!
I wanted to create a review by talking about the three products separately, the process of using each one and their individual results:
Straight Brush Pro

Grande Curls Black

Beach Curler
The Straight Brush Pro is the new type of straightener everyone's talking about. It helps you to straightened your hair, whether is thin, thick, wavy or curly types of hair. This specific product comes with a specific number of features that combine new and old hair technology:
Ceramic surface:

Structured bristles that are distributed evenly for a

gentler

and infrared heat. The surface itself is

soft

and

shiny

and it's not what you think exactly. It doesn't get scratched easily and the color is very a vivid one, even though the color itself is black.  

Easy grip:

The product is very

manageable

. It allows you to handle it in a comfortable way and

without getting your hands hot

. It's a plus knowing that you won't get your hands hot during the process because that affects and slows down the entire process itself.

Negative Ion Techology:

This feature provides you to

lock-in the hair moisture

and its shine while

eliminating that frizz

we don't like or get after or before styling our hair. This technology work with all those stubborn positive ions that are the ones who are responsible for frizzy hair. This has to be taken into consideration depending on the area where you live. Most areas have an atmosphere where they activate these types of positive ions and doesn't allow the hair to create its natural moisture, so be aware of this.

Very important

.  

Heat:

The straight brush goes from a

285° – 430°F

. Not as high as a regular straightener but it does the work just right. In this particular case you don't need such a high amount of heat, because this brush goes directly though the sections of hair. See it as you're actually brushing your hair but with heat applied to it.

Swirl Cord 360°:

This cord makes the styling and process a lot

easier

. It helps when going up and down the head and when trying to manage the back of your head, because we all know that is the most difficult part for some of us. Myself included. This feature can even help you to not get tangled in the process, knowing that the cord itself is

long

and you won't have to worry about any accidents or interruptions during you styling process.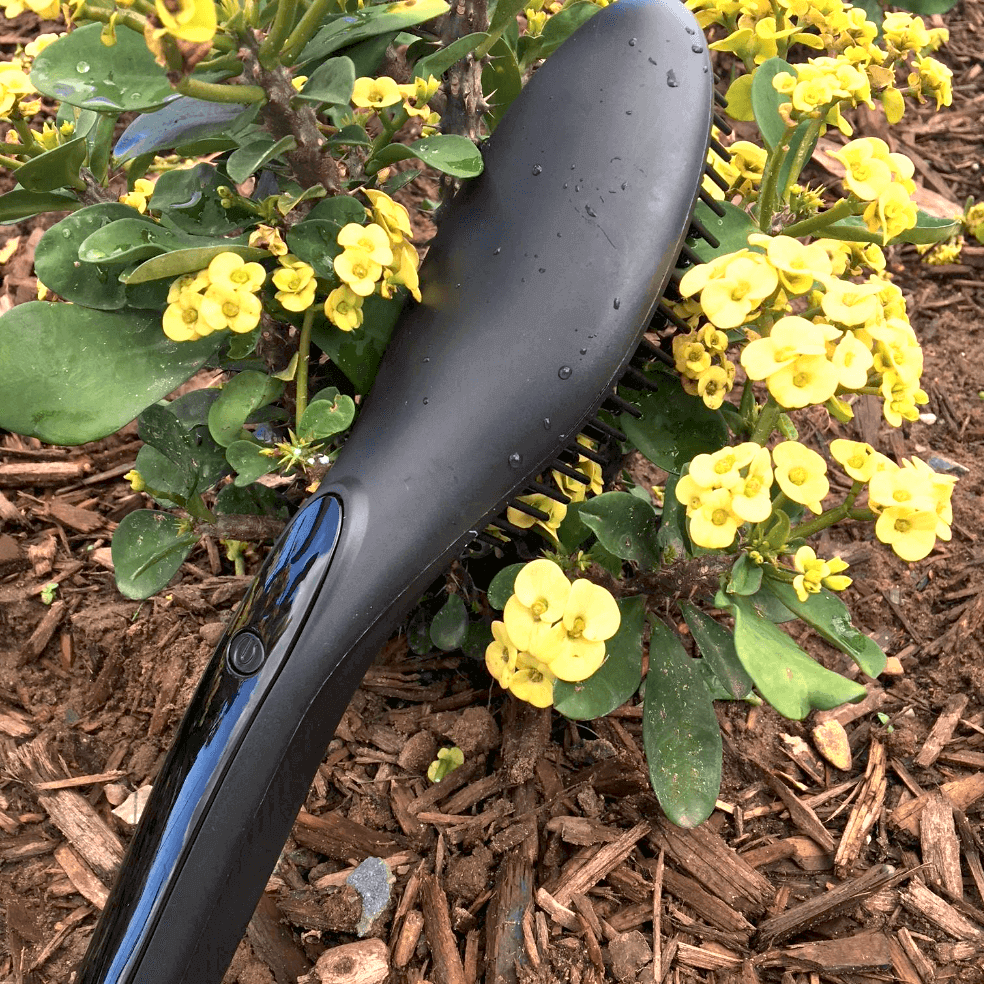 Now, I'll be honest. This was my first time trying out a straight brush from any company. The touch and feel of the product was very pleasing. It felt smooth and manageable in my hands. I was skeptic at first thinking about what results will it give me, but I'm happy to say that it left my hair very straight, smooth and silky.
All though, let's be clear that by 'straight' I mean not as wavy as it was before using the product. Depending on the type of hair you have, this product can definitely straight it, but it's not a straightening iron type of straight. It can very much straighten the volume of the hair, eliminate any fizziness and apply some pretty shine to the hair. The straightening looks a lot more natural, to say the least. Does that make sense? Hope so.
The HerStyler Straight Brush Pro is recommended to be used with their De-Tangle brushes, which comes in a variety of colors. I have one myself in purple and it's my hair's best friend when it comes to mornings and it's great to know that I can also use it with the Straight Brush Pro as well. Those not only de-tangle but they help out on smoothing the hair too.
Now that I gave an A+ to the Straight Brush Pro, let's see how well the Grande Black Curler worked for me. The fun part of this is that I get to compare it with the other product I used, the Beach Curler. But that comes later on.
The Grande Black Curler has only one barrel with a 18/25 mm size. You may think that with one barrel you can only create one type of curl, but actually, you can create two types. I'll bring that up later after explaining the features this product brings:
Clip-less Teflon

barrel. It allows you to create the perfect curl without braking




the hair. Thanks to this feature you can have

longer lasting curls

when styling. Teflon also permits the hair

not to stick

. I don't know how the hair would stick if being another type of barrel, but hey, it's good to know. Most importantly, it allows the styling to be

non-flamatory

. In other words, you

won't burn your hair

off. Remember that girl that went viral using a curling iron and she ended up burning and cutting the inch of hair? Yeah. Let's not go there.

400°F

Temperature setting.

Heats up with a flick of the

on/off

switch.

18/25mm barrel

that's made to create those endless styles.

Negative Ion Technology

(just like the straight brush) that allows you to eliminate that frizz and create a

healthy

and

smooth hairstyle

. For this particular product, knowing the you have to keep the hair tangled in the curler for a while, the Negative Ion Technology helps you to not have a

burn sensation

and it

doesn't cut

or damage your hair while using the barrel.

360° Swirl Cord

that prevents tangles or damages to the cord. Yes, just like the Straight Brush, this cord can also allow you to create those

beautiful curls

without getting yourself tangled up.

The accepted

Dual Voltage

for this product are 110-120V and 220-240V. Important when it comes to using it. Keep it in mind people, we don't want any accidents.

The glove.

As part of the packaging for this product, the glove allows you to

style

and

touch your hair

when creating curls without getting your fingers hot. Knowing that the barrel will be in a hot temperature at all times when styling, it's important to keep all hands and face not so close to the heat. Using this glove on the hand that's managing the hair, can help

reduce accidents and problems

. It's a pretty black and pink colored glove with a very thick material, so if you touch that hot barrel by accident,

you won't feel a burning sensation.

You can also use it with other hair tools as well, not just this one.
Using the Grande Black Curler, I created two types of hairstyles: Wavy and Curly.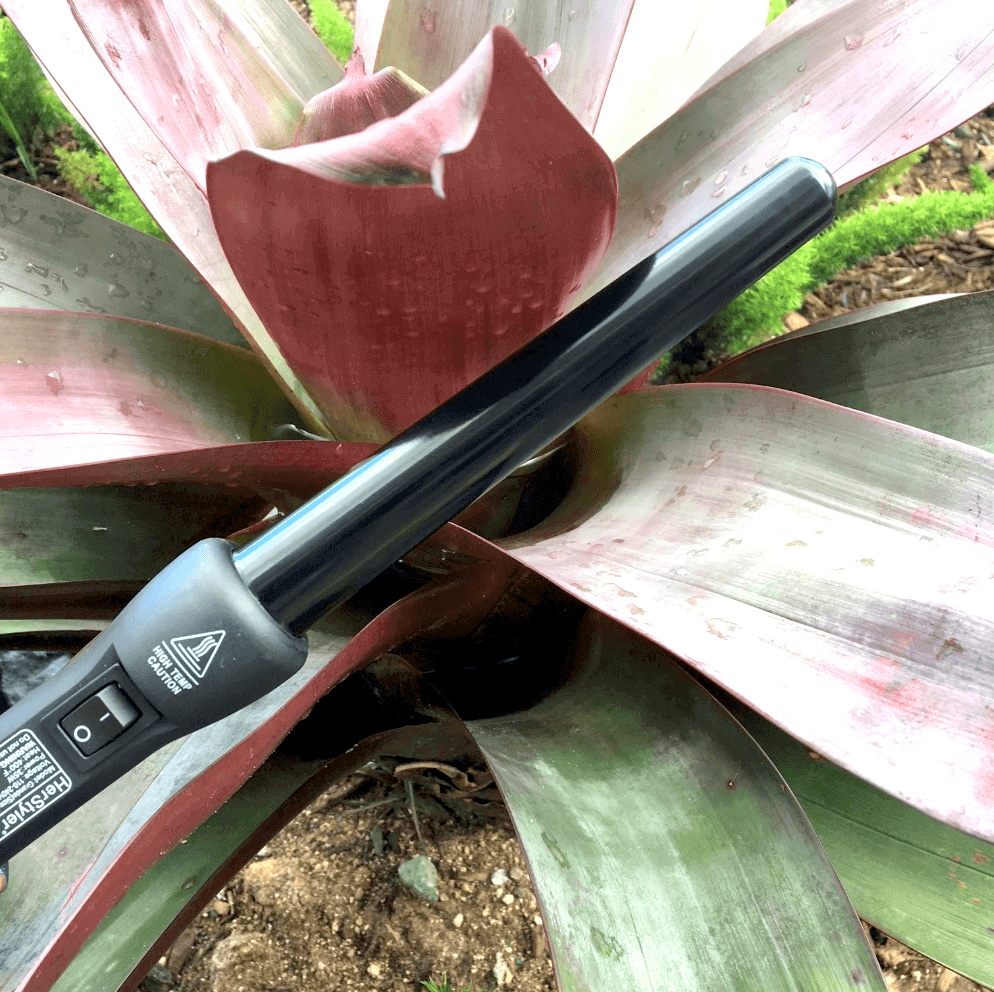 Wavy:
Managed the temperature and started dividing pieces of hair to apply the barrel.

Put on the glove on the hand that's not holding the curler.

When creating a wavy look, you will have to use a big size of hair chunk and wrap it around the barrel not too close to each other.

Wait about 5-10 seconds and let go.

Apply the same directions to rest of the hair.

Using your fingers, comb through the hair to separate those waves and give it a more laid-back look.
Of course, this is an easy-to-do style that can help bring a bit of life to your hair. Sometimes all we want is a simple hairstyle that can go well with our outfit or every day make-up. When using this curler, whether is for waves or more structured curls, HerStyler recommends a heat protector before using it and a hair serum after.
Curly:
Managed the temperature once again and started dividing pieces of hair to apply the barrel.

Put on the glove once again on the hand that's not holding the curler so it won't get hot and you'll avoid accidents.

When creating a curly look, you can use either a big chunk of hair or a smaller one, depending on the size of curls you want, and wrap it around the barrel closer to each other.

Wait about 5-10 seconds and let go.

Apply the same directions to rest of the hair to create beautiful defined curls.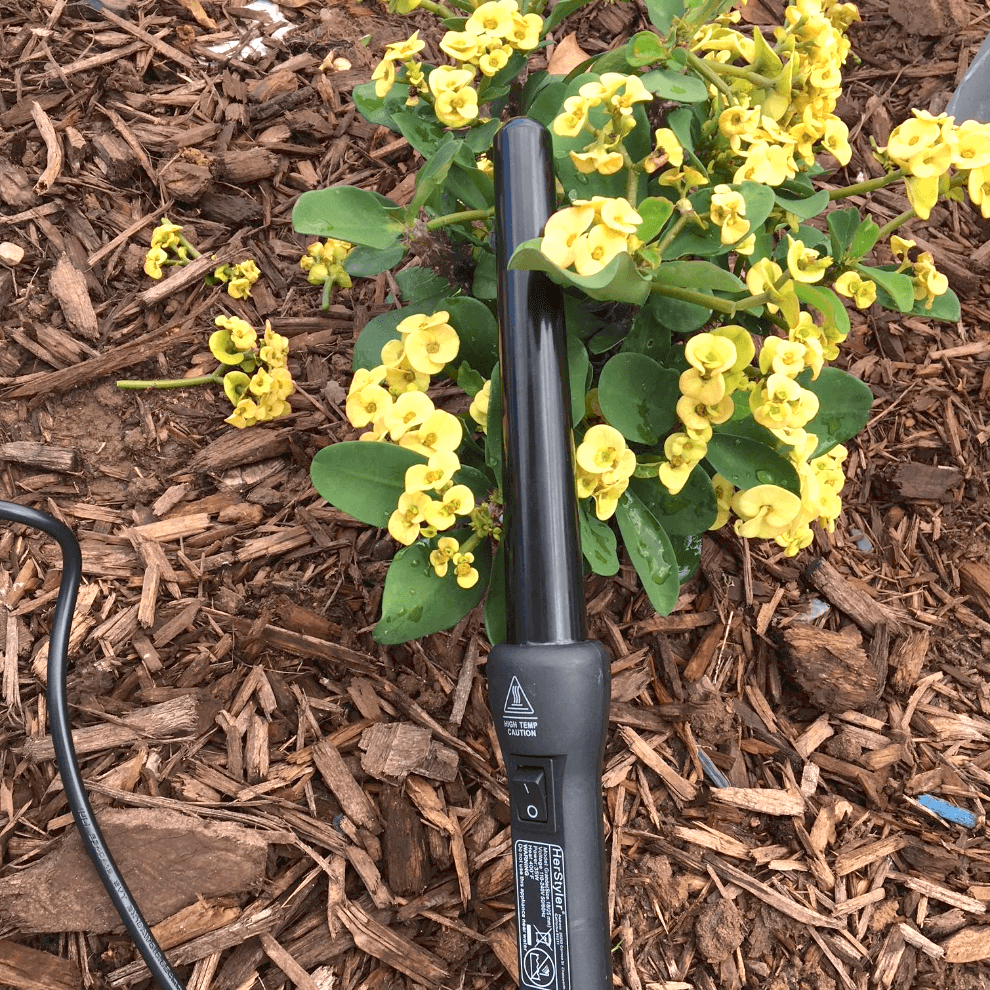 Now these steps bring out bouncy, beautiful curls. You can switch from thick curls to thin curls using the thick of barrel. It begins thin-wide at the top and it ends a lot thicker at the bottom. This helps on managing the type of curls you would want. I personally like thicker curls, because I'm not too into the thin curls, they look weird on me.
But that's just me. The thick and thin curls also depend on the type of hair you have, whether is thin hair or thick hair. I have friends for example that look great with thick curls but I have other friends who look better with thin curls. And they don't even create the curls all over their hair, just sections, which creates a more natural looking style.
The Beach Curler, on the other hand, can also give you those beautiful, day at the beach wavy hair. I mean who doesn't like a day at the beach? Beautiful sunset, glowing skin and beachy hair. In other words, the perfect day. A day where, at least the mayoralty of us, don't have to worry about how we look, what make-up to wear, our hair doesn't have to be in perfect conditions, etc. It's a day where you can relax, have some well-deserved fun and enjoy some sun.
But let's be real here, not all of us can constantly go to the beach when we want to. Work, school, among other things prevents us sometimes from having some 'me time'. And sometimes all we want is that natural-beach look and feel. So, let's not hesitate anymore because the HerStyler Beach Curler is here.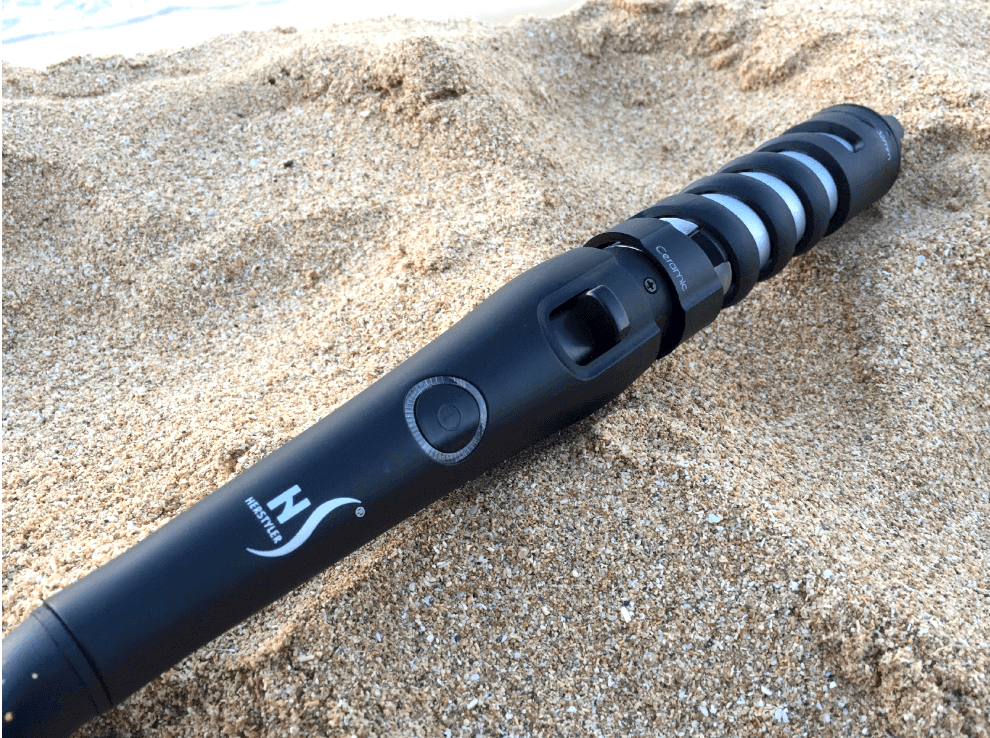 This product is not like any regular hair curler, it is quite different from the previous curler mentioned (Grande Curler Black). This product works differently and presents other types of features:
Two Barrel options:

This curler arrives with not one, but

two

different options for barrel sizes. The smallest one being

19mm

and the biggest one being

32mm

. The clip at the top allows you to switch easily from one size to the other. Just switch from left to right for a bigger size and right to left for the smaller size. This will allow you to create

two types of waves

. Its barrels are also

ceramic coated

.

Spring Clip:

Ok, this part was a little tricky so bear with me. This clip is used to help with styling the hair piece. You clip the piece of hair you want to curl and you start accommodating the hair in the spaces around the curler.  This helps the hair to stay in place and at the end ad helps you to

style comfortably

.

356°F Temperature:

A little hotter than the Straight Brush Pro but a bit less than the Grande Curler Black.

On/Off Button:

Fun fact about this is that the color indicator of the light is

blue

, not red. Maybe representing the Ocean blue color?

Negative Ion Technology:

Once again, we find ourselves with this great feature. Like I said before, this

helps with frizzy and sooths

the hair while applying the hair tool.

Long 360° Swivel Cord:

Let's prevent accidents, shall we?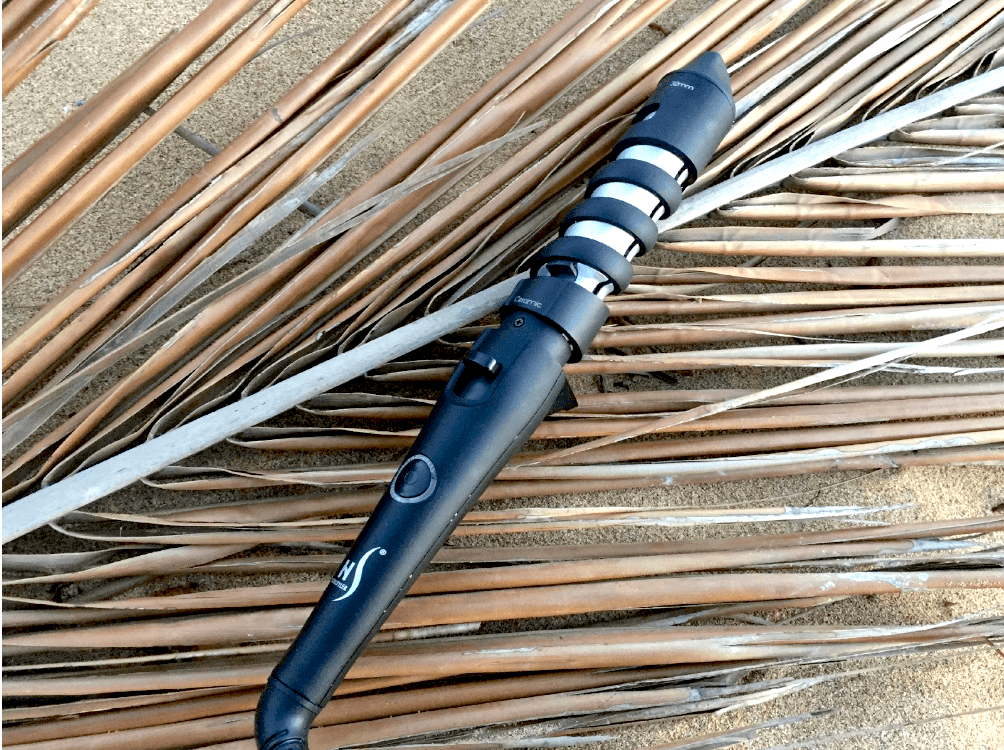 Now, using this product was a bit difficult the first time, I'm not going to lie. But, after a bit of practice, I got better at it:
Turned on the curler and waited a couple of seconds for it to heat. Heated up pretty fast and applied a hair protecting cream as recommended.

Divided chunks of hair.

Used the bigger sized barrel (32mm)

Clipped-on the hair and placed it around the barrel in the spaces where you see the ceramic barrel.

Wait about 5-10 seconds and let go.

Applied some serum afterwards as recommended.
Yup, I looked like I just came home from the beach. Or a photoshoot at the beach maybe. It truly made a difference in my hair. The waves were a lot more natural looking and didn't look like I spent too much time on them. A great way to pull off that natural-looking wave. Don't get me wrong, all three products worked wonders. Each presenting its own individual results and they can also be used together or separately.