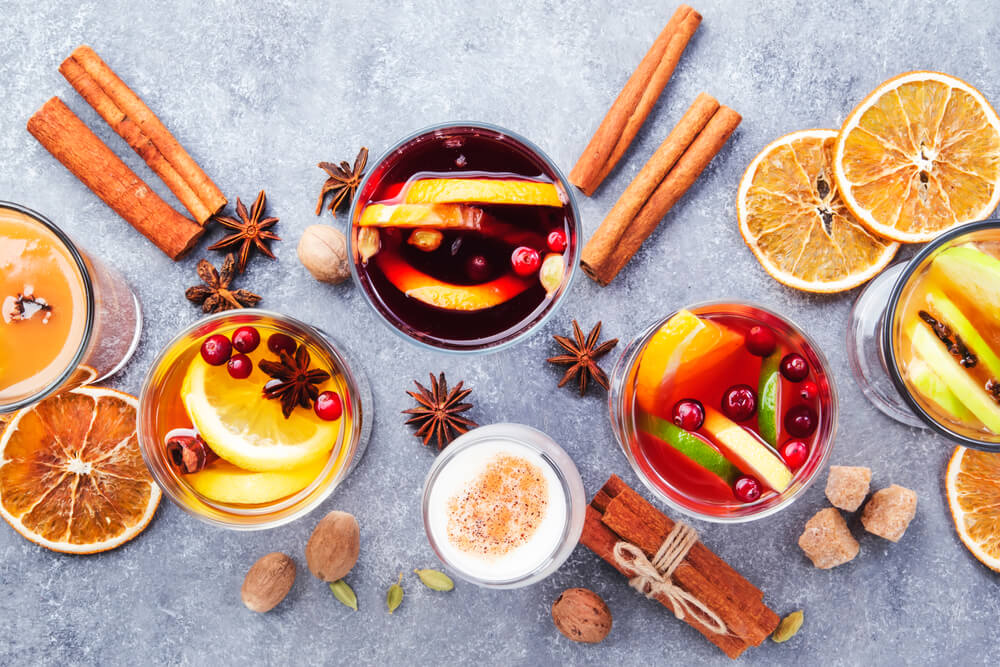 Drinks are usually a big part of festive celebrations, but all of that alcohol and sugar can make for a very uncomfortable hangover the next day.
If you would like to skip the headache while still guzzling down lots of holiday cheer, these 12 winter mocktails are not only alcohol-free, but they are also much healthier than many of the more common alternatives too!
Non-Alcoholic Winter Sangria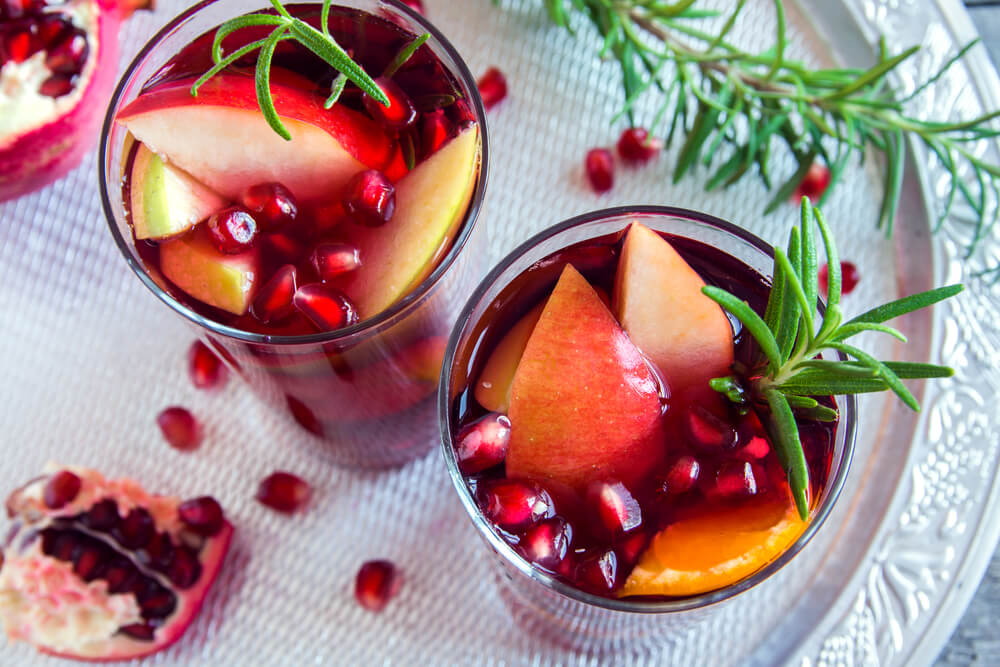 Sangria, otherwise known as a Spanish punch, is always a refreshing drink, packed with a tangy selection of fresh fruits that give the beverage a healthy twist.
Although usually made with wine, there are plenty of non-alcoholic recipes out there to pick from, such as this one…
What You'll Need:
2 cups boiling water

2 black tea bags

2 cinnamon sticks

1/2 cup cane sugar

3 cups pomegranate juice

1 cup orange or apple juice

1 sliced orange

1 sliced lemon

1 sliced lime

1 sliced apple

1/2 cup pomegranate seeds

2 sprigs fresh rosemary

3 cups sparkling water
Instructions:
Steep the tea bags and cinnamon sticks in the boiling water for 10 minutes

Remove tea bags and stir in sugar

Combine all ingredients, apart from the sparkling water, into a large jug

Refrigerate for at least an hour

Mix in the sparkling water immediately before serving, and then top with some ice
Where to Buy a Pre-Made Non-Alcoholic Winter Sangria
If you would prefer to buy the finished version, check out the Williams Sonoma Sangria Cocktail Mix – all you need to do is blend it with some sparkling water.
Alternatively, go for the Welch's Sangria Sparkling Juice Cocktail – you should find it at your local Walmart!
Elderberry Fizz
With this being flu season (although, let's face it, Covid-19 made 2020 a "flu" year), elderberry is an ingredient that you definitely want to be consuming more of.
Why?
Because it's one of the most effective antioxidant sources out there, boosting the immune system and protecting the body from the flu and other illnesses. This recipe turns that magical ingredient into a delicious sparkling drink.
What You'll Need:
1/4 cup elderberry syrup (or 100% elderberry juice if you want to avoid a sugar-laden syrup)

1/2 lime, sliced

Sparkling water
Instructions:
Split the elderberry syrup into two glasses

Squeeze some lime over the top, and then fill with sparkling water

Use the extra lime slices as a garnish. Feel free to also add other fruit slices as an additional garnish for an extra fruity twist
Mulled Apple Juice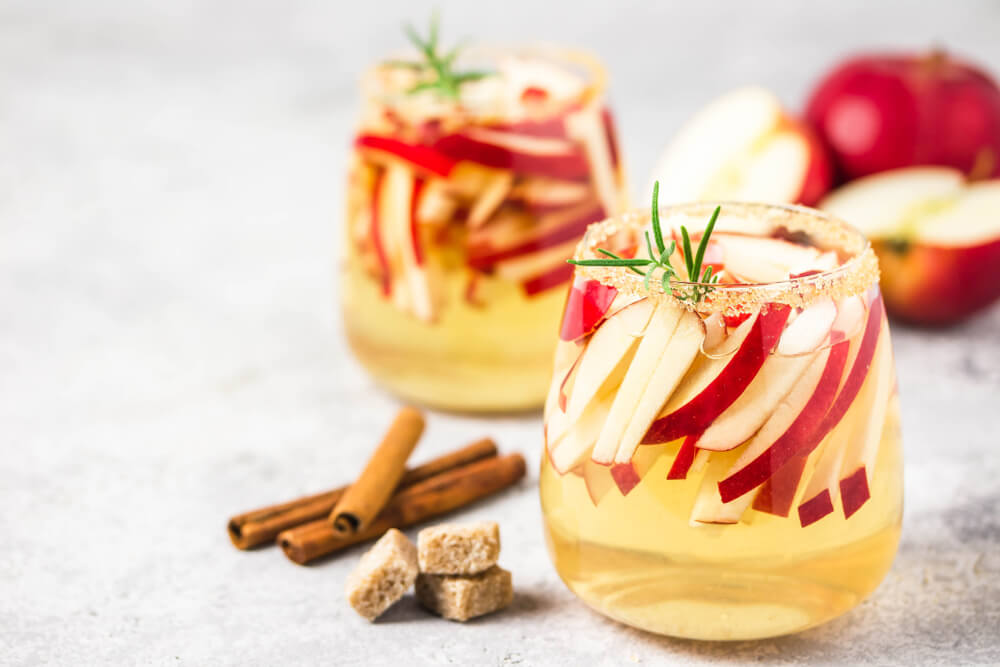 If mulled cider is your traditional winter drink of choice, this alcohol-free version is a great alternative. It makes use of apple juice instead, and while it may lack that kick that proper cider gives it, it's still fruity, warming, and totally perfect for the festive season.
What You'll Need:
2 cups apple juice

1 orange, quartered

2 apples, sliced

12 cloves

2 cardamom pods

1 tsp honey

2 cinnamon sticks

Grated nutmeg

2 sprigs of fresh rosemary

Sugar or honey – to taste
Instructions:
Add the apple juice to a pan, along with some juice from your orange segments

Insert the cloves into your orange segments and add to the pan

Add all the other ingredients to the pan, apart from the nutmeg. Taste, and add some sugar or honey if needed

Heat through and then serve, topping with some grated nutmeg
Prefer mulled wine to mulled cider?
If so, swap the apple juice for some grape juice, or even some alcohol-free red wine.
Where to Buy Pre-Made Mulled Apple Juice
Check your local orchards for fresh mulled apple juice. Even if they're not quite local, chances are that delivery is available.
For example, those in England should try the Cornish Orchards Mulled Apple Juice – it's fresh, zesty, and has a touch of orange for some extra zing.
Blueberry Lavender Non-Alcoholic Mojito
It's not just the rum that makes a mojito so satisfying – it's that refreshing tangy minty taste that keeps you coming back for more.
Well, that's easy to replicate without the use of alcohol, but try turning things up a notch by adding in a few extra antioxidant-rich ingredients instead. Blueberries are classed as a superfood because they contain so many beneficial compounds, while lavender improves digestion and helps with anxiety, depression, and insomnia.
What You'll Need:
3 tbl lavender simple syrup (this is something that you can pre-make)

12-15 mint leaves

3 slices of lime

1/4 cup frozen blueberries

Handful of ice

Sparkling water
Instructions:
Add the lavender syrup, blueberries, mint, and lime into a tall glass

Mash these up with a wooden spoon or a cocktail muddler

Add some ice and sparkling water

Gently stir and top with a few mint leaves and blueberries
Non-Alcoholic Holiday Eggnog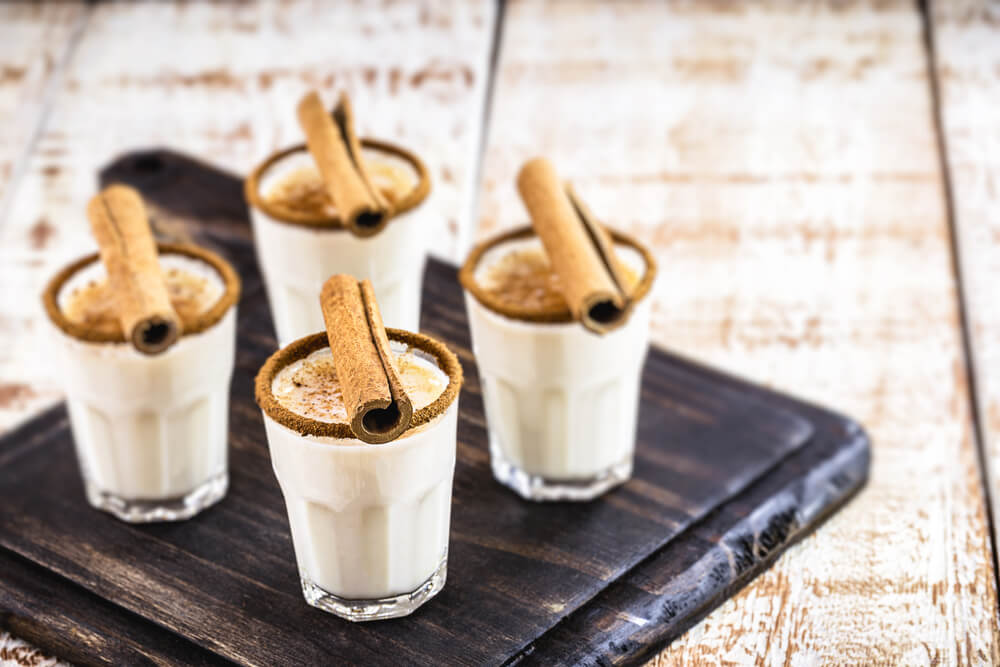 The holidays wouldn't be quite the same without a cup of eggnog, but, with a 20% alcohol content, this is a drink that many end up missing out on. It also doesn't help that traditional eggnog recipes are laden with heavy cream, which you definitely don't want to be drinking in copious amounts if you're calorie counting.
Don't worry, you can still join in the eggnog fun too with this healthy, non-alcoholic recipe.
What You'll Need:
3 cups milk

4 cinnamon sticks

1/8 tsp ground cloves

1/4 tsp cinnamon

1 tsp vanilla extract

1/2 tsp nutmeg

6 free range egg yolks

1/3 cup honey
Instructions:
In a saucepan, whisk together the eggs, honey, and milk

Gently cook mixture over medium heat, continuously whisking, until it thickens enough to coat the whisk

Remove from heat and leave to cool

Mix in the spices and vanilla

Refrigerate for a few hours

Whisk again before serving, adding a garnish of powdered cinnamon and cinnamon sticks
Where to Buy Pre-Made Eggnog
There are loads of places that sell eggnog, but one of the best is the Califia Farms Almond Milk Holiday Nog. That's right, it's vegan, but you wouldn't even be able to tell!
Alternatively, go for the Organic Valley Eggnog. As you can tell from its name, all ingredients are organic, as well as fair trade and sustainable. Plus, the nog tastes great too!
Ginger Fennel Digestif
A digestif is a drink that's consumed either before or after a meal, for the purpose of aiding digestion. While a digestif usually contains alcohol, this isn't a must, especially if your digestif also contains the digestion-enhancing properties of both ginger and fennel.
What You'll Need:
2 cups apple juice

2 tbl fresh minced ginger

2 star anise pods

2 tbl whole fennel seeds

3-inch piece of orange rind

1 hibiscus tea bag

1/2 tsp turmeric powder

1/8 tsp black pepper
Instructions:
Place all of the ingredients into a small saucepan and gently simmer over a low heat for about 20 minutes

Once the liquid reduces to about one and a half cups-worth, remove from heat and leave to cool

Strain into a bottle and serve at room temperature
Spiced Tangerine Soda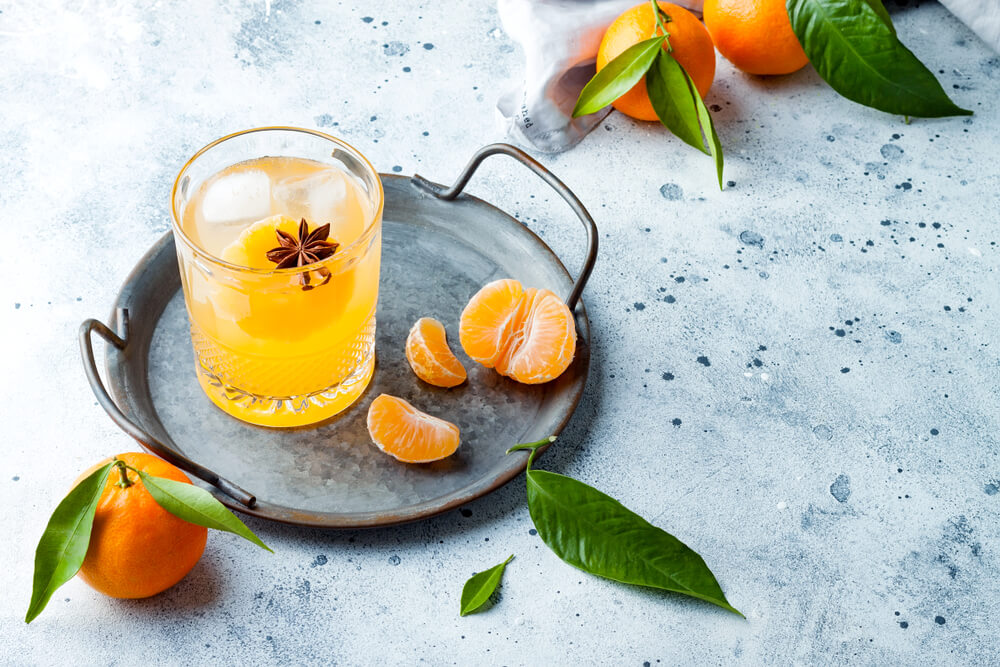 Inspired by the festive season, this mocktail looks fresh and bright, and that's exactly what it happens to taste like too.
You can incorporate a variety of fruits into it, using whatever you may have lying around your kitchen. However, there's nothing quite like pure tangerine juice to give you your daily dose of vitamin C.
What You'll Need:
2 tbl spiced simple syrup (you can pre-make this yourself)

4-6 ounces fresh tangerine juice

1 tangerine, separated into segments

Club soda

Cinnamon stick

Handful of ice
Instructions:
Mix together the simple syrup and the juice

Add ice and club soda

Garnish with tangerine segments and cinnamon stick
Strawberry Mango Kombucha Mocktail
Just about everyone knows about the benefits of kombucha now. Even if you aren't making your own at home, you've probably tried it at some point.
If you're a kombucha fan, then this mocktail will really appeal to you. You can use either store-bought or homemade kombucha, although the homemade version will likely give you a better health boost.
Even better, this mocktail recipe is super-easy. So long as you have some kombucha to hand, you can whip it up in no time at all for unexpected guests.
What You'll Need:
16 ounces kombucha

2 cups mango juice

1.5 cups fresh chopped mango

2 cups fresh chopped strawberries
Instructions:
Mix all ingredients together in a large pitcher

Serve over ice
Alternatively, give all of the ingredients a quick blitz in a blender first to break up the fruit and add some extra zing to this mocktail's flavor.
Where to Buy Kombucha
Wondering where to buy some good 'booch?
The Wild Kombucha from Mobtown Fermentation has some bold grapefruit, apple, lime, and ginger flavors. Alternatively, go for a classic lemon ginger kombucha from Health-Ade Organic.
Non-Alcoholic Moscow Mule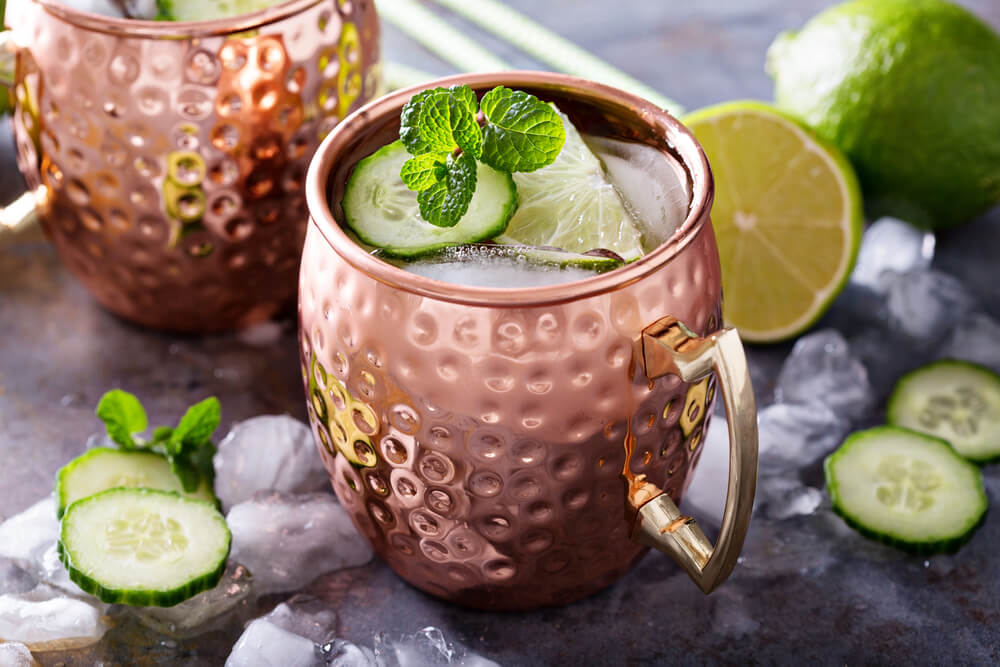 Crisp, tangy, and slightly spicy, the Moscow Mule is a classic drink that lends itself well to every season of the year. This drink has a distinct flavor that comes through even without any alcohol being used, making it the perfect holiday mocktail.
What You'll Need:
1 lime

1 tbl simple syrup

1/4 cup club soda

5 mint leaves

3/4 cup non-alcoholic ginger beer

Handful of crushed ice
Instructions:
Squeeze about two tablespoons of juice from the lime into a cup

Add the simple syrup and club soda

Add the mint leaves

Fill halfway with crushed ice

Pour in the ginger beer

Place mint leaves and a wedge of lime over the top as a garnish before serving
The Sundowner
There are actually several versions of the classic Sundowner cocktail out there, featuring everything from triple sec to grand marnier to cognac.
A virgin Sundowner looks pretty similar, and tastes somewhat like sparkling wine, although with a more refreshing vibe.
What You'll Need:
4 ounces white grape juice

2 ounces sparkling water

Fresh mint sprigs

Handful of ice
Instructions:
Place the ice into a wine glass

Add in the juice and water and stir well

Top with a mint sprig before serving
Virgin Mary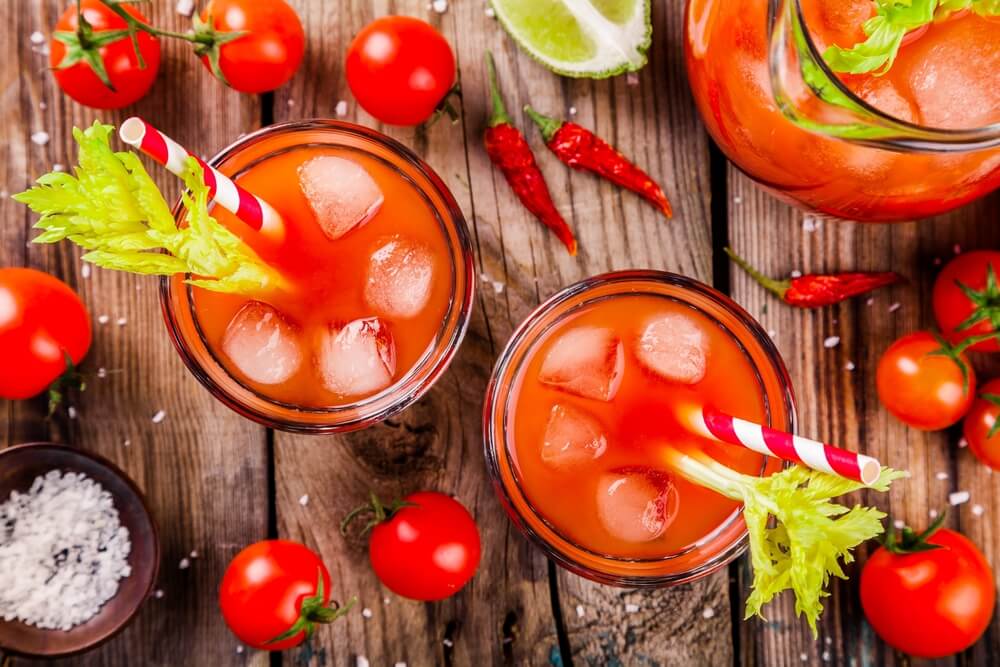 Love the spicy, savory, and tangy flavors of a traditional Bloody Mary?
You can still achieve that with a Virgin Mary – simply omit the vodka when making the drink. It's still flavorful and packed with goodness from all of that tomato juice, making it a great mocktail for holiday parties.
What You'll Need:
3 ounces tomato juice

1/2 ounce lemon juice

Worcestershire sauce

1 tsp celery salt

Fresh black pepper

1/2 tsp Tabasco sauce

1 celery stalk

Handful of ice cubes
Instructions:
Place the ice cubes into a tall glass and add the tomato and lemon juices, mixing well

Add in the rest of the ingredients, adjusting the amount of Worcestershire sauce and Tabasco sauce you add to suit your personal tastes

Garnish with the celery stalk and serve
Just like with a traditional Bloody Mary, you could also serve this with some skewered pickles as a garnish, or even olives.
Cucumber Kiwi Fruit Cooler
Many of the winter mocktails out there can be quite heavily spiced. If you would prefer the opposite of that, meaning light, fresh, and fabulously fruity, then this fruit cooler is it.
It actually contains a large number of fruits, easily contributing to your five a day. The high fruit content also gives it a natural sweetness, saving you from having to add in any extra sugar or honey.
What You'll Need:
2 cucumbers, chopped and de-seeded

2 cups green grapes

3 kiwis, peeled

20 sprigs fresh mint

Fresh juice from 2 limes

1 cup of water

Handful of ice

Garnishes – a mix of the following: lime wedges, sliced kiwi, sliced cucumber, mint sprigs, frozen green grapes
Instructions:
Place the cucumbers, fruit, and water into a blender and blitz until smooth

Pour through a fine-mesh strainer, squeezing the pulp to extract every bit of juice

Refrigerate the juice for at least an hour

To serve, fill a glass with ice and pour in the juice

Add your garnishes and serve
If this recipe doesn't quite satisfy your sweet tooth, feel free to add in a small amount of honey, agave, or light brown sugar.
You don't need alcohol to create a deliciously festive winter drink! Whether you're looking for something cool, light, and refreshing, or want a heavier, warmer, and spicier winter beverage, these mocktails are sure to be crowd-pleasers!