Now that the summer is here and the sun is shining, outdoor party season has arrived! Sometimes BBQs can get a little boring, so to switch things up a bit invite your friends for a lovely day in the garden! A little bit classier than your standard BBQ or pool party, garden parties are a great way to catch up with friends and show off your décor skills! So, here's everything you need to throw the party of the year!
Space
Of course, the first thing you need is a place to throw it! While obviously a garden or green space is ideal, you can make use of whatever space you have, regardless of size or greenery! Get a ton of fresh flowers and put them in mason jars or clear glass bottles to create a fun outdoor farmy feel, and no one will even notice a lack of gardens!
Lights
Lights or hanging decorations are my personal favorite part of any garden party. When the sun goes down, string lights or hanging lanterns will set the dream-like atmosphere and highlight your whole set up.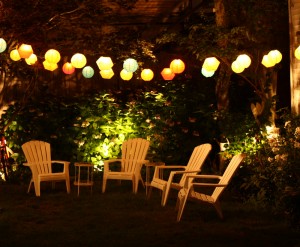 Seating
Wrought iron tables and chairs will always look the best in my mind, but Muskoka chairs and picnic tables that are decorated with some cute tablecloths will do just as well! If you don't want to go overboard, work with what you have by adding sweet bows and some floral or lace tablecloths to any existing outdoor furniture you have.
Food and Drinks
No garden party is complete without some good snacks and food! Have a display of cucumber sandwiches and mix together a refreshing sangria or punch for your guests to enjoy as they mingle. A nice and easy snack to put together is a twist on the standard veggies and dip: fill the bottom of some clear plastic champagne-style cups, or any plastic cup with a stem, with French onion dip and put carrots and celery sticks in them to make snacking easier.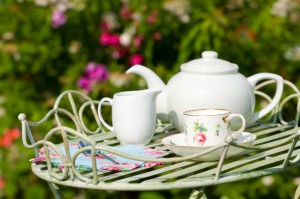 Theme
To really make your garden party memorable, get inspired by the past. Garden parties are such an antiquated thing that you might as well just go with it and make it themed! The Great Gatsby is always a crowd-pleasing theme, or a Jane Austen inspired Regency-era garden party complete with tea and mini cakes! Asks your friends to dress up a little (just the excuse your girlfriends will need to break out fanciest summer dress), and set the mood with themed décor!