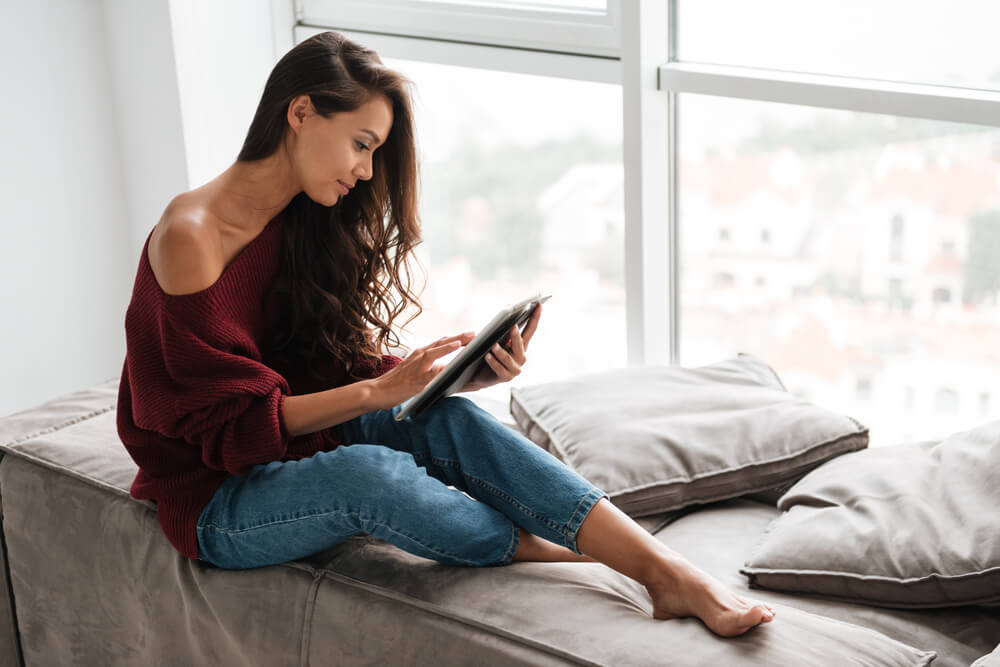 As much as we love the feel of crunchy leaves underfoot and the smell of a crisp winter morning, shivering uncontrollably in our boots has the ability to instantly ruin our day! Fortunately for you, that won't be a problem this winter. We've searched high and low to bring you a list of must-have sweaters for the season ahead. Each one is guaranteed to make you look and feel incredible, whilst also keeping you toasty warm!
A White Turtle Neck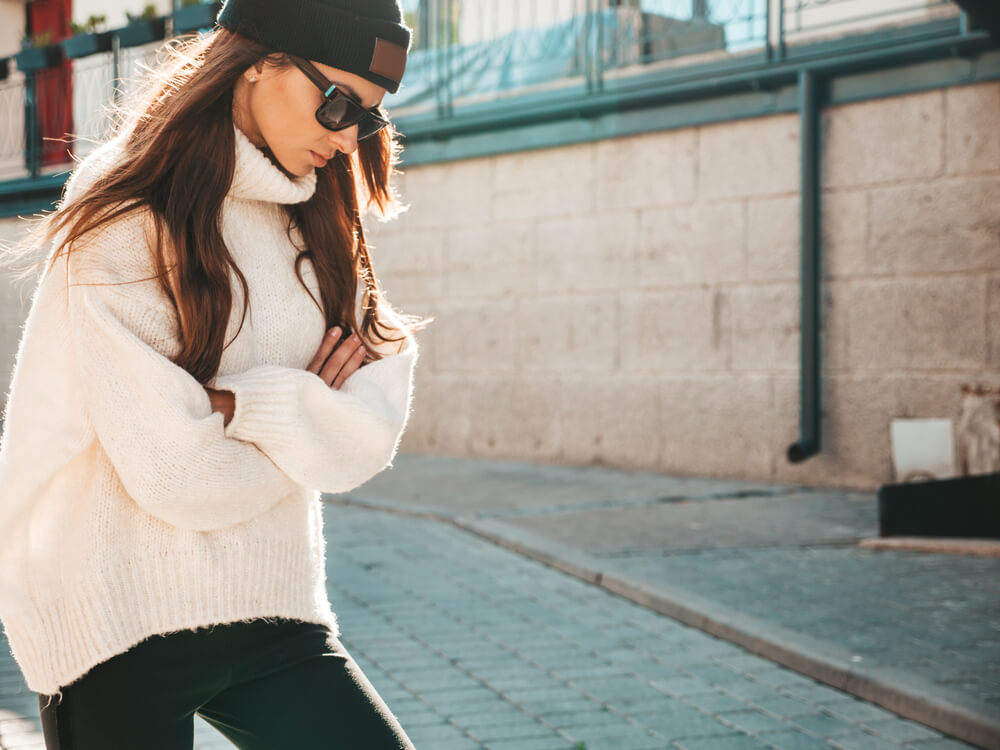 We're seriously excited for the first snow, and, we fully intend to be ready for its arrival this year! One thing we love so much about this frosty weather is the way it makes everything outside look so gorgeous. There's nothing like a blanket of crisp white flakes covering the landscape to put you in a festive mood for the season ahead.
With that in mind, we think every woman needs a white sweater in her closet. Not only is it beautifully seasonal, but it'll also go with practically every skirt, dress, and pair of pants that you own! Additionally, its neutral shade looks as amazing with jeans as it will with printed items such as floral midi skirts,
Those in search of their very own oversized white sweater will adore the Milo pullover by Free People. We're obsessed with its slouchy silhouette, high neckline, and soft, fuzzy finish. It even has cuffed sleeves adding a stylish finish to the oversized blouson sleeves. 
A Chunky Knitted Burgundy Sweater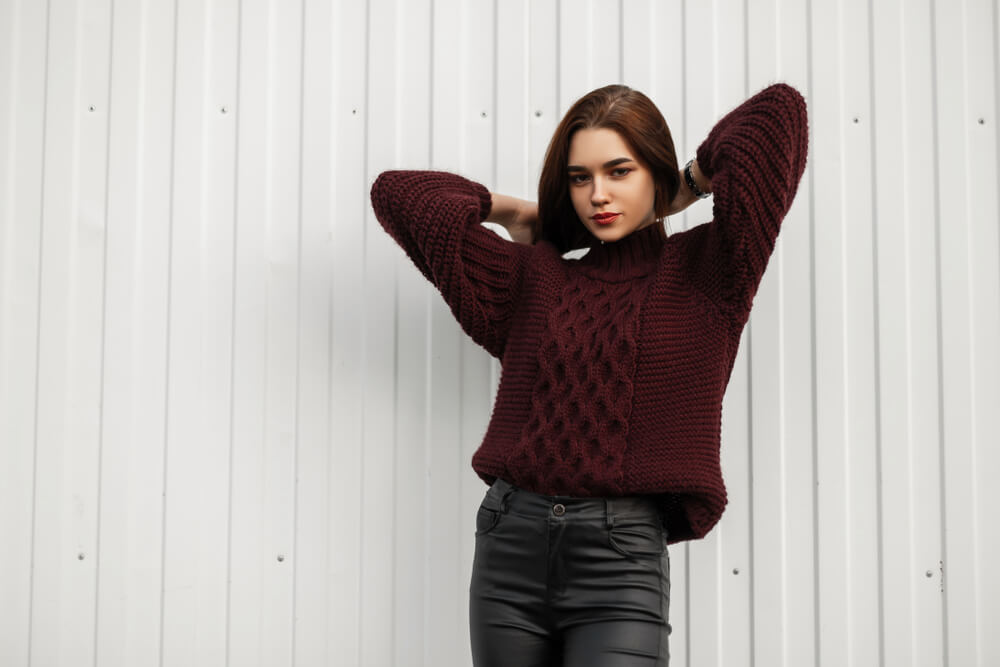 Speaking of seasonal colors, no autumn/winter closet will be complete without a beautiful burgundy sweater. It's perfect for the festive season but also gives a not so subtle nod to the autumnal shades around us! From mulled wine to fallen leaves, a sweater in this shade will become your new favorite to pair with black or blue jeans.
Aside from it looking great with the other items in your autumn/winter clothing rotation, this shade is also perfect for matching with makeup colors at this time of year. Fish out those palettes you've been saving as now is the time to use them! Slip into your burgundy sweater and match it will similar color lipstick. This trick will instantly take your oversized sweater look from day to night. 
That's right, where some sweaters only seem appropriate for daytime wear, knitwear in this color looks dressy enough to wear for evening commitments too!
A Chunky Knitted Cardigan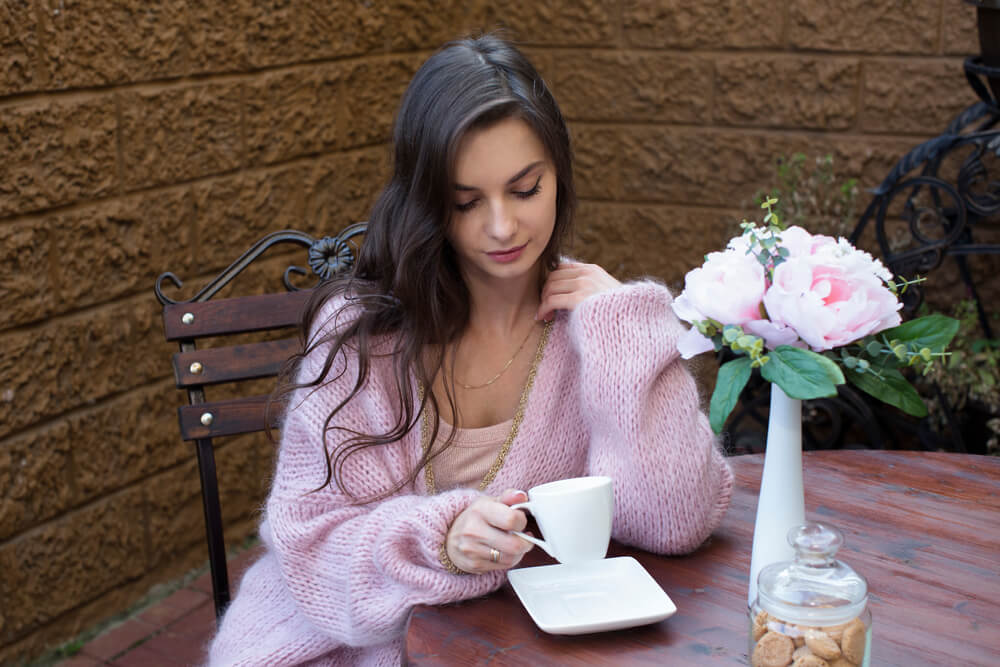 Okay, so it's not technically a sweater but we just couldn't resist recommending a cardigan for your new season line up! Whereas short sleeves and thinner materials make a great addition to a sundress at the end of summer/start of fall, once the cold weather creeps in, we're all about long, oversized, chunky knit cardigans!
Why?
We have so many answers!
Firstly these cardigans are incredibly versatile. Wear them over a simple jeans and t-shirt look, over a dress, or as an addition to a skirt and top. 
Secondly, they quickly add an extra layer of warmth. When you're wearing a coat over an outfit but you're still a little chilly, simply slip on a long chunky cardigan and you'll warm up in no time. 
Thirdly, unlike slipping into a sweater that conceals whatever top or dress you're wearing, oversized cardigans give you that extra warm layer without undoing all of your hard work. After all, who wants to put in all of that time and effort deciding on their outfit only to cover it up at the first sign of a cool breeze? Not us! So, get your hands on something like the long cable-knit wool cardigan by I Love Mr. Mittens, for a snuggly winter ahead.
A Deep Blue Chunky Knitted Sweater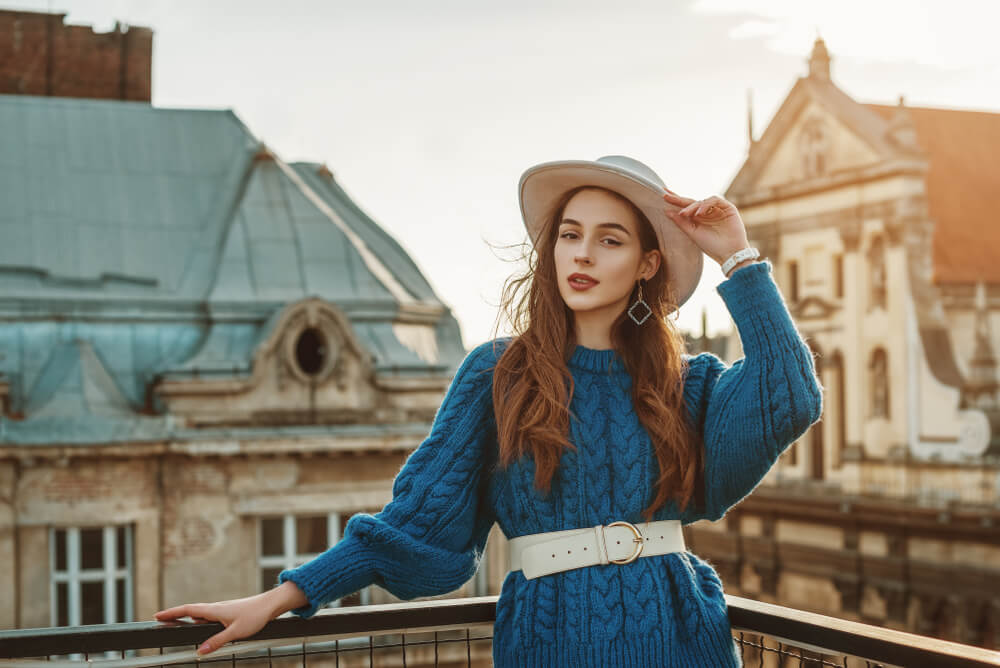 Another shade we highly recommend for this time of year is blue! Whether you prefer lighter icy blues or deeper, more luxurious ones, you can't go wrong with this color during the winter months. 
Now, we adore blue sweaters in whichever shade they come, that said, we do have a soft spot for deeper hues. Maybe it's because they seem to go with so many more items in our closet? Perhaps it's just their irresistibly sumptuous depth? Either way, there's just something about this color that, for us, screams winter! 
Not to mention, this color sets off perfectly when you wear it with a striking red lip or red scarf. Alternatively, why not wear yours with blue jeans? We guarantee you'll fall quickly in love with the varying mix of blue on blue.
A Soft Yellow Sweater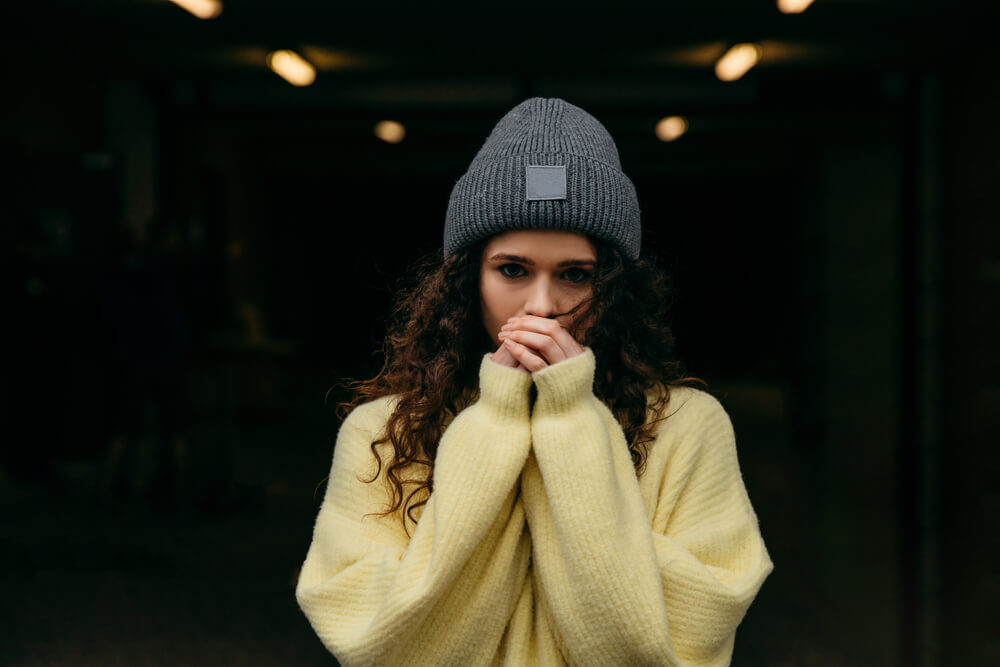 Just because winter arrives doesn't mean you have to say goodbye to summer style entirely. Alright, so we're not exactly suggesting you keep your yellow sundresses in the mix, it's freezing outside! What we do suggest, is that you inject some of the colors you'd usually associate with warmer weather into your closet. Yes, even when it's below freezing!
Will yellow really work this time of year?
We're so glad you asked…
The answer is, without a doubt, yes! As soon as October arrives, most of us resign ourselves to months of muted colors and banish the pastel and neon shades of months passed to the back of the closet. Well, we're here to explain just why that needn't be the case. 
By working in some brighter colors, such as yellow, you'll give an instant lift and a fresh pop of color to any winter outfit you put together. Not only that, but you'll also be making a style statement. When the majority of people around you are only rocking black, navy, and brown for the foreseeable, you'll stand out instantly. 
A Festive Red Sweater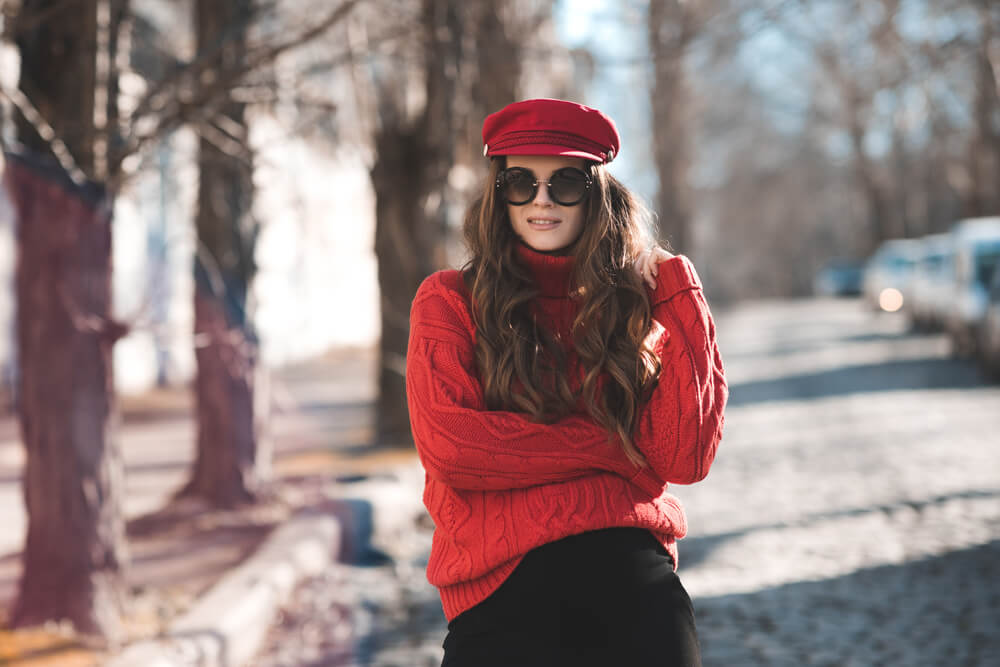 Well, we covered burgundy, now it's time to talk about red oversized sweaters. It's no secret that with winter, comes Christmas! We're all thinking it and for many of us, it's the only thing we actually like about darker mornings and earlier sunsets.
As we all know, the festive season may be looking a little different this year. That said, it doesn't mean we can't still celebrate and look incredibly cute whilst doing so!
So, as we move quickly closer to December 25th, you might want to think about adding a gorgeous, red, oversized sweater to your lineup. Wear it any day of the week and you'll feel instantly in the Christmassy spirit. Alternatively, if you don't celebrate Christmas, this sweater is still perfect for this season. It's a color that suits practically everybody, plus, it'll look amazing against all of the darker colors currently in your wardrobe!
A Simple Beige Sweater 
When it comes to staple pieces in your closet, few are more important in the winter months than an oversized, beige sweater!
Wondering how it could be so vital?
Keep reading…
If you ask us, beige sweaters are the eternal solution for the statement, "I have nothing to wear!". Trust us, if you have a beige sweater, you always have something to wear. 
Why? Beige is a totally chic color that matches with practically every other color out there. Styling it simply with your favorite skinny jeans and a pair of ankle boots results in an effortlessly chic ensemble. Throwing it over a floral dress and army boots has the same result. 
Whatever you style a beige sweater with is instantly elevated the moment you put it on. Therefore, we really recommend investing in one if you haven't already. And don't be afraid to allocate a little more of your budget for an item like this either. After all, it's neutral shade will mean you can wear it on repeat, plus it'll never go out of style. 
With all of this in mind, make sure you purchase one that'll last such as the high collar knit sweater by Zara, because once you fall in love with it (and you will fall in love with it) you'll wonder how you ever lived without!
A Cute Pom Pom Sweater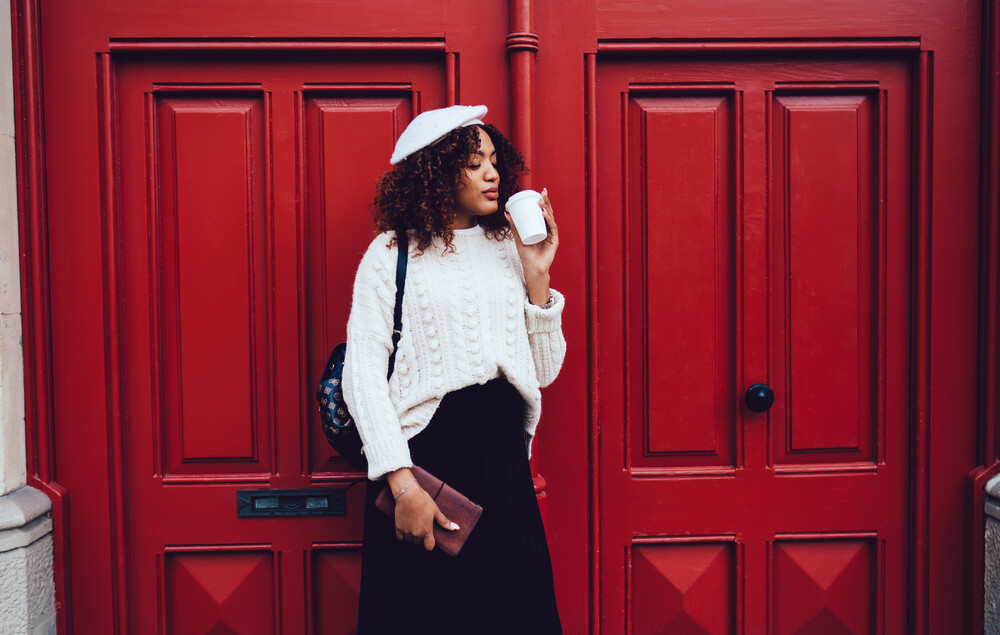 Taking a break from staple items, we also want to make sure our winter closets are full of fun and personality. To that end, there's nothing prettier or cuter than a pom-pom sweater! 
If this sounds like your idea of heaven, you're not alone. Many designers and online stores have hopped aboard the pom-pom train in recent years meaning there's plenty of styles to choose from when it comes to finding your dream, oversized sweater! 
We scoured the net to find the best out there and had a hard time narrowing it down to give you our recommendation. However, we did manage to choose and think if you only purchase one pom-pom sweater this season (we honestly won't blame you for investing in a whole collection of them!), it should be the Clora pom-pom sweater by Goodnight Macaroon. 
This beautiful sweater comes in four irresistible colors, red, pink, sand, and gray. Your only issue will be deciding to add one to your cart, or all four!
A Chunky Grey Zip Up Sweater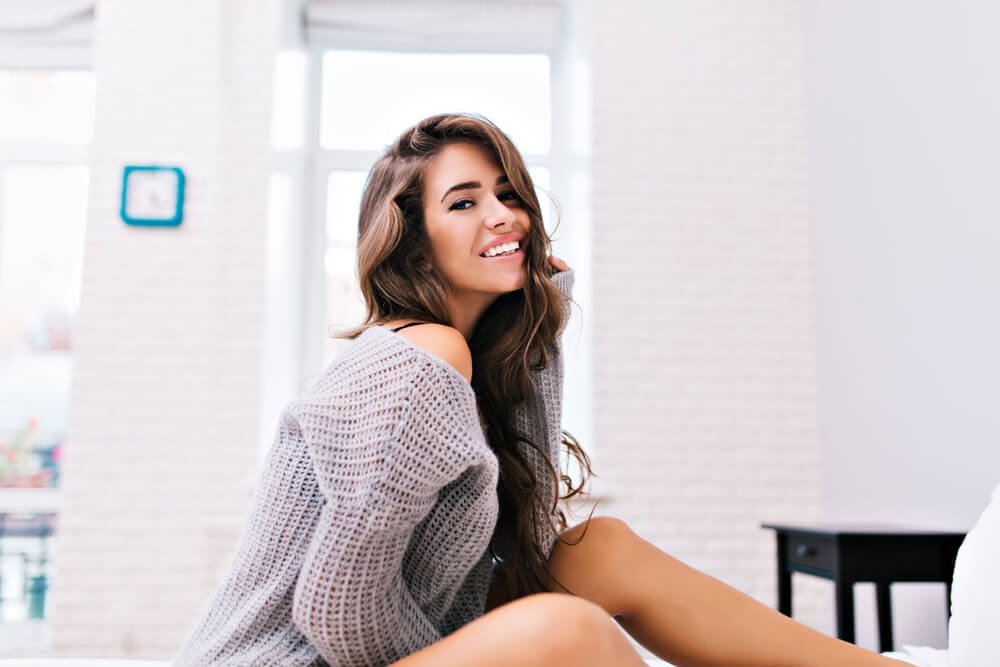 When it comes to off-duty looks in colder weather, few outfits are chicer and more comfortable than skinny jeans, flat boots or sneakers, and a cozy pullover sweater. For that reason, we decided very early on to add a grey zip-up sweater to our list of must-haves. 
Will a zip-up suit you, you ask?
Absolutely!
Most of us are familiar with round, V, and turtle necklines. However, when it comes to zip up ones, we tend to air on the side of caution. Maybe we think it won't suit us, or, maybe we think it just looks too casual. Well, we're here to tell you that chunky, oversized, zip-up sweaters are totally chic. And, that's especially true when they're constructed from beautiful grey wool.
Much like beige and white-colored sweaters, grey designs are a must for every woman's closet. It's another incredibly versatile shade that looks gorgeous with both bright and muted hues, plus, it has amazing repeat wear value! You'll be reaching for this one repeatedly until February we guarantee.
Haven't found the one you like yet? We have you covered with the drop shoulder zipper front sweater by Shein. Tuck this in at the front of your pants (or a skirt) and let its oversized fit steal focus!
A Super Chunky Knitted Sweater
We know this entire list is for oversized, chunky knitted sweaters. However, if you really want to take things up a notch when embracing this style, or you live in a particularly frosty climate, super chunky knitted sweaters are the way to go. 
Now, you may not be able to tuck these sweaters into your waistband exactly but that's absolutely fine. The whole point and the whole style of these sweaters is to let them hang loose. This way you can really see the way they have been crafted whilst giving your outfit a totally laid-back and unquestionably stylish vibe. 
A Sweater You Can Add Belts To
As you may have noticed, the thing about oversized sweaters (the ones that aren't cropped), is that you'll have a hard time tucking them into your waistband whether you're wearing a skirt or pants. Even trying the old 'fold it under and tuck it into your bra strap' trick, is unlikely to work with such volume!
This often means that many of us steer clear of oversized sweaters for fear they'll drown us out. After all, when you can't tuck your sweater in you lose all waist definition, right? Wrong!
How can I still ensure my silhouette's defined, you ask?
Let us explain!
It's very simple really, when shopping for oversized sweaters, simply make sure you're buying shapes and styles that are long enough to take a belt! This way, you can wear your sweater over the other pieces you've selected for your outfit, then cinch it all in with a belt. 
This will not only add definition to your figure, but it will also look incredibly chic! The other bonus? It's a great way to keep yourself warm and stop the cold air from reaching the layers underneath!