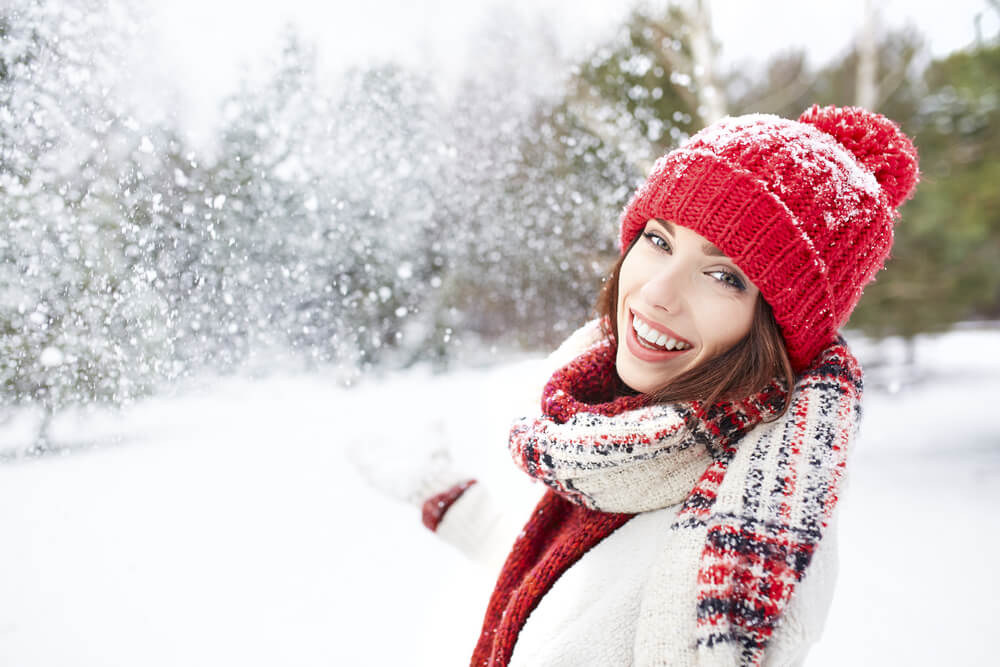 When it comes to accessories, there's no warmer or chicer way to style up your winter looks than with a sumptuous scarf! To that end, we have scoured all of your favorite stores to bring you the best scarves out there for 2019/2020. From vibrant color injections to must-have prints, there's truly something for everyone in our irresistible edit. Get ready to step out in style, your accessory collection is about to get a heck of a lot cozier!
We adore soft pastel shades at this time of year. This lilac check scarf, in particular, is the perfect way to embrace a wintry aesthetic whilst still injecting a pop of color into your look. It's also a refreshing change from a red or navy check scarf, though we, of course, love those too! Lean right into the pastel palette and style yours with light winter blues or delicate shades of soft pink. You'll be a breath of fresh air right up until the first snow and beyond.
Still can't decide?
No problem!
This beautiful blanket scarf also comes in five other amazing colors – which will you choose…?
https://www.instagram.com/p/B4hB0VzgZWB/
We declare this scarf to be the most intuitively autumnal color we've ever encountered. This irresistible shade of cider is just what we need to effortlessly tie all of our most favorite autumn/winter pieces together seamlessly.
Complement your new scarf with shades of forest green, bordeaux and dark mustard for maximum effect.
As if all this wasn't enough, this scarf is incredibly soft thanks to its gentle blend of wool and cashmere. Staying amazingly warm in comfort and style is guaranteed with this purchase. We can tell you're going to be styling this one with every piece you currently own and we really don't blame you. You can also order it in black or heather gray for even more styling options.
The animal print trend lives on this winter, and guess what?
We couldn't be happier about it!
Add a fierce printed element to your favorite winter outfit with this chic leopard print scarf. You'll love the raw-edged frayed trim and most of all, the contrasting line of deep red. Use it to enhance other red pieces you're wearing or style it with a neutral outfit as the focal piece of your whole look.
This gorgeous gray scarf is our favorite way to add subtle dimension and texture to an all black outfit. If you're looking for a scarf that'll also go with everything else you own, this is the pick for you!
It may not be colorful exactly, but it will certainly heighten the intensity of those darker shades in your closet. That makes it a winner in our book!
https://www.instagram.com/p/B4lMDXrBlhK/
Just because the season of navy and gray has arrived, we shouldn't be afraid to enhance our look with a vibrant pop of something colorful! Choose this incredible fuchsia scarf by Bershka and give a memorable twist to another wise plain outfit.
Though it's brightly colored, it's monochrome, meaning you'll still be able to match it with a whole host of different outfits and coats throughout the winter months. It also comes in black, but, where's the fun in that!?
(If you're still searching for the perfect sweater to style your new scarf with, check out our gorgeous edit of 19 Sweaters To Keep You Warm All Winter! It's full of irresistible looks you'll be dying to try out!)
In our opinion, winter is all about extra hot cocoa, couch snuggling and chunky knitted clothing!
Embrace your love of all things winter-related with the chunky knitted scarf by Urban Outfitters. We adore the maroon color but it does also come in black, beige and blue if you like to have a few options. We'll be wrapping up in this for the foreseeable future and already know that, come springtime. we'll have a hard time saying goodbye.
There's nothing more colorful than a rainbow print and we're loving this stylish offering from Walmart. Thanks to its multi-colour finish, we can pair it with just about anything and feel instantly more vibrant.
It can't get any better, you say?
Well, you better believe it can!
Not only do you get this beautiful scarf, but also the matching hat and gloves! Any neutral ensemble will be instantly cheered up and given a more playful edge with this sweet set. Grab yours and watch how it brings a simple gray sweater or white shirt to life in an instant.
https://www.instagram.com/p/B4VI2qiniSG/
A bold injection of blue is always welcome in our wardrobes! We're getting our winter fix with this stunning cobalt arrow stitched muffler scarf, created especially for Macy's.
It's the ideal partner for a black trench coat or even a faux sheepskin biker jacket. Additionally, it comes in a variety of other shades including a neutral black or white or more vibrant shades of yellow, pink and red. Take your pick, you're sure to look incredible in any of these beautiful variations.
If chunky knits or cashmere aren't for you, no problem! You can still enjoy some extra color with a stylish scarf. We highly recommend the printed, pleated satin finish scarf by Mango in this case.
It really doesn't get chicer than this multi-coloured design, and we'll certainly be adding it to our seasonal scarf rotation. This scarf will work perfectly well with a casual look for your weekends, but can also be dressed up with a smart outfit and heels for work. We love how versatile it is!
It may be just a tad early, but…
We're already excited for Christmas!
If you're like us and can't wait another second for the festivities to begin, you might want to consider this gorgeous Fair Isle printed scarf. It comes in a fantastically festive shade of burgundy but you have the option of black or olive too. It's the ideal accessory for those eagerly awaiting Mr Clause's arrival and teams perfectly with your favorite Christmas sweater. Throw it over a weekend outfit for a hint of color and a subtle nod to December 25th!
Updated checks are top of our list when it comes to winter accessorizing this year. As much as we love a classic tartan print or muted black and white check tones, we're simply unable to take our eyes off of this ombre tan creation by Joules.
This scarf looks amazing of course, but it also feels super soft and incorporates a tasseled edging. Just try and stop us from wrapping up in this beautiful creation every day until spring finally arrives!
https://www.instagram.com/p/B3JqFNlhnL7/
We always have and always will be head over heels for polka dots. Luckily, our Christmas wishes have come true a month or so early with this incredible dot print scarf by Lou And Grey. Style it with everything you own and feel instantly more elegant!
We love how it can add a luxurious element to a simple gray sweater or an interesting print clash to a more vibrant look. Use yours to keep your neck warm throughout the winter then tie it to your favorite handbag for spring. We're telling you, this one is a year-round style investment!
You just can't go wrong with a stylish striped scarf and this bright and cozy creation by Anthropologie is no exception. It's guaranteed to add an instant hint of cheer to any winter look and to keep you thoroughly toasty as the frost sets in!
We're completely charmed with the bold blocks of color which, although different from one another, seem to blend seamlessly throughout the length of the design.
https://www.instagram.com/p/B4d0cL1H1oF/
It may not be the warmest scarf on our list but it's certainly one of the most elegant.
Indulge your romantic side with this stunning deep floral scarf by Ted Baker. It combines a variety of wintery shaded florals and finishes them off with a delicate shimmer. This scarf is ideal for an evening out and for those more luxurious events on your winter calendar.
We love the contrast it provides with an all-white ensemble and the elegant drape has us swooning over its effortless class. We think we may just have to treat ourselves to this pre-Christmas gift…
Give into those Clueless vibes with this adorable checked pink scarf by Topshop. We love how this traditional pattern has been given a modern lift with its sweet and soft, pink blush hue.
Style it with a denim faux-shearling jacket on the weekends or throw it over a trench for something a little more sophisticated and workwear orientated!
https://www.instagram.com/p/B4XFDf8AJnZ/
We just can't say no to a color block scarf, and this cozy ribbed one in the shade Redwood just made the top of our wish list! You'll be the coziest you've ever felt in this sweetly colored scarf by Gap, plus it offers a classic fringing detail that we just love at this time of year.
Wrap yourself up in your winter coat and enjoy the complementing shades of pink, rust, maroon and gray. These are four of our absolute favorite shades for autumn/winter and we're so happy to have finally found them all together in one beautiful scarf.
Looking to indulge your love of wild prints?
We have the answer!
Feast your eyes on this beautifully eye-catching red scarf by Oliver Bonas. We're in awe of this unique print and the unforgettable color palette of red, orange, yellow and green that it seamlessly incorporates. It'll add a playful touch to any winter outfit, as well as a much needed color boost for these short and gloomy days. Finally, the abstract faces and geometric shapes make this a statement-making piece for any outfit and we can't recommend it highly enough!
Prepare to feel instantly festive with this clever and stylish reversible scarf by Banana Republic. We think this will make the perfect finishing touch to a laid back Saturday look, but could also keep you warm on your morning commute. Versatility is the key!
The only trouble we're having is deciding between the red or navy design! Which will you choose?
The days may be considerably shorter right now but there's no need to forget the sunshine all together, especially with this stunning dark yellow scarf by H&M. It'll add a vibrant element to any winter outfit!
We love how it can be worn to perfectly complement a simple sweater and jeans, or to contrast the deeper shades we're all wearing right now. Add it to your weekly rotation and you can enjoy its spirit-lifting yellow hue all winter long.
We hope we've given you a list of scarves that gets you excited to accessorize your winter outfits like never before! The temperatures are definitely dropping out there and with the holidays just around the corner, it's the perfect time to treat yourself to a well-earned winter gift. From chunky knits to elegant silks, there's truly something for all! 
https://www.instagram.com/p/B3jnUs7h65K/