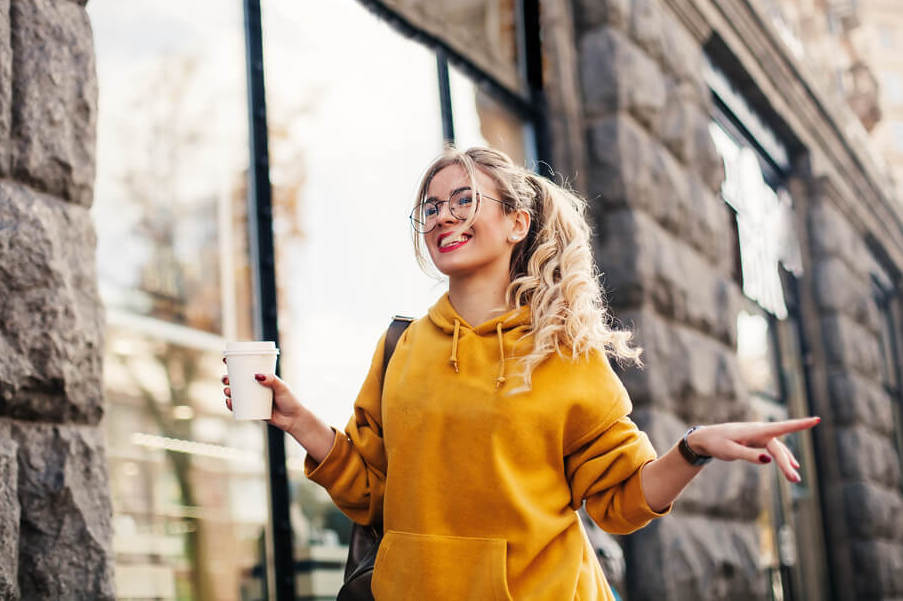 The centerpiece of every fashion-layering adventure has to be the jacket. 
Not only will a stylish piece of outerwear keep you toasty during the freezing months, it can also be a quick and easy way to dress up or down, depending on the look you're going for.
Luckily, current fashion trends offer plenty of fun, versatile options when it comes to covering up – from the classic Chanel-style boucle jackets to edgy bombers to timeless denim jackets.
To help you keep up with the fashion world, we have curated a list of the hottest jacket and coat styles for the season ahead of us.
Keep on reading to find out what are the trendiest outerwear pieces and how to style them!
Bold Bomber Jacket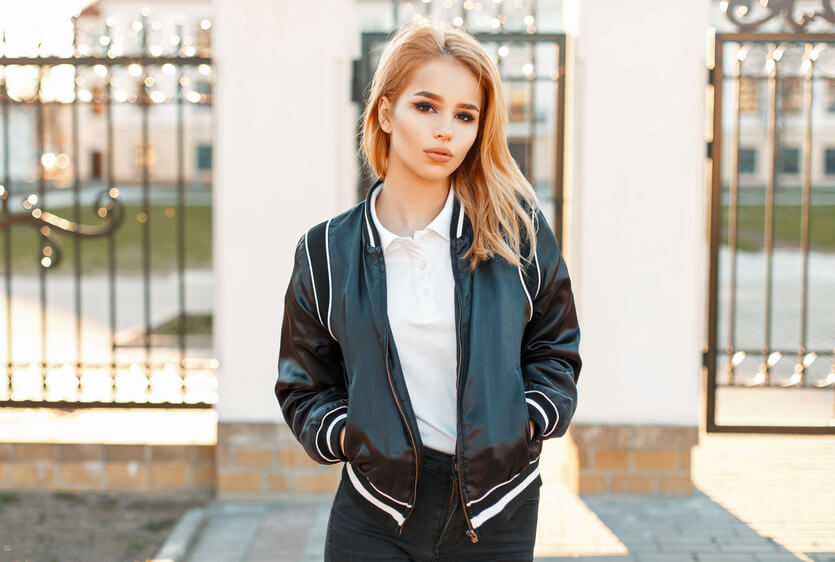 Originally worn by military pilots in the 40s and 50s, bomber jackets have managed a huge comeback in recent years, gracing all strata of fashion – from models walking haute couture runways to hypebeasts waiting in line to snatch the latest pair of limited edition sneakers.
A staple clothing item for every Instagram baddie out there, a bomber jacket can instantly give a dash of edginess to your look.
When it comes to designs, opt for a classic black or olive green color that will blend together well with any outfit. If you want to be more in tune with the current trends, go for the extremely popular pastel shades or flowery patterns. This way you don't have to worry about your jacket weighing down your entire look.
When it comes to styling, bomber jackets don't always have to be accompanied with toned down, athleisure-inspired pieces like jeans and sneakers – although that's totally fine if you want to keep it casual.
However, if you are looking to switch things up, counterbalance your jacket with classically feminine elements, like a bodycon dress or dizzying stilettos.
This will make for a fashion-forward fusion that will turn heads wherever you go.
Stylish Wrap Coat
A true winter classic, wrap coats can be your best friend when temperatures slide into single digits.
Thanks to the tie in the front, this cozy essential has a more casual vibe when compared to peacoats, button-ups or double-breasted jackets.
This makes wrap coats also super-convenient to style with pretty much anything you have in your wardrobe.
When deciding on the color, you might want to consider your skin tone before you purchase your wrap coat for the season.
Here a couple of pointer: girls with warmer undertones usually look better in creams and browns, whereas ladies who have cool undertones will find icy grey and blue coats super-flattering against their skin.
Now for styling: if you want to go for a modern, yet laid-back silhouette, combine your wrap coat with a button-up shirt, a pair of boyfriend jeans and crisp white sneakers. You can even roll up your sleeves to give your outfit an extra effortless look.
For gals who want to jazz it up a little, pair your coat with a stylish baby doll dress and a pair of over-the-knee boots for that sweet Bardot-esque '60s feel.
Another great accessory that goes fabulously with wrap coats are chic, wide-brimmed hats. Even if you are wearing something really simple underneath, the wrap coat plus hat combo will instantly elevate your entire outfit and make you look like a bona fide diva.
The Classic Moto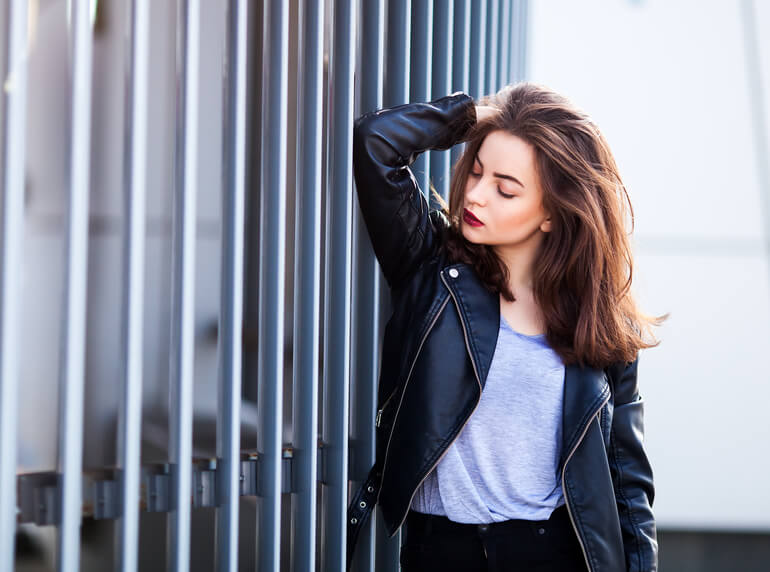 From Marlon Brando to Joan Jett to the Terminator – throughout the history, moto jackets have been one of those timeless pieces that can instantly give anyone a bad boy or girl look.
However, for all their rock'n'roll feel, moto jackets also happen to be incredibly versatile, which is why they have become a must piece of outerwear in every fashionista's wardrobe.
A black moto jacket is an outerwear staple that can effortlessly contribute to all kinds of outfits. If you plan on purchasing only one moto jacket in the foreseeable future, a black one would be your best bet.
On the other hand, if you like to play around with bolder colors, maybe a red moto jacket will be an ideal addition to your wardrobe. If you want to go for that 70s Elvis vibe, white moto jacket is your ideal choice.
Jeans are by far moto jacket's ideal match. This classic combo can be worn in so many different ways: dressed up with a stylish button-up or dressed down with a tucked in t-shirt with a logo of your favorite band. When it comes to shoes, you can keep it cool and casual with a pair of Chuck Taylors or take it up a notch with high-heeled boots.
There are also ways to style your moto jacket into a more feminine silhouette. You can do this by pairing it up with a flowery dress and a pair of flats or ankle boots.
Or, if your planning an evening look, a moto jacket can look great on top of a figure-hugging dress and a pair of killer stilettos.
Trusty Denim Jacket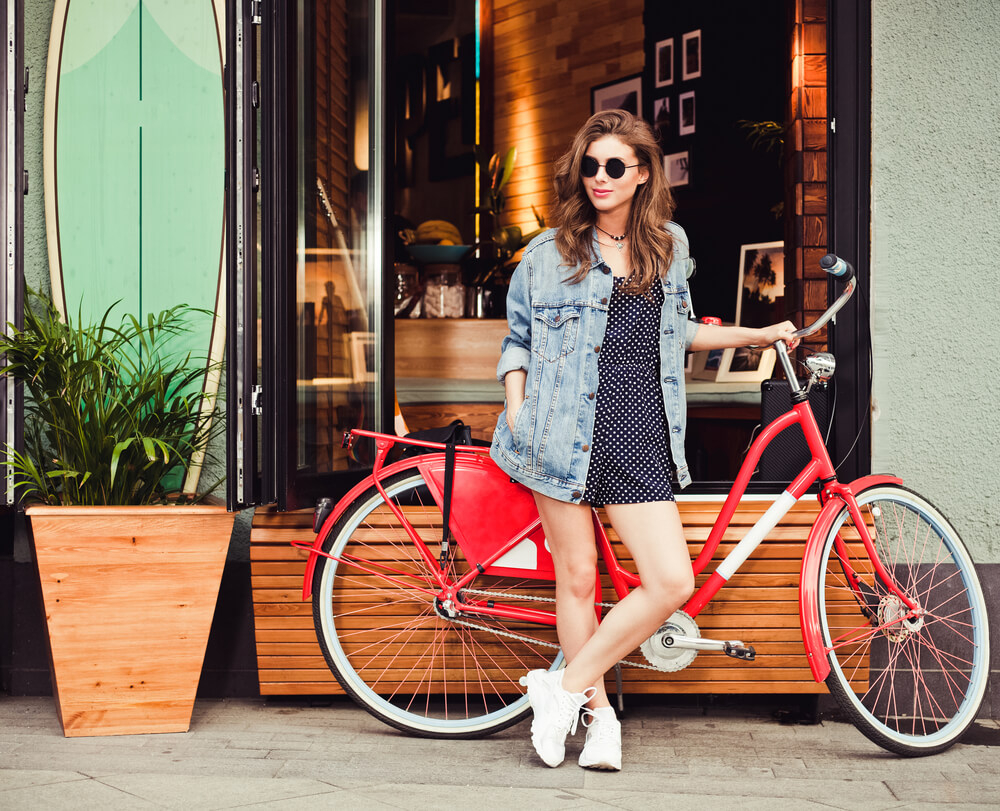 The epitome of effortless, denim jackets are as American as apple pie.
Ruling as one of the most popular outerwear items for over a century, denim jacket has been through all kinds of styles: from the James Dean-esque dark denim that was a must for every teen rebel of the era, to '80s distressed denim favorite among budding metalheads, to the grungy, oversized look denim jackets saw in the '90s.
And the best news about it? All of these fun iterations are en vogue right now.
Which means you can't go wrong with whichever version of this classic piece you decide belongs in your wardrobe.
A traditional cut and color will be easy to combine with your everyday go-tos, whether that's jeans, skirts or dresses.
A darker wash will give you and edgier, moodier vibe that might be perfect for nights out.
On the other hand, light denim has that easy-going vibe that will give a touch of cool to whatever you choose to wear, especially when you go up a size or two.
Of course, you don't have to pick the traditional indigo when buying your denim jacket.
Nowadays, you will be able to find a range of denim jackets in different colors. If you prefer to wear something louder and more vibrant, go instead for greens, reds or pinks.
This way you can add a pop of color to any outfit simply by layering your chic denim jacket over it!
Chic Boucle Jacket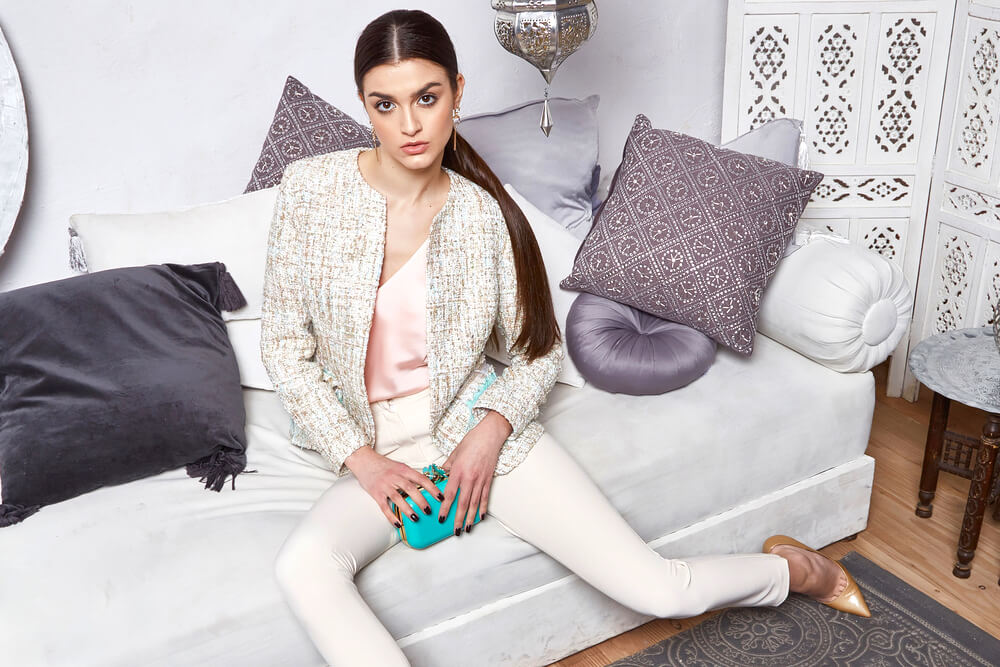 The elegant cut of the boucle jacket was created in the 1950s by the legendary fashion designer Coco Chanel.
Ever since then, they have remained a staple of every generation, to the point that Karl Lagerfeld himself designs a new iteration for each runway season in order to breathe new life to the classic style.
The neat and refined appearance of boucle jacket makes it an ideal choice for girls who like to keep their outerwear on the smart side.
It's also office-appropriate, which means it is a perfect go-to for layering at work while the temperatures are still mild.
Of course, all of this doesn't have to mean your boucle jacket always has to be combined with upscale, clean-cut pieces.
Quite the contrary, boucle jackets can go with pretty much any style: with cropped jeans and flats for an everyday, understated vibe or a slip dress and statement heels for a night out on the town.
Still, if you want to keep things high fashion, a foolproof accessory for any boucle jacket out there is none other than the iconic, quilted-leather Chanel handbag.
Faux Fur Extravaganza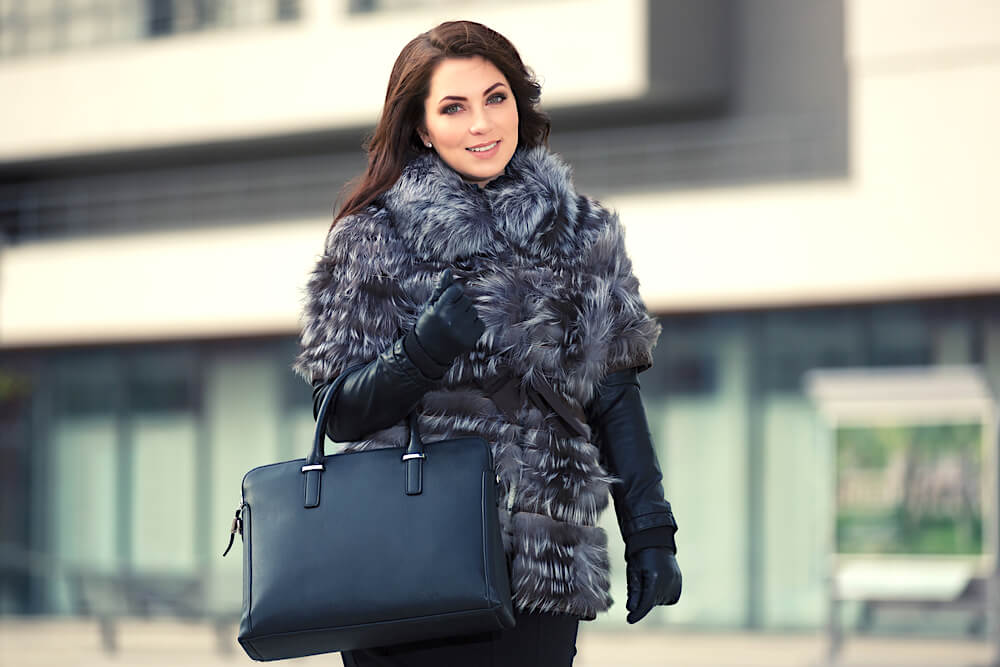 If winters tend to be frosty where you live, then a faux fur jacket is a godsend for you: this essential piece of outerwear is not only supremely fashionable, it will keep you cozy and warm even in the harshest weather conditions.
Some people may associate the look of fur with uppity fashion that's only seen on the most extravagant dressers.
This couldn't be farther away from the truth: with a little bit of effort and imagination, a faux fur jacket can be styled in a myriad of ways – and that includes fresh, youthful looks.
For example, a pair of chunky boots and a sparkly mini-dress under a fuzzy, faux fur coat can be an ideal combo for the New Year's Eve or any winter festivity.
On the other hand, combining your faux fur jacket with a pair of your favorite skinny jeans, simple flats and a loose t-shirt will give you that chic, yet laissez-faire look.
For a look with an edge, throw on your favorite pair of ripped or distressed jeans, a band tee and a wide-brimmed hat. Before you know it, you're going to look like a 70s glam rock star.
Checkered Coat
Not only are checkered coats super-comfortable and toasty, they will instantly add a retro touch to any outfit. They also tend to have more eye-catching designs than solid-colored jackets, which means they will be a great addition to your wardrobe if you're planning on experimenting with bolder looks this season.
If you want to have a versatile coat that will be appropriate for all sorts of occasions, opt for a color combination that involves greys, black or creams.
However, if you want to go for the bolder combos – reds, greens, blues, and yellows will transform any checkered coat into a proper statement piece.
If you do go for more saturated colors, but aren't sure how to style an item that already speaks loud enough on its own, the easiest thing is to do is reach for the basics – black, white, nudes and denim are all foolproof accompaniments that can help you dress down your checked coat.
And if you are feeling more courageous than that, you can always take it to the next level and experiment with mixing patterns. Through trial and error, you will quickly figure out what prints mesh well with your beloved coat. Pair them up and – boom! – you will feel like a bona fide trendsetter.
Practical Parka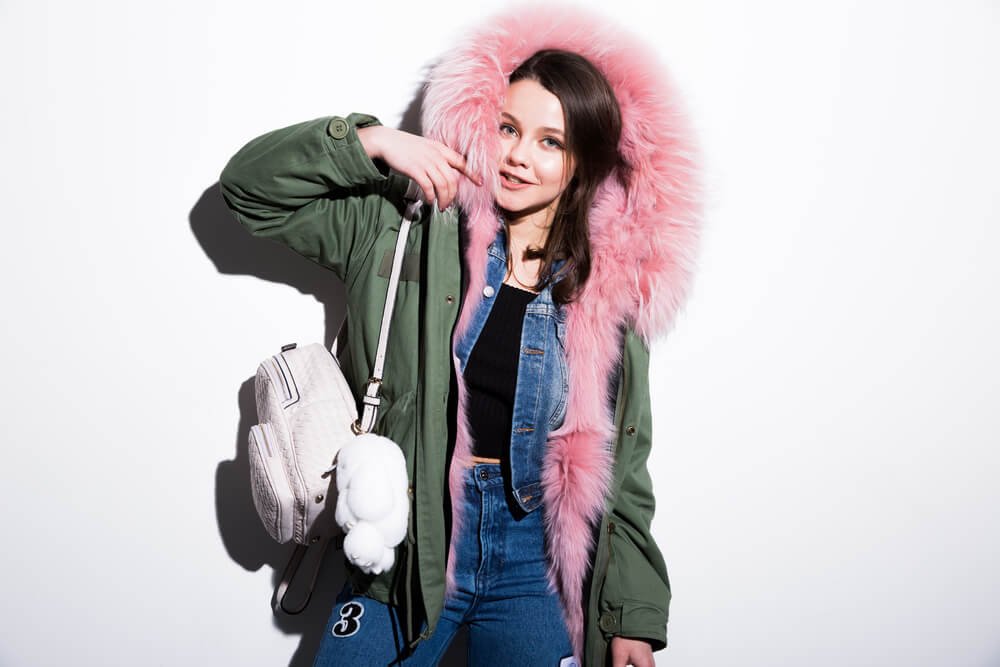 So, maybe the winter conditions where you live have taught you to believe that "warm" and "fashionable" simply do not belong in the same sentence.
Fortunately, this is where parkas come into play!
Once worn by the Caribou Inuits and, subsequently, WW2 soldiers, in recent years, the puffy and practical parkas have become one of the most coveted outerwear items.
Seeing as parkas are regularly spotted on UK style goddesses such as Kate Moss and Alexa Chung, you can rest assured that you'll no longer have to compromise on style to stay warm.
The trick to striking that balance is by styling your parka with elegant, fashion-forward pieces that will counteract the casual tone of your jacket.
For example, if you combine your parka with a little black dress and pair of elegant flats, you will nail the blend between the classy and casual.
Keep in mind that you don't always have to go hyper-feminine to keep your parka stylish. Even something simple and form-fitting like skinny jeans and ankle boots can instantly enhance the overall look of your parka-focused outfit.
And there you have it – the most coveted fall and winter outerwear pieces that will fight off the frigid temperatures and keep you looking sharp, all at the same time. Whether you are on the market for a timeless classic, an unconventional statement piece or a heavy-duty, functional coat, we have no doubts that our list will inspire you to go out and find your perfect match for the chilly months ahead.