Bellbottoms are back, baby!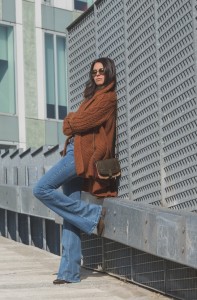 And the timing really couldn't be any better, with reports just this week of an Australian woman being sent to the hospital after wearing skinny jeans that were too tight—yikes! Drastic jean trend changes have always left me a little wary—like when bell bottoms were first usurped by the skinny jean in the early aughts; I was very resistant to the change then and refused to buy any for the longest time (these days you'd have to pry my favorite pair of skinnies out of my cold, dead hands—I will never forsake them completely), but I'm pretty excited about the return of this trend!
For those who've never experienced the flared styling of the bell bottom before, it's a pant originating from the 1970s that flares increasingly wider as it goes down from the knee. This style has the benefit of making your legs look super long, and I've always felt that a good bell bottom was much more flattering to those with bigger thighs than the skinny jean (hence my initial resistance to skinnies).
Bell bottoms pair perfectly with flats, or to make your legs look even longer, try some ankle boots with a small heel. If you really want to rock the retro look, pair a high-waisted bell-bottom with a cute crop-top and channel your inner disco diva.
However, if you're not a fan of going totally retro, don't worry! You can still look stunning in this trendy pant with many of the modern takes on the style that are on the market right now. A pair of ripped leg or distressed bell bottoms will perfectly complement a slick leather biker jacket and will catapult this 70s style into 2015.
So get out there and grab yourself a pair of these groovy jeans and get inspired by the past!