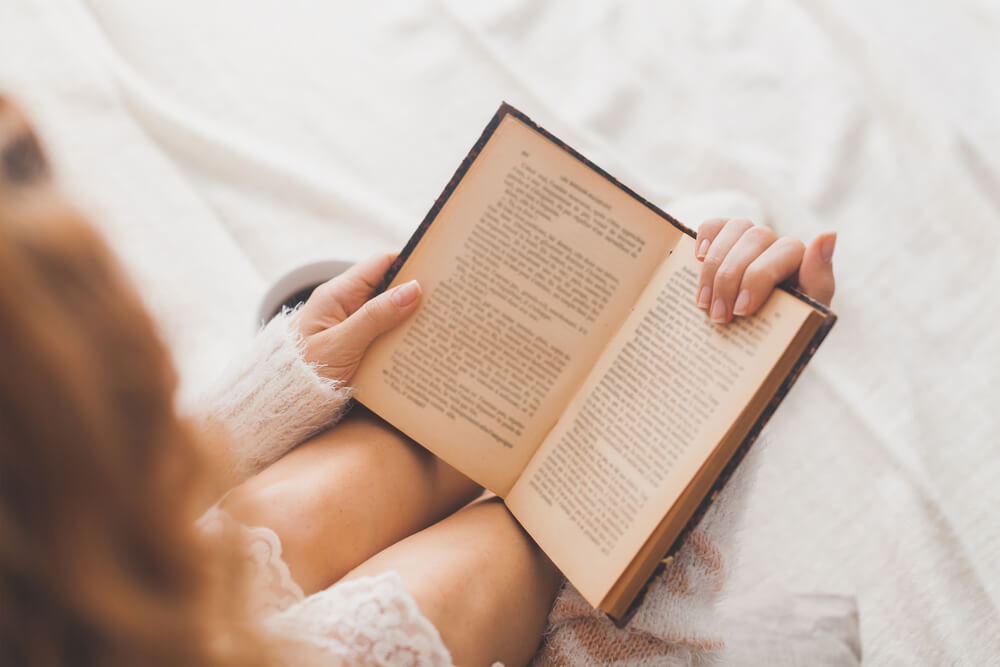 Looking for some new book recommendations?
Just like the rest of us, celebs love to read, and they've been doing so much more of it during the lockdown. Whether you're a fan of Taylor Swift, can't get enough of Kendall Jenner, or love everything that Oprah recommends, here are some of the books that your favorite celebrities have been reading.
Emma Roberts Recommends: Writers & Lovers by Lily King
https://www.instagram.com/p/B-r6ByBHFqD/?utm_source=ig_web_copy_link
Emma Roberts loved this book so much that she picked it for her book club in April, and her fans definitely appreciated her choice. This is a book that tells the story of a young woman who tries to overcome loss by dedicating her spare time to writing a novel. All goes well, until she falls in love with two men at the same time.
Love and grief, desire and loss – these are a couple of the themes explored in this novel, with this story promising to win you over from the very first page. In fact, Roberts' fans were so impressed by this book club recommendation that many went on to read other novels penned by Lily King, bringing the author some much-deserved attention.
Kendall Jenner Recommends: Literally Show Me a Healthy Person by Darcie Wilder

When you think of bookish celebrities, Kendall Jenner isn't one that would immediately come to mind, but the model and reality star has always been a fan of forward-thinking books. In November 2019, Jenner started sharing her reading lists on Instagram, with many fans forming an unofficial Kendall Jenner book club.
One of the first books that Jenner recommends is the debut novel by Darcie Wilder, which takes a step away from some of the more traditional books out there. Instead, Literally Show Me a Healthy Person consists of 97 pages packed with gripping disclosures about parental neglect, grief, and unspoken expectations. It strides the lines between poetry, literature, and social media, with the plot portrayed in Tweet-sized bites to create a unique pulse that keeps you turning the pages.
Rita Wilson Recommends: Beloved by Toni Morrison

Rita Wilson hasn't had it easy recently – both her and her husband Tom Hanks ended up with Coronavirus in March, which they managed to successfully beat. This meant spending plenty of time indoors recovering, during which the pair turned to a number of different books to keep their minds occupied. One of these books was Beloved, which was written back in 1987 and was set just after the American Civil War.
This book is about an African American woman who escapes Kentucky because of the slavery there and makes her way over to Ohio, which was a free state. It explores just how destructive slavery was, and the fact that it was inspired by a true story makes it all-the-more chilling.
If you're not prepared for the tears to fall, then this isn't a book for you. Wilson admits how much she loves a good tear-jerker, and this novel fits the bill perfectly.
Just like many of the best novels out there, Beloved was turned into a movie back in 1998, and there has also recently been a documentary made about the author too. Titled Toni Morrison: The Pieces I Am, the documentary takes a close look at race and history in America.
Reese Witherspoon Recommends: The Henna Artist by Alka Joshi
https://www.instagram.com/p/B_p1ZUxlnIl/?utm_source=ig_web_copy_link
Reese Witherspoon is another celeb with her own book club, and her choice for the month of May was The Henna Artist. This story is set in the 1950's and tells the tale of a teenage girl from a rural Indian village who runs away to the city, escaping an abusive marriage and eventually becoming one of the best henna artists in the region.
This is a book that Reese has happily gushed about several times now, loving the way it kept her captivated from start to finish. Her support for this book quickly sent it to the top of bestseller lists, with this one following the path of all of the other books Reese has chosen for her book club in previous months. However, with her picks always incorporating a variety of backgrounds and stories, this diversity in literature is something that deserves to be recognized.
Chrissy Teigen Recommends: Ladies Who Punch by Ramin Setoodeh

Ramin Setoodeh is an entertainment journalist who published Ladies Who Punch in 2019. This non-fiction book goes behind-the-scenes of the popular television talk show, The View. Backstage drama is rife in these pages, which are based on more than 150 interviews, making this a gripping choice for those who love a little bit of gossip.
Since Chrissy Teigen has been on the set of The View numerous times now, and has felt the tension there firsthand, she loved this book and could totally resonate with it. If you feel the same way, keep an eye out for the TV miniseries being created – the screen rights for this book were recently sold.
Oprah Winfrey Recommends: Deacon King Kong by James McBride
https://www.instagram.com/p/CCR2biyHbSx/?utm_source=ig_web_copy_link
Oprah Winfrey's book club has inspired millions of readers all over the world, exposing them to stories that they never would have otherwise read. Her book club list, as well as any of her social media accounts, is a great place to start when looking for new reading recommendations, and one of the most recent novels to be supported by Oprah is Deacon King Kong.
Set in 1960's New York, this is a story about a shooting that takes place – one that threatens to bring down the entire community around it. Frightening yet tender, romantic but violent, this is a book that may seem slightly overwhelming at first, but will soon have you enthralled.
Oprah heavily promoted this book back in June, as part of the #BlackoutBestSellerList challenge, in which she encouraged readers to purchase two books by a black writer to help spread their voice.
Samuel L. Jackson Recommends: He Came in With it by Miriam Feldman

This is a book that Samuel L. Jackson, as well as actor Nat Wolff, have been raving about, and it's easy to see why. This true story is delightfully funny, yet absolutely heartbreaking, at the same time – there aren't many books out there that will have you both laughing and crying.
The story is about a family whose lives are thrown into turmoil when the teenaged son is diagnosed with schizophrenia. The plot follows the different tragedies that the family has to deal with after the diagnosis, while delving into the complexities of this mental disorder.
Tom Hanks Recommends: Aurora by Kim Stanley Robinson
The huge amount of praise given to this book by Tom Hanks was enough to persuade many fans to give this sci-fi novel a try. After all, if you read a tweet by the actor that was positively raving about the saga, while mentioning "never had the feeling I experienced on page 321", wouldn't you want to know what page 321 was all about?!
This book tells the tale of a voyage from Earth that started many generations ago, with the ship now set to land on a moon called Aurora to start a human colony there. There is so much going on in this novel, with both scientific and philosophical concepts being its main drivers.
Sarah Jessica Parker Recommends: Crooked Hallelujah by Kelli Jo Ford
https://www.instagram.com/p/CDKPxFqF3mS/?utm_source=ig_web_copy_link
Sarah Jessica Parker is another celebrity who is a firm believer in the power of books, often taking to her Instagram to share her latest must-reads. A couple of months ago, Parker recommended a book called Crooked Hallelujah, claiming that this thrilling debut was one that she wanted to share with absolutely everybody, but didn't want to let her own copy out of her possession.
What's so special about this novel?
It tells the stories of three generations of women in Oklahoma, each one trying to make a future for herself amidst very harsh environments. It explores the relationships between mothers and daughters, looking at how they both clash and collide. The book is so beautifully written, and each character has such a complexity to them that you just cannot help but find yourself drawn in.
Tim McGraw Recommends: The Nightingale by Kristin Hannah

With this being a book that had Tim McGraw bawling like a baby by the time he reached the end, it isn't one to pick if you are looking for some light reading. However, this depiction of what two sisters went through during World War II really tugs at the heartstrings, so much so that it is now being turned into a movie that is set to be released in 2021.
This is a book that the entire McGraw family loved and recommend, even for those who don't usually enjoy historical fiction. Speaking of which – yes, the book is fiction, although some of the actions taken by the characters at various points in the novel are based on historical figures.
Taylor Swift Recommends: Stargirl by Jerry Spinelli

Encouraging teens to read more is something that Taylor Swift is passionate about, recently partnering in the Open a World of Possible Campaign with Scholastic to help promote reading at a young age. Swift was video-conferenced in to various classrooms, where she discussed everything from her favorite books to writing music to the importance of feminism in literature.
Swift strives to inspire teens to read more, which is why one of her top book recommendations is Stargirl by Jerry Spinelli. This award-winning novel features a character that Swift herself is inspired by, one that celebrates originality and non-conformity. This touching book is about a young girl who is bullied at school, and while it may be written for young adults, its story is one that will resonate with readers of all ages.
The novel was so successful that a sequel was published a few years later. It has now also been adapted into a feature film by Disney that was released in March 2020.
Chris Hemsworth Recommends: The Boy, the Mole, the Fox and the Horse by Charlie Mackesy
https://www.instagram.com/p/B-JTz0lJzqt/?utm_source=ig_web_copy_link
Chris Hemsworth has always loved to read, and this is a book that he firmly believed would have such a wide appeal, no matter what age you may be. Hemsworth couldn't have been more right – this illustrated book is so unlike any other. It features a collection of conversations between the four main characters, and its simplicity and authenticity quickly made it a phenomenon in the publishing industry.
Thousands upon thousands of copies were preordered, with the publisher having to bring on extra lorries to ensure that they would be able to meet all of the demand on release day. The book quickly developed a cult-like following, with everything from Mackesy-inspired street art being created on the sides of major buildings to people getting tattoos inspired by the illustrations in the book.
This is a book that will no doubt fill you with hope and peace, and is one that you will return to time and time again.
Reading is not only a good way to strengthen your brain, but it's a great stress reliever – it can actually help to treat depression and increase a person's lifespan. While everybody will have their own list of must-read books, take some inspiration from your favorite celebrities the next time you are looking for something new to read – each of the above choices is surprisingly thoughtful, provoking, and captivating, which is everything you could want in a book.