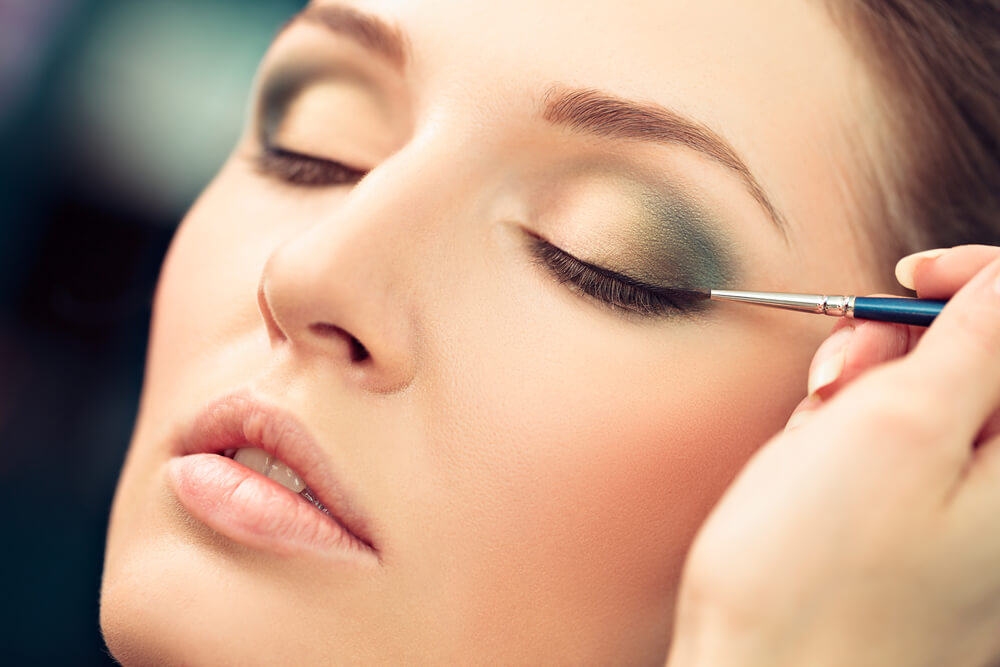 Ah, the virgin eyeshadow palette. Like tiny squares of untrammeled snow, each immaculately pressed shade almost too pure to corrupt with anything so vulgar as an eyeshadow brush, yet too irresistible not too. Deftly, you take your weapon of choice and transfer the magic dust to your eyes. The result is ethereal, transformational, you can't stop looking at yourself in the mirror. Your significant other starts to pound on the door to use the bathroom, but you can't draw yourself away. Too bad, he'll just have to wait until you've snapped a few selfies.
Scenario sound familiar? Yes, it's a common one. Girl meets eyeshadow palette, girl dips brush into eyeshadow palette, girl uses up all her favorite colors, girl seeks new eyeshadow palette.  Cosmetic companies know the pattern all too well, which is why they pump out those dazzling palettes year after year.  If your favorite blue is scraping bottom, never fear, there's a new blue and some other fab colors right behind it. Ready to explore? Here is a guide to finding the eye shadow palette that will shine, define, line and blend your way to perfection.
The Ultimate Eyeshadow Palette Guide
Just when you think they've run out of colors on the spectrum, an eyeshadow palette comes along that makes you redefine your conception of lilac. You don't care what they put in the formula; you can't stop thinking about how well it will go with your new dress. But before you grab the palette, you should know your way around it first. Don't be blinded by the lilac. Here are some things you should know about palettes and which ones you should put on your wish list.
Know Thy Textures
Mattes: Mattes are not to be taken lightly. No matter how casually the word sounds rolling off the tongue of a British spokesmodel, mattes are a force to be reckoned with. Mattes are richly pigmented, which means they work well for defining and reshaping the eyes, however, this same characteristic makes them difficult to blend. Persistence will pay off though! If you have a good blending sponge, and a little more time in the morning, you should be able to blend mattes to perfection. If you have the luxury of a tester at your makeup store, the best bets are the ones that are easy to pick up on your fingers.
Lorac Pro Mac Eye Shadow Palette
If a woman can live on one make-up palette alone, the Lorac Pro Mac Eye Shadow Palette is the ultimate survival kit. Packed with eight matte neutral shades, this collection is infused with warm botanicals and can perform wet or dry to line, shade, shadow and define. With lighter colors for a barely there look and darker colors for added drama, the Lorac Pro Mac will take you from coffee to cocktail with a simple sweep of the brush. Colors include Bare, latte, corduroy, chocolate, linen, pink mauve, burgundy, and black.
Shimmer Textured: If diamonds are a girl's best friend, shimmer eye shadow is her closest confidante. Infinitely flattering, so easy to blend, and with that perfect subtle sheen, shimmer eye shadow is hard not to get along with. Especially at night when the light is low and the moon hits your eye like a big pizza pie, if you know what we're saying. Shimmer textured shadow also offers sheer coverage which means it doesn't fall into wrinkles and or fine lines and can be layered with other colors for a vibrant finish. Lighter shades work well to highlight the recessed portions of the eye, while dark colors work well for contouring.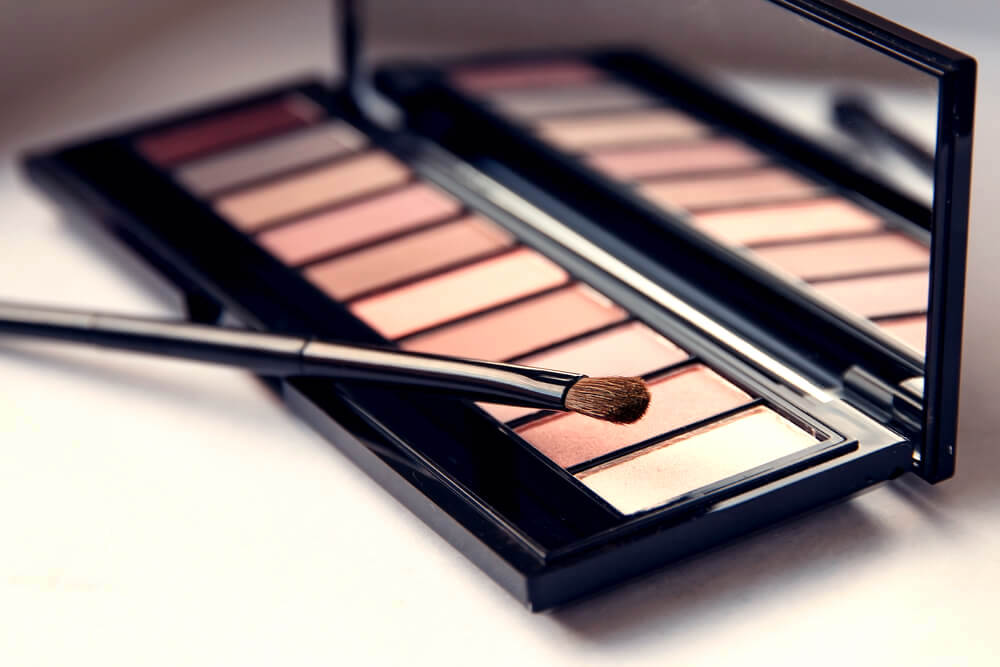 Urban Decay Moondust Palette
Urban Decay is one cosmetic company that knows how much a girl needs her shimmer eye shadow. The UD Moondust palette is eight shimmering colors of pure decadence. No chunky glitter here. With refined bits of iridescent sparkle, this palette speaks to the heart of the glam sophisticate. It even comes with its own plush brush and can be used wet for some really out of this world looks. Spacy colors include: Specter (soft pink with an atonal sparkle), Element (peach with a pink shift and sparkle), Magnetic (blue with a purple sparkle), Lightyear ( a vivid saturated green), Granite (black with a multi-colored sparkle), Vega (bright blue with a tonal sparkle), Lithium (brown with an iridescent sparkle), and Galaxy (smoky blue-gray with an iridescent sparkle).
Satin Textured: The satin textured eye shadow is for the matte is too serious and shimmer is too glamorous crowd. These days there would probably be a celebrity couple nickname for it (matter is the best we could come up with: matte + shimmer = matter -get it?) but for now, we'll refer to it as satin textured. Satin textured shadow is a combination of matte and shimmer. They're a bit shinier than matte textures, but their shimmery feel makes them easier to apply. Feminine yet simple, satin textures are perfect for a fun day look or a casual night out.
Viseart 03 Bridal Satin Eyeshadow Palette
How about French satin? Oui, oui, sil vous plait. Viseart is a French makeup company whose primary clientele is the MUA that's Makeup Union Association (to us for whom the name "Mac" is impressive enough) so you can expect high quality from this palette. The Bridal Satin includes 12 highly (beautifully) pigmented shades that can be used for highlighting, shading, defining eyes, brows and the contours of the face. Its proprietary formula gets the "ooh-la-la" from top Hollywood makeup artists for its long wear, zero fallout, no creasing, and creamy texture and easy blend shades. Colors include Champagne, Sterling, Peony, Blue Diamond, Orange Topaz, Violet, Sapphire, Copper, Cashmere, Prune, and Tuxedo. 
Mineral Textured: Think you've got what it takes to rock a mineral textured shadow? Before you plunge your brush into a mineral eye shadow, know what you're up against. Mother Nature is a force unto herself, especially when it involves eye shadow. Minerals last a long time, owing to the fact that they have a lot of color, in fact, they have so much color, you might want to tap the brush before you apply. But once you get it under control, you'll be a mineral loyalist for life. Minerals textures are silky and light to the touch and last for hours – touch-ups may be necessary.
Bare Minerals Gen Nude Rose Eyeshadow Palette
This palette looks so good, it can't possibly be good for you at the same time. Yet it is. Not only does the Bare Minerals Gen Nude Rose feature six stunning neutral colors, but it also features mineral infused ingredients like cucumber extract, moisturizing borac oil, and antioxidant-rich algae. With matte and metallic finishes, these colors work just as well together as they do on their own. Colors include pale ivory, pale mauve, metallic rose, warm taupe, smoky gray and soft charcoal.
Frosted Textured: They may have worked well for Lonnie Anderson in the '70s, but then again, so did bulletproof hair and super tight sweaters. Frosted textures usually get a thumbs down in the makeup industry for looking like you never stopped wearing them since high school. However, if you're in high school now, or somewhere near the age, they can make a groovy retro look. Frosted give more of an opaque look than a delicate sparkle and are better known for giving an effect than making a natural appearance.
Looking to go frosted? Unfortunately, you may be better off looking at E-bay than Sephora. You might find some ex-Mary Kay employees still looking to earn their pink cars. It's worth a look though. With the right frosted blue, you could give Twiggy a run for the money.
Know Thy Colors
Brown eyes: Let's hear it for those brown eyed girls, you know, shah la la la la la la la la la ti da? Behind the stadium and all that? Yeah, you know who you are! Those soulful looking beauties that put Van Morrison on the charts. Wondering what the best colors to bring out those Bambi-like peepers? Here are your big five.
Warm rust: To bring out hints of green and golden flashes, red hints will contrast with the golds and greens.

All shades of purple: Will make the whites of your eyes appear brighter.

Golden cream textured shadows: To bring out the gold flecks and hints of hazel.

Deep bronze: To add a warm sultriness and highlight gold tones

Teal: To emphasize the green tones and make brown eyes pop.
Nars Ignited Eyeshadow Palette
This limited-edition palette features twelve multi-dimensional shades in matte, shimmer and glitter textures that just screams brown eyes. With shimmering nudes, glittering pinks, and smoldering mattes, this palette will make your gold flecks flex and your green hints into a more direct suggestion. The micro-ionized powder provides a high pigment, high shine figment with ultrafine blends of glitter and shimmer and can be applied wet for a more intense effect. Colors include white beige, shimmering nectarine, sparkling pink pear, sparkling bubblegum pink, matte rich cool brown, sparkling purple with blue, metallic rust and sparkling eggplant with pink. 
Blue Eyes: Got the blues? We're not too sorry to hear it. Blue eyes always captivate and sparkle, even sans makeup. But if you are one of the lucky few, we say flaunt them. You'd be surprised what a difference a few good colors can make. For blue eyes, the best bets are:
Rust: The warm color makes blue eyes stand out

Purple tones: Accentuate blue eyes

Copper: With blue and orange as opposites on the color wheel, a copper tone creates a strong contrast

Neutral smoky eyes: A natural look that won't overwhelm

Bronze: Warm gold tones balance cool tones in your eyes
Urban Decay Naked Heat Palette
Did someone say, "Orange is the new black?" Our sources tell us that with blue and orange playing opposites on the color wheel, orange is the color choice for blue eyes. That makes the Urban Decay Naked Heat Palette a very attractive option. The Naked Heat Palette features all amber hued neutrals from warm browns to burnt oranges to rich siennas. Each is made with the UD Pigment System for velvety texture, rich color, and easy blendability. And no worries about running out: the palette may be travel sized, but the colors are as deep in intensity as they are in volume. 
Green Eyes:   They say green eyes cast an instant spell on anyone who stares into them. We say, work it, girl. When it comes to green eyes, the right eye shadow colors are the charm.  Here are some of the most enchanting colors for the green-eyed enchantress.
Smoky silver: For extra ethereality

Purple: Green's complementary color is red, which makes any color with red undertones flattering

Metallic sage: Anything in the same color family as your eyes in a metallic texture will make your eyes stand out

Bronze: Bronze makes green eyes sparkle by bringing out gold flecks

Espresso: A dash of brown can have the same smoldering effect of black without the harshness
Mothership III Eyeshadow Palette Subversive
Got green? Why not go out and invest it in the Mothership III Eyeshadow Palette Subversive? With vivid violets, rich greens, and shimmery golds, this palette will make you the wickedest witch on the block. The Mothership III is a curated collection of richly pigmented, velvety shades range in texture and color from classic neutrals, jewel tones, and high impact colors all, of which glide on smoothly to highlight, define and line. Light reflective effects lend a true radiance. Colors include champagne gold pearl, gunmetal black, dark warm brown, deep magenta, extreme black, pinky brown, white iridescent with a pink pearl, purple with a blue pearl, and peachy pink.