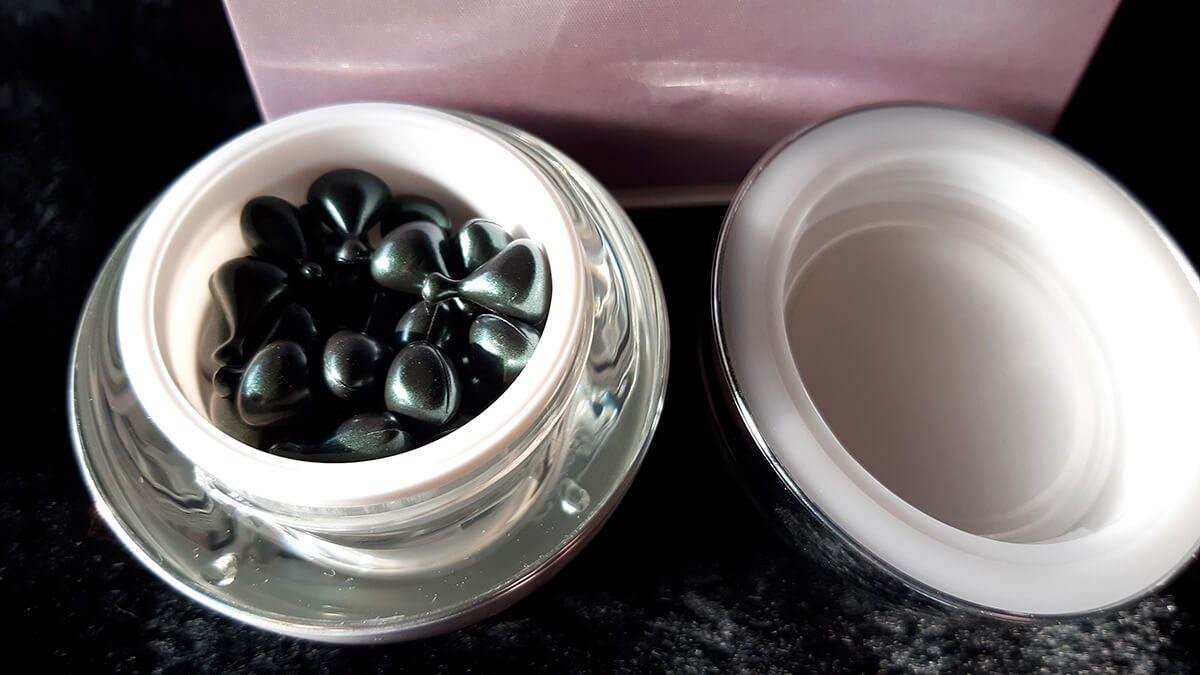 Review by Catarena VanAusdall
Truffles in skincare – this collection from Truffoire already sounds indulgent-worthy. Packed full of beneficial ingredients, Truffoire's goal with the Orchidea Truffle Collection is to combine the best ingredients to gently reduce discoloration, fine lines, and blemishes on the skin. 
I was lucky enough to receive the Orchidea Truffle Collection to try, and today I am going to be giving a full review of each product and how they might benefit you. 
Overview of Truffoire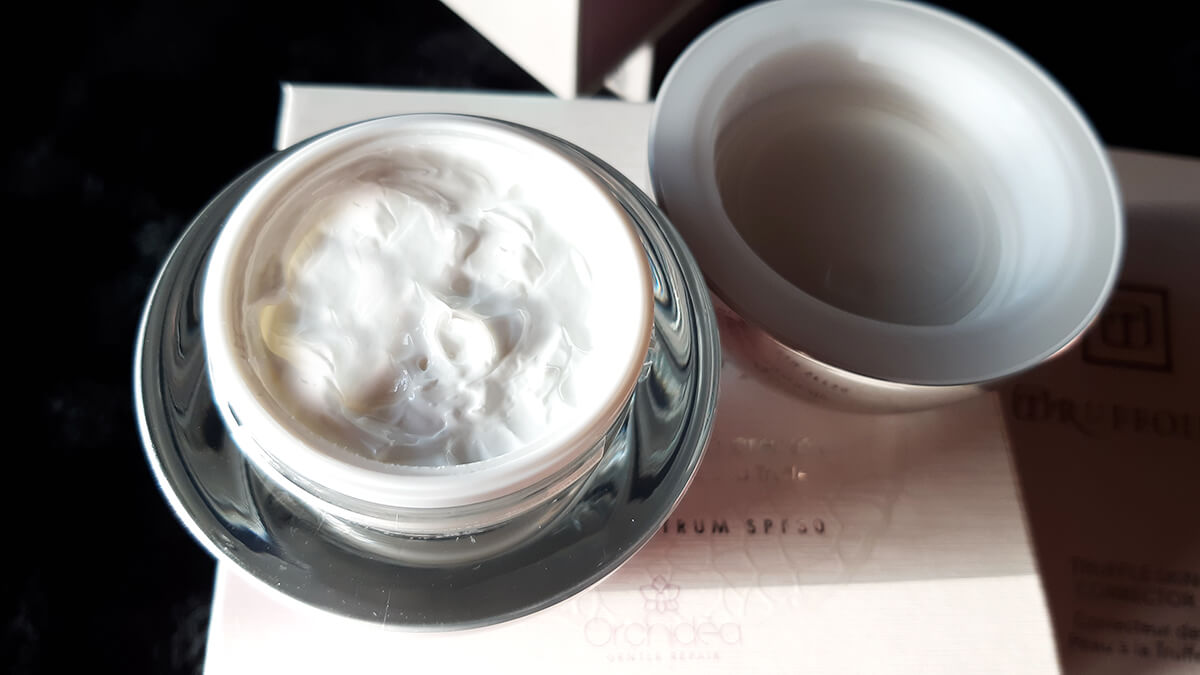 Truffoire is a luxury brand that takes pride in each one of their ingredients. They believe in combining only the most beneficial vitamins and minerals to help you achieve the best skin results possible. 
Something I find great about Truffoire is their enthusiasm regarding knowledge of ingredients and knowing what you are putting on your skin. Too often are brands more concerned with aspects such as scents than with the actual products they are offering to their customers. Truffoire seems to be passionate about using the proper ingredients to help your skin instead of hurting it, and I was so glad to see this!
They have multiple lines apart from the Orchidea Truffle Collection, including these few:
About the Orchidea Truff
l
e Collection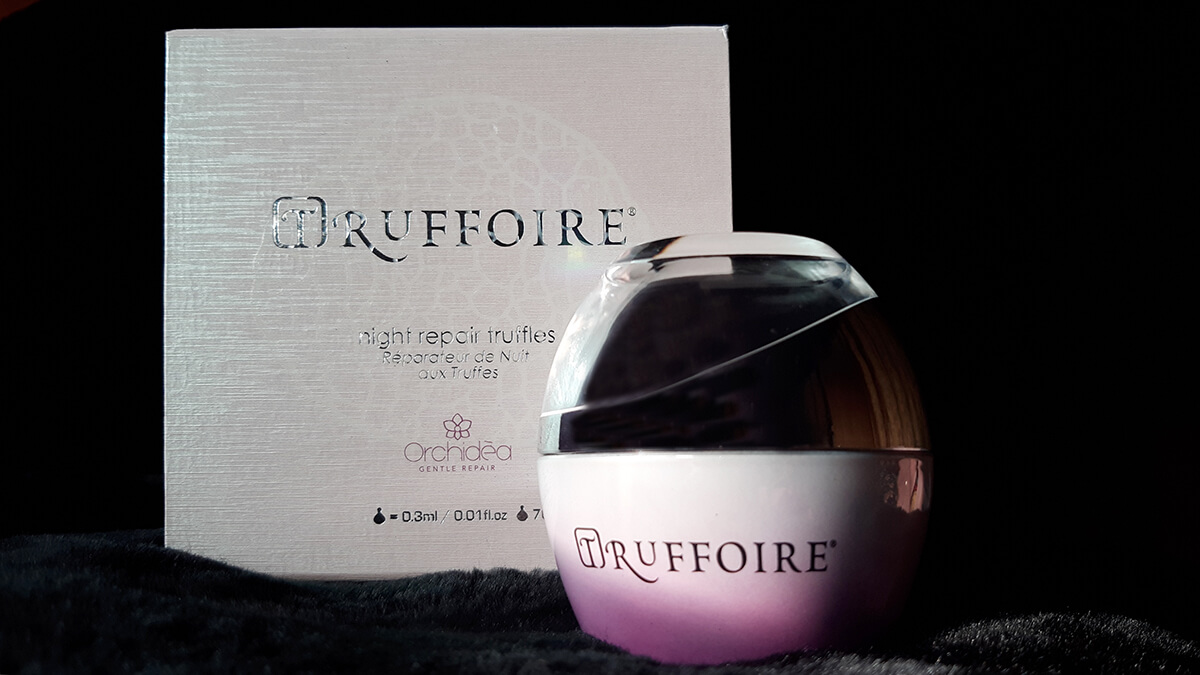 The Orchidea Truffle Collection is a collection of five products, ultimately designed to reduce uneven skin tone, blemishes, and fine lines while brightening, nourishing, and refreshing the skin! Something great to add is that these products are paraben-free and not tested on animals. 
The five products included in this collection include:
Truffle Orchid Silk Mask 

Truffle Brightening Cream + SPF30

Truffle Skin Corrector 

Night Repair Truffles 

Truffle Night Eye Recovery 
My first impression of the collection before testing the products at all was simply, "Wow." Of all the luxury brand's packaging I have seen, Truffoire has got to be one of the prettiest and aesthetically pleasing out there! That being said, they are a bit big – maybe even bulky – so if you are into slimmer or minimalistic packaging, this may not be your favorite in regards to size. Their packaging definitely stands at the top of my list, though. 
Truffle Orchid Silk Mask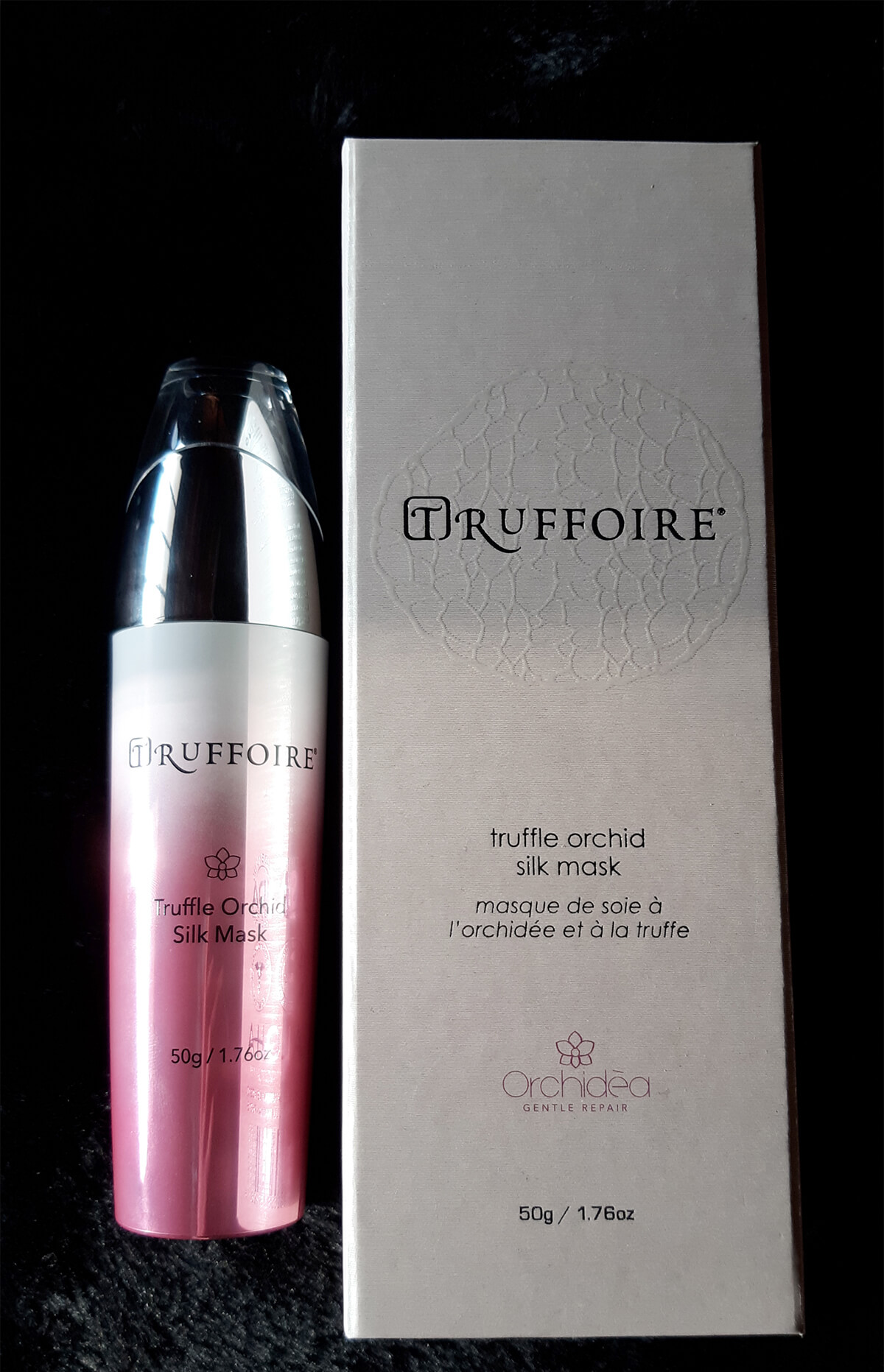 Truffoire's Truffle Orchid Silk Mask is made with ingredients to "revive" your skin, leaving it feeling refreshed and glowing. 
Some of the important ingredients mentioned by Truffoire include: 
How-To
Apply a layer of the Orchid Silk Mask evenly across clean skin. Let it sit for 10 minutes, and then gently massage remaining product into the skin. Small droplets will form; allow the droplets to soak into the skin. Use once a week. 
My Thoughts
I was really excited to try out this mask due to the fact that my skin has been needing a refresher from the cold weather. Plus, it has "silk" in the name, and I'm a sucker for silky products that make my skin soft. 
The Orchid Silk Mask formula has a pleasant feel and glides smoothly onto the skin. In order to get the droplets to form, you need to be sure to apply enough product, but a little does go a long way. After massaging the product into the skin, your face should feel super soft and refreshed. 
The one thing I dislike about this mask is the scent, but of course that is my personal opinion. I can't quite put my finger on what it smells like, but it isn't a scent I enjoy. If you are not someone who is sensitive to smells, I'd assume you would have no issue with this! Anyway, the product itself and the results it offers are enough for me to ignore the smell. 
After my second use of this product, I was even more excited at the results. I'm sure this was partially due to using the Orchidea Collection daily, but the Orchid Silk Mask delivers in its promise to revive the skin, leaving your face glowing and feeling good. 
Truffle Skin Corrector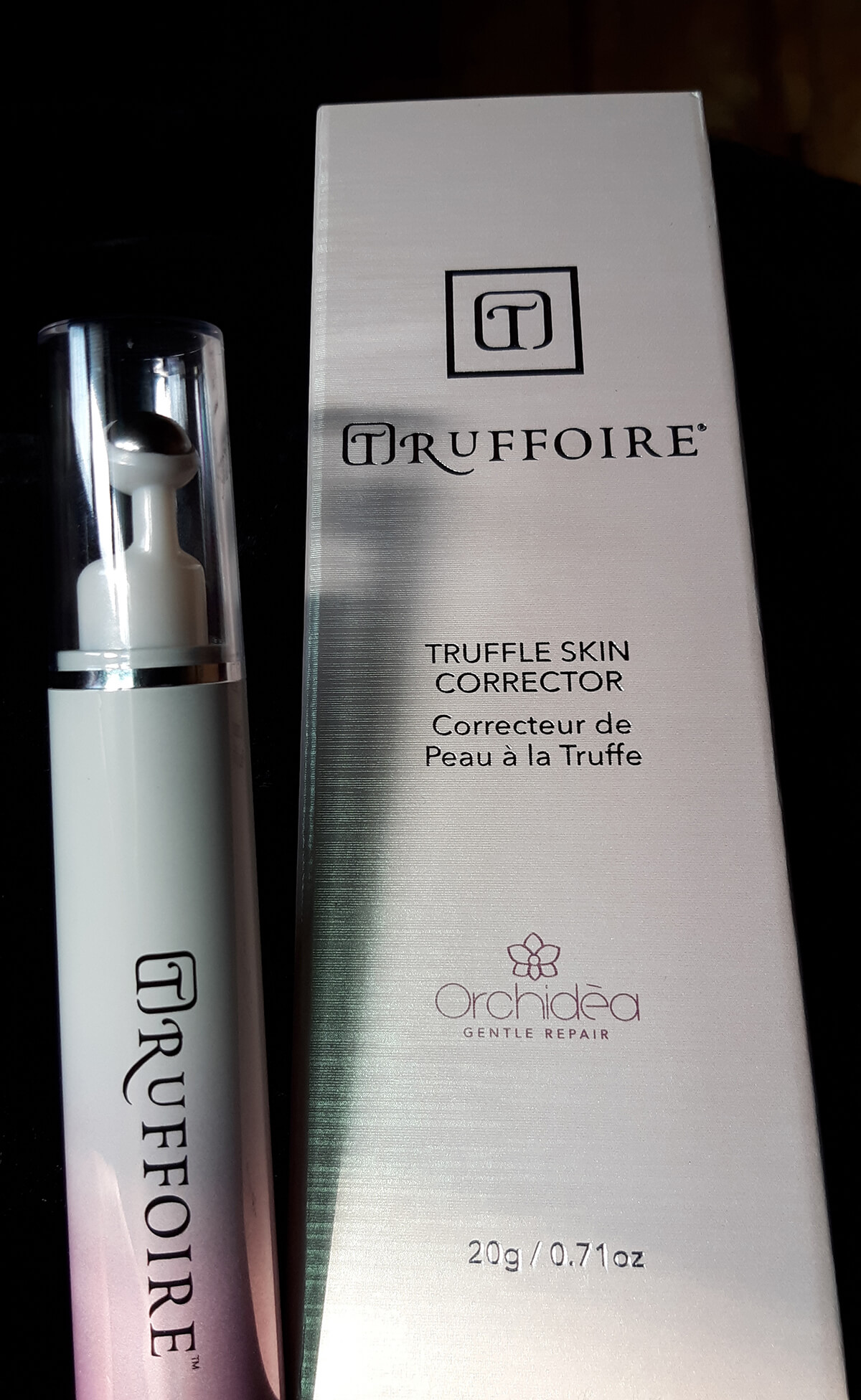 The Truffle Skin Corrector is an innovative roller infused with a formula to target dark spots, blemishes, and troubled areas. Designed to be gentle on skin but show powerful results, this roll-on applicator will help to ease your areas of annoyance when used daily. 
How-To
Always start your routine with a cleansed face. Apply onto areas of concern daily. Follow this with the Orchidea Truffle Brightening cream to achieve your desired results. 
My Thoughts
It may just be because I haven't used many luxury products like this one, but figuring this applicator out was a slight challenge. For those who may also get confused, you are meant to use the pump as you apply the roller, but it might take a few pumps before the formula actually comes out. When the pump does finally work, watch out for excess product being shot from the applicator and keep it pointed to your skin as to not waste any! 
I have been using the Truffle Skin Corrector daily after cleansing, and I do believe it is the exact reason I can see certain problem areas clearing up. I've been dealing with uneven skin tone and dark spots near my mouth area for quite a few months now, and since using this product, it is finally beginning to even out. 
I love the roll-on applicator as it helps massively with massaging the product in the specific areas you'd like it to be. The design of this product was well-thought-out, and the formula is one that's truly effective and non-irritating. 
Anyone dealing with stubborn dark spots or blemished areas should look into the Truffle Skin Corrector. It could very well be the one product you need that actually helps. 
Truffle Brightening Cream + SPF30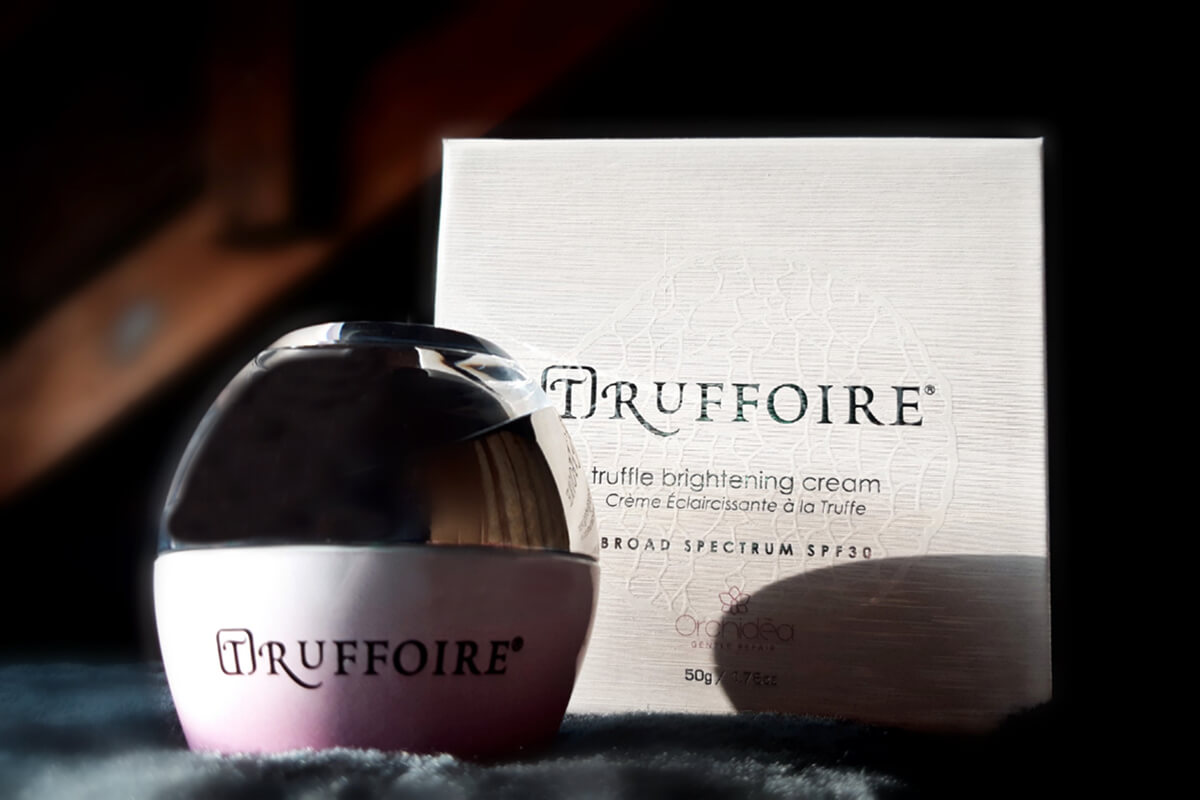 This Truffle Brightening Cream is designed to protect your skin from harmful sun rays and environmental damage while helping to brighten and even out skin tone, too! 
Don't we all love products with a double purpose? Truffoire combines two daily necessities into this one cream, allowing us to reap the benefits without doing much. 
How-To 
Apply a layer to cleansed skin each day before exposure to the sun. "For best results, use in combination with the Orchidea Truffle Skin Corrector."  
My Thoughts 
My first impression of the Truffle Brightening Cream is that it's noticeably designed for sun protection. Much like a typical sunscreen, the formula is white, thick, and smells a bit of SPF. The scent is not at all a bad smell, but it isn't my preferred type of skin care scent. 
The formula feels thick upon application, but it doesn't leave behind any weird residue, thickness, or greasiness from the SPF. It just absorbs right into the skin, which is always nice to have in a day cream that you'll be wearing out later. 
After using this cream for a couple of weeks, I see a big difference in the brightness of my skin. I'm sure in addition to the Truffe Skin Corrector, this product is the main reason I have been loving my skin so much! Uneven skin tone is something I often try to conceal, but with continuous use of this collection, I can tell my concealer won't be used nearly as often. 
Those looking for a day cream that will protect from sun damage while reversing the physical appearance of damage (such as dark spots) should definitely look into Truffoire's Truffe Brightening Cream. I highly recommend it.
Night Repair Truffles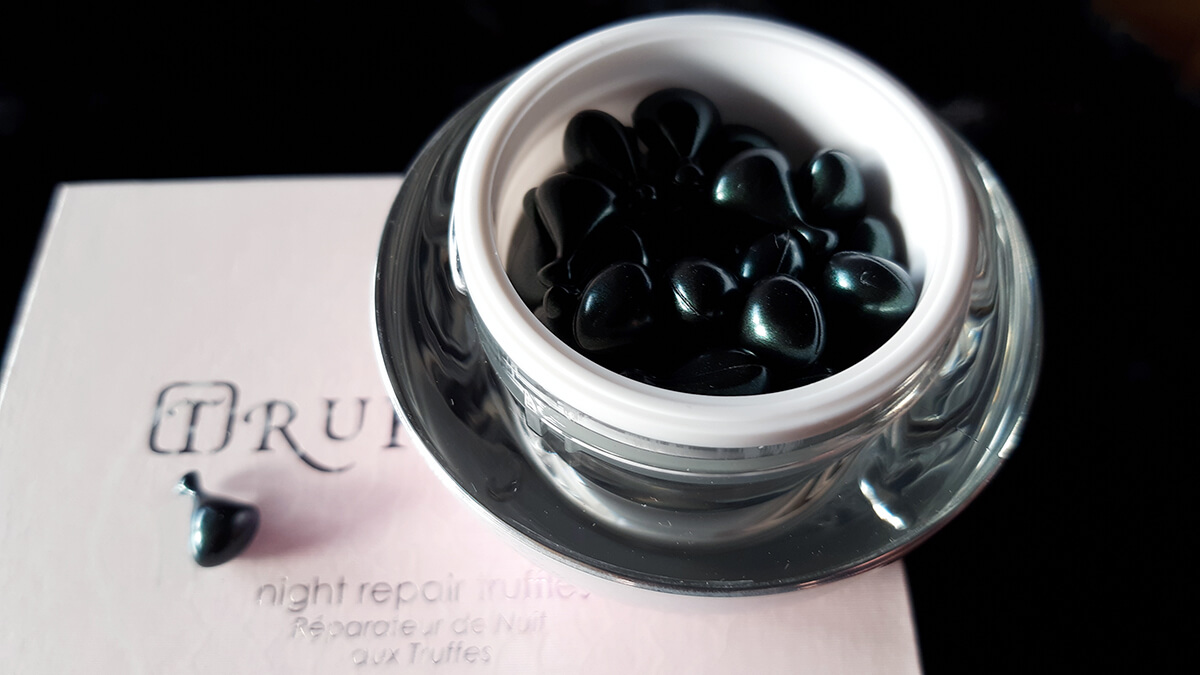 Truffoire's goal with the Night Repair Truffles was to give your skin the nourishing jump it needs while reducing the appearance of wrinkles and fine lines easily overnight. This silky formula is packed with natural ingredients designed to soothe your skin while feeding it much needed nutrients. 
How-To
Apply the product onto clean skin and massage until it's absorbed. Use weekly at nighttime. 
My Thoughts 
What I loved about this particular product right away is that it is designed to be gentle on skin, because as Truffoire states, "sensitive skin needs special care." Having sensitive skin can be very frustrating, especially when trying out new skin care products. Luckily, Truffoire takes sensitivity into account when making collections such as this one, so I can indulge without being extremely nervous for the outcome. 
This is the very first time I've tried capsules, so I wasn't sure exactly what to expect. For such tiny capsules, there is quite a bit of product in each one. Opening my first one was a tad messy, but after getting used to it, there is no issue at all. 
The formula of the Night Repair Truffles is excellent – probably my favorite out of the whole collection. It is a lightweight cream that goes on silky smooth and absorbs super quickly. The smell is also super pleasant, and again, my favorite of the collection. It has a hint of earthiness with a hint of sweetness at the same time. I have never had a product with this type of scent, and I love it!
Waking up after using night creams always brings me joy. The overall feel of my skin after using this product just once was smooth and baby soft. Lately I've been noticing a rough texture on my skin after using certain products, but the Night Repair Truffles put that on hold. After using this product, your skin will feel as good as new. I am stoked to see the changes in my skin after using the Night Repair Truffles for a few more weeks! 
Truffle Night Eye Recovery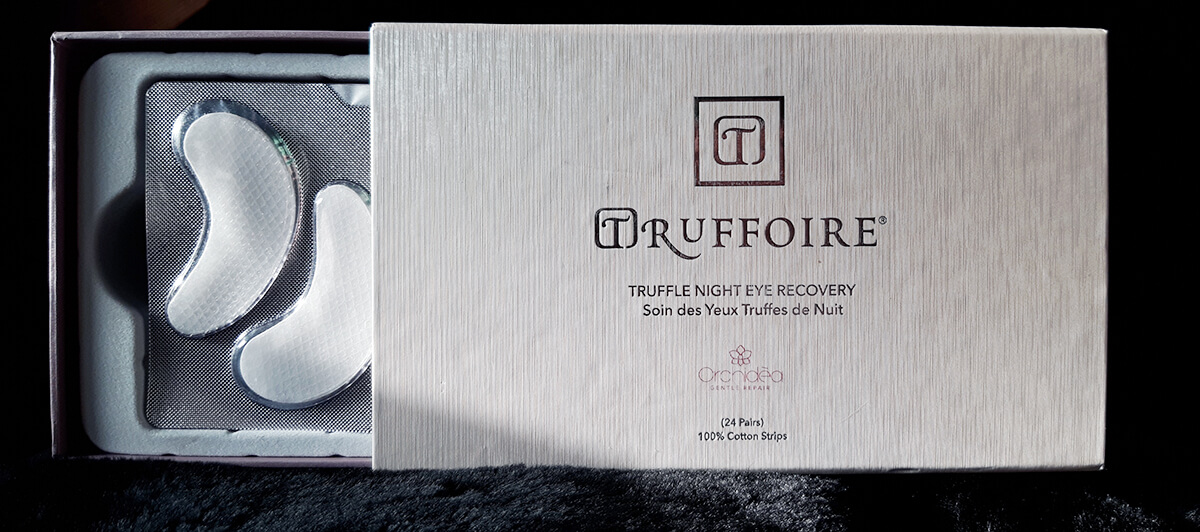 Taking into consideration the delicacy of the eye area, Truffoire designed this eye mask to soothe, hydrate, and restore the under eyes. 
How-To 
Smooth a gel mask under each eye, using clean and dry fingers. Leave for 15-20 minutes before removing masks. Use two to four times per month for the best results. 
My Thoughts 
Under eye gel masks are one thing I have seen become increasingly popular recently. Struggling with dark circles and dryness for years, I can definitely understand why. I was very excited to try these masks out, and I was not disappointed upon doing so. 
After one use, I didn't see a massive difference in the bags under my eyes as many people hope for, but it fulfilled its real promise of leaving my under eyes feeling hydrated and restored. This is something crucial for me, because my under eyes get dry, irritated, and sometimes even red. Makeup is a go-to fix for discoloration, but when my under eyes are too dry, makeup is a no-go. These masks can fix both of my issues at once, leaving that delicate skin refreshed and hydrated rather than irritated, red, and dry. 
Using the Truffle Night Eye Recovery will likely become my favorite part of the week's regimen, because my under eyes are an area I worry about due to my sensitivity. Truffoire did a great job of creating products that any skin type can use, which I'm thankful for. Not to mention, this set of masks will last a very long time. 
This is another product from the Orchidea Truffle Collection that I would gladly recommend to others. Whether you deal with dehydrated, dull under eyes or just need a revive, check out the Truffle Night Eye Recovery set and you won't be disappointed. 
Overall Opinion of The Orchidea Truffle Collection 
Truffoire's Orchidea Truffle Collection comes with a pretty hefty price tag, but it also comes with a promise of beneficial ingredients and great results. Whether you're interested in one product or the entire collection, my best advice is to go for it. 
As stated, my skin is very sensitive and dry, so my skin can break out and become irritated rather easily. Truffoire's blend of intelligence and natural ingredients allow for products that even people with sensitive skin can buy and not be afraid of. 
The Orchidea Truffle Collection is ideal for those seeking a good routine to reduce fine lines, uneven skin tone, blemishes, and similar issues. They offer numerous other collections targeting specific needs, so just about anyone can find what they're looking for. Buying from trusted brands is important when it comes to spending this much money, and Truffoire is now on the top of my list.