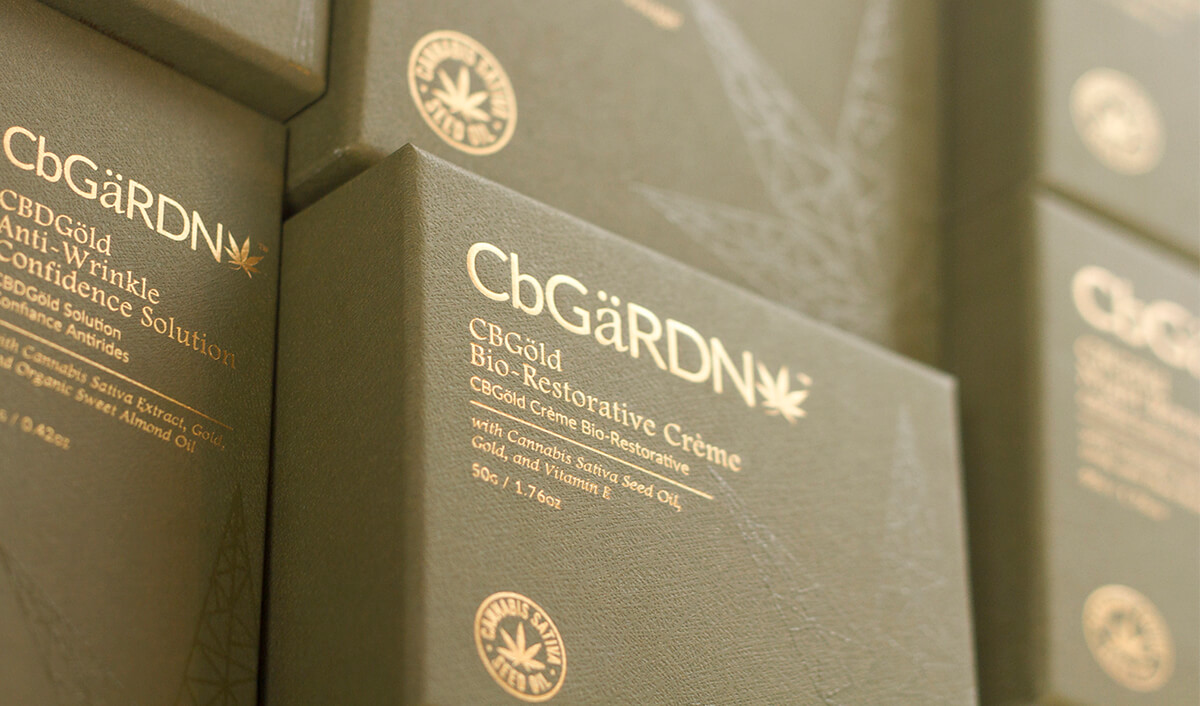 Review by Maria Carron
There's a lot of hype around skincare right now and brands are hustling to keep up. It seems like some brands are releasing new products every week…
And that should worry you.
Skincare shouldn't take a month or two to develop and release to the public. It should take YEARS of research, trials, and tests. That's why I decided to try out CbGäRDN. CbGäRDN uses science to dictate their formulations – not fleeting trends and hopeful wishes. Achieving and maintaining a clear complexion isn't an easy job for me, so I need to know that the products I use won't cause lengthy setbacks. 
The Featured Ingredients
Three amazing ingredients that I see the most in the CbGäRDN line are:
Vitamin E

Gold

Cannabis Sativa Extract
I'm sure you recognize each component for entirely different reasons! If you're not a skincare addict (yet), you may be wondering why in the world these ingredients are being combined in face creams, exfoliants, and cleansers. While they may seem a little unconventional, your face will be GLOWING from their benefits. Let's start by discussing the ingredients that most people have some familiarity with – Vitamin E.
Vitamin E
While you have probably seen Vitamin E listed on various topical skincare products, have you ever wondered what it does? Most of the time, you'll find Vitamin E at the very end of an ingredient listing. What this means is that the manufacturer used the absolutely tiniest amount in their formulation to extend the product's shelf life. I was very impressed to see that in CbGäRDN's products (most notable in the Anti-Wrinkle Confident Solution and CBGold Microexfoliant Plus) that Vitamin E, aka Tocopheryl Acetate, is much higher in the listing. What does that mean for you? Superior anti-aging results.
Vitamin E is a powerful anti-aging ingredient that fights against free radicals and may even rewind time to treat the effects of UV-damage. This antioxidant is vital to add to our skin as we age and become more prone to dark spots, fine lines, and wrinkles thanks to sun exposure. 
Gold
Traditionally used in jewelry, gold has made its grand appearance in skincare and is here to stay. If you've noticed your complexion beginning to dull or the sagging of your skin, gold can give you the boost your face is craving. 
Over time, your skin begins to lose its elasticity. This can create the look of drooping skin. Gold gives you back a firm canvas by rebuilding elasticity through tissue repair and optimizing hydration levels. This will also have positive effects on relieving skin irritations and giving you a lit-from-within glow. 
Cannabis Sativa Extract
Let's be real – this ingredient is the MVP of CbGäRDN. While you may raise a few eyebrows if you talk about putting Cannabis oil on your face, you have to understand that CBD and Hemp oil is highly misunderstood thanks to fearmongering rumors.
Cannabis Sativa Extract is not THC. 
This precious oil will not get you high. End of story. 
What it can do is reduce inflammation to help speed the process in healing damaged skin. Less inflammation means reduced skin sensitivity and redness for an even skin tone. Additionally, Cannabis Sativa Extract helps control sebum production (a prime suspect in acne breakouts) without causing excessively dry skin. 
Cannabis Sativa Extract = Powerhouse Acne Treatment
Now, let's get to the fun part – product reviews!
CBGold Cleansing Elixir Kit
This 2-piece set includes a facial cleanser and toner for AM and PM use. I love that these came in a pack together. It's easy to remember to wash your face, but so many people neglect the use of toner (I used to be one of them). Having a prepared kit like this ensures that you do all the proper steps to get your skin in order.
The cleanser is mild, thick, and glides smoothly over the skin. It's so important to me that my cleansers "glide" with ease. After having children and going through some hormonal changes, my skin has become rather sensitive. Any formulations that are too abrasive will instantly cause my face to get super dry, tight, and hurt. This cleanser is the perfect combination of gentle and conditioning! The cleanser contains PEG-40 Hydrogenated Castor Oil – this is a type of water and oil-soluble castor oil. That means that you get all the moisturizing benefits of castor oil without the greasy residue. 
I used to think toner was more good than bad. When I was younger, I had very little personal education on the topic of skincare. I bought whatever toner I saw advertised the most on TV. Sadly, most of the commercial toners I used contained drying alcohols and pungent fragrances. It was no wonder that my face itched and burned whenever I used toner! I was so happy to use CBGold Facial Toner and discover a pain-free way to tighten and detox my pores without stripping away all the beneficial skin oils. 
The toner contains two ingredients that are an absolute must for dry complexions – glycerin and hyaluronic acid. Glycerin is a humectant. Humectants pull moisture from the atmosphere and use that to keep your skin hydrated throughout the day. Hyaluronic acid is equally, if not even more, incredible for parched skin because it can hold 1,000 times its weight in water!  If you're looking to restore your skin's bounce and suppleness, glycerin and hyaluronic acid are an unbeatable team. 
CBGold Anti-Wrinkle Confidence Solution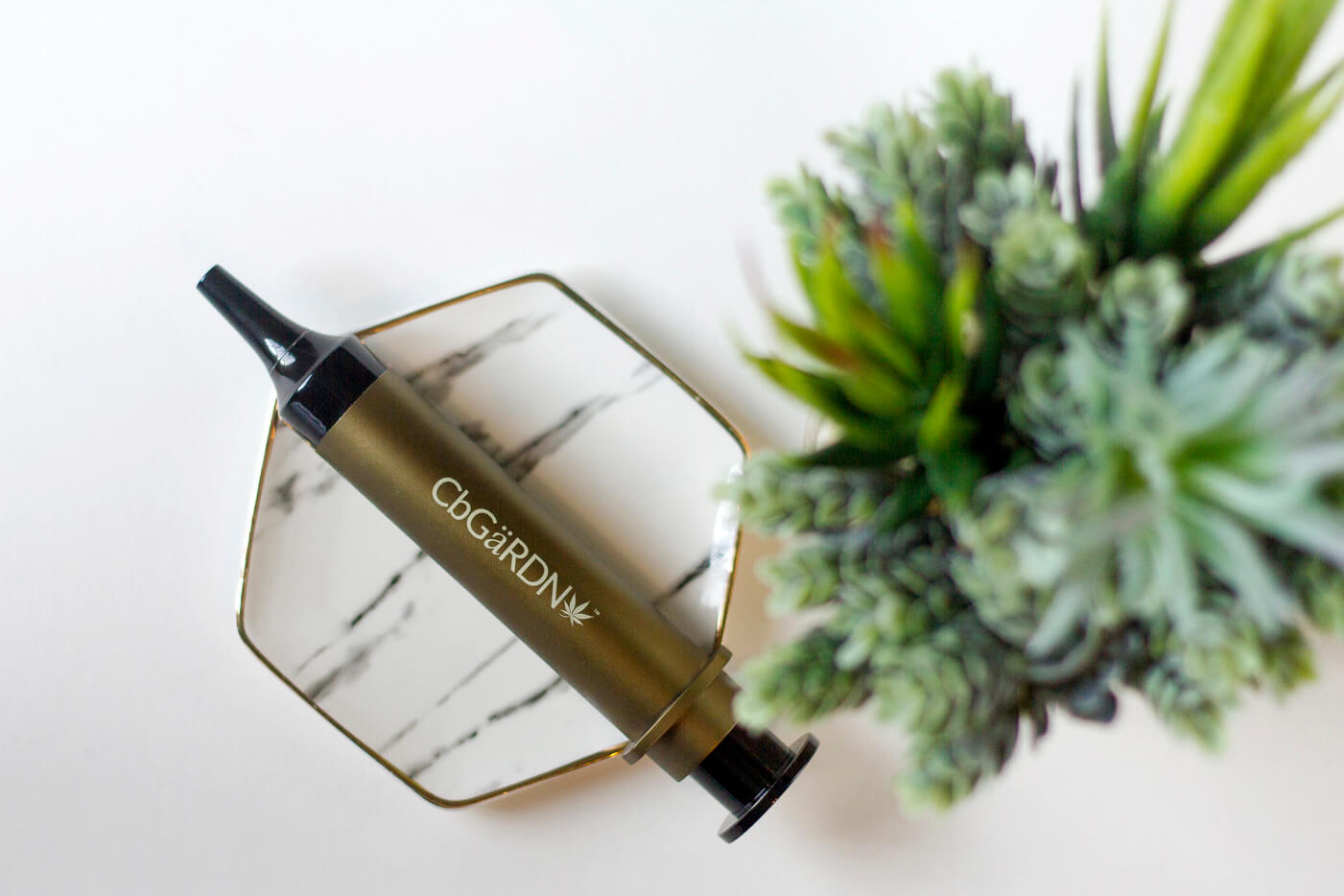 Besides the fact that this is the most unique packaging I've ever seen, the Anti-Wrinkle Confidence Solution is truly an innovative solution to fine lines. I have been applying this luscious cream on my undereye area during the day to mask fine lines and awaken my face after sleep-deprived nights (a common occurrence in motherhood). The cream is very lightweight and absorbs quickly into the skin for a shine-free finish. I also noticed a slight cooling effect from the Cucumber Extract that helped depuff the area.
Upon further investigation of the ingredient list, I found another one of my favorites…
Vitamin A! 
Listed as Retinyl Palmitate, the ingredient stimulates collagen production to fade away wrinkles and dark spots. It makes sense why this product is described as a solution to wrinkles. Whether you're already experiencing some signs of aging or would like to take preventative measures, this confidence-boosting cream is an easy solution to a complicated problem. 
CBGold Bio-Restorative Creme
If your goal is to have skin as smooth as silk, you absolutely must add the Bio-Restorative Creme to your routine! This face cream is suitable for AM or PM, but I've been using it for daytime (don't worry, we'll explore my nighttime moisturizer in just a moment). CBGold Bio-Restorative Creme performs beautifully on a clean face OR under a full-glam makeup look. 
Shea butter creates a wonderfully thick yet lightweight cream that penetrates the skin to deliver nourishing moisturization. You may be worried about the idea of putting something with the word "butter" on your skin, but rest assured that shea butter does NOT clog pores. It may come as a surprise, but shea butter is rated 0 on the comedogenic scale, which is used to measure how likely an ingredient is to clog pores and cause acne. 
The hydrolyzed oat protein also aids in producing a cushiony, silky feeling on your skin. It increases the elasticity of the skin with hydration that stands up to even the driest climates. This emollient helps skin that may be suffering from dry, flaky patches. 
Overall, I give this cream a big thumbs up! No more talking to people while trying to discreetly cover the patchy, rough areas. I'm very self-conscience about the flaky skin around my nose and mouth due to a prescription topical containing Tretinoin, but this cream really helped calm that issue down. Confidence boosted. 
CBGold Microexfoliant Plus
As I mentioned before, my skin cannot handle anything too abrasive. As you can imagine, I was a bit worried about trying this exfoliant out. When I opened the jar, I was delighted to make a discovery that put my concerns to rest.
No rough or damaging physical exfoliants.
Rough =/ Effective.
CbGäRDN completely understands that exfoliating doesn't require sugar, salt, or walnut shells. Instead, they were able to effectively use Vitamin E and Cannabis Sativa Oil as a gentle approach to shedding dead skin.  The MicroExfoliant Plus is a clear gel-like consistency that you put on your face with their glass applicator. 
When you begin to massage the gel with your fingertips, there is an exciting transformation that occurs. The gel almost seems to disappear and you can feel the effects forming instantly. It rinses off fairly easily with cool water. My skin felt so soft afterwards! I plan to use this twice a week. This is one of those types of products where less is more since you don't want to over-exfoliate. I can say that I'm genuinely excited whenever its exfoliation day!
CBGold Eye Serum Concentrate
I have a slight obsession with eye serums. As soon as I noticed fine lines and wrinkles around my eyes, I began investing in quality creams and serums. CbGäRDN met my expectations with flying colors.
The eye serum is a perfect consistency – thick enough to not drip, but thin enough to soak in. It's clear and doesn't create a sticky film after drying. I've been using this serum before bed so that I can wake up without dark bags under my eyes OR during the day when I plan on going makeup-free. 
Not convinced that this serum is any different from every other eye serum? Check out some of the ingredients in addition to gold, vitamin C, and Cannabis Sativa Extract…
Calendula extract – soothes irritation 

Ginkgo Biloba extract – plumps skin to reduce the sunken appearance

Vitis Vinifera fruit cell extract – conditions skin and helps protect against damaging UV-rays
Can you confidently say your current eye serum does all that? If not, you're missing out. 
CBGold Night Renewing Creme
The milky CBGold Night Renewing Creme is like an overnight sheet mask without all the fuss. It's a little heavier than the Bio-Restorative Crème but won't clog pores. Instead, it focuses on drenching your skin in nutrient-dense ingredients that soften rough textures. The fragrance is light, fresh, and feels somewhat therapeutic which makes it easier to drift off to slumber. 
The Night Crème contains hydrogenated sunflower seed oil. This ingredient will help ensure that your face stays moist all night long by creating a barrier that prevents water evaporation. Impressive, right? 
I'll admit, I've also been using this on my fingertips. Since I type so much during the day, my fingers get dried out regularly and it makes my nails look terrible! The Night Renewing Crème is breathing some fresh life into my fingertips and I always love being able to find new ways to use one product. 
Final Thoughts – Would I Repurchase It?
The real question is…
Do I really want my skin to look like it belongs to a goddess?
YES! Of course! There's nothing that feels quite as good as being confident bare-faced. CbGäRDN has given me the confidence to leave the house without makeup and feel like a boss. Plus, with how potent their formulations are, I only have to use a little at a time which means I don't have to buy a new cream or cleanser every couple weeks. 
I should also mention that the packaging for each product is phenomenal and ready to be gifted (if you feel like sharing). Each box is covered in beautiful golden lettering and the jars are sturdy but gorgeous. I also liked that any product that wasn't in a pump bottle came with a glass applicator so that you don't contaminate the cream with bacteria. 
CbGäRDN has set the bar high for other brands that use CBD for instant clout. I highly recommend that you go to your skincare shelf, take a good look at your current lineup, and consider doing a skincare ritual overhaul that features CbGäRDN. Your skin will thank you for it.