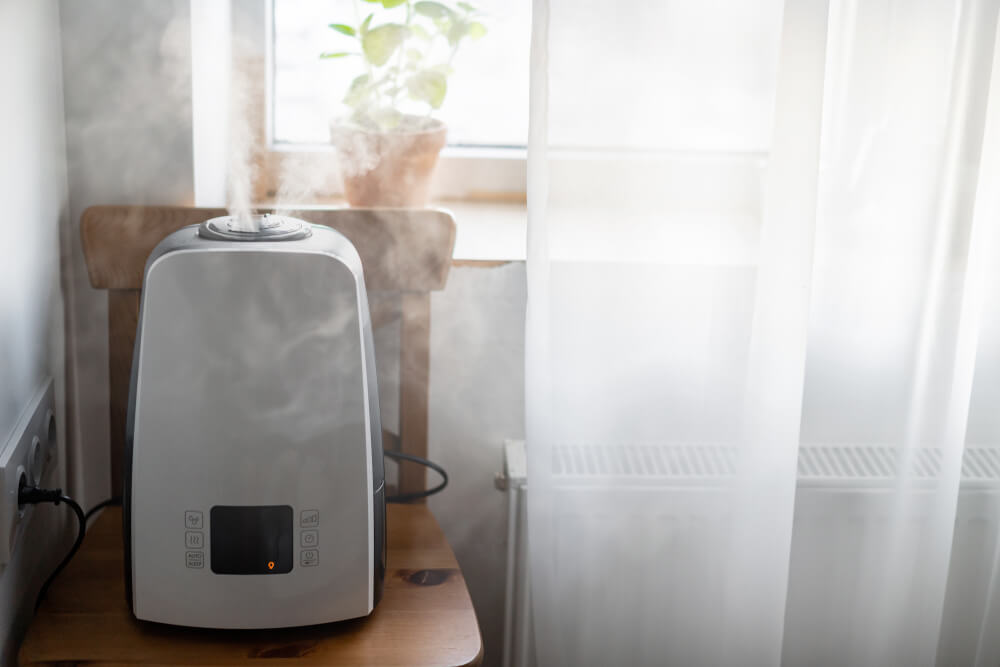 Having dry, itchy skin can happen to anyone. Sometimes it's due to allergies. For others, it's just how their skin type is. Other times, it's because of the weather or climate—the low humidity during winter can aggravate dryness in the skin.
So what do we do? Humidifiers are here to the rescue.
These devices help set the room's humidity back to normal, keeping your skin from feeling dried out. They not only help with our skin, but they can also rehydrate lips and alleviate dry sinuses.
We searched the market for the best choices you can find, and we've listed our favorites below!
Pure Enrichment MistAire Silver Ultrasonic Cool Mist Humidifier
Pure Enrichment has several units under the MistAire line. However, out of all that they've released, the Silver humidifier tops their catalog.
Why is that the case?
It's as reliable as its predecessors, but it comes with new features as well!
Its capacity allows you to run the humidifier for up to 25 hours straight on the low setting. On high, it can work for up to 12 hours. Its long operating hours make it an excellent choice for those who want one at the office. It's also a smart choice to have for those who want their humidifiers on throughout the night.
While we're on that subject, the MistAire Silver comes with quieter sounds than the other products in the line. This change means that you can keep it in a room of light sleepers and even babies. You don't have to worry that they'll wake up; there won't be any loud beeps.
Aside from the difference in machine sounds, the MistAire Silver comes with a nightlight. Because of this feature, it's a smart addition to a child's bedroom.
We recommend this product for:
Those with medium- or large-sized rooms

Beginners and first-time users

Parents who want to use it in their children's room

Those who want an extended warranty period (5 years)
iTvanila Ultrasonic Cool Mist Humidifier
Don't let the price of this humidifier fool you. Despite being under $30.00, the iTvanila humidifier has garnered mostly positive reviews from users.
What do they like about it?
Users seem to agree that their favorite feature is how quiet it is. The company boasts that it produces less than 32 dB of sound when in use. This level of noise is supposedly as low, if not more, than turning a page of a book. It's perfect for when you have infants or light sleepers in the room.
Reviews also say that they're happy about the filterless design! No need to think about cleaning the unit out except for the exterior.
It also sports a 2.7-liter tank that allows the humidifier to run continuously for about 12 to 31 hours, depending on the setting you choose. It's excellent for small- and medium-sized rooms at home.
The humidifier comes in a sleek, vertical shape, allowing you to place it on your bedside table comfortably. It's highly portable, so you won't have trouble moving it around if you need it in another room.
We recommend this option if you:
Want something more affordable

Want a unit that automatically powers down

Don't want to change filters

Want a quiet humidifier

Have small to medium rooms

Prefer a smaller/portable design
Honeywell Germ-Free Cool Mist Humidifier
If you have a germaphobe in the family, this unit from Honeywell might be the humidifier for you.
Some of you might be worried about germs spreading in the air through the humidifier. This humidifier comes with UV technology that can wipe out bacteria and viruses from the water. It can also help get rid of fungus and mold in the liquid. Because of its UV feature, it's ideal for those with sensitive skin or noses.
The tank can hold up to one gallon of water. With this size, the humidifier can run for 24 hours continuously on a low setting. With the two other configurations, the run time may be shorter.
How do you know if you should get this product?
If you'll be using it for medium or large rooms such as the living room or the office

If you don't have clean water or you're worried about germs in the tap

If your area is prone to molds

If you want something dishwasher-safe
Levoit Hybrid Ultrasonic Humidifier
For those looking for something more advanced, this unit from Levoit has your back. It comes with so many features and performs at the top-level when it comes to each feature.
For starters, it has a whopping 6-liter capacity.
With that much water, how far can it reach?
The mist this humidifier produces can cover up to 753 square feet!
Perhaps you live in a mansion. Or maybe you have to go back and forth from your room and walk-in closet to choose a winter outfit. This humidifier can cover that ground area. It also comes with remote control for easy access.
The Levoit humidifier also has cold and warm mist settings. Warm air absorbs into the skin better. The machine has to boil the water to use warm mist, ensuring that it is clean. (However, do note that the warm setting consumes more electricity!) Moreover, you'll likely be thankful for its cold configuration during hot summer days.
Amazingly, it can also determine the level of humidity in your room. If you don't want to do any mental math that day, the humidifier can adjust its settings for you. Then, once the tank is empty, it automatically shuts down.
With its large size, it probably makes a lot of noise, right?
Thankfully, no, it doesn't. You won't hear loud noises or a constant irritating hum throughout the day. Users of this product say that they were able to sleep through the night without the humidifier bothering them.
Lastly, it also doubles as an essential oil diffuser! That's a neat feature to have if you want to give your room a fresh or clean aroma.
Add this humidifier to your cart and check out immediately if you:
Want a unit with versatility and multiple features

Don't mind the large size

Are capable of buying something pricier

Will be using the unit in large rooms

Want both warm and cold mist options
Dyson AM10 Humidifier
Here's a brand that's sure to have its customer's confidence and trust. Dyson has always been a household brand with its vacuums and fans. Their innovative designs are reliable, making them a favorite of many.
It's no surprise that they've ventured over to making humidifiers.
But does their product live up to their name?
It sports the signature look of other Dyson products, meaning it has a hollow oval shape. It looks like a table version of their bladeless fans. And the structure isn't a surprise given that it is a combination of a fan and a humidifier. The former allows for the mist to distribute further and more evenly throughout the room.
The Dyson AM10 also has "Ultraviolet Cleanse" technology. It cleans the water of germs before it projects the mist in the room. Because of this feature, it garnered recognition from several organizations, including a certification from the Asthma and Allergy Foundation of America for being asthma-friendly.
However, Dyson is also notorious for its price tags. The AM10 humidifier retails for about $480.00.
Yes, you read that right.
But if you have the money for it, then it's worth it.
The AM10 humidifier is also somewhat large. It's not the type you can fit comfortably on your bedside table with a lamp. However, it does have a large 6-liter capacity. You can thus run it continuously for 18 hours before the need for a refill.
Consider splurging on this humidifier if you:
Are financially capable of buying a Dyson product

Have asthma or have family members with asthma or other sensitive

allergies

Are worried about germs in the water you use

Are looking for a medium-sized capacity humidifier

Want a quiet unit

Have medium-sized rooms
Urpower Essential Oil Cool Mist Humidifier
Let's recover from the price tag of that previous option. Another contender in the budget category is this humidifier from Urpower.
How budget-friendly are we going for here?
It's under $20.00.
At this price point, it gives you all the necessary features of a humidifier. If you're not too fussy over features, this option is definitely an excellent choice. It reliably releases cool mist into the air to add extra hydration to your skin. It gets the job done without you having to pay extra.
It's the smallest unit in the list with a 100-milliliter capacity, and it won't last the entire day. However, if you need it mainly on dry nights, then it's the perfect choice.
You can have it release mist continuously or intermittently in 30-second intervals.
It also doubles as a diffuser, and you can add your favorite essential oils to personalize your room or home and give it a pleasant scent.
Who should consider checking out this option?
Those who want a no-frills unit

People with small rooms

Individuals on a tight budget but with a need for a humidifier

Those who want something portable and space-friendly
VicTsing 300mL Cool Mist Humidifier
Some of you might not be too picky over settings and features. If you're looking for something simple in function but still looks stylish, this VicTsing humidifier might suit your taste.
The wooden design is sleek, and the size allows you to place it on a small table in your room. It can blend right in with your other furniture and decorations instead of looking like an out-of-place desktop computer.
The humidifier has a capacity of 330 mL. It can run for 10 hours before you need to refill it.
Sure, that's certainly smaller than the other humidifiers on this list. However, why splurge on a large unit if you only need a little extra moisture in the air?
It's a smart choice for those who might not spend a lot of time at home and are on the go.
Aside from some extra moisture, you can also use it as an oil diffuser. It makes for a good alternative if you want to take a break from scented candles. It also lights up in seven different colors, adding some charm to the room you place it in.
Consider getting the VicTsing humidifier if you are one of the following:
Those who want a small, space-friendly unit

People with small rooms

Those looking for budget options (it's under $30.00!)

Parents or light sleepers who want a quiet option

Essential oil user
Elechomes Humidifier Vaporizer with Filter
If you're looking for another option that comes with a warm mist option, Elechomes has one.
Similar to the Levoit unit, you can set it on either the warm or cool mist option. It also has a 6-liter capacity, with its mist range reaching up to 750 square feet. So yes, it does cover quite a bit of ground.
Because of its reach, it's best-suited for office-use or other open rooms. You can also use it during gatherings!
The Elechomes humidifier can also detect the humidity level of the room. With this feature, you won't have to go off on guesswork about how humid it is. You can thus accurately adjust the setting of the unit to match your needs.
We recommend this humidifier to those who:
Work in large offices

Have bigger-sized rooms than average

Are not sensitive to noise as it can be slightly louder than others

Prefer having both cold and warm mist settings
Take Your Pick
If you have dry skin, you've likely considered buying a humidifier before. But with so many choices, it can get overwhelming. We compiled some of the best options there are in the market.
How do you know what's best for you?
Consider your personal needs. Look at how big the area you want to cover and how much moisture you want to add to the air. Set a budget. By doing so, you don't overspend or end up with a cheaper humidifier when you could have afforded a better unit.
Keeping all those considerations in mind, you'll be able to deal with your dry skin problems with ease and comfort.