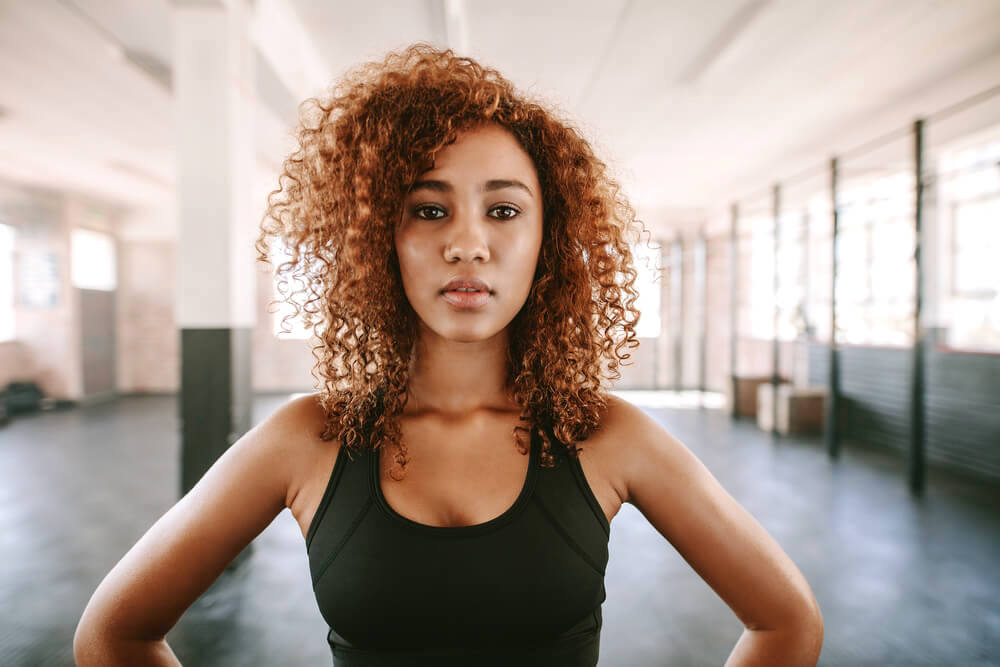 Sports bras not only make exercising more comfortable, but they also help to prevent damage to the breast tissue, which would otherwise lead to drooping and sagging. 
For the ultimate in shape and support, here are 12 sports bras to consider:
The Ultimate Run Bra from Shock Absorber
https://www.instagram.com/p/BnyKBgwnk1E/
As you can tell from its name, the Shock Absorber Ultimate Run Bra was designed for runners. 
This is a bra that has undergone quite a bit of testing by the University of Portsmouth, with results showing that this bra is able to reduce bounce by up to 78%.
How does it do this?
It's all thanks to the Infinity-8 support system used, which helps to counter the way in which the breasts move when the body is running. 
The straps are wide, padded and adjustable, with the closure at the back allowing the bra to be fully opened for easy removal. 
As with all quality sports bras, this one has been made from a sweat-wicking, breathable fabric, which is not only lightweight but durable too. 
One final plus point for this bra? 
The bra features areas of reflective tape, making this a great bra for those who tend to go running in the dark. 
The High Intensity Run Bra From Sweaty Betty
Designed with running in mind, the Sweaty Betty High Intensity Bra is ideal for holding everything in place. 
Sweaty Betty is a popular activewear brand, and is no stranger to creating sports bras. 
So what sets this one apart from their others? 
It all comes down to the comfort of this bra…
The straps are soft and padded, meaning that they sit comfortably against the skin. They can also be fastened in different ways, giving you the option of the classic design or a racer back style. The straps themselves are adjustable while the waistband is elastic, giving it a firm grip. 
Another feature that many women love about this bra is the way in which it has quite a high neckline. This is ideal for those who don't want to expose too much of their decollete. 
If you want a bra that is really effective at restricting movement in your breasts and holding everything in place, this is the one to go for. 
The Enlite Bra from Lululemon
https://www.instagram.com/p/BTei49cFWyW/
The Enlite Bra from Lululemon may be on the pricey side when it comes to sports bras, but this well-designed bra is definitely worth the money. 
What makes this bra so great?
One aspect is the material that the bra is made from. The Enlite Bra is crafted from Ultralu, a fabric exclusive to the brand. This material is extremely effective at absorbing sweat, but is light enough to allow for natural movement. 
The cups themselves are built in to the bra, and the under-band is bonded in, so that it doesn't end up uncomfortably digging in to the skin. 
When it came to designing the bra, the brand handcrafted all 20 of their sizes, rather than simply sketching them out. This was coupled with motion-capture technology to study the way in which the breasts move independently. Lululemon discovered that some movement was necessary in order to enhance the amount of support a bra provides, resulting in their revolutionary design.
The Crossback Clutch Bra from Under Armour
Under Armour's Crossback Clutch Bra was designed for medium impact activities, meaning that this isn't the bra to get if you frequently run. 
However, for everyone else, this comfortable mesh-lined sports bra is made from HeatGear fabric. 
What does this do? 
It is lightweight but strong, and is not only effective at absorbing moisture, but also dries quickly. 
The cups themselves are removable, meaning that you can adjust and enhance the shape that the bra provides. 
However, that's not the best part…
This sports bra features a small pocket at the front, large enough to hold essentials such as cards and keys. The pocket is also lined and crafted in the same sweat-wicking fabric, so you won't have to worry about your belongings getting wet. 
The Wired Sport Bra from Panache
https://www.instagram.com/p/BojHTkvnSXE/
Looking for a high impact sports bra for larger chest sizes? 
The Wired Sport Bra from Panache is perfect for this, with sizes available up to a J-cup. 
This compression-style bra features wide straps along with moulded, seamless cups, giving you the utmost in comfort. The straps are padded too, meaning that they won't end up digging into your skin, and can be adjusted between the classic style or a racer back style. 
The bra is made from a poly-elastane blend, giving you sweat-wicking properties coupled with strength and durability. 
All of that may sound good, but the best part hasn't been mentioned yet…
While the bra is available in more traditional colors, from black to white to gray, it also comes in a number of vibrant prints and patterns, making this one of the most stylish sports bras around. 
The Triaction Zip Lite Bra from Triumph
Triumph is known for producing quality sports bras, and the new Triaction Zip Lite bra is no exception. 
This is a bra designed for high-impact activities and boasts a number of unique features, such as: 
Front closure in the form of a zip

 

Tested to provide extreme bounce control

 

Padded 3D power straps to provide extra versatility and support

 

Made from Dynamic Lite, which is great for absorbing moisture and evaporation

 

Non-wired and hugs your body's natural contours
This bra is available in two colors – black and pink lemonade, the latter of which is especially striking. 
The Empower Bra from Athleta
https://www.instagram.com/p/Boe1RUvninp/
The Athleta Empower Bra is truly a one-of-a-kind bra. 
Why?
Because this sports bra was designed for post-mastectomy breast cancer survivors. 
In addition to having similar features to other quality sports bras, including the moisture-wicking fabric and comfortable straps and fit, this bra also incorporates features to make life a little easier for women who have undergone a mastectomy. 
Breast cancer survivors and patients helped to design the bra, with its special features including: 
A front hook and eye closure to make it easy to wear and remove

 

No wires so that sensitive post-surgery skin is not irritated

 

Mesh pockets that can be expanded to make room for any prosthetics

 
To top it all off, the design of this bra is trendy and stylish, with available colors including black, pebble gray and soft lilac. 
The Power Edge Seamfree Racerback Sports Bra from Jockey
Jockey have produced several fantastic sports bras, but one of the very best for shape and support is the Power Edge Seamfree Racerback Sports Bra. 
In addition to its sweat-wicking finish, this bra also features removal cups, giving you the option of customizing the bra's shape. As you can tell from its name, this is a seamfree bra, meaning less irritation, while its racerback style provides extra support. 
Unlike many other sports bras, this one features an especially wide band under the bust, making it perfect for high-impact sports. 
The High Impact Sports Bra from Enell
https://www.instagram.com/p/BRwe-7BBwQH/
If your cup size is smaller than a C, then unfortunately this bra isn't for you. 
However, for those who are a C cup or larger, the High Impact Sports Bra from Enell will provide you with comfort and stability throughout your workouts. 
This bra is made from Naturexx, an exclusive fabric that is soft to the touch, wicks moisture and keeps the body cool. Its design also features back panels that help to keep the body stabilized, improving your posture while you work out. 
In addition to all of this, as well as the fun colors that the bra is available in, there are a couple of other features that set this bra apart from the competition…
The first is the smooth back. This is there for a reason – so that the bra can easily be worn with a hydration vest. 
The way in which this bra fits is also worth a mention. It provides incredible shape and support, but many find that this bra feels a little tight sometimes. 
However, there is a trick to wearing this bra to avoid it feeling too restrictive…
The hook and eye fastenings have been placed at the front of the bra, and you need to start at the bottom when fastening them. As you work your way up, adjust the way in which your breasts sit within the bra to ensure maximum comfort. This may seem like a complicated extra step, but the way in which the bra fits snugly, but not too tightly, makes this worthwhile. 
The Medium Impact Sports Bra from Salomon
Although the name of this bra suggests that it wouldn't be suitable for high-impact activities, the Medium Impact Sports Bra from Salomon actually holds up quite well to more intense workouts. 
This is a compression-style bra that really holds everything in place, drastically minimizing bounce. However, it also offers enough flexibility to make this a bra that you could wear when doing yoga. 
The seamless nature of this bra makes it so comfortable, and really helps to enhance your body's natural shape. 
However, the downside to this is that the bra isn't always easy to put on or take off, and may require some wriggling to slip it over your shoulders. Nevertheless, the way in which it perfectly hugs the body really does make up for this. 
This is a bra that offers quite a bit of extra coverage. In order to compensate for any extra heat that this may cause, the design features tiny holes to encourage your skin to breathe. 
The Renew Sculpt Eco-Conscious Bra from Bellum Active
https://www.instagram.com/p/BoBceCoD61l/
If you try to live a lifestyle that is as eco-friendly as possible, then the Renew Sculpt Eco-Conscious Bra from Bellum Active is the best option on this list for you. 
Why? 
Because this bra is made from a unique fabric known as Econyl, which is a regenerated yarn. 
Don't worry, thanks to the Lycra incorporated into the bra, the stretch and it is perfect, while the bra manages to retain its shape extremely well over time. 
There are a few others things that you should know about this unique fabric:
It offers UV protection

 

It effectively wicks away sweat

 

It is fast-drying

 

It is anti-piling

 
It isn't often that you find a quality sports bra crafted from an eco-friendly fabric, making this a bra worth considering if you care about your individual impact on the environment. 
The NB Studio Bra from New Balance
The New Balance NB Studio Bra features quite a delicate design when compared to other sports bras, making it seem as though this bra simply won't offer the amount of support needed. 
However, this couldn't be further from the truth…
Although the straps may be thinner, there are two of them on either side, and these cross over at the back to provide just the right amount of support. The criss-cross detail is beautifully feminine, offering up a sleek bra for medium-impact activities. 
The material used for this bra is a New Balance signature – NB Dry to wick away moisture and allow the skin to breathe. This bra also features an added elasticated band at the bottom to give you some extra security. 
Wondering which colors this bra is available in? 
You have three options – black, tidepool blue, or conch shell purple. 
It can be difficult to find a good sports bra, and you need to make sure that you wear one that is designed for the activities that you will be doing. If you are a runner, a high-impact bra is needed for maximum support, while those who prefer medium-impact activities will need a bra with added stretch and movement. The 12 bras on this list cover all of those factors, giving you plenty of choice the next time you decide that you need a new sports bra.