6 Easy Ways to Personalize Your Room
|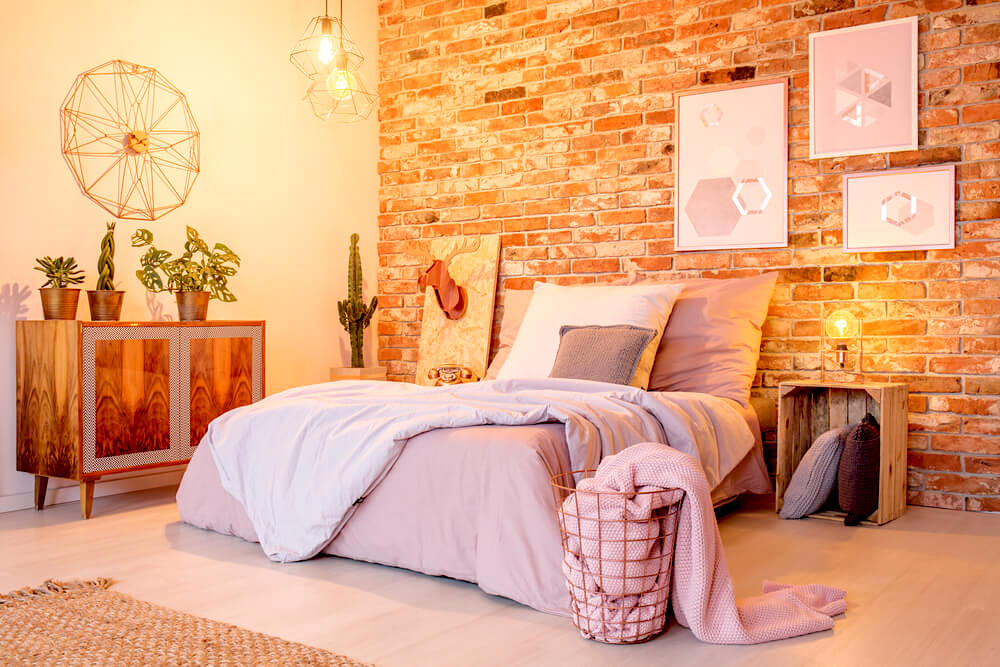 The bedroom is one of the most personal spaces in our homes and arguably one that's often neglected. Unlike other rooms, it's one that guests rarely get to see unless we invite them in.
That being said, your bedroom deserves as much attention as the other rooms in your home—even if it's often out of people's sight.
Personalizing the décor transforms your snoozing space from dull to dreamy and makes it a soothing place to spend your nights.
Don't have a budget for a bedroom renovation?
No need to worry:
You can spruce up your room without spending a fortune.
Here are some easy ways on how you can upgrade your bedroom today.
But before anything else…
Take inventory of what you already have and start with that.
Styling the bedroom allows you to show your personality. But nothing else ruins a great design better than clutter.
Before doing any decorating, make sure that everything is in its proper place:
Tame the mess by putting everything in a storage bin. Corral magazines, makeup, and miscellaneous items with wire or canvas baskets. Smaller items can go into small decorative bowls.
Declutter your closet regularly. Even if the interior of your closet is out of sight, clothes can still be out of place. Hang clothes inside closets or fold them neatly to store in a drawer. To create uniformity, use the same type of hangers for all your clothes.
Bring out unwanted furniture. You can make your room appear much bigger by taking out what you don't need. Furniture pieces that have seen better days may be donated to charity or refurbished to create another piece.
To make the most of your bedroom, don't let it be a dumping ground of the stuff you own. Take 10 minutes daily to declutter your room, and you'll appreciate the results.
Once you're done with this, you can move on to the fun part:
Bring the outside in
Imagine walking out into a balcony right outside the bedroom, overlooking a lush garden.
Sadly, for many of us, that's just a pipe dream.
But the good news is you don't need a bedroom with a private balcony to enjoy the outdoors.
You can bring nature into your home without breaking the bank.
Bringing natural materials into the bedroom makes us feel more relaxed and at peace. The simple addition of these outdoor elements makes any sleeping space look and feel lusher—whether you're living in an apartment or a dorm.
Natural materials like rattan, wicker, and bamboo all lend an earthy atmosphere to the bedroom. Try adding a small bamboo bedside table or exchanging your upholstered bed frame for a wooden one. You can also add wicker baskets for storage.
Metal is another gorgeous outdoor element that you can play with to enhance your bedroom. An antique metal nightstand or an interesting metal artwork add a touch of elegance to any sleeping space. These make a bedroom look and feel sophisticated without going over the top.
While gold is a popular choice, you can also go for other earthy tones such as silver, copper, and bronze. Pewter sconces and bronze lanterns are beautiful additions to your bedroom lighting.
Refresh your bedroom with plants
One would think that pollution is reserved only for the outdoors.
But get this:
Chemicals from wall paint, carpets, and even our dry-cleaned clothes pollute indoor air. Although we don't notice it, these contaminants affect the quality of our sleep.
Additionally, if you've been feeling under the weather for no apparent reason, it could be due to the quality of air inside your home.
https://www.instagram.com/p/Bn5cZWIFAW5/
The solution?
Bring in small air-filtering plants into the bedroom. Not only do they look refreshing, but they also make the bedroom more serene.
According to a joint study by NASA and the Associated Landscape Contractors of America (ALCA), some indoor plants help remove toxins such as benzene, formaldehyde and trichloroethylene from the air. These plants can suck the pollution from the air and store it in their tissues.
Not sure which plants to get for your room? Try these humidity-loving plants that thrive indoors:
Some people call the snake plant the "mother-in-law's tongue" perhaps of its toughness. It can survive indoors with very little water or light. Just make sure to give it some sunshine once in a while (indirect is best) and let the soil dry in between watering.
https://www.instagram.com/p/BppG2dVHpow/
The aloe vera plant is a beautiful succulent that loves a full sun. However, it can also survive in not-so-sunny locations. Just be careful not to overwater it as its roots are prone to rotting when there's too much moisture.
The English Ivy is a very vigorous vine, which is why they make excellent wall and ground cover. Indoors, these plants also look great when placed in a hanging basket. Just make sure to give it regular trimming.
With its large leaves, the fiddle leaf fig is one of the trendiest indoor plants. It thrives in shady areas and does not require a lot of watering.
The spider plant is one of the easiest plants to grow indoors and propagate. Though generally undemanding, this plant loves a full sun but can also live in shady areas. These plants also love water especially during the summer but need only some misting during the cold season.
If you want to bring more greenery to your home, you can also add terrariums. These mini tabletop gardens create the perfect escape when you can't plant outdoors during winter time, but they also make for interesting bedroom décor.
Place the plants inside a smooth glass container and decorate it as you please. This tutorial shows how you can make your own terrarium for your home.
Change your (bed)frame of mind
Bedframes are great when you have ample space to play with. But if you're a small space dweller, a footboard-style bed frame can make your sleeping quarters feel cramped.
Want to get the illusion of a bigger space?
Trade your traditional bedframe for a simple platform one. With no headboard or footboard, a platform bed gives your room an uncluttered look.
https://www.instagram.com/p/BqZwYUJlHxp/
A storage bed also works well if you need additional storage space or if your bedroom is too small to have other pieces of furniture.
But if switching bedframes is not possible, you can simply change the position of your bed to give you more room, depending on your bedroom's layout.
A bed at the center looks great in a square layout. But if you have a rectangular room, it's a good idea to place the bed on one side of the room and the tables and chairs on the other end. If you follow Feng Shui, your bed placement should follow where energy flows.
Liven up the room with luxurious beddings
There's nothing like a good thread count to ensure a good night's sleep. Investing in luxury linens may sound like nothing more than an indulgence, but doing so affects the quality of your sleep—and shapes the personality of your bedroom.
While Egyptian cotton and silk sheets are wonderful to have, the high price point can be somewhat out of reach. Then again, good linens don't have to cost an arm and leg to feel luxurious.
Not willing to shell out for expensive Egyptian cotton sheets? Pima cotton is your next best bet. This type of cotton feels nearly as soft and lasts almost as long as the expensive varieties. Minus the hefty price tag, of course.
But before you start splurging on linens, think about your foundations first:
We're talking about duvets and pillows.
https://www.instagram.com/p/BqQ7UaBleUx/
The softer and more cloud-like they are, the better they are for sleep. And, let's not forget that they look great as well.
Choosing a duvet depends largely on personal taste, but you also need to consider the temperature in your room.
A good tip to remember is to look for the duvet's tog rating, or simply, the duvet's measurement of warmth:
Summer – 2.5 to 4.5
Spring – 9 to 10
Autumn—9 to 10
Winter – 12 to 13.5
Then, there are pillows. Pillows need to be comfortable and functional, but you can also use them to add personality to your bedroom.
Cushions of different shapes, sizes, and colors give your room a distinctive character. The most comfortable ones have down fillings, but if you're prone to allergies, choose the hypoallergenic ones.
Fill the room with your favorite scent
Part of personalizing your bedroom is the ambience that you create. A room that smells of cigarette smoke, dirty sheets, and cat litter does not only stink—it also conveys a lot about your personality.
Opening your windows to let the air in will help refresh the room and eliminate the foul smell. Once your room is well-ventilated, you can now fill it with your signature scent.
How you do it depends on your preference:
Air freshener – Air fresheners from a can are convenient to use. But if you have allergies, the chemicals in the spray may aggravate your condition. An alternative? DIY it with distilled water, rubbing alcohol, and your choice of essential oils.
Potpourri – If you're not a fan of sprays, you can freshen your room with dried flowers and essential oils. Place the potpourri on the nightstand or leave it inside your closet. Either way, it will keep your room smelling great for weeks.
Candles – Candles do not only come scented with your favorite fragrance; they also bring a sense of calm in the bedroom. The light from the candles can be very soothing at night.
Reed diffuser – Reed diffusers deliver scents that last longer than a candle. Plus, they're safer to use inside the bedroom. Choose your favorite essential oil and let the diffuser do its magic.
Your signature scent does not have to be the same all year long. You can switch it up to create different moods inside the bedroom.
Give your window the royal treatment
Whether your bedroom window offers the view of the city or the mountains, one thing is for certain:
You need something that will offer some privacy and soften the light that comes in.
So what type of window treatment should you use? Here are some ideas:
Matchstick blinds – These slim blinds are perfect for small spaces. The slits let some light in without revealing the whole bedroom.
Roman shades – These are great for adding patterns to your room. You can opt for one with a bold pattern if you have neutral-toned walls.
Sheer curtains – Great for small bedrooms, these curtains allow natural light to come in but also offer just enough privacy.
Tall and thick drapes – Tall curtains make a room seem bigger. Choose a color that offers against your wall to add visual interest.
Valances – Although these don't offer the best privacy, valances are the perfect accent to windows.
If you choose to hang curtains, take note that a drape that's too long or too short can make your room look unkempt.
Stylist Emily Henderson likens a pretty room with badly hung curtains to a well-dressed lady with pants that are too short.
To make the bedroom seem bigger, hang curtains slightly above the window frame. This will give the illusion of a higher ceiling. For the impression of a bigger room, choose window rods that are slightly wider than the frame.
Love Your New Bedroom
Each of the steps here adds up to creating a beautiful bedroom that's comfortable and brimming with personality.
You don't have to follow everything to a T—just do what feels right for you in terms of comfort and aesthetics, and you'll have a bedroom that you can consider an extension of your personality.