Boost Your Skin Protection Game: A Lionesse Review
|
This week I tried out two skincare products from the luxury skincare brand Lionesse. This brand has a variety of skincare products, divided by:
Lionesse "basic" skincare line: Daily Care, Anti-Aging and Devices

Lionesse Collections: Facelift Collection and Collagen Collection

Gem Skincare Collections: Amber, Black Onyx, Diamond Lift, Golden Sapphire, Opal, White Pearl and Morganite
They also have hair styling tools, but I like my curly hair in a "I woke up like this" style, so I'll stick to skincare.
Now, some people like to stay loyal to skincare collections and only use products from one collection as a regimen. Not me, I look at all the collections and mix & match, trying out different products.
This time I chose a mask from the Black Onyx Collection and a day cream with SPF from the Opal Collection. A mask because I love masks, I do masks at home once a week. A day cream with SPF because the sun gives us vitamin D (all you need is 5 to 15 minutes of sun exposure two to three times a week), and vitamin D is necessary for the absorption of calcium and phosphorus, plus, it assists in bone development. But it can also cause oxidative damage which manifests as dark spots, premature wrinkles, skin thinning and dehydration. Since I live where the sun shines throughout the year having a day moisturizer with SPF is a must.
Lionesse Black Onyx Mask
Let's start with the Black Onyx Mask from the Black Onyx Gem Collection. Every time I try out a skincare product I read the ingredients first and research the ones I am not familiar with.
It is important to understand what we are putting on our skin. This way if we get an allergic reaction or if it makes our skin drier or oilier we can have a sense of what ingredients work for us and which don't. For example, I have combination to oily skin and I have noticed that skincare products with coconut oil are too oily for me but products with jojoba oil work great.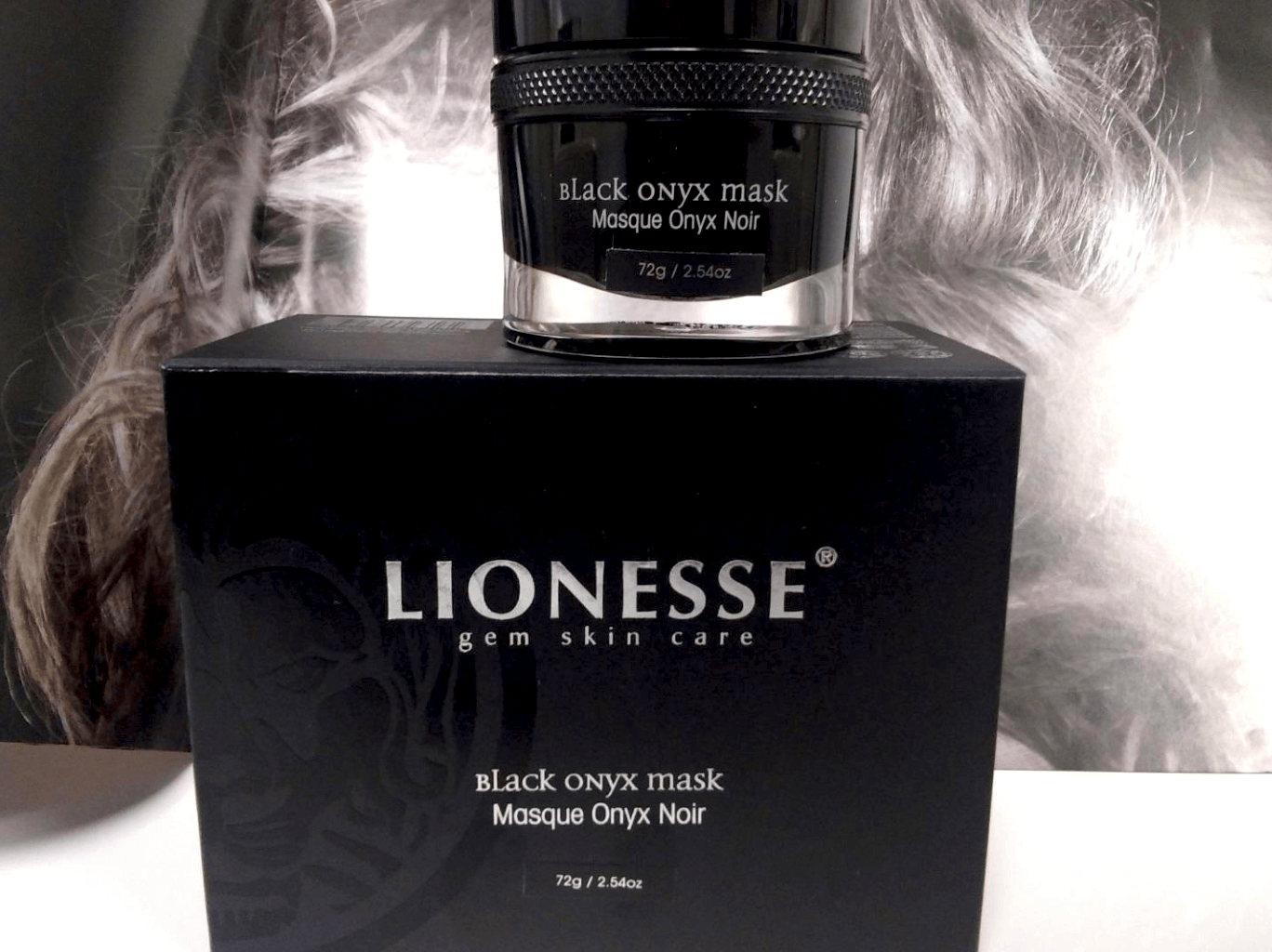 If you are wondering what kind of gem the black onyx is. iIt is a microcrystalline quartz, the natural black onyx type is very rare, formed by the accumulation of silica in gas cavities in lava.
The Black Onyx Mask is made with:
Kaolin Clay

: This is an ingredient I love, it is present in most good quality facial masks. It is a naturally occurring white clay mineral that works as an excellent absorbent, which works great for combination and oily skin but it's gentle enough for sensitive skin types. It is a great detoxifier that doesn't irritate the skin. It is also known as china clay and kaolinite, and the brighter the color the better the quality.

Zeolite: A volcanic mineral that acts as an ion-exchange agent with high negative charges, serving as purifier and detoxifier, neutralizing pollutants and some heavy metals. This ingredient also has great cleansing and absorbent properties. It is commonly used to unclog pores, leaving skin clean and soft.
Methyl Gluceth-20: Don't be scared, this ingredient is hard to pronounce but it's just a water-soluble humectant and emollient that is derived from corn sugar and cornstarch. It is effective yet gentle, and it's mainly used for it's moisture retentive properties.
Retinyl Palmitate: This well-known ingredient is the mix of fatty palmitic acid and retinol, which is also known as pure vitamin A

. It works a s a skin conditioner and restorer, and it has great antioxidant properties.

Ascorbic Acid: You have probably seen this ingredient on many other skincare products, this is the most common used form of vitamin C

. This potent but stable version works as an antioxidant that improves the skin's glow factor.

Tocopheryl Acetate: This very popular ingredient is a mix of acetic acid and tocopherol, also known as vitamin E

. It serves as a more stable form of vitamin E, works as a great skin conditioner and antioxidant.
It is also infused with various botanical extracts such as arnica montana flower, aloe vera leaf, sweet almond oil, coffea arabica, lemon peel and garden angelica.
All the ingredients are listed in the beautiful black recyclable box with details in silver, along with directions and customer service information. It has a magnetic closure and the 2.54oz black and clear hard plastic container (no breaking if it falls) is tucked inside along with a black plastic spoon type applicator for convenience and cleanliness. This mask is made in the USA, in an FDA registered facility.
As with all skincare products I recommend that you first do a skin patch test 24 hours before, just in case you get an adverse reaction, especially if you have sensitive skin.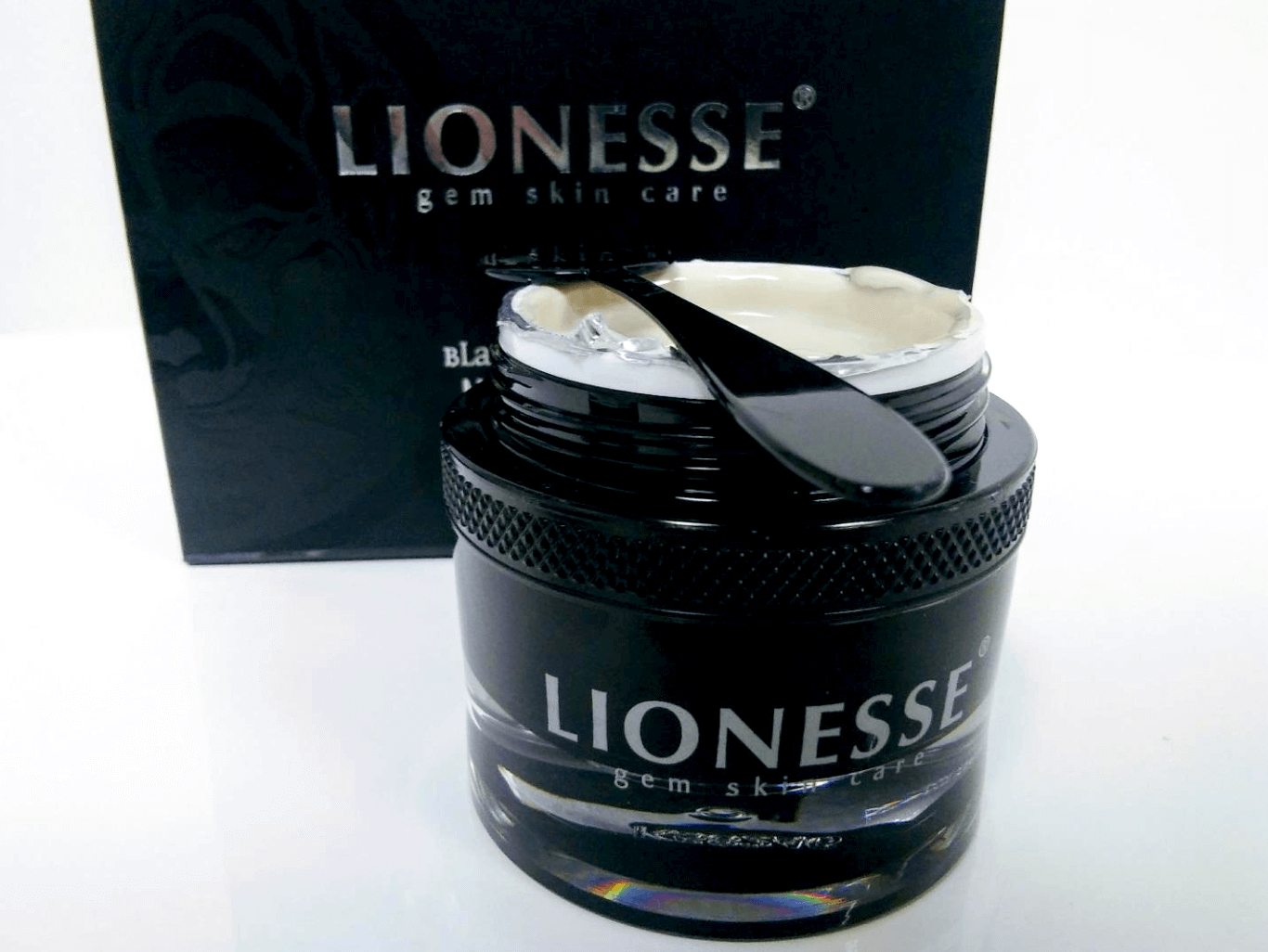 Once you open the container you have to peel away the silver plastic cover and then you will see the creamy mask. After cleansing the skin, pat dry with a soft towel or cloth and then with the spoon applicator start applying the mask on the face and neck, avoiding the eye area. You will notice that it quickly becomes warm as you apply it and it will stay warm, leave on for about 10 to 15 minutes and then rinse with cool water until all residue is gone.
This warming effect felt truly calming and spa-like, I have to say that my skin looked and felt calmer, softer and better toned afterwards. The directions say to use one to two times per week, I would say that if you have big pores like me, use it once a month, as the warming effect might be too much for pores that are already noticeable. I recommend using this mask at night, to get that warm feeling before applying your moisturizer and going to bed. In the northern hemisphere of the world it is summer right now, but I can imagine how good this mask would feel in winter time.
So, after I rinsed off the mask, I applied my vitamin C serum for nighttime, my neck cream and went to bed. The next morning after cleansing my face and neck I always have to apply a facial moisturizer with SPF before I head outside in the tropical weather.
Lionesse Opal Sheer Shield 
This is where the Opal Sheer Shield with broad-spectrum SPF 30 from the Opal Gem Collection comes in.
This collection comes in recyclable boxes with magnetic closures too, but they are shiny white, and the 1.7oz hard plastic container that is nestled inside is clear and shiny lilac.
I researched a bit on what type of gem an opal really is. As it turns out, it's a solid sedimentary gem with mineral characteristics, it comes in many color varieties, the common opals are one colored and the precious ones display all the colors of the spectrum because of the light passing through it.
As always, I read the ingredient list and do a skin patch test 24 hours before. This moisturizer has five different ingredients that work as a sunscreen in different concentrations (Octinoxate, homosalate, octisalate, oxybenzone and avobenzone). The other ingredients in this day moisturizer are:
Camellia Sinensis Extract: This popular botanical skincare ingredient is the extract of the leaves of the green tea plant. It contains polyphenols that boast great antioxidant capabilities and anti-inflammatory properties.
Aloe Barbadensis Leaf Extract: This wonderful aloe vera leaf botanical extract is known for its skin-soothing and anti-inflammatory properties. It is also rich in vitamin E.
Diamond Powder

: Shine bright like a diamond is correct here, this ingredient is used to reflect light and give the skin a luminous finish.
It is also made with important antioxidants like retinyl palmitate (a form of vitamin A) and tocopherol (vitamin E).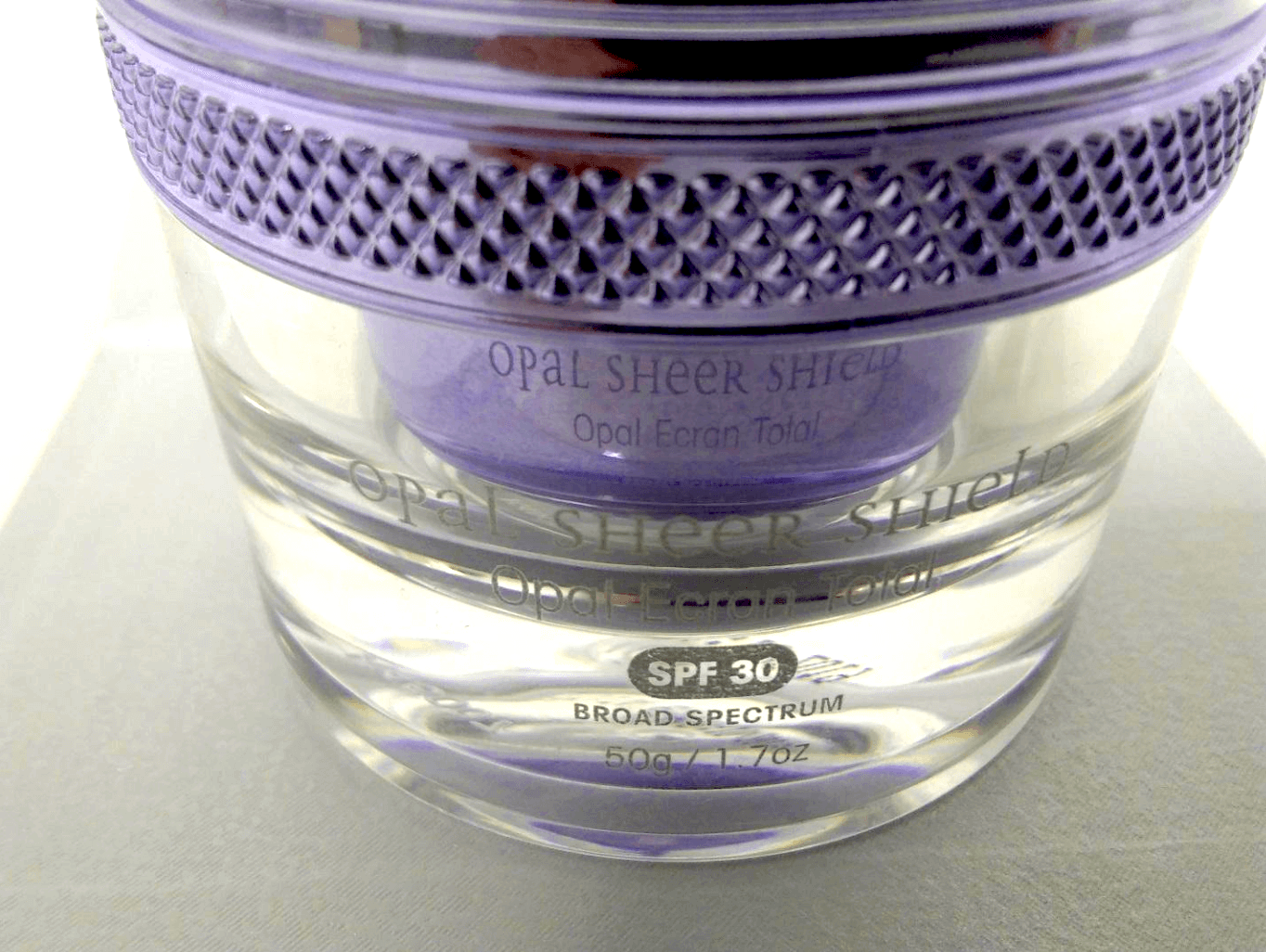 When I applied the moisturizer on my face, neck and cleavage (avoiding the eye area) with gentle upward motions as always (you want to prevent skin sagginess, not promote it) I noticed that the moisturizer is sort of sheer (as it implies in the name). It doesn't feel heavy and it is bright white but goes on silky and without any white residue (it's not like a thick sunblock).
This is perfect, especially for my type of skin (combination to oily) because when I am under the sun I don't want to feel like I have a cakey textured moisturizer on my face. Having a facial moisturizer with the SPF included is a must for me, because piling on two products on my face in this humid weather is a no-no. Also, if you want to wear makeup on top you won't feel like you have 3 pounds of products on your face.
I am fine with an SPF 30 since that helps block about 97% of UVB rays, and anything above SPF 45 is just not necessary, it's just a matter of reapplying and taking other precautions (especially if you have light-color skin). You can cover yourself with a hat, and you should definitely wear sunglasses since most eye creams don't have SPF included (it might be too irritating for the sensitive eye contour skin). Now, there are two types of UV rays, UVB and UVA, to protect the skin against both it has to be broad-spectrum, so this product covers that too. FYI: tanning beds, some halogen, incandescent and fluorescent lights also emit UV radiation, and it's harmful in the same way the sun is.
You think that SPF protection is just a summer thing? Nope. UV rays reach us all year long, even on cloudy days. Oh, and be careful in areas where there is sand, snow or water, since they reflect sunlight, increasing the amount of rays you receive. Plus, some UVA rays pass through windows that are not tinted. One useful government webpage that is still available is the EPA UV Index page, it gives you a forecast of the expected risk of UV exposure, so you can plan your outdoor activities.
I hope all this info gives you a better idea on what you can expect before purchasing the warming Black Onyx Mask and the Opal Sheer Shield with broad-spectrum SPF 30. Remember to always do your own research on the products you put on your skin.
You can buy Lionesse products online, they offer free shipping on all US orders. You can also check out their social media channels: Instagram, Facebook, Twitter and Pinterest.