The fall is finally here, which only means one things: Halloween will soon creep up on us.
And if you still haven't figured out your look for the Halloween events you're going to be attending, worry not!
We have compiled a list featuring all kinds of intriguing, kooky Halloween creations that will be sure to amaze, terrify and stun anyone you happen to encounter during the freaky festivities.
Whether you're in for a quick last-minute party look or a face that's a fully fleshed out FX masterpiece, our list is here to help you achieve a unique, positively scary look for the Halloween ahead.
Oh, Deer!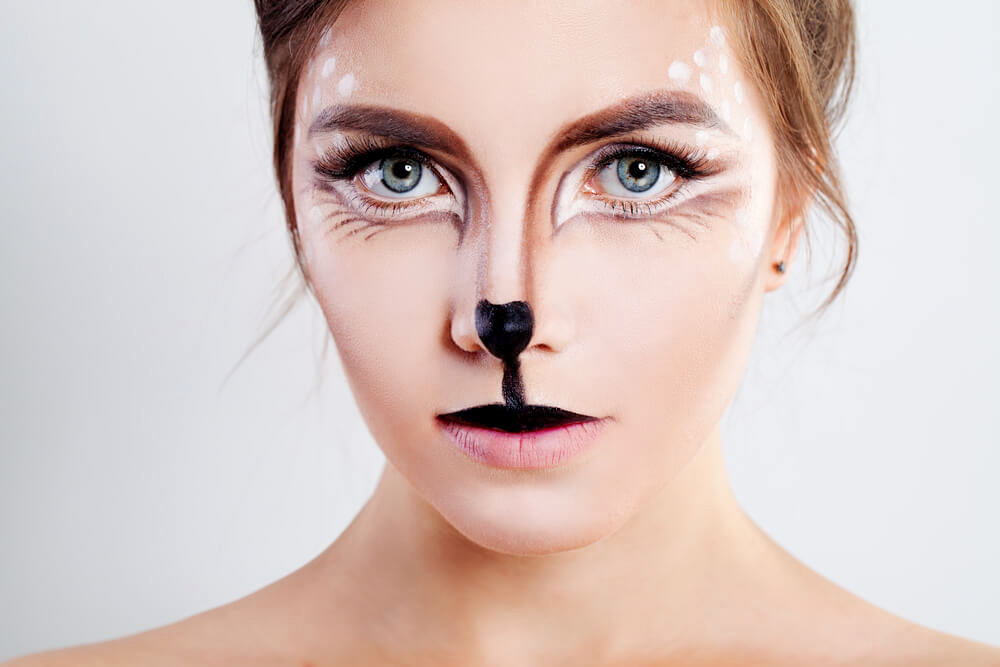 If you're in a rush and can't think of an elaborate Halloween costume, an animal-themed look is always a good cop out.
And if you think that going as a cat or a bunny is a little overplayed, then this equally easy but infinitely more interesting look will definitely be a right fit for you.
What's more, rocking a deer face on the scariest night of the year requires minimal effort.
Begin the look by applying a decent layer of your go-to foundation. Conceal dark circles and any imperfections as you would for your day-to-day looks.
Next, grab a brown brow pencil and define your brows, so they are slightly thicker and flatter than your normal shape.
Grab a contour shade and use it to define your cheeks and jaw. Add a dash to the sides of your forehead, as well.
Grab an eye shadow brush and use the same contour colors to sculpt the sides of your nose, connecting them to the brows. Blur out the edges with a blending brush.
Begin creating the doe-eyed look by taking a brown pencil and drawing a new, exaggerated eye shape while still following the natural contour of the eye.
Soften the line by blending it with a brush and a tough of shadow in the matching hue. Draw on individual eyelashes, then use a white shadow to fill in the empty space in the inner corner of the new eye shape.
Use the same white-tinted product and create a couple of spots just above your brows.
Enhance the wide-eyed look by lining your waterline with a white pencil and gluing on a pair of wispy lashes.
Finally, define the nose and the top lip by taking a liquid eyeliner and coloring the very tip of your nose.
Use the same liner to connect the nose to the lips.
Grab an opaque black lipstick and add a coat to your top lip. And just like that – you are now an adorable forest animal!
The Undead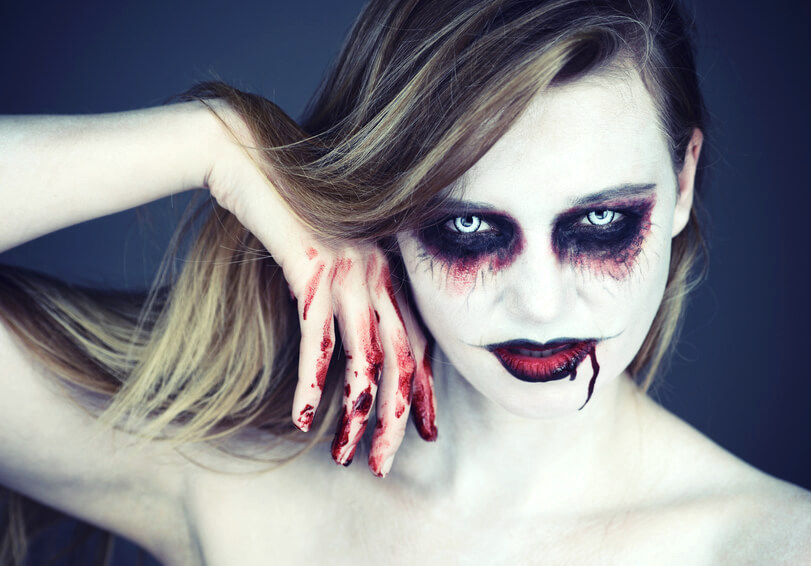 When in Halloween costume doubt – go out as a zombie.
Because let's face it: there can never be enough zombies walking around on a Halloween night. 
Not to mention how fun it is to freak people out wherever you turn up. Plus, the transformation doesn't require being super precise or skillful with your makeup. Sounds like a win-win!
Begin by applying a super-pale foundation or powder all over your face, neck and any other areas that will be exposed.
Apply a dash of white powder on a brush, then swipe if over your eyebrows for an even more sickly look.
Next, take a plum-hued eye shadow and begin applying it widely across each lid. Take a dark red shadow and focus on the area under the lower lash line. Finally, grab a black shadow and intensify the entire look.
Overline your lips with a black liner and fill them halfway to the center.
Apply red lipstick in the center of the lips, then use a brush to create a seamless transition between the lipstick and the liner.
Use the same liner to "extend" the corners of the mouth and carve out a creepy smile.
Place in white or pale blue circle contacts.
Grab a bit of fake blood and smear it near your mouth and over your hands.
The zombification is complete!
Baroque Goth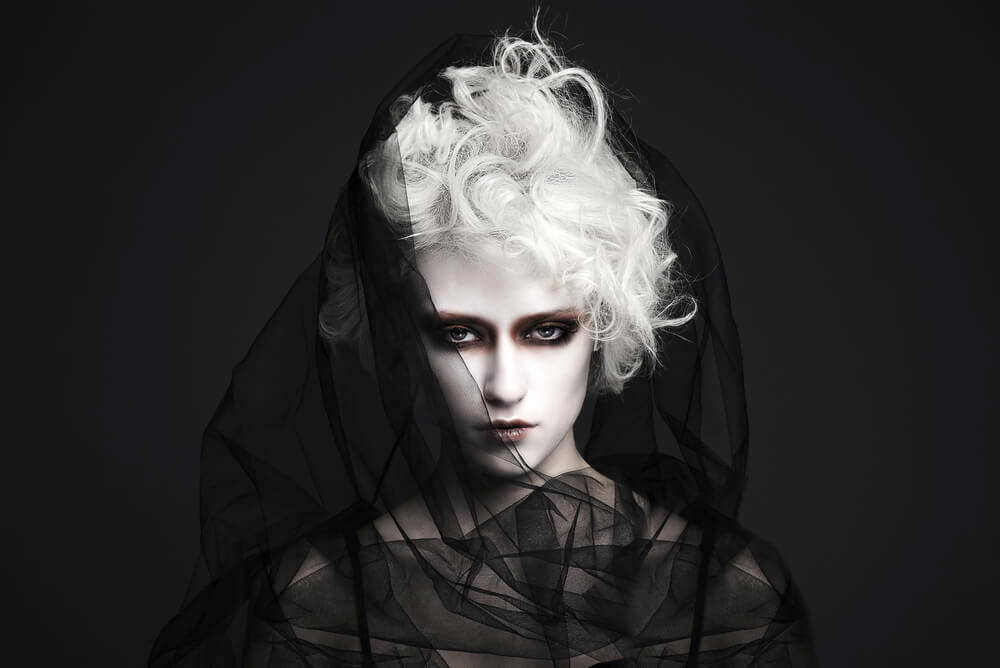 If you like your Halloween look to be a little less on the costume-y and a little more on the editorial side, then this chic, vampy look might be just up your alley.
Start off by laying a generous amount of foundation in a shade that's few hues lighter than your natural skin tone.
Use compact powder to set base makeup. Grab a grey-toned contour color (you can even use a brow product or eye shadow) and start carving out your cheeks and jaw for the spooky, gaunt appearance.
If your eyebrows are naturally dark, grab a bit of concealer to block them and achieve the browless, gothy raccoon eyes.
Begin creating the eye look by giving the upper and lower lid a wash of reddish-copper shadow, sweeping it all the way from the bridge of your nose to the outer end of the brows. Intensify the crease and the lower lash line with a darker brown shadow.
Finally, take a black shadow and use that color to emphasize the corner of your eyes and give them a more smoldering appearance.
Give the eyes an extra edgy look by adding a pair of spidery falsies on the top and bottom lash.
Finish off the look with a dark wine lip, which you can focus on the center of the mouth for that subtle '20s vibe. Grab a touch of foundation and use it blur the edges of your lipstick.
Forest Elf
This ethereal look is the perfect match for anyone looking to channel elven vibes this coming Halloween.
Even though this particular look involves a touch of special effects, the overall makeup is quite subtle and flattering, so you can rest assured it won't be difficult to achieve.
Start with well-prepped and moisturized skin.
Put on your elven ears, making sure the coloring matches your natural skin tone.
Next, take a small amount of wax and roll it into thin strips.
Start sculpting the vine along your cheekbone. Let the wax dry, then proceed to blend everything out using a foundation that you would normally wear.
Conceal dark circles or any other imperfections and add a touch of natural-looking blusher onto the cheeks.
Keep the eyebrows understated by applying a light coat of brow mascara.
Eye shadow should be kept muted and in neutral tone to match the forest aesthetic. For a minimal look, a taupe eye shadow to define the crease and the lower lash line will be more than enough.
Coat your lashes with mascara and add falsies if you want a more sensual look.
Apply rosy toned lipstick to your pout and your elf looks is complete!
Occult Alien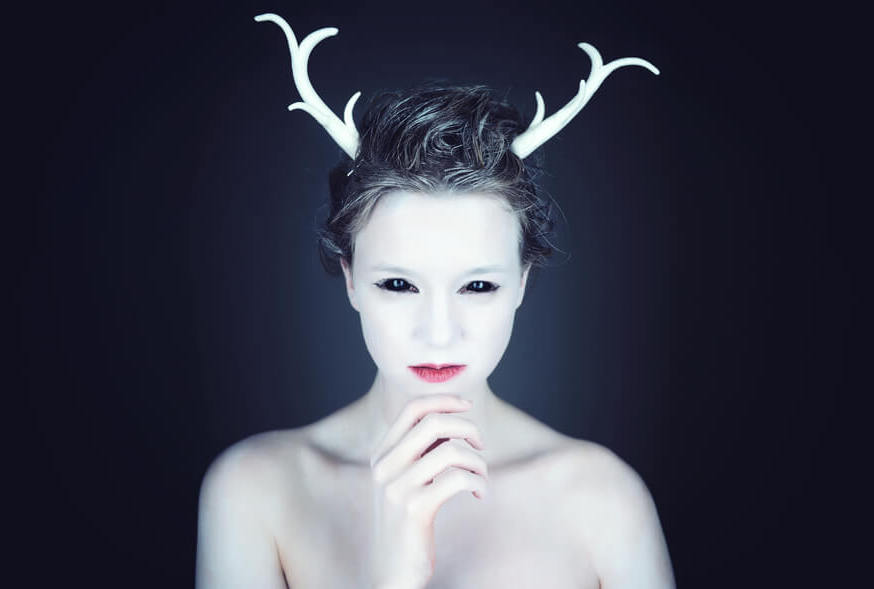 This Halloween might be the ideal time to rock something completely out of the left field.
Lucky for you, this mystical look has the power to terrify and intrigue any Halloween goers you might encounter during the night.
The most important part for nailing this look is that you secure that ghostly pale complexion. You can do this with clown white foundation or heavy-duty powder. Make sure to concentrate some of the product on your  brows (you can even block them beforehand), as hairless look tends to be even creepier.
As for your lips, coat them with pinky-red lipstick, then use some of your base product to blur the edges and create a gradient transition.
Place full black contact into your eyes – they will be the centerpiece of this eerie look. You can leave your eyes as is, or you can gently define them with a touch of liquid eye liner.
Back comb your hair ever so slightly and give it a spritz with white hair spray to match your new skin tone.
For extra demonic vibes, you can find a pair of fake antlers, glue them on a hair band and paint them white.
Bloody Nun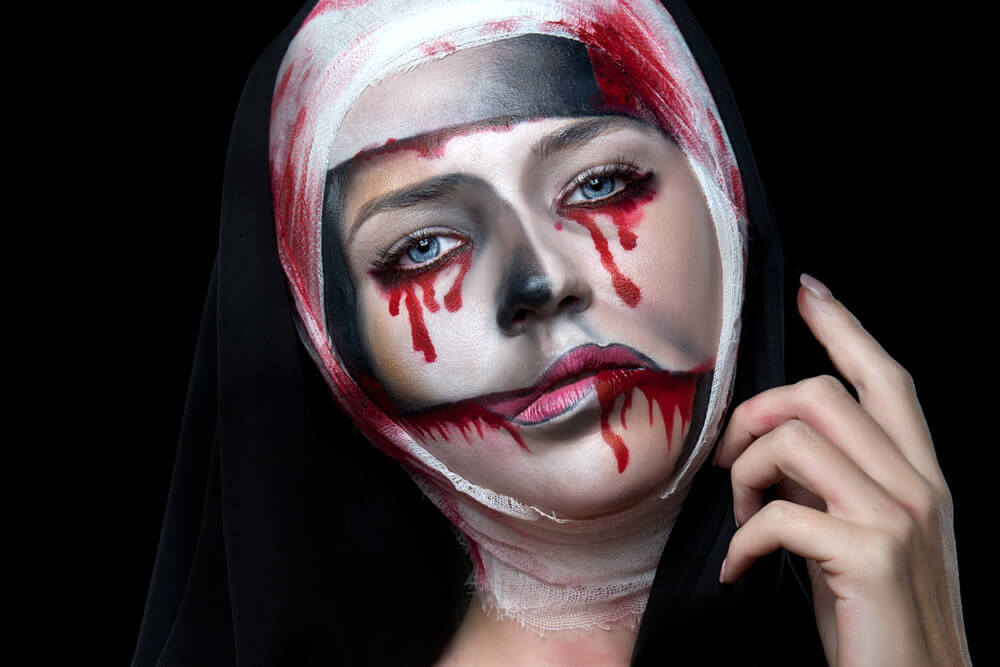 Nuns are always a fun and popular Halloween costume, but this time, why not make it extra gory with fake blood and bandages?
You can create this look by applying your foundation and concealer, and defining your brows as you would normally. Then, grab a grey eye shadow and start creating the gaunt look by emphasizing the laugh lines, nose bridge, inner corners of the eyes and cheeks.
You can intensify the contour color by adding a dash of black shadow over the grey parts. Grab a black kohl pencil or eye liner and apply it under your lower lash line and also across the lower part of your face.
The creepy mouth effect can be achieved with a bit of lip liner and a matte red lipstick. Instead of following your natural lip shape, use the liner to create an entirely new, crooked look. Fill the insides of the new lip shape with dark red lipstick. Grab your foundation and use it to block the color of your natural lips, then take the shade you used for contouring to create an illusion of shadow under your new lip shape.
Take red face pain and apply fake blood under the eyes and along the mouth area.
Finally, wrap your head in bandages and use the same red pain with a makeup sponge to add even more fake blood. 
Graphic Eyes
Sometimes, you don't need to mimic a well-known character in order to nail your Halloween look.
If you want to try out something truly unique, a visually interesting makeup look will be just as effective as any gory costume.
And this bold, graphic eye-focused look might be just the right thing to complete your Halloween look this year.
Even though it may appear intricate, this look can actually be achieved quite easily and you won't need more than a few products.
Do your base makeup as you would on any given day.
Then, take gel eyeliner and an eye shadow brush and begin creating an opaque layer of shadow around your eyes.
Once you've gotten the general shape down, take a detail brush, dip it into the pot, then begin tracing finer lines of black.
You can use the same brush to dab a couple of dots around the eyes for an even more laissez-faire vibe.
Line your lips with a black lip liner and coat the inside with a bright red lipstick.
Use a cotton swab or a makeup brush to marry the two colors.
Once you've completed the look, spritz your face with a bit of setting spray and you're good to go!
Artsy Two-Face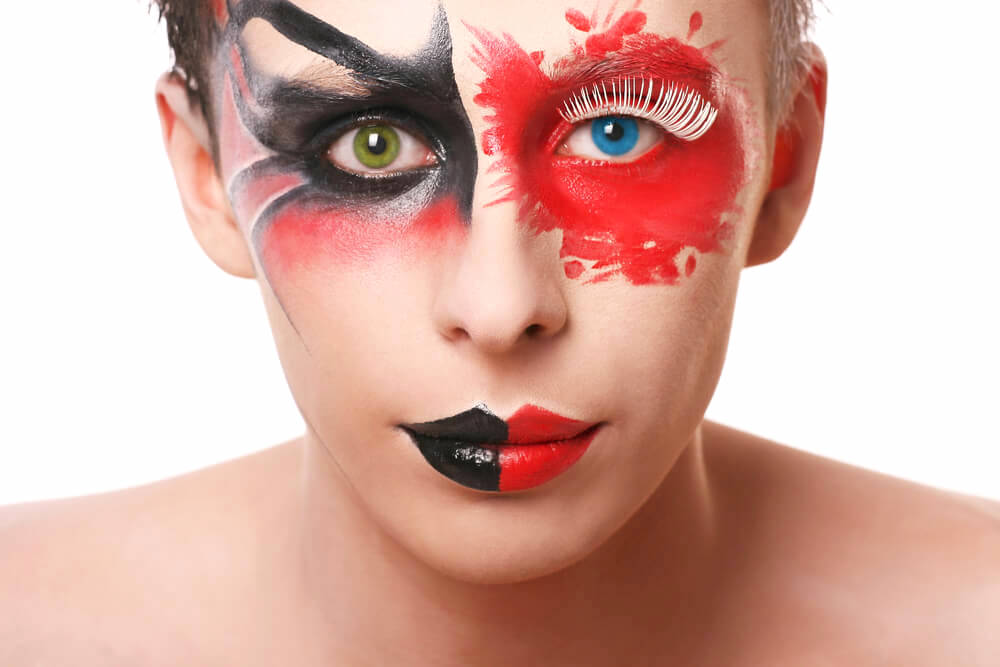 Some Halloween occasions call for a more, how shall we put it, "highbrow" look.
So why not test out your artistic sensibilities with this eye-catching, creative makeup look that will go well with any kind of kooky costume you choose to put on this year.
Here's how to do it!
To ensure your artisanal look stays put throughout the night, make sure to prime your face.
Next, apply foundation and concealer as you would normally.
Apply a touch of concealer to your eyebrows to neutralize them. If your hairs are especially course or dark, you can also use eyebrow blocking method to completely conceal them.
On one side of your face, use black face paint and begin creating a messy, spider-shaped eye.
Next, grab a small sponge, dab it into red-toned face paint, then blend that around the black you've just applied.
Use the same red and a flat concealer brush to create the eye look on the opposite side of the face. Make sure to swipe broad, slightly messy strokes to achieve the appearance evocative of abstract art.
Once you're happy with the look, apply a bit of concealer on a clean brush and use it to clean up any smudged or messy areas.
Add a dramatic white lash to the red side of the face and apply two rich, high-shine red and black lipstick on one half of your pout.
Finally, make sure to lock everything in place with a generous amount of setting spray.
Hopefully, these ideas have shown that it doesn't take a lot to make everyone gasp at your look this Halloween. Whether you decided to do full gore or an ethereal fantasy look, we are positive you will be turning heads wherever you go.