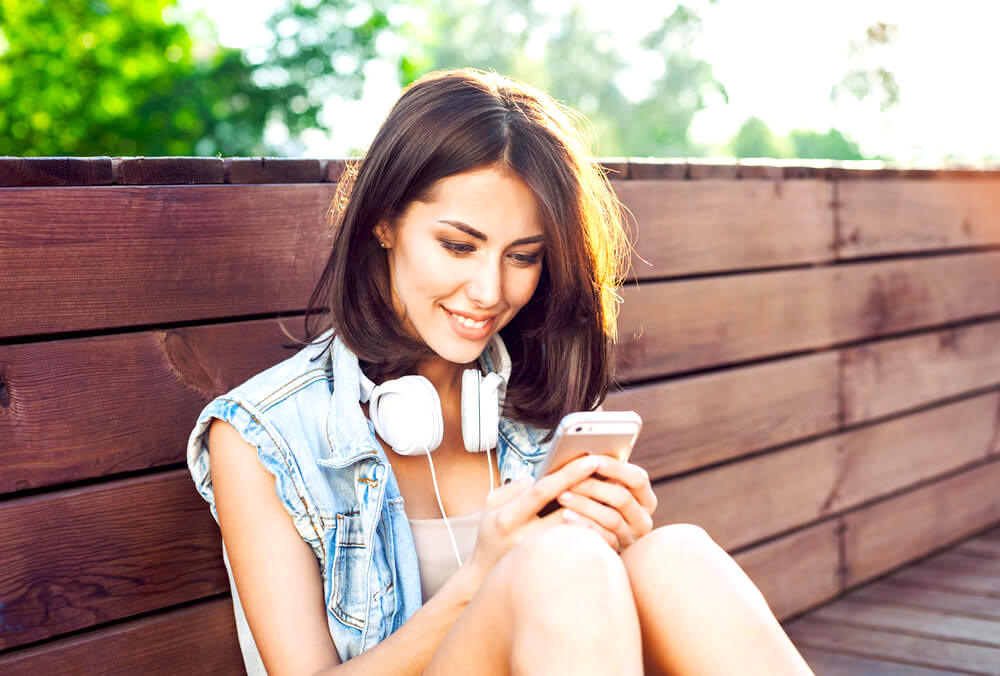 These days, it seems like everyone is the person who has everything. We're a nation of shoppers, and we'll never be satiated. We love the thrill of the purchase, the power of being able to use our credit cards and cash to get something we want, the endorphins triggered by a transaction, and no matter how many i-phones, pairs of shoes, tubes of lipstick, and home entertainment systems, we still want more.
So what do we do when our closets are overflowing, our refrigerators are overstocked, our bathroom cabinets no longer close – nor do the zippers on our pants – and even our pets have more clothes than our grandparents did growing up. What then do we spend our money on?
Luckily, there are people on it. For everyone looking to spend a dollar, there is someone looking to make one, and if their ideas are good, they'll make quite a few, and if you're having trouble buying, they have no problem offering suggestions.
If you're among those who is not sure what you need, here are 15 things that might give you some ideas.
USB Gadgets
If you thought the USB port on your PC was just for connecting flash drives and data cables, think again. It turns out this little input can give some pretty impressive output.
While there are a plethora of USB powered inventions to be had, one of the best has to be the Dream Cheeky Mini Fridge, which is great for keeping a cold drink on hand, if getting up and going to the fridge is too taxing.
The mini fridge can store a 12 oz beverage, but keep in mind, it is only powerful enough to keep an already cold drink cold; it will not frost a warm drink.
Other USB fueled gadgets include the mosquito killer, which has a slot for placing a mosquito repellent pad, or if you find yourself staring too often, you may want to plug the Masunaga Wink Glasses into your USB port: they have a blink sensor that fogs up one of the lenses if you don't blink for five seconds to prevent users from drifting off.
Christian Loubitan Nail Polish
What else can you get the fashionista who has it all? Christian Loubitan has already conquered fashion, and now he's taking aim at nail polish.
This eight inch tall bottle with a pointed spire in the design of his ballet flat spiked heel is too tall to fit in a bathroom cabinet, and who would want to hide this treasure among their acne creams anyway? This is meant for display and makes a great conversation piece and addition to the decor.
The glass bottle is faceted like a gem, and comes in a patent leather box, which makes it a great gift item. Also features a triangular brush shape to eliminate air bubbles and unique formulation so two coats have the strength of twenty, perhaps justifying its $50 price tag.
Tile
This is a service, not a product, but one definitely deserving of mention. Have you ever found yourself ready to leave for an important appointment, and not able to find your keys?
Your days of tearing your hair out in frustration may be over.
Tile is a panic relieving, time-saving app with tiles (small stick on devices) that you can attach to keys wallets and purses.
If the item in question is within 100 feet, a proximity center will emit a musical sound, so you can conduct a small search – much like an electronic Marco Polo.
You can also call on a friend to access the app if you need their help searching other locations you may have been in.
Clothes Folding Machine
You may have heard about the imminent threat of textile waste due to milennial's preference for replacing clothes rather than repairing them and washing them, but does that extend to folding them?
If so, this product may not only save time, but the environment as well.
Sit the Foldimate next to the washer or dryer. After your clothes have been washed and dried, hang them on the Foldimate using the Easy Clipping technology, then watch in awe as the machine 'eats your clothes.'
Once inside, the robotic folding process begins, as does the insanity. While the item goes through the machine, it gives the user the choice of having it treated with softener, perfume, or a sterilizer, or de -wrinkler.
The Target price for this? $700-$800. Worth it? The preorders start next year.
Wall Mounted Magazine Holders
Want to kill several birds with one stone?
Here's an innovation that will cut down on clutter, enhance your decor, and provide the coffee table book with an alternative to the coffee table.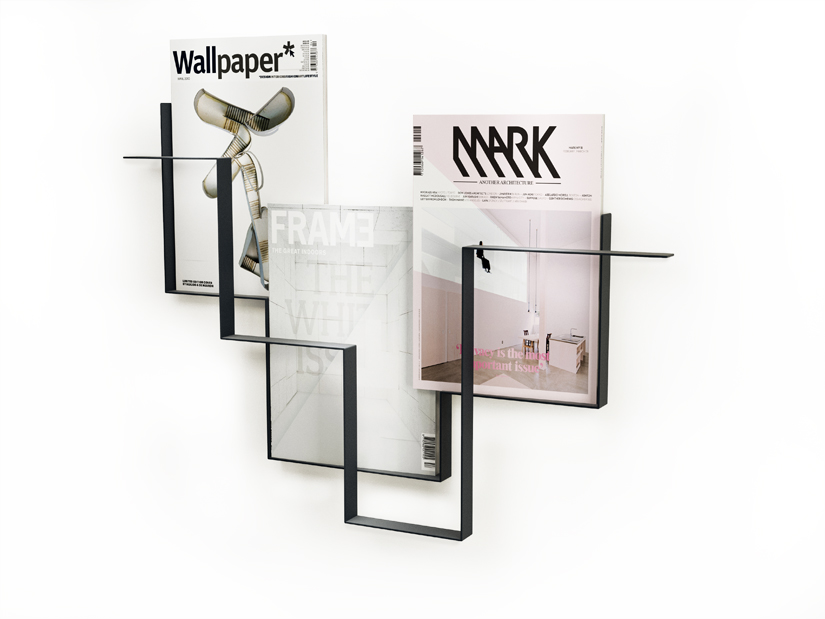 Frederik Roije is behind this minimalist design which works much like a picture frame, except you insert a book or magazine instead of a picture, and it has less of a frame and more of a band which embraces the reading material, so it can be easily removed and replaced.
It can be mounted at a variety of angles, to display books much like a piece of art, features simple geometrical lines, and is available in gold, white, and black.
Kitchen Safe
If you've given up on trying to put a combination lock on your refrigerator, this may be the second best thing.
Here's how it works:
You put a food item in the kitchen safe – it's about 5 inches high, so don't think less of a whole cake, and more like maybe a few cookies, or a bag of chips.
Set the timer, which ranges from one minute to ten days. Activate the lock and you won't be able to get it open until the timer reaches zero.
Here's a video that shows you all about Kitchen Safe.
Take note that the container walls on the product are three times thicker than regular containers, so all attempts at an early retrieval will most probably prove futile.
Unbreakable Umbrella
While we're on the subject of getting Mary Poppins' goat, we might as well take a look at the "unbreakable" windproof umbrella.
Ok, so nothing quite says "loser" like getting caught in a rainstorm with an umbrella that blows inside out, yet it happens to the best of us – until now.
The secret behind this is genius in its simplicity – it's all in the ribs. While most umbrellas are fortified by aluminum ribs, the StormProof employs flexing fiberglass ribs thigh are capable of withstanding gusts up to 70 miles per hour.
Plus, it's 38 inches in diameter ( which translates to big enough for you and whatever you're carrying) and folds down into a mere 11 inches, so you can face down the toughest rainstorms with the touch of the automatic button.
Flatulence Filtering Briefs
Let's face it: farts happen.
Some of the best tasting and most nutritious foods come with consequences, and none of us want to jeopardize a budding romance with a first date at a burrito place.
And if you're thinking that only something with the subtlety of a coat of armor is capable of shielding the innocent from your silent but deadlies, think again.
These briefs are comfortable and even flattering. The ladies version is low on the waist and high cut on the leg, and don't even resemble granny panties.
How do these miracles work? While it may sound like something out of an Austin Powers movie, the undies feature a "zorflex" activated odor absorbent carbon back panel,( apparently the same carbon filter used in chemical warfare suits) which traps the odor and allows it to become neutralized by the cloth.
Washing reactivates the underwear, just don't use fabric softener. Yah, baby!
Politically and Anatomically More Correct Barbie Dolls
We're all trying to create more positive role models for the girl's in this country, and who could be more of a role model than Barbie?
Mattel, in the face of declining sales, has begun a campaign to recreate the original fashion doll in an image bearing more resemblance to the girls who play with her. That means, in addition to the original Barbie, there will be three alternative body types: petite, curvy, and tall, a change which has boosted sales of the brand by 44%. One small step on the runway, one huge step for (wo) mankind.
Refrigerator Biorobot
If you're trying to picture it, the refrigerator biorobot could be the closest thing to what might result if you crossed a flat screen tv with a refrigerator.
This space age appliance has no drawers or shelves; in fact it doesn't even have a door. What it does have is a green biopolymer gel surface that let's you directly deposit food into it, and then creates a separate pod for each product, so your food can be seen clearly suspended in a luminescent, green.
Then, the biorobot determines the optimal temperature for the each food item, and protects it from ultraviolet radiation, so food stays healthier and lasts longer. Simply reach your hand in and retrieve the optimally chilled food, and prepare to be delighted.
Also, because the gel changes shape depending on content, less space is required, so the whole thing is 4 times smaller than a regular fridge, hence the flatscreen tv comparison.
Lancome Paris Grandiose Wide Angle Mascara Wand
Redefining defined lashes, the Lancome Paris Grandiose is a must have for every cosmetic junkie in search of the perfect set of lashes.
The curved swan neck on the Grandiose accesses all parts of your lashes and the flower shaped brush gives an even and complete coat, while the "rose-cell extract" formula keeps lashes supple and soft.
Perfect for ladies for who find the straight wand to be the barrier between themselves and a thick, luxurious fringe.
Portable Laundry Wash
This one would have Mary Poppins bristling with envy!
The Scrubba laundry bags fold up into pocket size squares and weigh only 5 ounces, so popping them in your suitcase (or carpet bag) is not going to put a strain on your baggage weight.
Simply unroll, pop the item in the bag and wait while hundreds of internal nodules clean clothes in minutes to give you a machine quality wash. Now, we just need a bag that de-wrinkles.
A Smart Toothbrush
Here's a toothbrush that actually might double as a dentist.
Believe it or not, most Americans are not as diligent as they should be about their brushing habits. In fact, half of us don't brush twice a day (!) and three out of four don't replace their brushes every three months.
The Quip is a brush designed to jolt America out of its dental haze. This battery powered toothbrush works much like the Oral-B counterpart, with a two minute timer that vibrates every 30 seconds, to remind you to switch positions, but also comes closer to something you'd expect to see in an Apple store, allowing customers multiple options, including a matte metallic finish, to match your lipstick.
Are you a budding inventor/ avid consumer who's up on the latest to hit the market? Let us know what you think we should be checking out when we're at the checkout.