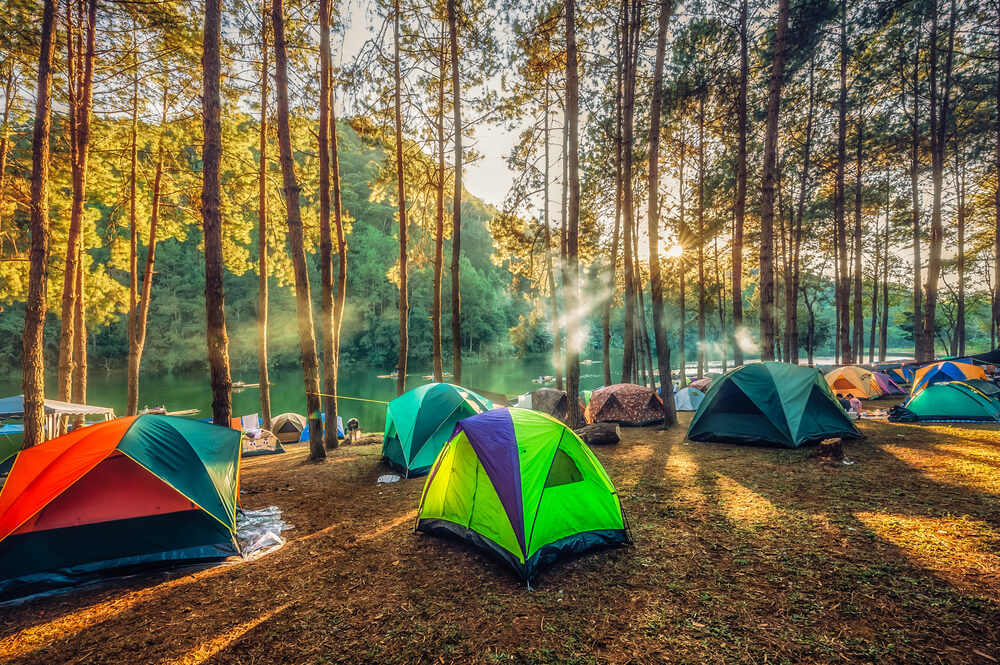 Thinking of moving out (doors)? If the days are getting longer, the nights and the shorts are shorter and the EDM festivals are close to getting sold out, which means it's time for loading up the camping equipment and getting out into the great wide open. It also means having a sturdy tent to camp under. If last year's model didn't hold up, it may have something to do with the fact that you bought the $20 dollar "steal" at Walmart.
Keep in mind, when you're camping the tent is where you lay your head and possibly a lot of other heads next to yours. It's also the roof over those heads and other body parts. You want to make sure the tent is durable, has the amount of square footage that you're looking for, and fits within your budget. That doesn't necessarily mean you have to buy an expensive tent, but you do want to find the best tent within your budget.
So, on that note, let's put last year's Walmart tent disaster behind us and move on. It's a new year and with it comes a chance for old acquaintance to be forgot and never brought to mind. Here are some of the basics of tent buying and the best buys to go with them and here's to a bright camping future.
Tent Capacity
Have you ever bought a cake for 12, only to find that one serving is closer in size to a brownie bite than the Cheesecake Factory sized portion you imagined?  It could be a big faux pas at a dinner party. Unfortunately, that's the way it is with most tents. The advertised capacity number is always a bit bigger than what you can expect. For example, a two-person capacity is fine, if you are both svelte supermodels who don't mind sleeping snugly. For most of us average humans, rounding up may be a better bet.
Since there is no industry standard for tent capacity, the capacity varies with every model. It may be better to look at the dimensions rather than the capacity to determine whether the tent is the right size you.
Bonus tip: Add one to the advertised capacity number to get a more accurate idea of the actual capacity. In other words, if you're looking to fit two people, look for a 3p capacity. If you're looking to fit three people, look for a 4p capacity and so on.
Seasons
For everything, there is a season, and for every season, there is a tent. Well, not exactly -but there are four options when it comes to tent seasonality. The choices are 2-season, 3 season, 3-4 season, and 4-season. You can buy one season tents, but a mosquito net may be just as effective and a bit cheaper. IOW: We wouldn't recommend them.
2-season tents: These are for fair weather mostly. They may not be able to stand up to anything stronger than mild wind and rain.
3- season tents: These can be used in spring, summer and fall (hence the name three season). They will stand up to heavier rains and stronger winds than the 2-season options. Three season tents are the best choices for most family and car campers.
3-4 season tents:  These are a bit more durable than the 3-season tents. They'll hold up to colder, wetter and windier conditions, including moderate snow and are best for late fall and early spring.
4-season tents: Looking for something to hold up to any weather? Fuhgeddaboudit!  Four season tents are the choices of mountaineers for base camping. They're made for extreme weather and are rugged enough to stand up to intense snow storms.

Camping Tent Liveability
Martha Stewart, move over. This kind of interior design has very little to do with marble countertops, sunken bathtubs, hardwood floors, and natural light.  However, camping tent liveability does refer to the interior design of your camping tent, and even tents with the same capacity can have very different interior layouts. Starting to feel more in your element? Here are some of the things you want to look for when your inner interior designer meets the great outdoors.
Volume: Steeply angled walls mean less interior space, but they're also lighter. If more space in the tent is important to you, and portability is not a factor, look for walls with a more relaxed incline.
Floor dimensions: Floor dimensions refer to the layout of the floor. Most are rectangular, some are tapered to reduce weight.
Peak Height: High ceilings? Probably not going to happen in a tent. However, the peak height is the tent's highest point and can be used to get some idea of how tall the tent will actually be.
Wall Shape: If you're starting to feel like the walls are closing in, that probably means the walls of your tent are not as vertical as you would like them to be. Although the shape of the walls is not a factor when looking for a home, it is probably one of the most important factors in determining a tent's liveability. The more vertical the walls are, the more vertical space the tent will have.
Room Layout: When you're camping with the family for long periods of time, privacy can become an issue. Some family camping tents come with dividers to section off living areas.
Doors: You're not going to find French ones in a tent, but you might find more than one. While with small groups of campers, one door should suffice, but larger groups may require two or more.
Windows: If you're looking for a spectacular view and natural light, there's no better place to find them than in the great outdoors. The extra light from the windows will make the tent seem bigger and provide for ventilation.
Ventilation: When you're really off the grid, there may be no place to plug in a humidifier. Some tents come with mesh windows/doors/ceilings to provide for cross ventilation and a greater degree of liveability.
Tent Accessories
Now that you have your interior design figured out, a little interior decorating may be in order. Here a few ways to enhance your tent décor.
Tent Footprint: Think area rug, but more functional than fashionable. The tent footprint is a little piece of material that goes under your tent. Unlike tarp, they are custom fitted to your tent specific dimensions. Their job is to protect your tent from twigs, rocks and other debris as well as adding an extra layer of waterproofing.
Tarp : Tarp is to footprint as hardwood is to vinyl. It's a bit cheaper and not as well performing. The main setback to tarp is that it sticks out from under your tent. In heavy rain, this will cause water to pool between the tarp and the floor of the tent. They are also bulky and heavier than footprints,
Gear Loft: Think of gear loft as extra closet room. Most tents come with one or two pockets for storage space, but a gear loft will increase your storage space significantly. For the sake of coordination, find the gear loft that matches your model of the tent. Alternatively, you can find universal gear lofts that work with all types.
Shade and Rain Shelter: Whether its shelter from the sun or shelter from the rain you seek, a rain shelter is a nice touch. They make for extra protection from the rain and a nice shaded area for you to hang out in when the sun is bothersome.
Stakes and Anchors: Unless you want your tent to fly away Wizard of Oz style, stakes and anchors are essential for camping in high wind areas.
Best Tents for Camping
Ready to get "in tents" this season? Let's get to it. Here are some of the best tents to suit every basic need and beyond.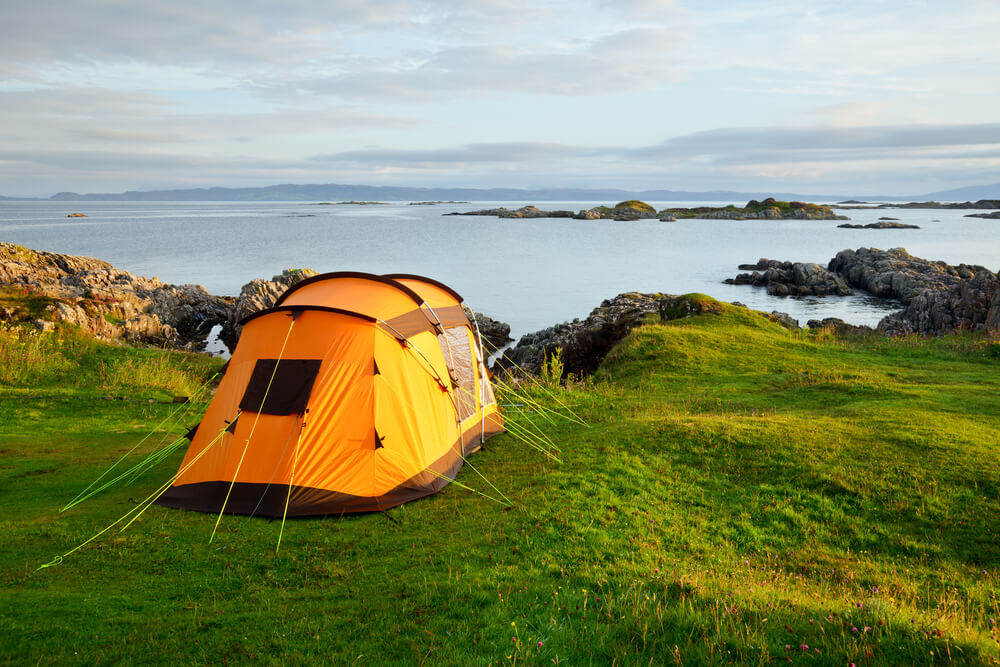 Best Camping Tent for Couples
Be it bestie, best bud, or simply man's best friend, every camping companion will find comfort in the Coleman Sundome 2-Person Tent. This spacious tent stands up to rain and wind and is perfect for any soloist or duo looking for a home where the heart of nature is.  Easy to set up and very affordable, the Coleman features:
Dome tent with a spacious interior for comfortable movement

Ten-minute set up

Large Window and a ground vent for circulation

Weather Tech system with welded floor and interior seems to protect from rain

Less than $50
Best Camping Tent for Families
If you think the Coleman Sundome 2- Person Tent is all that, the Coleman Sundome 6-Person
Tent is all that and more. It's just as easy to set up, but features a 10 by 10 footprint, a 6-foot peak height so you can stand up and move around – and its 33% more weather resistant than most tents in its class. Other fun-for-the-whole-family features include:
Weather Tech System (see above)

Floor vent for ventilation

Large windows to keep cool

Storage pockets to organize gear

Ten-minute set up

Under $90
Best Tent for A Large Group
Families with octuplets, girl scouts, and festival goers with a lot of friends rejoice. The Ozark Trail 10 Person Family Cabin Tent is the tent where the party is at.  The first thing you'll notice about the Ozark is that it's certifiably ginormous; its big enough to fit three queen -sized air mattresses. The next thing you'll notice about it is what a pleasure it is to use. With one center door and two side doors, everyone will be able to get out easily and in one piece.  Other features include:
Two removable room dividers to create three separate rooms

Six windows for ventilation and a panoramic view of your surroundings

Taped Fly seam prevents leakage
Best Four-Season Tent
Not rain, nor sleet, nor sleet, nor hail shall keep the Big Agnes from serving her purpose. Just like the US mail, The Big Agnes Diamond Deluxe Tent comes through in any weather.  And don't judge Agnes by her breathable polyester rip stop cover alone. There's a lot more to her than first meets the eye. Other features include:
Domed mesh roof for stargazing

Stowable partition wall to separate space into one larger room and one smaller room

Quick and easy set-up

10 mesh storage pockets

2 doors and 2 vestibules for storing excess rain gear.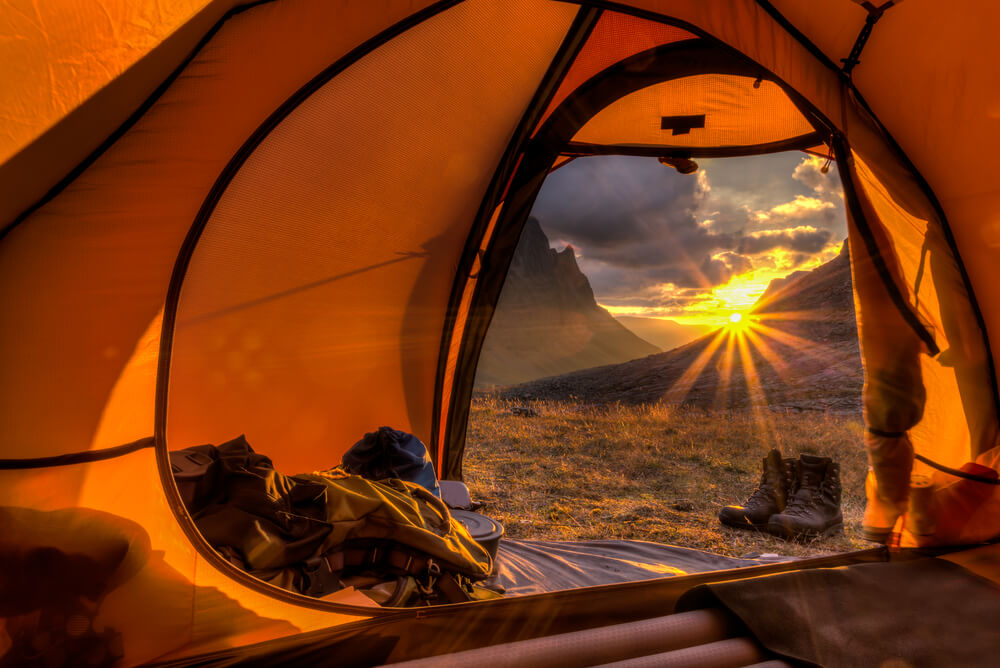 Best Tent for Glamping
When you're going to a festival, setting up a tent is probably the last thing on your slightly fuzzy mind. Yet, it's probably the first thing you'll need to do when you get there. Worry not, with the Coleman Instant Cabin Tent, you can count on setting up your tent without missing a beat: dub-step, techno, heavy bass, or otherwise.
The Coleman Tent takes 60 seconds to set up, which is a little more like instant oatmeal than instant messaging, but instant nonetheless. It has pre-attached poles, so setting up camp is as simple as unfolding, extending and securing. Plus, the Instant still features all those dependable features Coleman is known for. Those include:
Convenient storage

Weather Tech system

Quick, easy setup

Darkroom technology
Best Minivan Tent
If you can drive there, you can camp there. That's the rule when your campground is not on the ground on at all. Minivan tents come with enclosed floors so the need to find a campground is eliminated completely. That's how minivan tent campers roll. 
If you're looking to get your camping experience off the ground, the Napier Sports Cove SUV and minivan tent magically transform SUVs, minivans, hatchbacks, crossover and cargo vans into instant camping tents with the simple addition of a universal sleeve. The sleeve connects to the cargo area of the vehicle to create extra room for sleeping and storage. Additional features include:
Spacious ground tent and headroom, able to sleep

 

guests

Transforms into a standard ground tent by removing sleeves

Large doors, mesh windows, skylights for superior ventilation

Internal gear loft, 2-gear pockets, and built-in lantern holder