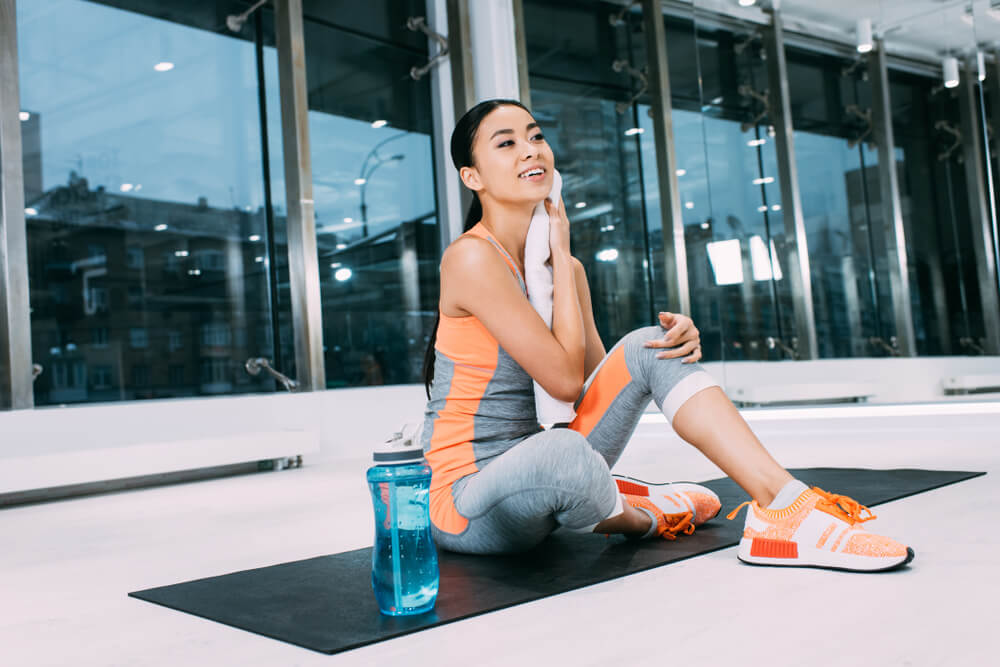 Maintaining your fitness calls on you to resolve to do everything necessary to achieve your goals. This translates to preparing yourself mentally, emotionally, and physically. Exercise is an integral part of keeping fit and when it comes down to going to the gym, you need all the help you can get to not only take the first step but also to keep you going.
For starters, the right gear could be the motivation you need to work out. On the other hand, not having an essential item in your bag could be a very good excusenot to hit the gym, right? To keep you on the right track to your fitness, we have prepared a cheat sheet to use before heading out. Here are 23 must-haves before hitting the gym.
Gym Bag
You need a good and easy to carry workout bag. Look; to even have your gear packed and organized you need to have a bag that can accommodate all your stuff. Additionally, it should be a bag that you can easily stroll around with.
A good gym bag should have lots of small pockets for fitting the small essentials. It should also have medium sized compartments to fit all your sweaty clothes and shoes. Adjustable straps will come in handy when you want to carry it around without any hassles.
Tip: Make sure you pack your gym bag early;in fact, it is advisable to pack it the night before if you attend morning sessions to avoid last minute rushes.
Workout Clothes
It is in your best interest to have comfortable clothes for working out in the gym; you just can't stroll into the gym with your work clothes straight after work. Gym sessions are sweaty and sometimes very vigorous, factors which necessitate flexible clothing. The clothes need not to be expensive but they can at least be trendy and fitting for extra motivation.
Pro Tip: Go for moisture-wicking fabrics; clothes that can accommodate sweating without looking all wet can help you stay longer in the gym.
Music Player and Headphones
Are you the type that really likes music? Can some high tempo tunes motivate you? Then don't leave your music player behind. Notably,you should look for amazing workout playlists on Spotify.The tunes should be enough to keep you pumped up and energized.Here is another sample workout playlist from Klove Radio:
https://www.instagram.com/p/BmMLBz3HYBU/
Should you go for headphones or earplugs? Well, it depends on your preference. It may surprise you how blocking out noise from other gym-goers and listening to your favorite artists can lift up your spirit. 
Pro Tip: Some good wireless headphones can ensure flexibility without having cables getting tangled up when working out.
Journal and Pen
Writing down what you do in your sessions can be a good way of tracking your progress. This can help you review your routines to see if you are achieving the desired results. After this, you can fine tune yourwork out. Having said that, don't let your journal be a distraction.
Tip: You can also track your progress using an app text-based app like Evernote instead of the old school style of pen and paper
Water Bottle
A water bottle is a must have when going to the gym. Staying hydrated cools you down and helps you to recover when you sweat. Your bottle should be stainless and break resistant. It should also be reusable to avoid buying one too often.
Tip.You can invest in a quality shaker bottle since it can carry water, your supplements and also help shake up your workout proteins powder after. This can help you start your post-workout recovery early. 
Digital Watch
A good digital watch helps you to monitor and manage your gym time.This will help you to avoid overdoing a specific weight or workout type. Additionally, it can help you to avoid wasting time by keeping track of your workout breaks.
Pro Tip: It is also important to have a smartwatch or fitness tracker. It measures your heart rate and blood pressure, therefore, helping you calculate your fitness index.
Jump Rope
Before starting to lift heavy weights and doing vigorous exercises, it is crucial to warm up. What better way to achieve this than using a jump rope.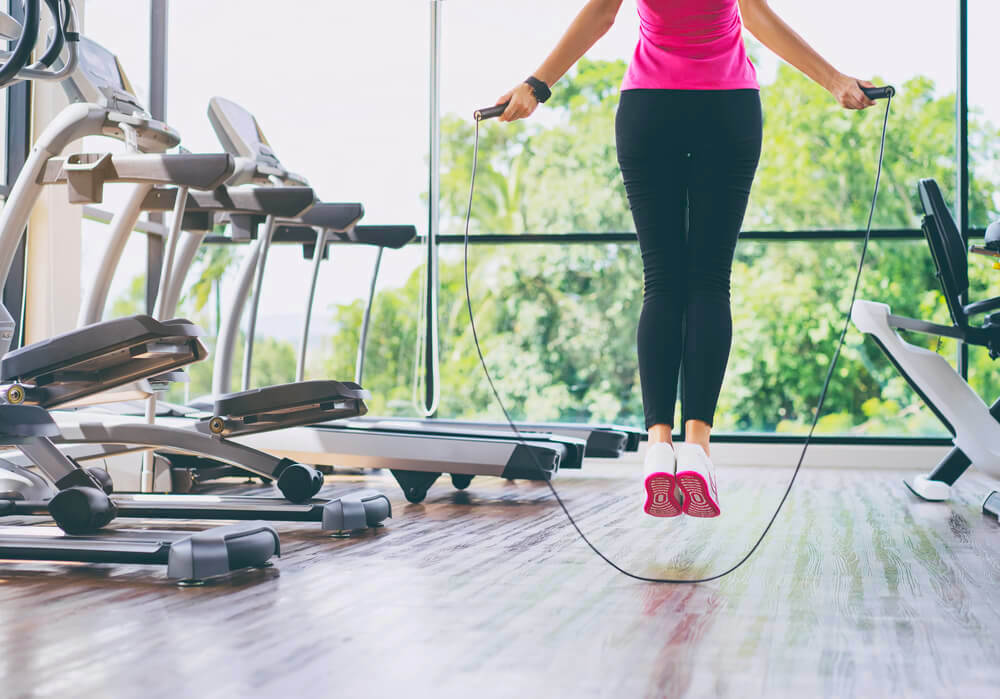 Want to know the best part about using a rope? Well, skipping rope helps you to burn a lot of calories in a very short time. This is because it helps you stretch the lower and upper body simultaneously.
Hair and HeadBands
These are must-haves especially for people with long hair. Loose hair can be annoying and distracting at the same time but you can use your hair band to hold it.If you are a gym goer with short hair, you can use hair pins to make sure your hair is pulled back to remain focused.
Headband prevents sweat from dripping down your face. Choose a good, firm lightweight moisture-wicking headband.
Snacks
To go the distance, you need pre-workout snacks and similarly after the gym workout, you need to recover energy by taking something with lots of energy. Pre-workout snacks are good especially when you are going to the gym straight after work.However, they need to be rich on carbs, moderate on proteins and with little fat and fiber.
On the other hand, consider taking snacks such as energy bars, a protein shake or a fruit like a banana with high calories as post-workout snacks to replenish your energy and repair your tissues.
Tip: After a strenuous workout, coconut water will greatly help replenish your body. In fact, it is better than normal water.
Hand Sanitizer
There are a lot of germs in the gym since members are sweating as they use and exchange the same equipment.In fact, according to a study done in fitness areas, 25 different types of bacteria were found. When going to the gym, you need to protect yourself. Drop a hand sanitizer into your gym bag to use after going for restroom breaks and after you are done with your workout.
Deodorant
Having an antiperspirant or a deodorant will help you to freshen up before you start your workouts and even after when you're leaving the gym. Since you can be sweaty in the gym, it is advisable to make others comfortable around you. 
Tip: If you work out in the morning, a deodorant will help you to be freshened up and energized throughout your workday. 
Face Wipes and Hand Towels
You might not be a fan of showering in the gym locker room after your sessions. Therefore you need to make sure you stash facewipes or a hand towel in your gym bag. These will help you feel fresh even after skipping the shower in the gym.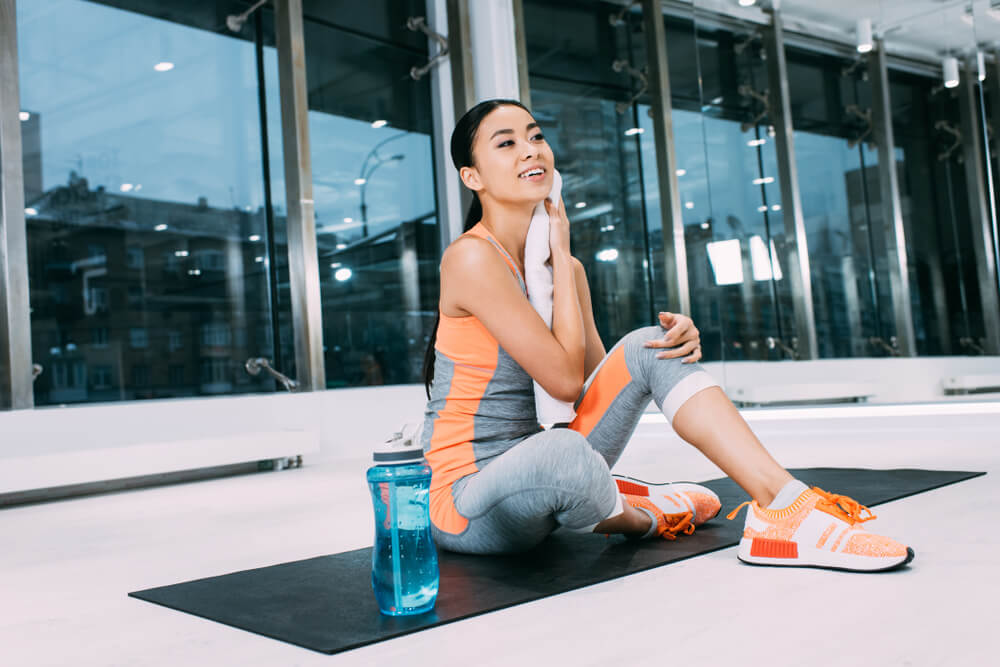 Your hand towel should be microfiber made so as to absorb more sweat. A hand towel will also help you to prevent sweat from running through your face.Similarly,you can wipe your hands when your grip reduces due to too much sweat on the equipment.
Workout Shoes
Make sure you have lightweight and comfortableshoes. Besides fitting you well, they should provide you with strength, balance, and grip on the floor for your safety.
Don't mix up your running or walking shoes with your gym shoes. Your choice of shoes can make or break your gym experience.
Extra Socks
An extra pair can be very important especially when going to the gym straight after work or for those who sweat a lot.First of all, working out without socks can be painful and gross so you want to have a pair at hand should your current pair get too sweaty or uncomfortable. 
Handy Lock
To keep your items such as keys and gym bag protected at the gym, you need to use a lock. Some gyms offer locks but only for those who have rented one, if you haven't, you need to carry yours.
Make sure you have a lock in your gym bag, having your belongings locked up in a safe place can go a long way in giving you peace of mind and keeping you focused on your work out.
Makeup and Lotion
Carrying and applying makeup is good especially when you need to use the gym locker rooms. This is important if you go to the gym before heading to work or if you have other things to attend to after. A good lotion or cream is welcome for moisturizing your skinafter a shower.
Don't forget your lips either; it is very uncomfortable to have dry lips during your workout. The same way you hydrate your body, you should also hydrate your lips before and after work out.
Shower Shoes or Flip-Flops
If you are going to use your gym's locker rooms for a shower, make sure you carry along shower shoes to avoid picking up infection causing germs. Shower rooms are breeding places for bacteria and fungi so you should not risk no matter how clean they look.Alternatively,you can use flip-flops to avoid diseases such as athlete's foot.
Extra Tank Top
Having a fresh extra top will come in handy especially if you need to go out for a moment. Also, you don't want to walk around in the gym in sweat-soaked clothes if you aren't working out. Make sure you get a stretchy and lightweight one which you can wear in the gym.
Athletic Tape
Athletic tape is used to protect your hand from tears and also to support your wrists. It can be tapped up over scrapes, injuries, and tears. It can be wrapped on most parts of the body to prevent your muscles from overextending and over contracting.
Sports Bra
Gym activities involve intense movements. This makes a sports bra an essential for ladies going towork out. While choosing a sports bra, you should focus on one with a firm band; the band offers you more support so make sure it is tighter than that of normal bras.
The straps should be adjustable to give a more personalized fit and should also have minimal stretch to keep up and down movements to a minimum.
Tip: Compression sports bras are the best for medium intensive gym exercises while the compression/encapsulation ones are perfect for highly intensive activities.
Belts
Liftingbelts come in handy especially when you are a heavyweight lifter. However, they may not be essential for people starting out. Lifting belts are great because they help you build up your strength safely over time. Dip belts are also essential when the effectiveness of heavy squats and pull-ups reduce.
Tip: Flit belts are stretchy and fit around the waits. They have several compartments that can hold lightweight components such as your keys and maybe small snacks.
Wrist Wraps and Straps
Wrist wraps are used to help you improve your grip when doing heavy weights and squatting. Getting a proper grip will help you achieve a balanced and strong body.They are indispensable tools for heavy weight lifters with niche needs.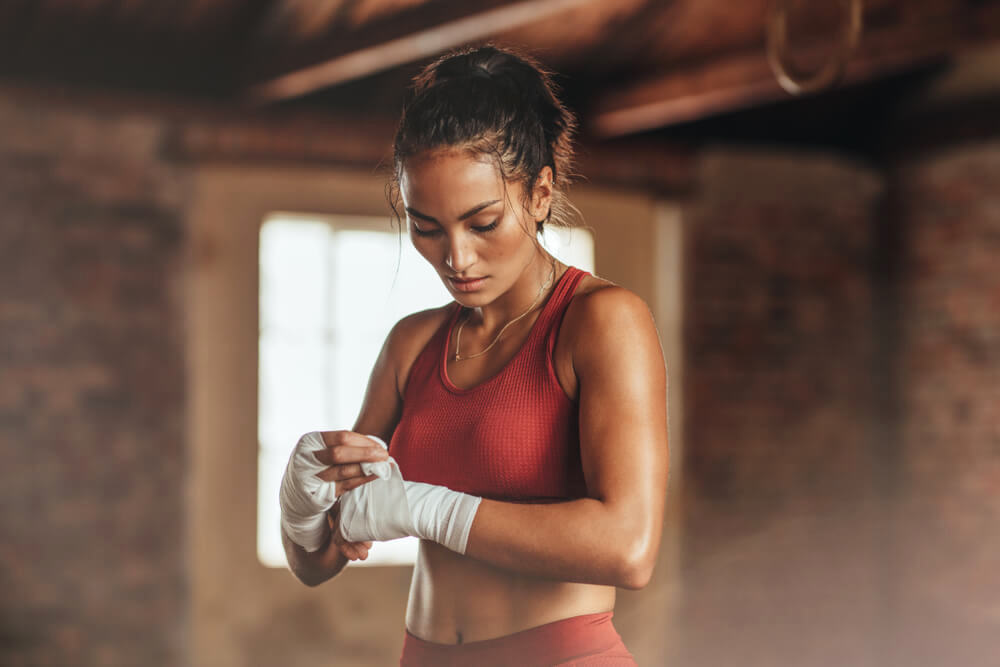 Wrist straps help to make size gain, similarly, they help to give strength. They will help you reduce wrist fatigue and also help you lift more weights thereby preventing wrist injuries.
Tip: If you like lifting weights, you should consider carrying a small chalk bag as using chalk also improves your grip on weights.
Knees Sleeves and Braces
Much like the wrist and knee wraps mentioned above, these might not be essential for gym goers who don't lift heavy weights. However, you might need to consider these protective essentials. Knee sleeves are made of neoprene material and basically slide over the knees. 
If you plan to do weights they will help to protect your knees from injuries or damage. Additionally, they help in compression which consequently prevents swelling and pain on the knees after a workout and also increase blood flow.
On the other hand, knee braces are used to prevent further damage to previous injuries you might have incurred around the knees.
Having gone through the above article, consider yourself informed on all the gym essentials you need to make your sessions fruitful. While the real resolve to work out will definitely come from you, the above items will not only motivate you but they will make it even easier for you to achieve your fitness goals.